---
(PRELIMS & MAINS Focus)
---
Ahobilam
Syllabus
'Nava Narasimha': A thematic dance production on the presiding deity of Ahobilam
Ahobilam, or Singavezhkundram, one of the 108 divyadesams, located in Kurnool district, Andhra Pradesh, consists of nine separate shrines for the deity that are divided into lower and upper Ahobilam, some of which are located on a hilly terrain and a few amid thick forest.
According to the sthala purana, Lord Narasimha, who took this fierce form to protect his devotee Prahlada, came to Ahobilam to vanquish demon Hiranyakasipu. It is here that deities including Shiva, Rama, Brahma, Hanuman and Garuda have offered their prayers to this fierce avatar.
Apart from this, Ahobilam has abundant architectural and epigraphical evidences, chronicled right from the times of the Chalukyas in the eighth century AD.
Nalayira Divyaprabhandam, Abeethi Stavam, Narayaneeyam, Avanthika Parinayam (the Sanskrit play written by Yateendra Mahadesikan, the seventh Jeer of Ahobila Mutt, about the wedding of Narasimha (Ahobaleshwar) with Mahalakshmi (Chenchu Lakshmi)), Ashtapadi, Karavalamba Stotram, and Annamacharya kritis, are some of the hymns that highlight the different qualities of the deity.
The Telugu folk songs, (chosen in consultation with Aparna Srikanth), which are used in the production, signifies the importance of the Chenchu tribe in Ahobilam.
Source: The Hindu
---
Goa's Sao Joao festival
Syllabus
Prelims: Events/Festivals
The Festival: In Goa, Catholics celebrate all the feasts of the Roman Catholic Church, which include the feast of St John the Baptist on June 24 (John the Baptist because he had baptised Jesus Christ on the river Jordan).
Celebration
The youngsters in Goa celebrate this occasion with revelry and perform daredevil feats, by jumping into overflowing wells or rivulets to commemorate the leap of joy, which St John is said to have taken in the womb of his mother St Elizabeth when virgin Mary visited her.
Villagers gather near the well and cheer for those throwing and dunking themselves into the water. Full-throated renditions of Konkani songs written for the occasion are accompanied by traditional musical instruments like the gumott and cansaim(cymbal).
In Baga, sangoddis celebrated as a part of the feast of St John the Baptist. Two boats are tied together to make a sangodd, which means union, unity and junction. The tying of the boat signifies the unity of the village.
Importance assigned to new sons-in-law: In Goa, Sao Joao is an occasion for the family and the villagers to get to know their newlywed daughters' husbands a little better. Traditionally, the new son-in-law would be crowned with festive headgear of fruits and leaves, taken around the village, and would then jump into the well with other revelers.
Source: The Indian Express
---
Places in news: Snake Island & the Black Sea
Syllabus
Prelims – GS 2: India and its neighbours
Context: Ukraine has caused "significant losses" to the Russian military in airstrikes on Zmiinyi Island, also known as Snake Island, in the Black Sea.
The hit on the island is believed to be the second major military success using missiles given to Ukraine by the West.
Strategic island
Zmiinyi Island, also known as Snake or Serpent Island, is a small piece of rock less than 700 metres from end to end, that has been described as being "X-shaped".
Located 35 km from the coast in the Black Sea, to the east of the mouth of the Danube and roughly southwest of the port city of Odessa.
The island, which has been known since ancient times and is marked on the map by the tiny village of Bile that is located on it, belongs to Ukraine.

On February 24, the day Russia launched its invasion, two warships from the Russian Black Sea Fleet, Vasily Bykov and Moskva, attacked Snake Island, followed by Russian troops landing on it.
Black Sea
The Black Sea, also known as the Euxine Sea, is one of the major water bodies and a famous inland sea of the world.
The Black Sea is also connected to the Sea of Azov by the Strait of Kerch.
The famed water body bound by

Ukraine to the north and northwest
Crimea in the north
Russia and Georgia to the east
Turkey to the south, and
Bulgaria and Romania to the west, which links to the Sea of Marmara through the Bosphorus and then to the Aegean through the Dardanelles
It is the largest water body with a meromictic basin

It means the movement of water between the lower and upper layers of the sea is a rare phenomenon which is also responsible for its Anoxic Water (significant absence of oxygen in the water).
Politics around Black Sea
A busy waterway, Greece controlled it in the 9th century BC and by 500 BC Greek communities took its control. It helped them increase their trade.
In 1479, the Black Sea came under the control of the Ottoman Empire until it was taken over by the Russian Navy in 1783.
The 1853-1856 Crimean War saw immense bloodshed to take control of this region. One of Russia's main reasons for joining World War I was to take over control of the Black Sea.
Significance of Black Sea to Russia
Not only is the Black Sea an entry point for Russia into the Mediterranean and a buffer between NATO and itself, it also serves as an economic gateway for the country to major markets in southern Europe
Moscow sees the Black Sea as vital to its geo-economic strategy; helps in supplying Russia's oil and gas to the west.
Russia depends on the Black Sea both for military operations outside its immediate neighbourhood and for exports of Russia's main commodity (hydrocarbons).
With the breaking away of the USSR, ideally NATO should have been dissolved. But this did not happen. In fact, despite multiple assurances by the US and NATO, it has expanded four times since 1991 and almost reached the doorstep of Russia.
The Kremlin sees the Mediterranean as a largely NATO-dominated region. So, by increasing its presence in the Black Sea, Russia hopes to spot opportunities to make political, economic, and military inroads with key regional states in the region.
A domination of the Black Sea and Sea would give Russia a major advantage in the Crimea-Odessa-Mariupol region now that Sevastopol is already under its command.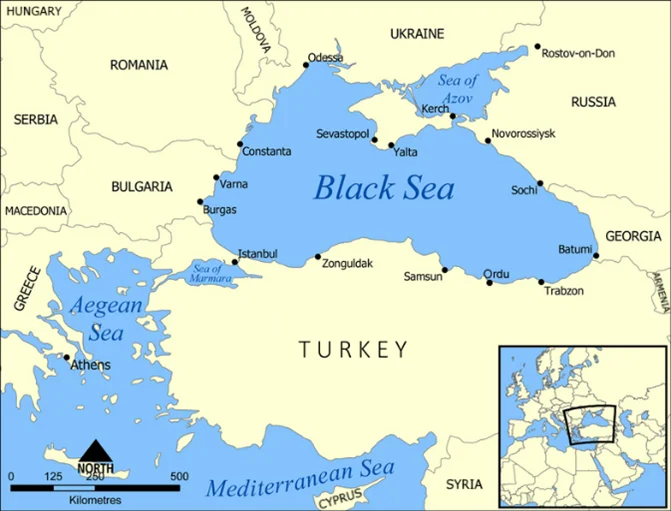 Pic courtesy: Wikipedia
For Russia, the Black Sea is both a stepping stone to the Mediterranean as well as a strategic buffer between NATO and itself. Domination of the Black Sea region is a geostrategic imperative for Moscow, both to project Russian power in the Mediterranean and to secure the economic gateway to key markets in southern Europe.
About North Atlantic Treaty Organization
North Atlantic Treaty Organization (NATO) is a military alliance established by the North Atlantic Treaty (also called the Washington Treaty) of April 4, 1949.
Established by: United States, Canada, and several Western European nations to provide collective security against the Soviet Union.
Article 5: It states that if one member of the alliance is attacked in Europe or North America, it is to be considered an attack on all members. That effectively put Western Europe under the "nuclear umbrella" of the US.
As of 2019, there are 29 member states, with Montenegro becoming the latest member to join the alliance in 2017.
Source: The Indian Express
---
A turning point for Ukraine and its women's rights
Syllabus
Mains GS 1: Women Issues
Mains GS 2: India and its neighbourhood
In News: The Ukrainian Parliament — the Verkhovna Rada — passed a Bill on June 20 ratifying the Council of Europe Convention on preventing and combating violence against women and domestic violence.
It is a huge step forward for the protection of women and girls from all forms of violence, whether in Ukraine or abroad, and could not be more timely for a number of reasons.
The Istanbul Convention: The most far-reaching international treaty designed to set legally binding standards for governments in Europe for the prevention, protection, and prosecution of gender-based violence.
Gender-based violence in Ukraine
The risk of women becoming victims of gender-based violence in Ukraine has increased immensely over the course of Russia's eight-year war.
Since the beginning of Russia's invasion in late February 2022: Suggests that the Russian troops have been using rape and sexual violence as a weapon of war and instrument of terror to control civilians.
Although, the Russian authorities have denied alleged sexual abuse by their troops, the truth is that women in Ukraine have been disproportionately affected by the war. And as the tensions continue to rise, the risk of gender-based violence will also be heightened, with survivors suffering more severe levels of abuse.
The prompt implementation of the convention could thus equip the Ukrainian authorities to deal with these atrocities and serve to reassure the survivors and provide them with the confidence to seek justice.
Women's rights activists in Ukraine have long been calling for changes.
Domestic violence has been an administrative offence in Ukraine since 2003, which is punishable by a fine, community work of up to 60 hours or by imprisonment of up to 15 days. Then in 2019, systematic domestic violence was criminalised, which in practice meant that criminal charges will only be imposed if the abuser commits three offences in a year'.
However, these pieces of legislation and forms of punishment often fell short of what the victims anticipated as being fair prosecution, discouraging them and others to go through the process of seeking justice.
The convention's ratification will not only expand 'the list of abuse against women punishable by law in Ukraine — including but not limited to psychological abuse, stalking, forced marriage, physical and sexual abuse, forced abortion, sterilisation' — but also provide the authorities with the opportunity to bring about changes in its legislation and institutional procedures.
It will also mean that Ukraine will be responsible for financing more shelters for women, training social workers to adequately handle cases of sexual violence, and increase resources of assistance available for victims.
Aiding EU integration
Help in Ukraine's European integration: Guaranteeing human rights is the most important aspect that is considered when European Union (EU) membership is being extended to a country. It has thus been crucial for Ukraine to demonstrate actions that will bring the country closer to European legislations and values.
The decision is of particular significance for the Netherlands and Sweden, two 'sceptical' countries that were initially blocking Ukraine's candidate seat but have now eventually agreed to back EU member status for Ukraine.
The Challenge: Proper implementation of the convention will require financial resources, which seems like a challenging goal for a country already facing economic downfall due to the Russian invasion.
Conclusion
The ratification, is thus, a big milestone for Ukraine and has been applauded by many institutions, including the United Nations Human Rights Council and the EU Commission on human rights in the hope that it will decrease both the number of gender-based violence and domestic violence cases.
It will also bring Ukraine closer to other countries that have already ratified the convention.
Source: The Hindu
---
Open network for digital commerce
Syllabus
Prelims – Current Affairs
GS 2: Indian Economy
Context: The government of India announced the launch of the pilot phase of open network for digital commerce (ONDC) with an aim to "democratize" the country's fast-growing digital e-commerce space that is currently dominated by the two U.S.-headquartered firms — Amazon and Walmart.
What is ONDC?
A not-for-profit organisation that will offer a network to enable local digital commerce stores across industries to be discovered and engaged by any network-enabled applications.
Neither an aggregator application nor a hosting platform
All existing digital commerce applications and platforms can voluntarily choose to adopt and be a part of the ONDC network.
Aim: To enable buying of products from all participating e-commerce platforms by consumers through a single platform.
Currently, a buyer needs to go to Amazon, to buy a product from a seller on Amazon.
Under ONDC, a buyer registered on one participating e-commerce site (for example, Amazon) may purchase goods from a seller on another participating e-commerce site (for example, Flipkart).
The ONDC model is trying to replicate the success of the Unified Payments Interface (UPI) in the field of digital payments.
UPI allows people to send or receive money irrespective of the payment platforms they are registered on.
What led to formation of ONDC?: An outreach conducted by The Department for Promotion of Industry and Internal Trade (DPIIT), under Ministry of Commerce and Industries, found that there is a huge disconnect between the scale of online demand and the ability of the local retail ecosystem (small sellers and hyperlocal supply chain) to participate. ONDC will be required to get funding independently and have a self-sustaining financial model.
Benefits of ONDC: Standardise operations like cataloguing, inventory management, order management and order fulfillment, hence making it simpler and easier for small businesses to be discoverable over network and conduct business.
Challenges: Such as getting enough number of e-commerce platforms to sign up, along with issues related to customer service and payment integration.
What is the current status?
Pilot Stage: Delhi NCR, Bengaluru, Bhopal, Shillong and Coimbatore — with a target of onboarding around 150 retailers.
Advisory Council: To analyse the potential of ONDC as a concept and to advise the government on measures needed to accelerate its adoption.
Future Expectation: Over the next five years, the ONDC expects to bring on board 90 crore users and 12 lakh sellers on the network, enabling 730 crore additional purchases and an additional gross merchandising value (GMV) of ₹3.75 crore. The GMV for the digital commerce retail market in India was ₹2.85 lakh crore ($38 billion) in 2020, which is only 4.3% of the total retail GMV in India.
Source: The Hindu
---
Building resilience against recurring floods
Syllabus
Mains GS-3: Disaster Management
In News: People in the Northeastern state are facing the fury of the Brahmaputra, Barak, and their tributaries.
Nearly 100 people have lost their lives in the rain-induced landslides and floods that have engulfed 30 of Assam's 35 districts
The Centre and state government have commenced relief operations but the raging rivers have hobbled these activities.
Promises have rarely been matched by action in Assam
For more than half a century, Assam has relied on embankments to stave off the swelling rivers during the monsoons. A growing body of literature shows that these walled structures — most of them have not been repaired for decades — are ill-equipped to tackle floods, especially at a time when climate change is complicating the state's hydrology. Assam's flood management data shows that it needs to take such studies seriously.
Close to 1,300 cases of embankment breaches have been recorded since 2000.
Floods ripped apart nearly 200 embankments in 2020. This year, they have destroyed nearly 300 such structures.
A report of the Parliamentary Standing Committee on Water Resources last year advised the state government to strengthen flood protection structures, address soil erosion and de-silt rivers. But these measures continue to be on the to-do list of the Assam government. In fact, the state's flood management outlay has come down in the past two years.
The Way Forward
The state government would do well to build people's resistance to the elements in cities, towns and villages. Such measures include putting flood warning systems in place and shifting people and livestock to safer locations.
Forming a de-siltation plan: The river is one of the important ingredients when it comes to drainage. The de-siltation plan is very expensive but it is needed.
Sustainable usage of land: Low-lying areas in cities have to be reserved for parks and other low-impact human activities, restrict encroachments in natural drainage areas; clearance of river beds, and proper implementation of Coastal Regulation Zone rules. Planting drought-resistant and flood-resistant sturdy trees in vulnerable areas also helps.
Utilising International best practices: Implementing 'Mobile Walls' like in Germany, and 'sponge' cities in line with cities in China which involves replacing concrete pavements with porous pavements to ensure better filtration.
Policy making and city planning: Each city should have their Flood mitigation plans strongly embedded within the master plan of the city. There should be prompt, well-coordinated and effective response in case of urban floods to minimize casualties and loss of property and also facilitate early recovery.
Wetlands protection: Urban flooding may increase if wetlands not protected. Centre for Science and Environment(CSE) has recommended strong laws to protect urban lakes, their catchment and feeder channels
Idea is that a holistic plan should engage all the development partners. It should try to address all the issues and modify it as per local needs.
Source: The Indian Express
---
Soil Conservation for Food Security
Syllabus
Context: Food security is one of the core indicators of economic development. The modernisation of agriculture has brought huge dividends in terms of ensuring food security to large swathes of people, apart from improving crop production.
A key element of sustainable food production is healthy soil because nearly 95 percent of global food production depends on soil. The current status of soil health is worrisome.
Soil degradation on an unprecedented scale is a significant challenge to sustainable food production:
About one-third of the earth's soils is already degraded and alarmingly, about 90 per cent could be degraded by 2050 if no corrective action is taken.
While soil degradation is believed to be occurring in 145 million hectares in India, it is estimated that 96.40 million hectares — about 30 per cent of the total geographical area — is affected by land degradation.
Globally, the biophysical status of 5,670 million hectares of land is declining, of which 1,660 million hectares (29 per cent) is attributed to human-induced land degradation, according to the Food and Agriculture Organisation's 'State of Land, Soil and Water' report.
The Way Forward
The time has come for collective global action involving governments and civil society to reverse this alarming trend.
With the threat to food security looming large globally, compounded by the attendant hazard of serious damage to the environment, the need of the hour is to adopt innovative policies and agro-ecological practices that create healthy and sustainable food production
Reduce dependence on pesticides worldwide: Extensive use of fertilisers and pesticides led to the deterioration of soil health and contamination of water bodies and the food chain, which pose serious health risks to people and livestock.
As soil is a fragile and finite resource, sustainable land management practices are essential to ensure healthy soil. They are critical not only to preventing degradation but also to ensuring food security. Every effort must also be made to prevent soil erosion as it not only affects fertility but also increases the risk of floods and landslides.
To address soil salinization (Salinity is the presence of salts (such as sodium chloride, magnesium, and calcium sulfates) and bicarbonates, in soil and water.):

Soil washing- Stagnate water and flush it out, but if the water table is affected this might not yield result.
Chemical treatment- Use of Gypsum to counter salinity
Isolating the canal water by building side walls.
Proper choice of agricultural practices and crops.
Discourage borewell instead do rain water harvesting using pits.

Natural farming and organic farming are not only cost-effective but also lead to improvement in soil health and the farmland ecosystem.
Note:
Soil health card scheme
Soil health cards have been distributed to about 23 crore farmers – Improved the health of the soil + benefited innumerable farmers by increasing crop production and their incomes.
India is well on course to achieving the restoration of 26 million hectares of degraded land by 2030 – A decrease in the use of chemical fertilisers in the range of 8-10 per cent as a result of the application of fertilisers and micro-nutrients as per the recommendations on the soil health cards. Overall, an increase in crop yields to the tune of 5-6 per cent was reported as a result.
Save Soil Campaign
By Sadhguru, Isha Foundation
Source: The Indian Express
---
What India needs to do to reduce its fertiliser bill?
Syllabus
GS-3: Issues related to direct and indirect farm subsidies
GS-2: Government policies and interventions for development in various sectors and issues arising out of their design and implementation. 
Context: No country has as much area under farming as India. But there's one resource in which the country is short and heavily import-dependent — mineral fertilizers.
In 2021-22, India imported 10.16 million tonnes (mt) of urea, 5.86 mt of di-ammonium phosphate (DAP) and 2.91 mt of muriate of potash (MOP). In value terms, imports of all fertilisers touched an all-time high of $12.77 billion last fiscal.
In 2021-22, India also produced 25.07 mt of urea, 4.22 mt of DAP, 8.33 mt of complex fertilisers (containing nitrogen-N, phosphorus-P, potassium-K and sulphur-S in different ratios) and 5.33 mt of single super phosphate (SSP). The intermediates or raw materials for the manufacture of these fertilisers were substantially imported.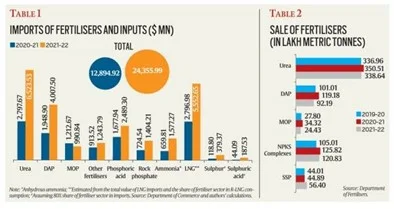 Table 1: Import of fertilisers and inputs ($MN); Table 2: Sale of fertilisers (in lakh metric tonnes)
Table 1 shows the total value of fertiliser imports by India, inclusive of inputs used in domestic production
A whopping $24.3 billion in 2021-22.
There are two costs here.

The first is foreign exchange outgo
The second cost is fiscal: Fertilisers are not only imported, but Indian farmers also pay below what it costs to import or manufacture using imported inputs. The difference is paid as a subsidy by the government.

That bill was Rs 1,53,658.11 crore or $20.6 billion in 2021-22 and projected at Rs 2,50,000 crore ($32 billion) this fiscal.
Both costs are unsustainably high to bear for a mineral resource-poor country.
The Way Forward
There is a need to cap or even reduce consumption of high-analysis fertilisers – particularly urea (46 per cent N content), DAP (18 per cent N and 46 per cent P) and MOP (60 per cent).
One way to do this is by incorporating urease and nitrification inhibition compounds in urea.

These are basically chemicals that slow down the rate at which urea is hydrolysed (resulting in the production of ammonia gas and its release into the atmosphere) and nitrified (leading to below-ground loss of nitrogen through leaching).
By reducing ammonia volatilisation and nitrate leaching, more nitrogen is made available to the crop, enabling farmers to harvest the same, if not better, yields with a lesser number of urea bags.
Together with products such as liquid "nano urea" – their ultra-small particle size is conducive to easier absorption by the plants than with bulk fertilisers, translating into higher nitrogen use efficiency – it is possible to achieve a 20 per cent or more drop in urea consumption from the present 34-35 mt levels.

A second route is by promoting sales of SSP (containing 16 per cent P and 11 per cent S) and complex fertilisers such as "20:20:0:13" and "10:26:26".

DAP use should be restricted mainly to paddy and wheat; other crops don't require fertilisers with high P content.
India can also import more rock phosphate to make SSP directly or it can be converted into "weak" phosphoric acid.
India needs to wean its farmers away from all high-analysis fertilisers: That movement requires a concerted push, alongside popularising high nutrient use-efficient water-soluble fertilisers (potassium nitrate, potassium sulphate, calcium nitrate, etc) and exploiting alternative indigenous sources (for example, potash derived from molasses-based distillery spent-wash and from seaweed extract).
Knowledge Building of Farmers: No plan to cap/reduce consumption of high-analysis fertilisers can succeed without farmers knowing what is a suitable substitute for DAP and which NPK complex or organic manure can bring down their urea application. It calls for agriculture departments and universities not just revisiting their existing crop-wise nutrient application recommendations, but disseminating this information to farmers on a campaign mode.
Must Read:
Reforming the Fertilizer Sector
Locational factors of fertiliser industry
Source: The Indian Express
---
The problems plaguing thermal power generators
Syllabus
GS-3: Energy
GS-2: Government policies and interventions for development in various sectors and issues arising out of their design and implementation.
Context: On June 10, India's power demand touched a record high of 211 MW even as the coal shortage continued with coal stocks available only for eight days.
To bridge the gap between shortage in domestic supply and increasing demand, power-generating companies or 'gencos' were directed to use imported coal for 10% of their requirement, failing which their domestic supplies would be cut.
Why does India have a recurring power crisis?
Coal
India is the second largest producer of coal, with reserves that could last up to 100 years. Despite that, year after year, the shortage of coal supplies continues to be an issue.
The domestic production of coal stagnated between FY18 and FY21, but revived in FY22. The power demand too surged owing to economic recovery and hotter weather conditions.
This dip in imports can be attributed to the skyrocketing prices of coal in the international markets. The price of imported coal is nearly 5-6 times higher than domestic supply. It is in this scenario that the Power Ministry asked the gencos to import coal. However, States are wary of using imported coal as it would raise the cost of power substantially.
The shortfall in domestic supplies and the rising cost of imports have put power plants in a precarious situation. About 79 of the 150 plants that depend on domestic coal had critical stocks (<25% of the required stock). Eight import-based coal plants were also at critical levels.
Perennial bottlenecks – The Discoms
The use of imported coal will also push up the price of power supply to the power distribution companies or 'Discoms,' often dubbed as the weakest link in the power sector chain.
Discoms owe long-standing dues to the gencos. Delays in payments by discoms create a working capital crunch for generating companies which in turn inhibits them from procuring an adequate quantity of coal.
Discoms are bleeding because the revenue they generate is much lower than their costs. This is evident from the huge gap between the average cost of supply and average revenue realised. Tamil Nadu, Jammu and Kashmir, and Rajasthan have the widest gap between revenues and expenses of discoms.
Apart from providing power at cheaper rates, some State governments do not revise tariffs periodically.
Further, the delay in getting compensation from the government also compounds the woes of cashstrapped discoms.
Must Read:
India's Transation away from Coal
---
Baba's Explainer – 12th WTO Ministerial Conference
12th WTO Ministerial Conference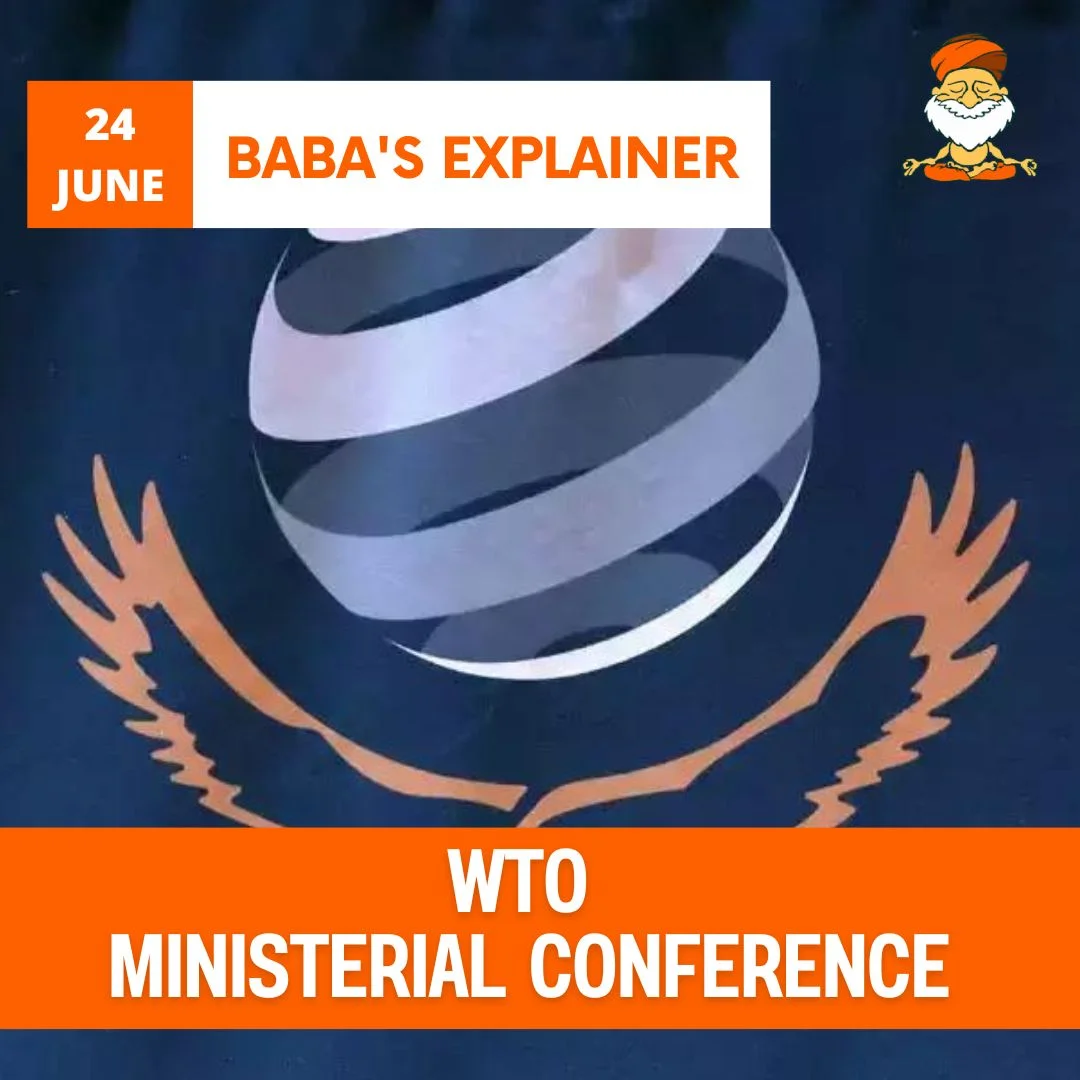 Syllabus
GS-2:  Important International institutions, agencies and fora- their structure, mandate.
Context: The 164 membered WTO's 12th Ministerial Conference (MC12) took place from 12 to 17 June 2022 at WTO headquarters in Geneva.
Ministers from across the world attended to review the functioning of the multilateral trading system, to make general statements and to take action on the future work of the WTO.
The Conference was co-hosted by Kazakhstan. Kazakhstan was originally scheduled to host MC12 in June 2020 but the conference was postponed due to the COVID-19 pandemic.
Agreement was found on WTO reform, vaccine production and fishing subsidies, among others. Negotiators prevailed despite geopolitical tensions (Russia-Ukraine).
---
Daily Practice MCQs
Daily Practice MCQs
Q.1) Which of the following are benefits of 'Open Network for Digital Commerce (ONDC)'?
Cataloguing
Inventory management
Order management
Select the correct code:
1 and 2
2 and 3
1 and 3
All of the above
Q.2) 'Euxine Sea' is referred to as
Black Sea
Ionian Sea
Aegean Sea
Sea of Azov
Q.3) 'Sao Jaoa' Festival is associated with which of the following states?
Manipur
Goa
Maharashtra
Uttarakhand
---
ANSWERS FOR 23rd JUNE 2022 – Daily Practice MCQs
Answers- Daily Practice MCQs
Q.1) – c
Q.2) – c
Q.3) – d
For a dedicated peer group, Motivation & Quick updates, Join our official telegram channel – https://t.me/IASbabaOfficialAccount
Subscribe to our YouTube Channel HERE to watch Explainer Videos, Strategy Sessions, Toppers Talks & many more…