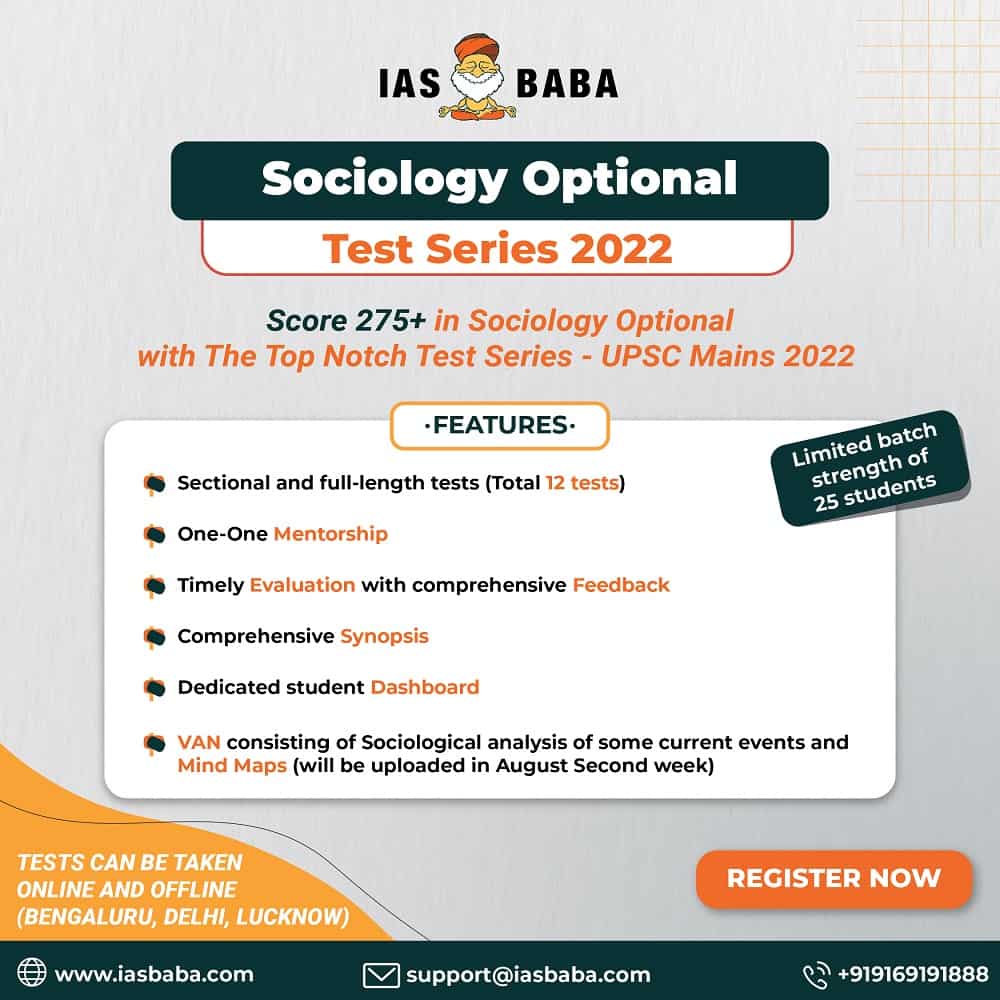 Dear Students,
This program is mainly focused on improving answer writing skills by simulating the UPSC level model questions (Especially Current Affairs, Paper – 2, Application Based Questions in Paper – 1), unlike other test series programs which repeat previous year questions. 
Sociology Mains Test Series 2022 (Only 25 Students)
There will be a limited intake to our test series, unlike the other test series. Personalized feedback/suggestions will be given to the student.
Features of the Program:
Sectional and full-length tests (Total of 12 tests).

One-One Mentorship.

Timely evaluation with comprehensive feedback.

Comprehensive synopsis.

Dedicated student dashboard.
Unique Features:
VAN consists of Sociological analysis of some current events and mind maps (will be uploaded in August Second week)
Limited batch strength of 25 students.
The tests contain high-quality questions that match the UPSC standards.
Synopsis will contain good value addition for all the questions.
Precise evaluation and feedback.
Hands-on mentorship with adaptive, reformative and motivational guidelines.
Note:
1) The test series is recommended only for those who have had prior exposure to the optional and are looking to score 275+. (freshers can join our foundation course which will be launched within a week)
2) The validity of the Test Series is up to the Mains 2022
3) We do not recommend writing all the tests at once. Prepare well according to the syllabus and attempt the tests.
I joined the mains test series writing class of Sociology at IASbaba. Though I was aware of some basic concepts about sociology but joining the test series exposed me to a new unexplored dimension of applied sociology which is highly relevant in relating all the current ongoing phenomena to be looked at with a sociological perspective
The dynamic questions asked in the practice tests mirrored the questions asked in the exam due to which I could answer them confidently in the mains examination
The Sociology Test Series of IASbaba is an eye opener in my Sociology Preparation
Probably the best online test series for Sociology optional for UPSC… Meticulous synopsis and terrific feedback
The Tests can be taken both Online and Offline (Delhi, Bengaluru & Lucknow) Please note that for those who are taking the test in offline mode, all the deliverables (Mentorship, Live Interaction Sessions etc.) will be available in online mode only. OFFLINE MODE means you can down to the centre and take the test according to the schedule.
Gopi Krishna
Gopi Krishna Sir (M.A. (Sociology)) has been guiding Sociology aspirants from the time IASbaba has launched its First Sociology Online Test Series. Many students from the test series are able to secure ranks and many more are able to increase their Sociology Scores. He is one of the highest scorers in UPSC CSE Sociology (2016, 2017) thus well versed with the new format and its complexities
You can mail us on sociology@gmail.com
Or 
Call on – 63664 56458
Office Address:
BANGALORE CENTRE: IASbaba's TLP Centre 2– No. 1443/1444, 2nd Floor, Above Carzspa, Ganapati Circle, Chandra Layout, Vijaynagar, Bangalore 560040.
Delhi CENTRE: Plot 22-B, 3rd floor, Pusa Road, Bada Bazar Marg, Rajinder Nagar, New Delhi– 110060.