---
(PRELIMS & MAINS Focus)
---
Election of Vice President
Syllabus
In News: Both the ruling party and opposition party have selected their Vice Presidential election candidate.
The election is scheduled for August 6, 2022.
Vice President
The Vice President is the second highest constitutional office in India.
The Vice President is the ex-officio Chairperson of the Council of States/Rajya Sabha.
Electoral College:
As per Article 66 of the Constitution of India, the Vice-President is elected by the members of the Electoral College.
He is elected in accordance with the system of proportional representation by means of the single transferable vote and the voting at such election shall be by secret ballot
Electoral College consists of:
Elected and nominated members from Lok Sabha and Rajya Sabha only
Qualification for The Election Of The Vice-president
He should be a citizen of India.
He should be minimum 35 years of age.
He should have qualified for the election as a member of the Rajya Sabha.
He should not hold any office of profit under the Union government or any state government or any local authority or any other public authority.
For the nomination for election to the office of Vice-President, a candidate must be subscribed by at least 20 electors from Members of Parliament as proposers and 20 electors as seconders.
Conditions of Office
He should not be a member of either House of Parliament or a House of the state legislature.
In the event that any such individual is chosen Vice-President, he is considered to have emptied his seat in that House on the date on which he enters upon his office as Vice-President.
He shouldn't hold any other office of profit.
Terms of Office
The Vice President holds office for five years from the date of his inauguration.
The Vice President can resign at any time by sending a letter of resignation to the President.
He can hold office beyond his terms of five years until his successor takes office.
He also has the right to be re-elected to this position for any number of terms.
Vacancy
A vacancy in the Vice-President's office can occur in any of the following ways:
When he completed the tenure of five years.
When he resigned.
When he was removed by parliament resolution.
When he died while serving the office.
When his election is declared void and become disqualified to hold office.
Power And Functions
The vice-President acts as the ex-officio chairman of the Rajya Sabha and his powers and functions are similar to those of the speaker of the Lok Sabha.
In the event of the president's inability to work due to any reason or a vacancy in the office of the president due to any reason, he can act as the president. The office was created to maintain continuity in the Indian state; however, this is only for 6 months till the next president is elected.
The Vice President while discharging duty as President should not preside over Rajya Sabha.
Removal of Vice-president
A formal impeachment like in the case of the President of India is not required for the removal of Vice-President
VP can be removed from his office by a resolution raised only in Rajya sabha, passed by effective majority & agreed upon by simple majority in Lok sabha.
Prior to passing the resolution in Rajya sabha, a 14 days notice should be served to the Vice-President.
Source: Indian Express
Previous Year Question
Q.1) Consider the following statements: (2013)
The Chairman and the Deputy Chairman of the Rajya Sabha are not the members of that House.
While the nominated members of the two Houses of the Parliament have no voting right in the presidential election, they have the right to vote in the election of the Vice President.
Which of the statements given above is/are correct?
1 only
2 only
Both 1 and 2
Neither 1 nor 2
Q.2) With reference to the election of the President of India, consider the following statements: (2018)
The value of the vote of each MLA varies from State to State.
The value of the vote of MPs of the Lok Sabha is more than the value of the vote of MPs of the Rajya Sabha.
Which of the statements given above is/are Correct?
1 only
2 only
Both 1 and 2
Neither 1 or 2
---
Places in news
Syllabus
Prelims – Geography (Map Based)
Doklam
In News: Bhutan Foreign Minister has stated India's interests on the Doklam tri-junction will not be harmed or "compromised" by the agreement between Bhutan and China.
Doklam stand-off between India and China happened in 2017
Doklam, or Donglang in Chinese, is a plateau and a valley at the trijunction between India, Bhutan and China.
Doklam plateau is a 269-sq km plateau in Bhutan, which overlooks the strategic Chumbi Valley.
The plateau is claimed by China.
Bhutan has a written agreement with China that pending the final resolution of the boundary issue, peace and tranquility should be maintained.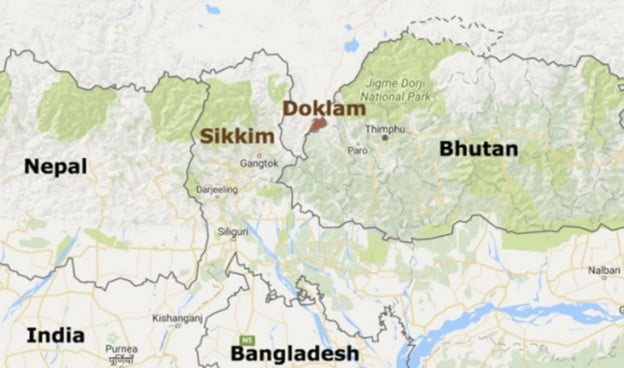 Source: The Hindu
Previous Year Question
Q.1) Consider the following pairs: (2022)
Country: Important reason for being in the news recently
Chad: Setting up a permanent military base by China
Guinea: Suspension of Constitution and Government by military
Lebanon: Severe and prolonged economic depression
Tunisia: Suspension of Parliament by President
How many pairs given above are correctly matched?
Only one pair
Only two pairs
Only three pairs
All four pairs
---
Anamalai Tiger Reserve
Syllabus
Context: Kozhikamuthi, a Malasar tribal settlement in the core area of the Anamalai Tiger Reserve in Tamil Nadu, is known for the occupation — capturing, taming and handling wild elephants for the Forest Department.
This is the second elephant camp of the Tamil Nadu Forest Department, after the one at Theppakkadu in the Mudumalai Tiger Reserve.
Anamalai Tiger Reserve
It is one of the four Tiger Reserves in Tamil Nadu. It forms part of the Southern Western Ghats.
It forms part of the Anamalai Parambikulam Elephant Reserve declared in 2003.
It is surrounded by Parambikulam Tiger Reserve on the East, Chinnar Wildlife Sanctuary and Eravikulam National Park on the South Western side (all belong to Kerala).
The reserve is also surrounded by Nenmara, Vazhachal, Malayattur and Marayur reserved forests of Kerala.
The ranges found in this reserve include Amaravathi, Udumalpet, Pollachi, Ulandy, Valparai and Manamboli.
Anthropological Diversity:
The area has significant anthropological diversity with more than 4600 Adivasi people from six tribes of indigenous people living in 34 settlements.
The tribes are the Kadars, Malasars, Malaimalasar, Pulaiyars, Muduvars and the Eravallan (Eravalar).
Flora:
It includes wet evergreen forest and semi-evergreen forest, montane shola-grassland, moist deciduous, dry deciduous, thorn forests and marshes.
Fauna:
The important mammals include: Asiatic elephant, Sambar, Spotted deer, Barking deer, Mouse deer, Gaur, Nilgiri tahr, Tiger, etc.
Mudumalai Tiger Reserve
Mudumalai Tiger Reserve is located in the Nilgiris District of Tamil Nadu state at the tri-junction of three states, viz, Karnataka, Kerala and Tamil Nadu.
It is a part of Nilgiri Biosphere Reserve along with Wayanad Wildlife Sanctuary (Kerala) in the West, Bandipur National Park (Karnataka) in the North, Mukurthi National Park and Silent Valley in the South.
The name Mudumalai means the ancient hill range.
Flora:
The Reserve has tall grasses, commonly referred to as 'Elephant Grass'.
Bamboo of the giant variety, valuable timber species like Teak, Rosewood, etc.
There are several species of endemic flora.
Fauna:
Flagship Species: Tiger and Asian Elephant.
Other species: Indian Gaur, Spotted Deer, Common Langur, Malabar Giant Squirrel, Wild Dog, Jungle Cat among others.
Birds:
Reserve has got a wide variety of more than 260 species of birds.
8% of bird species found in India are recorded in Mudumalai.
This includes rare birds like Malabar grey hornbill, Malabar pied hornbill, Malabar laughing thrush among others.
Source: The Hindu
Previous Year Question
Q.1) Consider the following pairs: (2022)
Wetland/Lake:                         Location
Hokera Wetland            Punjab
Renuka Wetland           Himachal Pradesh
Rudrasagar Lake           Tripura
Sasthamkotta                 Tamil Nadu
Lake How many pairs given above are correctly matched?
Only one pair
Only two pairs
Only three pairs
All four pairs
Q.2) Which of the following Protected Areas are located in Cauvery basin? (2020)
Nagarhole National Park
Papikonda National Part
Sathyamangalam Tiger Reserve
Wayanad Wildlife Sanctuary
Select the correct answer using the code given below:
1 and 2 only
3 and 4 only
1, 3 and 4 only
1, 2, 3 and 4
---
Wildfires
Syllabus
Mains – GS 3 (Environment)
In News: Europe is battling intense wildfires with countries like Spain, Greece and France struggling to stamp out fires and contain the damage.
Why are wildfires worsening?
Wildfires require right climatic conditions, burnable fuel and a spark.
Rising temperatures suck moisture out of plants, creating an abundance of dry fuel.
Drought and high heat can kill plants and dry out dead grass, and other material on the forest floor that fuel the fire once it starts sweeping through a patch.
While dry vegetation is the burnable fuel that serves as kindling for fires, the spark is sometimes caused by lightning, at other times by accident or recklessness of the local population.
Forest fires in India
Forest Fires
Also called bush or vegetation fire or wildfire, it can be described as any uncontrolled and non-prescribed combustion or burning of plants in a natural setting such as a forest, grassland, brush land or tundra, which consumes the natural fuels and spreads based on environmental conditions.
There are three conditions that need to be present in order for a wildfire to burn: fuel, oxygen, and a heat source.
Recent Data on forest Fires
A total of 381 forest fires have been reported in India by 30th March, 2022, according to the Forest Survey of India. Madhya Pradesh has recorded the highest number of fires at 133.
In March 2022, significant forest fires were reported in states such as Uttarakhand, Madhya Pradesh and Rajasthan.
The recent fire at Rajasthan's Sariska Tiger Reserve was also considered to have been unseasonal, with high temperatures exacerbating the spread of the fire.
January 2021 saw prolonged fires in Uttarakhand, Himachal Pradesh (Kullu Valley) and Nagaland-Manipur border (Dzukou Valley)
Recent fires also include those in Bandhavgarh Forest Reserve in Madhya Pradesh.
Impact of Forest Fire:
Loss of Ecosystems and Biodiversity: Forest fires destroy the habitats and the intricate relationships of diverse flora and fauna leading to loss of ecosystems and biodiversity.
Forest Degradation:
Almost every year, forest fires are witnessed across different forest regions which persistently reduce the quality of certain forest features like soil fertility, biodiversity, and ecosystems.
Air Pollution:
The huge clouds of smoke instigated by wildfires lead to massive air pollution.
Wildfire smoke, and particularly the concentration of PM 2.5, or particles smaller than 2.5 microns, can also affect the respiratory and cardiovascular systems
Global Warming:
When plant life is exterminated by fires greenhouse gasses increase in the atmosphere leading to climate change and global warming
Trees and vegetation when are burned, it means more greenhouse gases increases in the atmosphere, resulting in global warming
Soil Degradation:
Forest fires kill beneficial soil microorganisms that are responsible for breaking down the soil and promoting soil microbial activities.
The burning of trees and vegetation cover also leaves the soil bare making it readily vulnerable to soil erosion.
Measures to be taken
Recognise as a Disaster:
The forest fires should be treated as "natural disasters" and be brought under the National Disaster Management Authority.
Moreover, by designating forest fires as natural disasters, there will also be a financial allotment made to manage them.
Develop Alert system:
A forest fire alert system needs to be developed that can provide real time impact-based alerts.
Enhance Adaptive Capacity:
Capacity-building initiatives targeted at district administrations and forest-dependent communities can avert the extent of loss and damage due to forest fires.
Provide Clean Air Shelters:
The state government/ state forest departments (SFDs) should repurpose public buildings like government schools and community halls by fitting them with clean air solutions – like air filters – to create clean air shelters for communities worst impacted by fires and smoke from forest fires.
Source: Indian Express
---
Farm loan waiver
Syllabus
Mains – GS 2 (Governance)
In News: The SBI study flags poor implementation of Farm loan waiver in Telangana, M.P., Jharkhand, Punjab, Karnataka and U.P.
Findings
Only about half of the intended beneficiaries of farm loan waivers announced by nine States since 2014, have actually received debt write-offs
As of March 2022, the poorest implementation of farm loan waiver schemes in terms of proportion of eligible farmers who had received the announced benefits, were in Telangana (5%), Madhya Pradesh (12%), Jharkhand (13%), Punjab (24%), Karnataka (38%) and Uttar Pradesh (52%).
By contrast, farm loan waivers implemented by Chhattisgarh in 2018 and Maharashtra in 2020, were received by 100% and 91% of the eligible farmers, respectively.
Since 2014, out of approximately 7 crore eligible farmers, only around 50% of the farmers received the amount of loan waiver till March 2022
Farm Loan waivers by States have failed to bring respite to intended subjects, sabotaging credit discipline in select geographies and making Banks and financial institutions wary of further lending
Possible reasons
The report identified rejection of farmers' claims by State Governments, limited or low fiscal space to meet promises, and change in Governments in subsequent years, as the possible reasons for the low implementation rate of these loan waivers.
The report also raised the benefits not reaching the targeted farmers
Of the total accounts eligible for farm loan waiver, most of the accounts were in standard category, begging a question whose interest rampant waivers actually serve.
Loan waivers destroy the credit culture which may harm the farmers' interest in the medium to long term and also squeeze the fiscal space of governments to increase productive investment in agriculture infrastructure.
Source: The Hindu
---
Preserving democracy in India
Syllabus
Context: The presence of a vigilant Opposition is necessary not just for a vibrant democracy but for its very survival
Parliamentary democracy
The Indian Constitution adopted the parliamentary system
The rationale quoted by R. Ambedkar for this is – A democratic executive must satisfy two conditions –
It must be a stable executive and
It must be a responsible executive.
Unfortunately it has not been possible so far to devise a system which can ensure both in equal degree.
Role of Opposition
Parliamentary democracy does not envisage a condition where a one party-government becomes permanent.
The presence of a vigilant Opposition is necessary not just for a vibrant democracy but for its very survival.
When the Opposition criticises the government or carries on an agitation to arouse public opinion against a party's misdeeds, it is performing a duty that is assigned by the Constitution.
Without an effective Opposition, democracy will become dull and legislature will become submissive.
The public will then think that the legislature is a sham and is unable to perform its functions and will lose interest in the functioning of Parliament.
Failed Anti-defection law
Encouraging defections from the parties in power in States will sound the death knell for democracy.
The whip system is part of the established machinery of political organisation in the House and does not infringe on a member's rights or privilege in any way.
That is why some political thinkers have recognised as an additional device the 'theory of recall,' so that a member whose personal behaviour falls below standards expected of his constituents goes back and seek their approval.
This power is particularly apt when a member shows disloyalty to his party but declines to resign from his seat and to fight an immediate by-election. The anti-defection law was supposed to be the justification underlying the power of recall And the law failed.
Reasons
The law does not provide a time-frame within which the presiding officer has to decide a defection case.
There have been many instances where a Speaker has misused this in not determining the case of a defecting MLA until the end of the legislature term.
Parties often sequester MLAs in resorts to prevent them from changing their allegiance or getting poached by a rival party.
Recent examples are Maharashtra (2019) & (2022), Karnataka (2019 and 2018), and Tamil Nadu (2017).
Misuse of Powers
Recent trend of the use of draconian powers, especially the Prevention of Money Laundering Act, Investing agencies against Opposition members
Way Forward
Political parties, the judiciary and civil society must take steps to ensure that democracy does not fail.
The Opposition must be tolerated because if it is left for the party in power to decide what ishealthy and unhealthy criticism, then every criticism of the latter will be treated as unhealthy.
At the same time, while the Opposition must be credible and strong, it is for the Opposition to make itself credible and strong.
Learn from best practices
In England, where the parliamentary system prevails, the assessment of responsibility of the executive is both daily and periodic.
The daily assessment is done by members of Parliament, through questions, resolutions, no-confidence motions, adjournment motions and debates on addresses.
Periodic assessment is done by the electorate at the time of the election.
Source: The Hindu
---
Energy Security
Syllabus
Mains – GS 3 (Economy – Energy)
Context: Since the onset of the pandemic and over the past few months, after the Ukraine-Russia war, commodity prices, especially that of energy, have surged worldwide.
With inflation at unprecedented levels in many countries, concerns over energy security have gained centre stage.
Coal crisis
For the last six months, national coal index (NCI) has jumped from about 165 to about 238 reflecting the sharp increase in international coal prices.
This development shows the importance of increasing domestic coal production to reduce the exposure of the domestic economy to the price volatility of international markets.
A big effort toward permitting commercial mining has been made to get the private sector to produce more coal, but that's not sufficient.
What's need to be done?
First, the financial community has to be sensitised to the need of increasing domestic coal production to meet the growing energy demand.
The Ministry of Power recognised the need to increase coal-based generation in the country in its draft National Electricity Policy
This policy has not yet been finalised. It should clearly articulate the importance of domestic coal-based generation.
Second, is the need for a regulator to address the issues arising from a greater role of the private sector
There are several issues where new private commercial miners would need help.
A single point of contact for the industry in the form of a dedicated regulator would give great comfort to private players and would help to overcome problems that could arise in due course.
Third, increasing domestic production of coal and diversifying the production base are both needed.
This must be complemented with efforts to improve the quality of the coal produced.
Fourth, the undue financial burden on the coal sector due to various cross subsidies needs attention. The regime needs to be reformed.
And Fifth the path to achieving 500 GW of renewables needs to be gradual, ensuring an orderly transition as coal is unavoidable in the near future
The changes in the coal industry in the last few years are in the right direction. These were long overdue. Action on the issues discussed above will only help to deepen and strengthen these reforms which are needed to overcome the challenges that have resurfaced in recent world order.
National Coal Index (NCI)
NCI was rolled out in June 2020.
It is a price index which reflects the change of price level of coal in a particular month relative to the fixed base year.
The base year for the NCI is Financial Year 2017-18.
Compilation:
Prices of coal from all the sales channels of coal, including import, as existing today are taken into account for compiling the NCI.
The amount of revenue share per tonne of coal produced from auctioned blocks would be arrived at using the NCI by means of defined formula.
Source: Indian Express
---
Right to Repair
Syllabus
GS-2: Government policies and interventions for development in various sectors and issues arising out of their design and implementation.
GS-3: Indian Economy & challenges
Context: The government has proposed to introduce the 'right to repair' law. The department of consumer affairs has set up a committee to develop a right to repair framework in the country.
Though the world of consumer technology is bustling with electronic goods, options to get them repaired are getting fewer. Repairing is becoming unreasonably expensive or pretty much impossible because of multiple factors
In recent years, countries around the world have been attempting to pass effective 'right to repair' laws.
---
Daily Practice MCQs
Daily Practice MCQs
Q.1) Consider the following statements about Vice-President
The Vice President is the second highest constitutional office in India
To become a vice president, s/he should be minimum 35 years of age
VP can be removed from his office by passing a resolution with effective majority and special majority in Rajya Sabha and Lok Sabha respectively
Choose the correct statements:
1, 2 and 3
1 and 2
1 and 3
2 only
Q.2) Anamalai Tiger reserve is located in?
Kerala
Karnataka
Tamil Nadu
Puducheery
Q.3) Namsai Declaration, recently seen in news is related to?
River water dispute resolution between Odisha and Andhra Pradesh
Declaration signed by border states to fight infiltration
Agreement between National Socialist Council of Nagaland and Government of India
The pact signed between Assam and Arunachal Pradesh to resolve border dispute
---
Comment the answers to the above questions in the comment section below!!
ANSWERS FOR '18th JULY 2022 – Daily Practice MCQs' will be updated along with tomorrow's Daily Current Affairs.
---
ANSWERS FOR 16th JULY 2022 – Daily Practice MCQs
Answers- Daily Practice MCQs
Q.1) – a
Q.2) – d
Q.3) – c
For a dedicated peer group, Motivation & Quick updates, Join our official telegram channel – https://t.me/IASbabaOfficialAccount
Subscribe to our YouTube Channel HERE to watch Explainer Videos, Strategy Sessions, Toppers Talks & many more…