---
(PRELIMS & MAINS Focus)
---
Vice President of India
Syllabus
Prelims – Polity & Governance
In News: President of India administers the oath of office of Vice President of India to Shri Jagdeep Dhankhar
Vice-President (VP)
S/he Vice-President occupies the second highest office in the country.
S/he is accorded a rank next to the President in the official warrant of precedence.
Election
The Electoral College of VP is different from the Electoral College for the election of the President in the following two respects:
It consists of both elected and nominated members of the Parliament (in the case of president, only elected members).
It does not include the members of the state legislative assemblies (in the case of President, the elected members of the state legislative assemblies are included).
Qualifications
To be eligible for election as Vice-President, a person should fulfil the following qualifications:
He should be a citizen of India.
He should have completed 35 years of age.
He should be qualified for election as a member of the RajyaSabha.
He should not hold any office of profit under the Union government or any state government or any local authority or any other public authority.
The Constitution lays down the following two conditions of the Vice-President's office:
He should not be a member of either House of Parliament or a House of the state legislature. If any such person is elected Vice-President, he is deemed to have vacated his seat in that House on the date on which he enters upon his office as Vice-President.
He should not hold any other office of profit.
Term of Office
The Vice-President holds office for a term of five years from the date on which he enters upon his office.
However, he can resign from his office at any time by addressing the resignation letter to the President.
He can also be removed from the office before completion of his term.
He can be removed by a resolution passed by a majority of all the then members of the Rajya Sabha and agreed to by the Lok Sabha.
This means that this resolution should be passed in the Rajya Sabha by an effective majority and in the Lok Sabha by a simple majority.
This resolution can be introduced only in the Rajya Sabha and not in the Lok Sabha.
But, no such resolution can be moved unless at least 14 days' advance notice has been given.
No ground has been mentioned in the Constitution for his removal.
The VP can hold office beyond his term of five years until his successor assumes charge. He is also eligible for reelection to that office.
The Constitution has not fixed any emoluments for the VP in that capacity.
He draws his regular salary in his capacity as the ex-officio Chairman of the Rajya Sabha.
The functions of Vice-President are two-fold:
He acts as the ex-officio Chairman of Rajya Sabha.
In this capacity, his powers and functions are similar to those of the Speaker of Lok Sabha.
He acts as President when a vacancy occurs in the office of the President due to his resignation, impeachment, death or otherwise.
He can act as President only for a maximum period of six months within which a new President has to be elected.
Further, when the sitting President is unable to discharge his functions due to absence, illness or any other cause, the Vice-President discharges his functions until the President resumes his office.
While acting as President or discharging the functions of President, the VP does not perform the duties of the office of the chairman of Rajya Sabha.
During this period, those duties are performed by the Deputy Chairman of Rajya Sabha.
Source: Pib.gov
Previous Year Question
Q.1) With reference to Deputy Speaker of Lok Sabha, consider the following statements: (2022)
As per the Rules of Procedure and Conduct of Business in Lok Sabha, the election of Deputy Speaker shall be held on such date as the Speaker may fix.
There is a mandatory provision that the election of a candidate, as Deputy Speaker of Lok Sabha shall be from either the principal opposition party or the ruling party.
The Deputy Speaker has the same power as of the Speaker when presiding over the sitting of the House and no appeal lies against his rulings.
The well established parliamentary practice regarding the appointment of Deputy Speaker is that the motion is moved by the Speaker and duly seconded by the Prime Minister.
Which of the statements given above are correct?
1 and 3 only
1, 2 and 3
3 and 4 only
2 and 4 only
---
Butterfly Mine
Syllabus
Prelims – Science & Technology – Current Affairs
In News: The UK Ministry of Defence, in its intelligence assessment of the ongoing war in Ukraine, has and sounded an alarm on the possible use of PFM-1 series 'Butterfly Mines' by the Russian military in Donetsk and Kramatorsk.
What is the intelligence assessment put out by UK?
As per an intelligence bulletin, Russia is likely to have deployed anti-personnel mines to deter freedom of movement along its defensive lines in the Donbas.
These mines have the potential to inflict widespread casualties amongst both the military and the local civilian population.
Commonly called the 'butterfly mine', the PFM-1 series are deeply controversial, indiscriminate weapons.
PFM-1s were used to devastating effect in the Soviet-Afghan War where they allegedly maimed high numbers of children who "mistook them for toys".
It added that it is highly likely that the Soviet-era stock being used by Russia will have degraded over time and is now unreliable and unpredictable.
This poses a threat to both the local population and humanitarian mine clearance operations.
What is the 'Butterfly Mine' and why is it called so?
The PFM-1 and PFM-1S are two kinds of anti-personnel landmines that are commonly referred to as 'Butterfly mines' or 'Green Parrots'.
These names are derived from the shape and colour of the mines.
The main difference between the PFM-1 and PFM-1S mine is that the latter comes with a self destruction mechanism which gets activated within one to 40 hours.
The 'Butterfly mine' has earned a reputation for being particularly attractive to children because it looks like a coloured toy.
It is very sensitive to touch and just the act of picking it up can set it off.
Because of the relatively lesser explosive packed in this small mine, it often injures and maims the handler rather than killing them.
These mines are also difficult to detect because they are made of plastic and can evade metal detectors.
These mines can be deployed in the field of action through several means, which include being dropped from helicopters or through ballistic dispersion using artillery and mortar shells.
These mines glide to the ground without exploding and later explode on coming in contact.
Since these mines were green in colour when they were first put to use they also earned the name 'Green Parrots'.
What are the technical specifications of this mine?
The PFM series mines are moulded in polythene plastic and have two wings, one of which is heavier than the other.
The thicker wing is the pressure activation for the main fuse which is contained in the central body.
The thinner wing acts as a stabiliser for the mine when it is air-dropped, thus giving it the name 'butterfly'.
As per data available on the mine, a pressure exceeding 5 kg will activate the mine which contains 40g of explosive.
The rapid means of deployment of the mine and the fact that it can be indiscriminately scattered to impede the advance of an enemy makes it an attractive option for a field commander, regardless of the danger that these can pose for non-combatants living in the area.
Are these kinds of mines allowed by international law?
The anti personal mines are banned by international convention on land lines but Russia and Ukraine are not signatories to it.
However, there is a 1996 Amended Protocol II to the Convention on Certain Conventional Weapons-the Landlines Protocol to which Russia and Ukraine are signatories.
In the ongoing conflict, both countries have accused each other of having used these mines, since both posses them in sufficient numbers.
Source: Indian Express
Previous Year Question
Q.1) What is "Terminal High Altitude Area Defense (THAAD)", sometimes seen in the news? (2018)
An Israeli radar system
India's indigenous anti-missile programme
An American anti-missile system
A defence collaboration between Japan and South Korea.
---
India 7th highest in digital currency ownership: United Nation
Syllabus
Prelims – Science & Technology
Mains – GS 3 (Economy; Science & Technology)
In News: The UN trade and development body UNCTAD said that in 2021, developing countries accounted for 15 of the top 20 economies when it comes to the share of the population that owns cryptocurrencies.
In India, 7.3% of the population owned digital currency in 2021, seventh highest in the world.
Ukraine topped the list with 12.7 per cent, followed by Russia (11.9 per cent), Venezuela (10.3 per cent), Singapore (9.4 per cent), Kenya (8.5 per cent) and the US (8.3 per cent).
Global use of cryptocurrencies has increased exponentially during the COVID-19 pandemic, including in developing countries.
In three policy briefs published, UNCTAD said that while these private digital currencies have rewarded some and facilitate remittances, they are an unstable financial asset that can also bring social risks and costs.
The policy brief titled "All that glitters is not gold: The high cost of leaving cryptocurrencies unregulated" examines the reasons for the rapid uptake of cryptocurrencies in developing countries, including facilitation of remittances and as a hedge against currency and inflation risks.
If cryptocurrencies become a widespread means of payment and even replace domestic currencies unofficially (a process called cryptoisation), this could jeopardise the monetary sovereignty of countries.
In developing countries with unmet demand for reserve currencies, stablecoins pose particular risks.
For some of these reasons, the International Monetary Fund has expressed the view that cryptocurrencies pose risks as legal tender.
The policy brief titled "Public payment systems in the digital era: Responding to the financial stability and security-related risks of cryptocurrencies" focuses on the implications of cryptocurrencies for the stability and security of monetary systems, and to financial stability.
It is argued that a domestic digital payment system that serves as a public good could fulfil at least some of the reasons for crypto use and limit the expansion of cryptocurrencies in developing countries.
Depending on national capabilities and needs, monetary authorities could provide a central bank digital currency or, more readily, a fast retail payment system.
Given the risk of accentuating the digital divide in developing countries, UNCTAD urges authorities to maintain the issuance and distribution of cash.
The policy brief titled "The cost of doing too little too late: How cryptocurrencies can undermine domestic resource mobilisation in developing countries" discusses how cryptocurrencies have become a new channel undermining domestic resource mobilisation in developing countries.
While cryptocurrencies can facilitate remittances, they may also enable tax evasion and avoidance through illicit flows
In this way, cryptocurrencies may also curb the effectiveness of capital controls, a key instrument for developing countries to preserve their policy space and macroeconomic stability
UNCTAD urged authorities to take actions to curb the expansion of cryptocurrencies in developing countries, including ensuring comprehensive financial regulation of cryptocurrencies through regulating crypto exchanges, digital wallets and decentralised finance, and banning regulated financial institutions from holding cryptocurrencies (including stablecoins) or offering related products to clients.
It also called for restricting advertisements related to cryptocurrencies, as for other high-risk financial assets; providing a safe, reliable and affordable public payment system adapted to the digital era; implementing global tax coordination regarding cryptocurrency tax treatments, regulation and information sharing and redesigning capital controls to take account of the decentralised, borderless and pseudonymous features of cryptocurrencies.
Source: livemint.com
---
National Intellectual Property Awareness Mission (NIPAM)
Syllabus
Prelims – Current Affairs
Mains – GS 3 (Economy)
In News: NIPAM has achieved target of imparting Intellectual Property (IP) awareness and basic training to 1 million students on 31st July 2022, ahead of the deadline which was 15 August 2022
NIPAM, a flagship program to impart IP awareness and basic training, was launched on 8 Dec 2021 as a part of "Azadi Ka Amrit Mahotsav"
The program is being implemented by Intellectual Property Office, the Office of Controller General of Patents, Designs and Trade Marks (CGPDTM), Ministry of Commerce and Industry.
The way forward is to strengthen the NIPAM program further to nurture and encourage innovation and creativity, thereby contributing towards cultural and economic development of the society through a revamped manner utilizing the existing resources of the IP Office in collaboration with Atal Innovation Mission (AIM), AICTE, UGC
Source: Pib.Gov
Previous Year Question
Q.1) What is the aim of the programme 'Unnat Bharat Abhiyan'? (2017)
Achieving 100% literacy by promoting collaboration between voluntary organizations and government's education system and local communities.
Connecting institutions of higher education with local communities to address development challenges through appropriate technologies.
Strengthening India's scientific research institutions in order to make India a scientific and technological power.
Developing human capital by allocating special funds for health care and education of rural and urban poor, and organizing skill development programmes and vocational training for them.
---
Global Employment Trends for Youth 2022
Syllabus
Prelims – Current Affairs
Mains – GS 3 (Employment)
In News: Global Employment Trends for Youth 2022 report was released by International Labour Organisation.
The recovery in youth employment is still lagging globally, the report says confirming that COVID-19 has hurt young people more than any other age group.
Findings
It finds that the pandemic has worsened the numerous labour market challenges facing those aged between 15 and 24 years.
Youngsters in this age group experienced a much higher percentage loss in employment than adults since early 2020.
The total global number of unemployed youth is estimated to reach 73 million in 2022, a slight improvement from 2021 (75 million), but still six million above the pre-pandemic level of 2019.
The situation is particularly severe for very young people aged 15-20 years.
Key findings related to India
In India, the youth employment participation rate declined by 0.9 percentage points over the first nine months of 2021 relative to its value in 2020, while it increased by 2 percentage points for adults over the same time period.
In India, the school closures lasted 18 months and among the 24 crore school-going children, only 8% of such children in rural areas and 23% in urban areas had adequate access to online education.
Given the deeply unequal access to online resources in developing countries, children from socio-economically disadvantaged families, which are the large majority, had almost no access to education
It said school closures not only prevented new learning, but also led to the phenomenon of "learning regression", that is, children forgetting what they had learned earlier.
In India, 92% of children on average lost at least one foundational ability in language and 82% lost at least one foundational ability in mathematics.
The report appreciated the MGNREGA and said it has played an important role in providing paid employment, particularly for women, also in carbon sequestration because of the Act's focus on natural resources, such as land, water and trees, which provide adaptation benefits.
It added that India has a very low youth female labour market participation and Indian young women experienced larger relative employment losses than young men in 2021 and 2022.
In general, the high youth employment losses in India drive up the global average employment losses.
Young Indian men account for 16% of young men in the global labour market, while the corresponding share for young Indian women is just 5%.
It highlighted Quality education and training opportunities are required to create decent jobs, especially in green, blue and digital economies, and to set economies on the path towards greater sustainability, inclusiveness and resilience.
Source: The Hindu
Previous Year Question
Q.1) Which one of the following issues the 'Global Economic Prospects' report periodically? (2015)
The Asian Development Bank
The European Bank for Reconstruction and Development
The US Federal Reserve Bank
The World Bank
---
Common civil code of Goa
Syllabus
Prelims – Polity
Mains – GS 2 (Polity & Governance)
Context: The Portuguese Civil Code of 1867, the so-called "common civil code" of Goa, is in the news again.
The law ministry has reportedly told the parliamentary standing committee, that if it (the code in Goa) requires review it must be looked into.
Pre-independence
The Portuguese had occupied certain territories in the coastal regions of the country and established what they called Estado Portuguese da India (Portuguese State of India) with its capital in Cochin, later shifted to Goa.
They did not interfere with the local customs relating to family relations and framed, in the mid-19th century, three separate codes of religion-based customary laws of Goa, Daman and Diu.
The Portuguese Civil Code of 1867 was extended to Goa, Daman and Diu by a royal decree of November 18, 1869, declaring that the code would apply to the natives subject to the local usages and customs "so far as they are not inconsistent with morality or public order".
The three local codes of customary law were accordingly revised in later years.
In 1910, the Portuguese parliament enacted two civil marriage and divorce decrees and, in 1946, a canonical marriage decree for Catholics.
All of these too were extended to Goa, Daman and Diu.
The family law applied by the Portuguese, both at home and in the occupied Indian territories, was thus not a uniform code but a loose conglomeration of civil and religious laws.
Post-independence
Fourteen years after the advent of Independence, Goa and its affiliated territories were liberated and turned into a Union Territory (UT) under central rule.
The Goa, Daman and Diu Administration Act of 1962 declared that all laws in force in these territories before their liberation would continue to be in force "until amended or repealed by a competent legislature or other competent authority".
None of the pre-liberation family laws was, however, amended or repealed.
Nor was any central law on family rights, including the four Hindu law Acts of 1955-56, extended to any of the three territories.
Outdated law
The myth of an outdated law of foreign origin now serving all inhabitants of Goa as a fully common civil code needs to be duly busted.
Moreover, there is no justification for retaining over a century-old archaic law, 75 years after the independence of India.
It seems quite inexplicable that the other civil laws used in the rest of the country cannot be extended to the same communities in Goa, Daman and Diu.
Must Read: Uniform Civil Code
Source: Indian Express
---
Antarctic ice shelf crumbling faster than thought
Syllabus
Mains – GS 3 (Environment)
In News: The first-of-its-kind study raises new concerns about how fast climate change is weakening Antarctica's floating ice shelves and accelerating the rise of global sea levels.
Antarctica's coastal glaciers are shedding icebergs more rapidly than nature can replenish the crumbling ice, doubling previous estimates of losses from the world's largest ice sheet over the past 25 years, a satellite analysis showed.
The study's key finding was that the net loss of Antarctic ice from coastal glacier chunks "calving" off into the ocean is nearly as great as the net amount of ice that scientists already knew was being lost due to thinning caused by the melting of ice shelves from below by warming seas.
Taken together, thinning and calving have reduced the mass of Antarctica's ice shelves by 12 trillion tons since 1997, double the previous estimate.
The net loss of the continent's ice sheet from calving alone in the past quarter-century spans nearly 37,000 sq km (14,300 sq miles), an area almost the size of Switzerland
Antarctica is crumbling at its edges, and when ice shelves dwindle and weaken, the continent's massive glaciers tend to speed up and increase the rate of global sea level rise.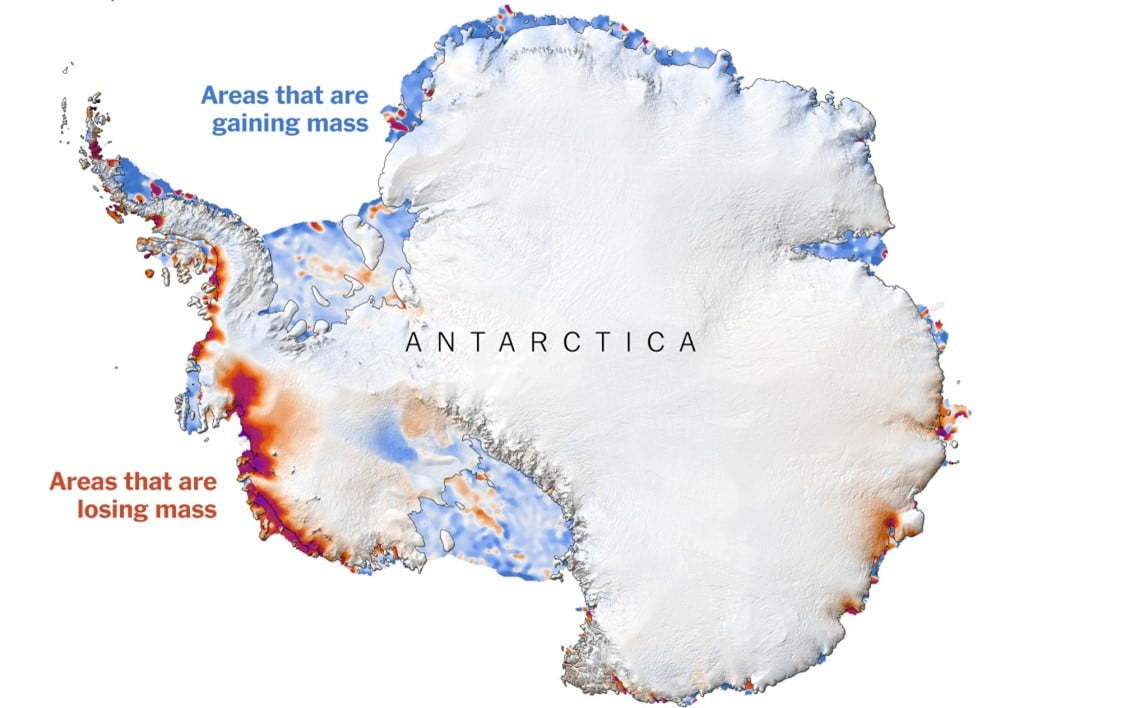 The consequences could be enormous.
Antarctica holds 88% of the sea level potential of all the world's ice.
When ice shelves are stable, the long-term natural cycle of calving and re-growth keeps their size fairly constant.
The accelerated glacial calving, like ice thinning, was most pronounced in West Antarctica, an area hit harder by warming ocean currents.
But even in East Antarctica, a region whose ice shelves were long considered less vulnerable, are witnessing more losses than gains.
The losses measured from calving outpaced natural ice shelf replenishment so greatly that researchers found it unlikely Antarctica can return to pre-2000 glacier levels by the end of this century.
Must Read: The Indian Antarctic Bill, 2022 + Antarctic Regulation
Source: Indian Express
---
Dip in adoption
Syllabus
In News: Concerned over the declining number of children for adoption in the country, a Parliamentary panel has expressed apprehension that this may point to an illegal child adoption market and trafficking.
In its 118th Report on Review of Guardianship and Adoption Laws, submitted to Parliament Parliamentary Standing Committee on personnel, public grievances, law and justice has noted "the paradoxical situation where on one hand there are a large number of parents willing to adopt a child, (and) on the other, there are not many children available for adoption".
The committee, noted that according to adoption statistics of Central Adoption Resource Authority (CARA), the number of children adopted within the country declined from 5,693 in 2010 to 3142 in 2020-21.
The number of children taken in inter-country adoption decreased from 628 in 2010 to 417 in 2020-21.
This, the committee reported, "is a cause of grave concern''.
There is decline in the number of children coming to adoption agencies over the years
This decline, by and large, points to trafficking or a thriving illegal child adoption market.
The committee is of the view that there is a need to increase surveillance, especially on unregistered child care institutions and adoption agencies/hospitals with a past record of trafficking.
The committee takes note of the paradoxical situation where on one hand there are a large number of parents willing to adopt a child, on the other, there are not many children available for adoption, all this while the 2020 World Orphan Report estimates the number of orphans in India at 31 million.
Recommendations
In the given situation, the committee recommended that a true picture of the number of children who are orphaned/abandoned be ascertained through a district-level survey. This data should be updated regularly.
There is a need to simplify the procedure further, besides bringing down the time required for placing a child in adoption to less than six months. The committee is of the view that a longer wait period often forces parents willing to adopt a child to resort to illegal adoption.
Laws governing adoption in India
In India, the Central Adoption Resource Authority (CARA) is the statutory body of the Women and Child Development ministry, which functions as the nodal agency for adoption, and is mandated to monitor and regulate in-country and inter-country adoptions.
The adoption of orphaned, abandoned and surrendered children are all regulated by CARA through its associated or recognised adoption agencies.
Three laws govern adoption in the country:
The Hindu Adoption and Maintenance Act of 1956, which applies to Hindus, Buddhists, Jains and Sikhs.
Under this act, the adoption is irrevocable and it gives full status to the child as a natural child born to the family, it also gives the right to inherit the property.
The Guardian and Wards Act of 1890, which applies to Muslim, Parsi, Christian and Jews in adoption.
Under the GAWA, the relationship which is established after an adoption is only of guardian and ward respectively. Adoption under GAWA does not confer the status of the child on the adopted child; it is different from the HAMA.
The Juvenile Justice (Care and Protection of Children) Act of 2015.
It replaced the Juvenile Justice (Care and Protection of Children) Act, 2000.
It applies to all Indian Citizen.
It allows the adoption of two children of the same sex.
It confers the status of parents & child and not guardian and ward. It also confers rights available to the child on the adopted child.
In particular, it provides a comprehensive process for domestic and inter-country adoption of orphan, abandoned and surrendered children.
In addition, the UNCRC (United Nations Convention on the Rights of Child) was ratified by India in 1992 and the Hague Convention on Inter-country Adoption, 1993, was ratified by the Government of India in 2003.
Source: Indian Express
---
Euthanasia
Syllabus
Mains – GS 2 (Governance); GS 4 (Ethics)
In News: A 49-year-old woman from Bengaluru wants the court to stop her friend, a Noida-based 48-year-old man with a debilitating health condition, from travelling to Europe allegedly to undergo assisted suicide or euthanasia — an option not available in India to a person who is not terminally ill.
The man has been suffering from Chronic Fatigue Syndrome since 2014 and is allegedly planning to travel to Switzerland for a physician-assisted suicide.
In 2018, the Supreme Court had delivered a landmark ruling in Aruna Shanbaug case that made passive euthanasia legal for terminally ill individuals, allowing them to decline the use of life support measures, and letting families of those in incurable coma to withdraw such measures.
While Section 309 of IPC criminalises attempted suicide, the Mental Healthcare Act Section 115(1) states that "any person who attempts to commit suicide shall be presumed, unless proved otherwise, to have severe stress and shall not be tried and punished under the said Code."
Many countries like Switzerland, Singapore, have come under criticism for promoting "suicide tourism".
Euthanasia
The term Euthanasia comes from two Ancient Greek words 'Eu' means 'Good', and 'thantos' means 'death', so Euthanasia means good death.
Mercy Killing also known as Euthanasia is an act of providing painless death to a suffering individual who wouldn't survive if medical facilities are removed from their help.
Two types: Euthanasia can be also divided into two types according to means of death.
Active Euthanasia: It is also known as 'Positive Euthanasia' or 'Aggressive Euthanasia'.
It refers to causing intentional death of a human being by direct intervention.
Active euthanasia is usually a quicker means of causing death and all forms of active euthanasia are illegal.
For example, by giving lethal doses of a drug or by giving a lethal injection.
Passive Euthanasia: It is also known as 'Negative Euthanasia' or 'Non-Aggressive Euthanasia'.
It is intentionally causing death by not providing essential, necessary and ordinary care or food and water.
It implies discontinuing, withdrawing or removing artificial life support systems.
Passive euthanasia is usually slower and more uncomfortable than active.
Indian Scenario
As of now, only passive Euthanasia is allowed in India by the Supreme Court.
Issues
Medical Ethics:
Medical ethics call for nursing, caregiving and healing and not ending the life of the patient.
In the present time, medical science is advancing at a great pace making even the most incurable diseases curable today.
Thus, instead of encouraging a patient to end his life, the medical practitioners have to encourage the patients to lead their painful life with strength.
Moral Wrong:
Taking a life is morally and ethically wrong. The value of life can never be undermined.
Vulnerable will become more prone to it:
Groups that represent disabled people are against the legalisation of euthanasia on the ground that such groups of vulnerable people would feel obliged to opt for euthanasia as they may see themselves as a burden to society.
Suicide v/s Euthanasia:
When suicide is not allowed then euthanasia should also not be allowed.
A person commits suicide when he goes into a state of depression and has no hope from the life.
Similar is the situation when a person asks for euthanasia.
But such a tendency can be lessened by proper care of such patients and showing hope in them.
Significance
End of Pain:
Euthanasia provides a way to relieve the intolerably extreme pain and suffering of an individual.
It relieves the terminally ill people from a lingering death.
Respecting Person's Choice:
The essence of human life is to live a dignified life and to force the person to live in an undignified way is against the person's choice.
Thus, it expresses the choice of a person which is a fundamental principle.
Treatment for others:
In many developing and underdeveloped countries like India, there is a lack of funds. There is a shortage of hospital space.
So, the energy of doctors and hospital beds can be used for those people whose life can be saved instead of continuing the life of those who want to die.
Dignified Death:
Article 21 of the Indian Constitution clearly provides for living with dignity.
A person has a right to live a life with at least minimum dignity and if that standard is falling below that minimum level then a person should be given a right to end his life.
Addressing Mental Agony:
The motive behind this is to help rather than harm. It not only relieves the unbearable pain of a patient but also relieves the relatives of a patient from the mental agony.
 Way Forward
Palliative care – Control over the manner and timing of a person's death has not been and should not be a goal of medicine.
India needs improved access to high-quality healthcare for the terminally ill so that they go in peace, whenever they do.
This is referred to as palliative care right from the time an illness is diagnosed till the end of life.
Moral Support from family and friends makes the patient confident to fight the illness.
Passage of Medical Treatment of Terminally-ill Patients Bill, 2016 to regulate passive euthanasia.
Source: Indian Express
---
Open Network for Digital Commerce (ONDC)
Syllabus
GS-2: Government policies and interventions for development in various sectors and issues arising out of their design and implementation.
GS-3: Indian Economy and Challenges
Context: Digital commerce is reshaping the global business environment and can provide a fairer and more inclusive playing field for businesses. It can create economic opportunities for new sets of players, especially small businesses.
COVID-19 has fueled the growth of digital commerce across the globe. Though digital commerce in mobility and travel services declined, digital commerce in the retail sector saw a rise in the share of total retail sales, from 16% in 2019 to 19% in 2020.
This was a result of a spike in business- to-consumer (B2C) sales, particularly evident in online sales of medical supplies, household essentials, and food products. COVID-19 also resulted in increased business-to-business (B2B) digital commerce.
The future of open retail is taking shape in India as the nation rolls out the Open Network for Digital Commerce (ONDC) in 100 cities in August 2022. It is being spearheaded by Infosys founder Nandan Nilekani.
---
Daily Practice MCQs
Daily Practice MCQs
Q.1) Global Employment Trends for Youth 2022 report was released by?
World Bank
United Nations Conference on Trade and Development
International Labour Organization
World Economic Forum
Q.2) Consider the following statements about Vice-President (VP)
The Constitution lays down S/he should not be a member of either House of Parliament.
S/he can resign from his/her office at any time by addressing the resignation letter to the Deputy-Chairman.
Choose the incorrect statements:
1 only
2 only
Both 1 and 2
Neither 1 nor 2
Q.3) National Intellectual Property Awareness Mission (NIPAM), is an initiative of?
Ministry of Micro, Small and Medium Enterprises
Ministry of Commerce and Industry
NITI Aayog
Prime Minister's Office
---
Comment the answers to the above questions in the comment section below!!
ANSWERS FOR '12th August 2022 – Daily Practice MCQs' will be updated along with tomorrow's Daily Current Affairs.
---
ANSWERS FOR 11th August 2022 – Daily Practice MCQs
Answers- Daily Practice MCQs
Q.1) – c
Q.2) – d
Q.3) – b
For a dedicated peer group, Motivation & Quick updates, Join our official telegram channel – https://t.me/IASbabaOfficialAccount
Subscribe to our YouTube Channel HERE to watch Explainer Videos, Strategy Sessions, Toppers Talks & many more…