In News:  The Supreme Court raised the ceiling limit of iron ore mining for some districts of Karnataka saying conservation of the ecology and environment must go hand in hand with the spirit of economic development.
Ten years back SC clamped down on production and sale of iron ore in Karnataka due to prevalent of illegal mining.
Iron Ore
Iron ores are rocks and minerals from which metallic iron can be extracted.
India has large iron ore reserves. It occurs in various geological formations but major economic deposits are found in volcano-sedimentary Banded Iron Formation (BIF) from the Precambrian age.
Magnetite is the finest iron ore with a very high content of iron up to 72 percent.
It has excellent magnetic qualities, especially valuable in the electrical industry.
Hematite ore is the most important industrial iron ore in terms of the quantity used but has a slightly lower iron content than magnetite.
The highest producer is the Odisha Jharkhand belt, Durg Bastar Chandrapur belt, Bellary-Chitradurga-Chikmagalur-Tumkur belt, and the Maharashtra Goa belt.
The iron ore is found in following four types:
Magnetite: It is the most important and best kind of iron ore.
It contains about 72% metallic iron in it. It is found in Karnataka, Andhra Pradesh, Rajasthan, Tamil Nadu, Goa and Kerala.
Hematite:
It contains about 60-70 percent metallic iron in it.
It is red and brown in colour.
It is found in Odisha, Jharkhand, Chhattisgarh and Andhra Pradesh. In the western section, Karnataka, Maharashtra and Goa have this kind of ore.
Limonite:
It contains about 30 to 40 percent metallic iron in it. It is mostly yellow in colour. It is low-grade iron ore.
Siderite:
It has more impurities.
It contains about 48 percent metallic iron content in it.
It is brown in colour.
It contains a mixture of iron and carbon. It is low-grade iron ore. It is self-fluxing due to the presence of lime.
Reserves and distribution of iron ore
About 95% of total reserves of iron ore are found in the States of Odisha, Jharkhand, Chhattisgarh, Karnataka, Goa, Telangana, Andhra Pradesh, and Tamil Nadu.
India's leading state that produces iron ore is Odisha. It accounts for more than 55% of the total production followed by Chhattisgarh producing almost 17%, this is followed by Karnataka and Jharkhand producing 14% and 11% respectively.
Export of iron ore from India
India is the fifth largest exporter of iron ore in the world.
About 50 to 60 percent of our total iron ore production to countries like Japan, Korea, European countries, and lately to Gulf countries.
Japan is the biggest buyer of Indian iron ore accounting for about three-fourths of our total exports.
Major ports handling iron ore export are Vishakhapatnam, Paradip, Marmagao, and Mangalore.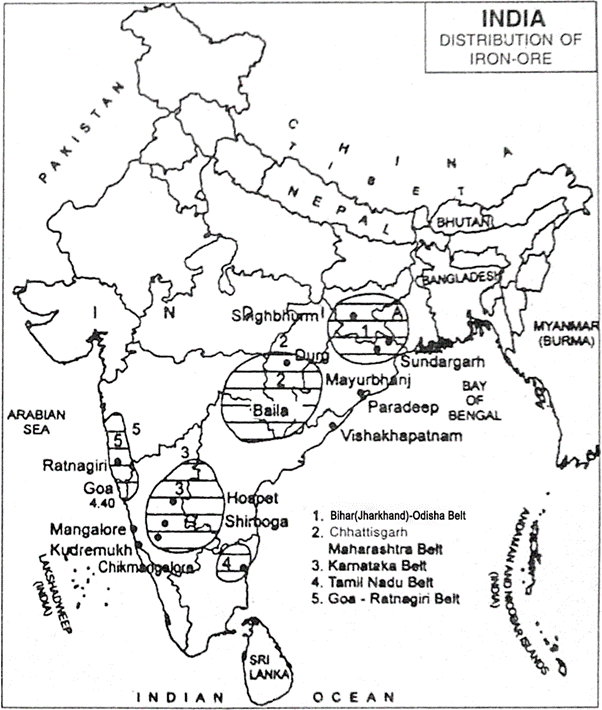 Source: The Hindu
Previous Year Question
Q.1) With reference to the mineral resources of India, consider the following pairs: (2010)
Mineral         90% Natural sources in
Copper: Jharkhand
Nickel:     Orissa
Tungsten:  Kerala
Which of the statements given above is/are correct?
1 and 2 only
2 only
1 and 3 only
1, 2 and 3
For a dedicated peer group, Motivation & Quick updates, Join our official telegram channel – https://t.me/IASbabaOfficialAccount
Subscribe to our YouTube Channel HERE to watch Explainer Videos, Strategy Sessions, Toppers Talks & many more…