In News: Sonali Phogat (Actor and a Politician) who was recently killed by giving the recreational drug methamphetamine on the eve of her death.
She died after a heart attack caused by an overdose of methamphetamine.
The stimulant drug
Methamphetamine — meth for short — is a powerful, highly addictive stimulant that affects the central nervous system, and is used to treat attention-deficit hyperactivity disorder (ADHD) and narcolepsy, a sleep disorder.
Crystal methamphetamine or crystal meth is a form of the drug that looks like glass fragments or shiny, bluish-white rocks.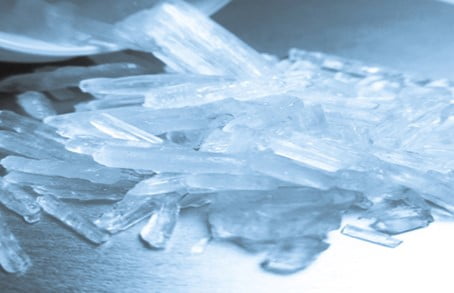 It is chemically similar to amphetamine.
Methamphetamine can be smoked, swallowed in the form of a pill or tablet, snorted, and injected after dissolving the powder in water or alcohol.
Methamphetamine can lead to myocardial infarction (heart attack); it can cause stroke.
The drug can affect the heart, the brain, and the kidneys. It can result in the blood pressure shooting up suddenly. So, it is a very dangerous drug if there is an overdose.
Effect on the brain
Meth raises the amount of dopamine in the brain.
Dopamine, a natural chemical, plays a role in body movement, motivation, and reinforcement of rewarding behaviours.
The ability of the drug to rapidly release high levels of dopamine in reward areas of the brain strongly reinforces drug-taking behaviour, making the user want to repeat the experience.
Role in heart attack
Methamphetamine on its own might not cause the heart attack but it can result in a cardiac arrest if consumed in an excess quantity.
The recreational drug can lead to over sedation, which can affect the organs, including the heart.
It affects the cardiovascular system by triggering blood vessel spasms and life-threatening spikes in blood pressure.
It can also increase plaque in the arteries and rewire the heart's electrical system.
It leads to narrowing and spasms in the blood vessels, rapid heart rate (tachycardia), high blood pressure, and death of cardiac muscles.
Source: Indian Express
Previous Year Question
Q.1) Triclosan considered harmful when exposed to high levels for a long time, is most likely present in which of the following? (2021)
Food preservatives
Fruit-ripening substances
Reused plastic containers
Toiletries
For a dedicated peer group, Motivation & Quick updates, Join our official telegram channel – https://t.me/IASbabaOfficialAccount
Subscribe to our YouTube Channel HERE to watch Explainer Videos, Strategy Sessions, Toppers Talks & many more…