In news: According to the study published in the journal Astronomy and Astrophysics, scientists have detected barium in the upper atmosphere of two giant exoplanets for the first time.
European Southern Observatory's Very Large Telescope located in the Atacama Desert, northern Chile was used in the process.
About:
The scientists confirmed the presence of hydrogen, lithium, sodium, magnesium, calcium, vanadium, chromium, manganese, nickel and iron, in addition to barium.
Additionally, the team found elements such as cobalt, strontium and titanium
Discovery of barium is surprising because heavy elements like barium are expected to quickly fall into the lower layers of the atmosphere, given these exoplanets have high gravity.
Barium, two and half times heavier than iron, is the heaviest-ever detected element.
About the Exoplanets:
These exoplanets are two ultra-hot Jupiters — WASP-76b and WASP-121b — which orbit their host stars WASP 76 and WASP 121.
The former is about 640 light-years away from the Earth and the latter around 900 light-years away.
Ultra-hot Jupiters are a class of hot gaseous planets that matches the size of Jupiter. But they have short orbital periods, unlike Jupiter.
Both WASP-76b and WASP-121b complete one orbit in two days.
Surface temperatures in these bodies reach as high as 1,000 degrees Celsius.
These bodies have unique features owing to their high temperatures. For instance, WASP-76b experiences iron rain.
About Barium:
Barium is a chemical element with the symbol Ba and atomic number 56.
The element is used in metallurgy, and its compounds are used in pyrotechnics, petroleum production, and radiology.
Soluble barium compounds are poisonous. In low doses, barium ions act as a muscle stimulant, and higher doses affect the nervous system, causing cardiac irregularities, tremors, weakness, anxiety, shortness of breath, and paralysis.
Because of its high chemical reactivity, barium is never found in nature as a free element.
Barium salts are used in fireworks to generate green lights.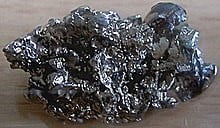 Source: Down to Earth
Previous Year Question
Q.1) Which one of the following sets of elements was primarily responsible for the origin of life on the Earth? (2012)
Hydrogen, Oxygen, Sodium
Carbon, Hydrogen, Nitrogen
Oxygen, Calcium, Phosphorous
Carbon, Hydrogen, Potassium
For a dedicated peer group, Motivation & Quick updates, Join our official telegram channel – https://t.me/IASbabaOfficialAccount
Subscribe to our YouTube Channel HERE to watch Explainer Videos, Strategy Sessions, Toppers Talks & many more…