Context: According to analysis by Global Energy Monitor (GEM), a firm that tracks utilisation of the fuel-source internationally –  on average India's coal mines use only two thirds of the capacity with some large ones using only 1 percent.
About Coal in India: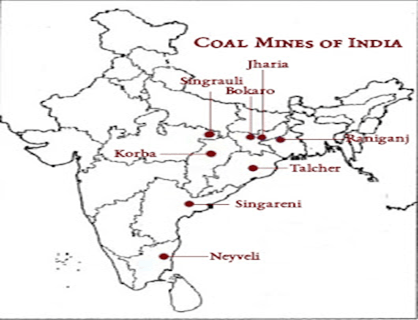 India is the second largest producer and consumer of coal after China.
Jharkhand is the largest coal-producing state in India.
The top coal-producing states includes Odisha, Chhattisgarh, West Bengal, Madhya Pradesh, Telangana and Maharashtra.
Coal accounts for approximately 55% of the country's energy needs compared to other energy sources.
Types of Coal:
Anthracite:
Anthracite is the best quality of coal which carries 80 to 95 per cent carbon content.
It ignites slowly with a blue flame and has the highest calorific value.
It is found in small quantity in Jammu and Kashmir.
Bituminous:
Bituminous carries 60 to 80 per cent of carbon content and a low level of moisture content.
It is widely used and has high calorific value.
It is found in Jharkhand, West Bengal, Odisha, Chhattisgarh and Madhya Pradesh.
Lignite:
Lignite is often brown in colour. It carries 40 to 55 per cent carbon content.
It is an intermediate stage which happens during the alteration of woody matter into coal.
It has high moisture content, so it gives smoke when burnt.
It is found in Rajasthan, Lakhimpur (Assam), and Tamil Nadu.
Peat:
Peat has less than 40 per cent carbon content.
It is in the first stage of transformation from wood to coal.
It has low calorific value and burns like wood.
About Global Energy Monitor:
In 2007, responding to a call to action by climate scientist James Hansen, an informal group of journalists and environmental advocates began documenting 151 proposed coal plants in the United States which eventually became Global Energy Monitor.
Global Energy Monitor was founded on principles of transparency and accountability.
In 2014, GEM released the Global Coal Plant Tracker, an interactive database cataloguing thousands of coal-fired plants in all stages of development.
GEM's team consists of researchers from around the world whose work enhances public understanding of the global energy system.
Global Energy Monitor is a mission-driven Non-Profit organization. A majority of funding comes in the form of charitable donations from foundations and individuals.
Source: The Hindu
Previous Year Question
Q.1) With reference to India, consider the following statements:
Monazite is a source of rare earths.
Monazite contains thorium.
Monazite occurs naturally in the entire Indian coastal sands in India.
In India, Government bodies only can process or export monazite.
Which of the statements given above are correct? (2022)
1, 2 and 3 only
1, 2 and 4 only
3 and 4 only
1, 2, 3 and 4
Q.2) Consider the following statements:
Coal ash contains arsenic, lead and mercury.
Coal-fired power plants release sulphur dioxide and oxides of nitrogen into the environment.
High ash content is observed in Indian coal.
Which of the statements given above is/are correct? (2020)
1 only
2 and 3 only
3 only
1, 2 and 3
For a dedicated peer group, Motivation & Quick updates, Join our official telegram channel – https://t.me/IASbabaOfficialAccount
Subscribe to our YouTube Channel HERE to watch Explainer Videos, Strategy Sessions, Toppers Talks & many more…