Context: Recently in a significant development in the Tibetan Buddhist circles, the Nyingma sect has identified a boy from Spiti in Himachal Pradesh as the "reincarnation" of the late Taklung Setrung Rinpoche, a scholar known for his knowledge of Tibetan Tantric school.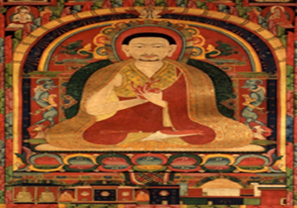 About Nyingma Sect:
The Nyingmapa order has the longest history establishment history of transmitting all the four major traditions of Tibetan Buddhism.

This is reflected in the name Nyingma, which literary means "Old Order".
The Other three main Tibetan Buddhism schools, Sakya, Kagyu, and Gelug, collectively refer to New Order (Sarma).
They rely on the translation of Buddhist script from India during the second dissemination of Buddhism to Tibet.

Nyingmapa's trace their translation lineage back to the Samye Monastery, the first Tibetan Buddhist monastery in Tibet.

During the time, hundreds of scholars and translators translated Sutras and Tantras to the Tibetan Language.
The Same Monastery where the first seven locals are ordained as monk marks the bugging of Monkshood in Tibet.

The Rinpoche used to live in the Takthok monastery of Ladakh, one of the oldest monasteries related to the sect.
Its followers are spread across Tibet, Bhutan, Ladakh, Sikkim and other Himalayan pockets.
Nyingma in Tibetan means "ancient" and has roots going back to the 8th century.
The Nyingma sect is also known as the Red Hat sect because its Lamas wear red robes and hats.
Some Unique Aspects Nyingmapa Tradition:
The practice of Dzogchen (Great Perfection). It the highest perfection in deity visualization.

It seeks to directly examine the fundamental mind without the aid of Visualization like statue and Thangkha.

The tradition of Terma. Padmasambhava has hidden lots of scriptures in a different location for the future master to find and preach.
Teachings of the Nyingma Sect:
Its teachings are mainly based on those of Padmasambhava, called Guru Rinpoche and Shantarakshita who were brought to Tibet through the rule of the Emperor Trisong Detsen from 742 to 797 CE.
Buddhist teachings are classified into nine yanas with 'Dzogchen' being most important.
Dzogchen (Great Perfection) philosophy revolves around pure awareness which can be achieved through meditation.
This Vajrayana tradition involves use of ritual, symbols and tantric practices to achieve nirvana.
Therefore, Nyingma stresses on teachings attributed to Padmasambhava, the Dzogchen doctrines as well as Tantric practices.
The Nyingma School is also associated with Termas (hidden treasures).
Some major Monasteries of Nyingmapa Sect in Tibet
There is the monastery of Nyingmapa in every corner of Tibet.
The most important monastery in Tibet is Mindrolling monastery near Lhasa airport, Dorjee dark monastery, Rongbuk Monastery at Everest Basecamp and Samye Monastery.
Source: The Hindu
Previous Year Questions
Q.1) With reference to Indian history, consider the following pairs:
Historical person                                Known as
Aryadeva                                  Jaina scholar
Dignaga                                    Buddhist scholar
Nathamuni                              Vaishnava scholar
How many pairs given above are correctly matched ? (2022)
None of the pairs
Only one pair
Only two pairs
All three pairs
Q.2) With reference to Indian history, who among the following is a future Buddha, yet to come to save the world? (2018)
Avalokiteshvara
Lokesvara
Maitreya
Padmapani
For a dedicated peer group, Motivation & Quick updates, Join our official telegram channel – https://t.me/IASbabaOfficialAccount
Subscribe to our YouTube Channel HERE to watch Explainer Videos, Strategy Sessions, Toppers Talks & many more…