Context: In recent years, there has been an unprecedented change in India's foreign policy. The issues of Masood Azhar, the surgical strike, or the Indo-China tension all involved India's foreign policy holders executing their work effectively.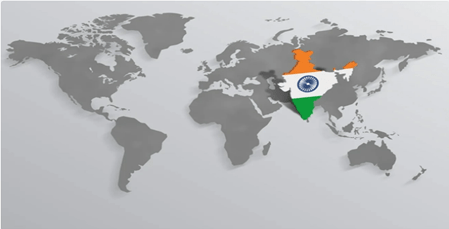 India is one of the most ancient civilizations in the world and from ancient times, India's foreign policy remained independent whether it was the Mauryan Empire, the Gupta Empire or the Mughal Empire.
The British were the determinants of India's foreign policy during the colonial period, who used India for their benefit. But after independence, India's foreign policy is again fulfilling Indian interests.
Today, India is in selected countries of the world in military field, space, religious culture etc. and India has used them better in its foreign policy formulationDeterminants of India's foreign policy:
Geographical factors: –
India occupies a central position in Asia and occupies the largest area in South Asia. In such a situation, any big incident in the whole of Asia affects India.
The Himalayas are like sentinels of India which play an important role in determining relations with other Himalayan countries such as Nepal, Bhutan, Myanmar.

But the desire of China to maintain its dominance in the region continuously since 1962 has a clear impact on India's foreign policy, which has recently shown a change in relations with Nepal.

Along with this, India has a natural edge in the Indian Ocean. India's dominance over the Indian Ocean is necessary to become an important power of the Indian-Pacific region.
Government System:
India has a democratic governance system that inspires many countries of the world to accept Indian ideology.

for example, ASEAN countries plagued by China look towards India because India's democracy follows the principle of peaceful coexistence.
But many times, in the parliamentary system, the role of state governments is also important in determining foreign policy, it becomes more important if there is a coalition government at the centre, as was shown in the Tamil issue in Sri Lanka and the 2005 US Nuclear Deal.
Economic Development:
Economic sovereignty is of utmost importance in determining foreign policy. Like its policy, India had to open its markets in 1991, but after that India has become very strong financially.
India's economic growth has attracted many countries. Today, India is an important energy consumer, with countries like Turkmenistan, Iran Russia having economic alliances with India. But still the negative trade balance with China remains India's main problem.
Military power:
Today India is the third most powerful country in the Army, fourth in the Air Force and sixth in the Navy.
At the same time, India is rich in nuclear power. Everyone knows India dominance in space. In such a situation, they play an important role in the foreign policy making of India.
Population:
India is currently the second most populous and youngest country in the world, so India is becoming a consumption-oriented country, in such a situation it will fulfil the need of a big market for all the producing nations, which is the determinant of foreign policy. But with such a large population, problems like hunger, poverty are evident on India's foreign policy.
Many times, there has been a dispute in the World Trade Union between India and America about the government's intervention in agricultural subsidies.
Culture:
History and culture can be seen as important in the formulation of India's foreign policy. Kautilya's theory of a powerful kingdom with the ideals of Buddha and Gandhi shows the path of India.
India's civil-civilian religious relationship is well established from many countries of the world where there are Hindu, Islam, Christian, Buddhist majorities.
Regional Environment:
Regional events are also important in determining foreign policy. For example, in 1971, the alliance of China, US and Pakistan brought a crisis situation for India, then India got inclined towards Russia.
At present, the increasing dominance of China is also a reason for intensification of India-US relations. India has increased India's capacity and power with Look East to Act East policies and China's rise in ASEAN.
Global environment:
After globalization, when the whole world connected with each other, global factors also became important in determining foreign policy. India may oppose the move to withdraw from the Paris Agreement on environment issues, even if there is cooperation between India and America.
After the Second World War, the world order has changed in many ways, keeping in mind that India tries to reform the UN Security Council.
Panchsheel Principles:
The Five Principles of Peaceful Coexistence are principles first mentioned in the Sino-Indian Agreement, 1954 and publicly formulated by Zhou Enlai.
These principles would later become the basis of the Non-Aligned Movement.
The Panchsheel Agreement was signed by Prime Minister Jawaharlal Nehru and Premier Zhou Enlai.
These principles, also known as Panchsheel, are listed as

Mutual respect for each other's territorial integrity and sovereignty,
Mutual non-aggression,
Mutual non-interference in each other's internal affairs,
Equality and cooperation for mutual benefit, and
Peaceful co-existence.
Recent Developments in India's foreign policy:
Key Turning Points in Foreign Policy
The Pokhran nuclear tests, the India-China war, and the Galwan Valley clashes were perceived as key turning points in India's foreign policy.
Biggest Inter-state Foreign Policy Challenge
Border conflicts with China were seen as India's biggest inter-state foreign policy challenge – even surpassing conflicts with Pakistan.
Terrorism and border conflicts with Pakistan remained important challenges for India's foreign policy.
The majority of respondents also indicated that India's foreign policy of not engaging with Pakistan benefited regional peace and stability.
India-USA Relationship:
The USA was seen as the second-most trusted partner since its Independence,
85% of respondents thought the USA will be India's leading partner in the next 10 years;
83% of respondents also agreed that the USA support will be crucial to India's rise.
Russia-India Relationship:
Many respondents indicated optimism for Russia, despite its invasion of Ukraine; 43% saw Russia as India's most reliable partner since Independence.
But many showed their awareness of broader geopolitical changes.
For instance, an overwhelming majority agreed that India's economic ties with Russia are limited and expressed concerns about strengthening Russia-China ties, and India and Russia drifting away from one another.
When it came to India's leading partner in the next 10 years, Russia was ranked third, behind the US and Australia.
Indian interests as the driver of foreign policy:
Indian interests remained the driver for such a perception.
For instance, Indian youth preferred non-alignment and neutrality if US-China tensions increase.
But responses changed when Indian interests were at stake: 73% said that India should align with the US to countervail China.
Importance of Regional Power:
In a multipolar, more uncertain world order, regional powers are growing in importance.
Quad found limited enthusiasm among respondents but some members such as Australia and Japan enjoyed a significant positive perception.
Japan was seen as the most important Indo-Pacific partner in the future, followed by Australia.
Strategic Importance to India's neighbourhood:
Despite India's rising stakes in the new world order, young people attached strategic importance to India's neighbourhood.
Respondents believed India defined its neighbourhood efficiently and followed an adequate foreign policy across all the sectors – security, trade, and culture.
Way Forward:
Investing in the South Asia and Indian Ocean Region: There is a need to increase political engagements and infrastructure and connectivity projects across the region. So, India needs to continue investing in South Asia and the Indian Ocean region.
Multilateralism: It should be India's preferred mode of engagement with other countries. There is a strong urge for multilateral reforms – 91% of respondents supported India's bid for a permanent seat at the United Nations Security Council.
The foreign policy of a country is often driven by popular perception. It is, therefore, important to understand how young people perceive foreign policy goals as they are important stakeholders, an even more critical process in a young nation such as India.
Source:  Indian Express
For a dedicated peer group, Motivation & Quick updates, Join our official telegram channel – https://t.me/IASbabaOfficialAccount
Subscribe to our YouTube Channel HERE to watch Explainer Videos, Strategy Sessions, Toppers Talks & many more…