Context: The Supreme Court sought reports from Maharashtra administration on the demolition drive conducted around the tomb of Afzal Khan, a 17th-century commander of the Adil Shahi dynasty of Bijapur.
About Afzal Khan: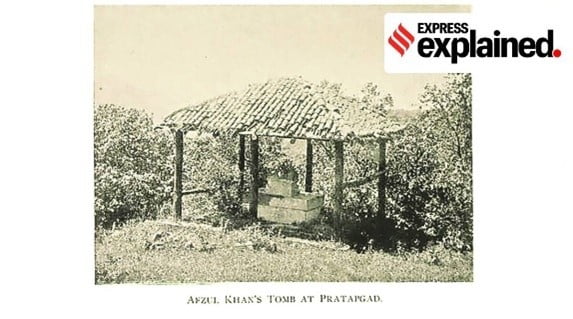 Afzal Khan was a general who served the Adil Shahi dynasty of Bijapur Sultanate.
He played an important role in the southern expansion of the Bijapur Sultanate by subjugating the Nayaka chiefs who had taken control of the former Vijayanagara territory.
In 1659, the Bijapur government sent Afzal Khan to subjugate Chatrapati Shivaji Maharaj, a former vassal who had started acting independently.
He was killed at a truce negotiation meeting with Chatrapati Shivaji Maharaj, and his army was defeated at the Battle of Pratapgad.'
History of Afzal Khan's tomb:
With Shivaji's rise and increasing control of the region, Afzal Khan was seen as the man to subdue him in the Deccan.
Khan put together a force of 10,000 cavalry and marched from Bijapur to Wai, plundering Shivaji's territory along the way.
Shivaji called a council of war at the fort of Pratapgarh, where most of his advisers urged him to make peace.
Shivaji was not eager to back down and he set up a meeting with Khan.
Afzal Khan was killed on November 10, 1659 when during a meeting, an embrace between the two turned into an attack in which Shivaji emerged victorious.
Khan's remains were buried at the fort and a tomb was constructed on Shivajij's orders.
The tower is still known by the name 'Afzul Buruj' at Pratapgarh.
Source: Indian Express
Previous Year Question
Q.1) With reference to Indian history, consider the following statements:
The first Mongol invasion of India happened during the reign of Jalal-ud-din Khalji.
During the reign of Ala-ud-din Khalji, one Mongol assault marched up to Delhi and besieged the city.
Muhammad-bin-Tughlaq temporarily lost portions of north-west of his kingdom to Mongols.
Which of the statements given above is/are correct? (2022)
1 and 2
2 only
1 and 3
3 only
Q.2) With reference to the cultural history of India, consider the following statements :
White marble was used in making Buland Darwaza and Khankah at Fatehpur Sikri.
Red sandstone and marble were used in making Bara Imambara and Rumi Darwaza at Lucknow.
Which of the statements given above is/are correct? (2018)
1 only
2 only
Both 1 and 2
Neither 1 nor 2
For a dedicated peer group, Motivation & Quick updates, Join our official telegram channel – https://t.me/IASbabaOfficialAccount
Subscribe to our YouTube Channel HERE to watch Explainer Videos, Strategy Sessions, Toppers Talks & many more…