Context: Since from 2022, November 3 is celebrated as  'The International Day for Biosphere Reserves'.
About World Network of Biosphere Reserves:
The UNESCO World Network of Biosphere Reserves (WNBR) was formed in 1971.
WNBR covers internationally designated protected areas, known as biosphere reserves, which are meant to demonstrate a balanced relationship between people and nature (e.g., encourage sustainable development).
They are created under the Man and the Biosphere Programme (MAB).
All biosphere reserves are internationally recognised sites on land, at the coast, or in the oceans.
There are 738 biosphere reserves in 134 countries, including 22 transboundary sites. They are distributed as follows:

90 sites in 33 countries in Africa
36 sites in 14 countries in the Arab States
172 sites in 24 countries in Asia and the Pacific
308 sites in 41 countries in Europe and North America
132 sites in 22 countries Latin America and the Caribbean.
Nomination & approval of biosphere reserves:
Governments alone decide which areas to nominate.
Before approval by UNESCO, the sites are externally examined.
If approved, they will be managed based on a plan, reinforced by credibility checks while remaining under the sovereignty of their national government.
Functions of Biosphere Reserves:
Biosphere Reserves involve local communities and all interested stakeholders in planning and management. They integrate three main "functions":
Conservation of biodiversity and cultural diversity
Economic development that is socio-culturally and environmentally sustainable
Logistic support, underpinning development through research, monitoring, education and training.
Structure of Biosphere Reserve: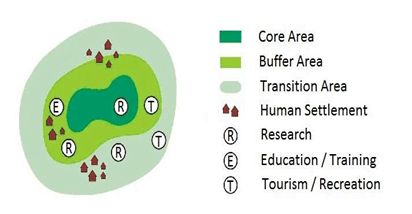 They are demarcated into the following 3 interrelated zones:
Core Zone:
Includes protected areas, as they act as reference points on the natural state of the ecosystems represented by the biosphere reserves. Have endemic species of plants & animals.
A core zone is a protected region, like a National Park or Sanctuary/protected/regulated mostly under the Wildlife (Protection) Act, 1972.
It is kept free from human interference.
Buffer Zone:
The buffer zone surrounds the core zone and its activities are managed in this area in ways that help in the protection of the core zone in its natural condition.
It includes restoration, limited tourism, fishing, grazing, etc; which are permitted to reduce its effect on the core zone.
Research and educational activities are to be encouraged.
Transition Zone:
It is the outermost part of the biosphere reserve. It is the zone of cooperation where human ventures and conservation are done in harmony.
It includes settlements, croplands, managed forests and areas for intensive recreation and other economic uses characteristics of the region.
Biosphere Reserves in India: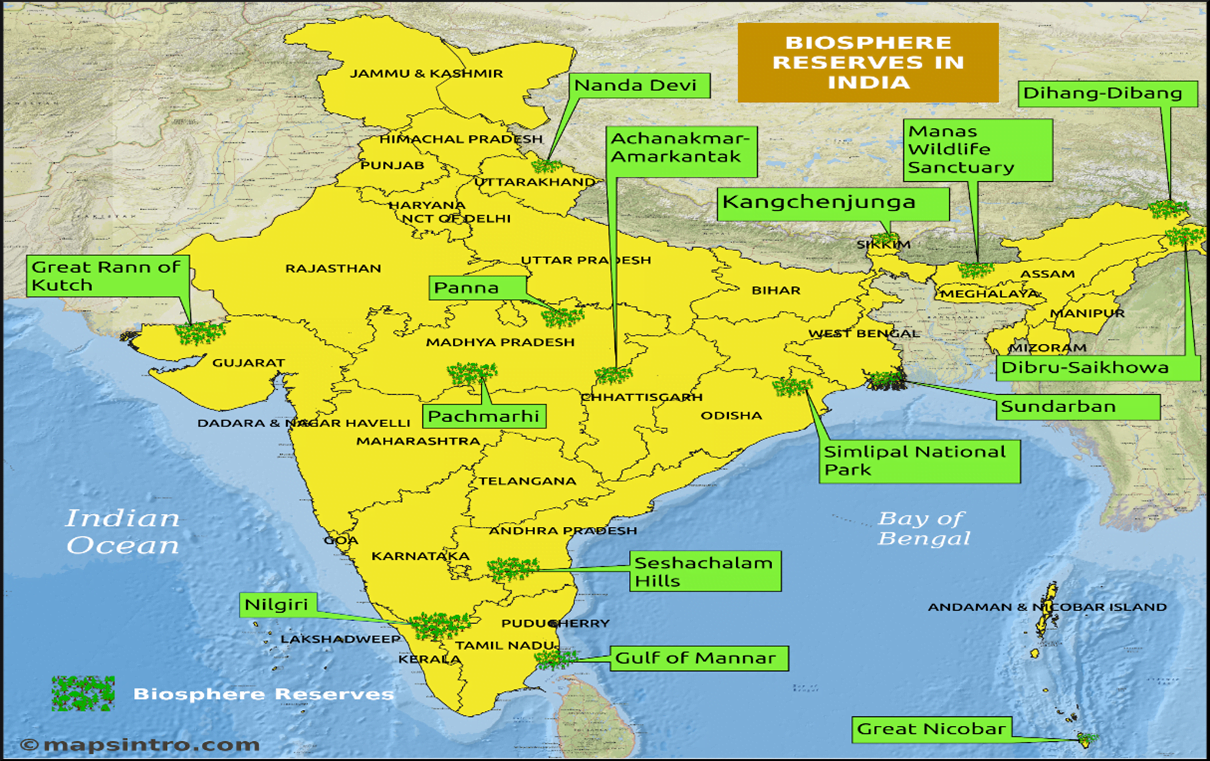 Need for expansion:
According to the Global Assessment Report on Biodiversity and Ecosystem Services released in 2019 by the Intergovernmental Science-Policy Platform on Biodiversity and Ecosystem Services (IPBES), the main global drivers of biodiversity loss are:

Climate change,
Invasive species,
Over-exploitation of natural resources,
Pollution and

The ecological carrying capacity of planet earth has largely been exceeded because of our collective excesses.
Therefore, the need was felt to address this trend with cleaner air, high-quality drinking water, and enough food and healthy habitats to ensure that ecosystem services continue to benefit humanity without critically affecting nature's balance.
Way Forward:
The 'South and Central Asia MAB Reserve' Networking Meeting (where MAB stands Man and the Biosphere) is planned for 2023, to advance biosphere reserve establishment and management.
In addition, an expert mission has been planned for spring 2023 — to Bhutan, India's north-east and the Sundarbans in Bangladesh.
With at least one biosphere reserve per country in Bangladesh, Bhutan and Nepal until 2025 (with additional biosphere reserves in India's North-East and along the coasts) it will give realisation to millions of people that a better future is truly possible — one where we will truly live in harmony with nature.
Source: The Hindu
For a dedicated peer group, Motivation & Quick updates, Join our official telegram channel – https://t.me/IASbabaOfficialAccount
Subscribe to our YouTube Channel HERE to watch Explainer Videos, Strategy Sessions, Toppers Talks & many more…