Context:
India's military has historically been an all-volunteer force. Unlike in the West, India's armed forces are perceived as a lodestar of patriotism and a source of pride as well as critical to nation-building.
There is no dearth of potential recruits for military service. Working in the military is a matter of social prestige. Many communities in India rely heavily on the military for employment.
At the same time, the challenges faced by Western militaries in implementing such an enlistment mechanism hold lessons for India as it puts the Agnipath scheme into practice.
In introducing the Agnipath scheme, India is pursuing a global trend, as militaries respond to changes not only in the national security threat landscape but the job market dynamics as well.
About the scheme:
It is a radical departure from India's past recruitment policies.
Announced in June 2022, it is a short-term military enlistment scheme seeking to recruit young Indians into the military with four-year tenure.
These, called 'Agniveers', will form a rank in the Indian military that is distinct from existing ones.
Indians in the age group of 17.5 to 21 years will be eligible for recruitment.
46,000 combatants or 'Agniveers' will be recruited annually: 40,000 for the Army and 3,000 each for the Navy and the Air Force.
They will receive military training and learn leadership and other skills.
 Monthly compensation and benefits like insurance and a retirement package.
Every retiring Agniveers can apply for permanent enrolment in the military, but only a maximum of 25 percent of Agniveers will be retained from every batch and will have to serve for a minimum of 15 years thereafter.
They will be governed by the existing terms and conditions of service of junior commissioned officers/other ranks in the Indian Army and their equivalent in the Indian Navy and Indian Air Force (IAF), as well as that of non-combatants in the IAF.
The Ministry of Home Affairs has opened an additional recruitment opportunity for retiring Agniveers by reserving 10 percent of vacancies for them in the central armed police forces and the Assam Rifles.
10-percent reservation for Agniveers in the coast guard, defence civilian posts, and defence public sector units.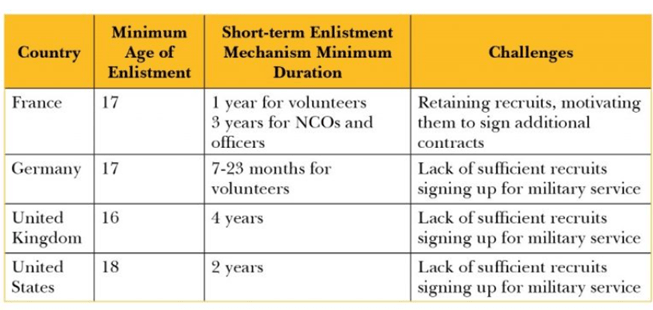 Significance:
Agnipath promises a structural overhaul by reopening the debate on 'affordable defence'.
The heavy costs of maintenance of the soldiers in the armed forces have raised concerns.
Indian defence planners are expected to devote more resources for modernisation and increased investments in areas such as cyber, space, and emerging technologies.
If the scheme succeeds in its initial phase, it will guarantee its efficacy in the coming years and shape the perception of potential recruits.
With the provision to retain 25 percent of the Agniveers permanently, Indian defence planners will be able to retain the best talent catering to these requirements.
Moreover, the four-year service period envisioned under the scheme could make it attractive to wider segments of the population, including those young people who are hesitant to make a long-term commitment to the military.
Western Militaries context:
Conscription or draft was the norm for military recruitment across the world, and India was among the few exceptions.
For example, Russia and China
China has created a new category of non-ranking cadres called 'contract civilians', who perform civilian jobs for the military such as research, translation, and engineering. Additionally, recent military recruitment reforms have focused on STEM graduates and those with "skills needed for war preparedness".
European countries are transitioning to voluntary recruitment which has resulted in a dramatic downsizing of the armed forces.
Germany: the volunteers, who must be at least 17 years old, are offered initial contracts from seven to 23 months, without any longer-term obligation.
UK: The minimum length of service for those above 18 is four years, and for those below, until they turn 22. its military's struggle to find new recruits is reflected in the army's refusal to raise the minimum age of recruitment i.e. 16.
France: The military does get a sufficient number of recruits and it faces challenges in retaining them for additional contracts. This is a critical issue, as soldiers spend most of their first contract receiving training and reach their optimum potential only from the second contract.
US: To attract young people away from civilian jobs, the US Army offers incentives such as college funding, enlistment bonuses, retirement pension for recruits and sign-up bonus.
US shifted from compulsory draft to the volunteer-based recruitment began in 1973 due to following factors of change:
a mismatch between the population eligible for conscription and the military's requirements
diminished threat perception of the West following the end of the Cold War.
changing nature of the job market, where employable youth are not predominantly dependent on government jobs especially for STEM graduates.
Shrinking pool of potential enlistees – 71 percent of American youth are ineligible for military service due to obesity, use of narcotics, physical and mental health problems, misconduct, or lack of aptitude.
Benefits: The militaries saved millions in draftee turnover (recruits leaving the military after their mandatory service) and their training costs.
However, rise in simultaneous disinclination to serve in the military due to rise in average incomes and general economic prosperity, better pay in the civilian sectors, and the growing desire for a comfortable life.
The value system had also begun to change, problematising violence and viewing the military as a bastion of conservative values.
In Germany, military service had become a contentious issue given the legacy of the Nazi regime during the Second World War.
Concerns:
Combat potential and operational preparedness of the military, given the short six-month training period.
The difficulties and inability in getting suitable jobs post-military service.
However, the scheme's potential ability to attract STEM talent remains debatable, given the average take-home monthly salary of INR 21,000 (approximately US$ 250) of an Agniveers with no gratuity or pension.[4
Suggestions:
Personnel-centric concerns such as value addition, by filtering the long-term recruits from the short-term ones.
Bringing in more technology for training purposes, including more simulations, can help achieve 'more in less'.
Expand quotas for Agniveers in select government services and a change in mindsets by considering former service personnel as 'skill-centred managers'.
Invest more significant financial resources, ensure better service conditions, and devise an entry scheme for the tech savvy (perhaps as the subset of Agnipath) that will attract STEM talent. (In China, defence planners plan to offer science and engineering students, long-term enlistments rather than letting them leave the military after serving for two years).
Way forward:
Militaries have implemented structural reforms in response to geopolitical shifts, and the changing nature of warfare and the national security threat landscape.
The Indian experience of Agnipath scheme will be unique given the size of its armed forces and its young demography.
As India seeks to reorient its strategic outlook to find a continental-maritime balance, it is important that technology gains centre space, even as the demands of combat, capacities, and training are changing.
The scheme's real test will lie not only in its capacity to offer military service experience to young people but also in its ability to reintegrate the Agniveers into civilian life after their four-year tenure. It will bring a bigger proportion of youth with military experience into the job market than seen previously.
Source: Orf Online
For a dedicated peer group, Motivation & Quick updates, Join our official telegram channel – https://t.me/IASbabaOfficialAccount
Subscribe to our YouTube Channel HERE to watch Explainer Videos, Strategy Sessions, Toppers Talks & many more…