Context: India is implementing big way of emerging technologies such as 5G, artificial intelligence, autonomous systems, blockchain, cloud and quantum computing, digital mechanisms etc. to improve the living conditions of its people.
However, several international agencies highlight reduction in job opportunities due to innovative technologies that can replace human labor.
Employment Situation in India:
Data from the Centre for Monitoring Indian Economy (CMIE) show that 19 lakh people had lost their jobs in August 2021 alone; of this, 10 lakhs were from the industrial sector.

In July, eight lakh people in this sector lost their jobs.

The World Bank has calculated that the industrial sector, which contributed 18 per cent to India's GDP in 1995, is now contributing only 13 per cent.

In other countries, such as China moved the largest number of workers from farms to factories and became a manufacturing hub in the world.

In India, CMIE statistics reveal that employment in agriculture, which accounted for 35 per cent of total employment in 2017-18, increased to 39.5 per cent in 2020-21.
Due to Covid, many industrial units have closed down and pressure on agriculture has increased. As a result, incomes in villages are falling and the purchasing power is weakening.
Positive Impact of new technologies:
Agriculture Sector:
Using Artificial Intelligence (AI) and Internet of Things (IoT), farmers can improve their yield and reduce asymmetries.
It will result in increasing their income.
Financial Sector:
Application of new tech will formalize the economy so it will be easier for government to track financial activity till the last mile.
This record will help to finance existing unorganised manufacturing and traditional sector at nominal rate.
It will help to reduce their cost of production and deliver their products at a competitive rate.
It will enhance their income, the multiplier effect of which will lead to more employment opportunities.
Telecom Sector:
It has wide range of new opportunities for new tech including its 5G services across the country.
It will generate significant employment for the youth as per the projection of Telecom Sector Skill Council.
Manufacturing Sector:
Using advance robotics auto manufacturing can be done easily.
Although still it will require professional, skilled and semi-skilled labour in India.
Travel and Tourism Sector:
It can be enhanced using blockchain technology coupled with innovative digital strategies and apps.
It can create positive disruption for allied sectors such as medical and virgin tourist destinations.
Other sectors:
Cloud computing in Information and Communication Technology (ICT) offers flexibility for greater collaboration with work teams, better control of documents, work from anywhere environment leading to increase in productivity, and innovation offering positive externalities and employment across the sector.
Legal sector is witnessing application of disruptive technologies giving employment opportunities for ICT and data analytics professionals.
Micro-technologies, especially in digital banking, connectivity and transport services may improve labour productivity.
Challenges associated with new technologies:
Agriculture Sector: Most of the labour force in India is in agriculture traditionally and new tech will disrupt their wages.
Construction Sector: It may not witness adoption of advanced technologies as it may not be able to compete with the cheap labour available
Unemployment in transition phase: During the shift from traditional to new tech jobs in between many people will lose their employment due to not having proper guidance.
Unskilled Workforce: To acquire employment in new tech requires specific skilled person.

In India mostly people are working in unorganised sector are unskilled or not familiar with the technology.
Startup ecosystem in India:
It is world's third largest startup ecosystem.
It has more than 60,000 startups across 642 districts.
It has generated 65 unicorns across various industries.
Unicorn: A startup company with value over 1 billion USD.
These startups are specialized in emerging technologies such as in fintech, e-commerce, supply chain logistics, internet and software services and ed-tech.
It provides scope for entrepreneurial ventures and self-employment.
Indirectly it will result in to employment generation in the country.
It may witness substantive shift from wage employment to self-employment adding to the formal sector.
Suggestive measures:
There is need for government to carry out upskilling programs for skill development.
Proper management of work force transition is required.
It is required that currently employed go under training or re-training to get comfortable with new technologies.
It is also required to develop skills such as empathy, imagination or creativity, which will underpin jobs in more social sectors.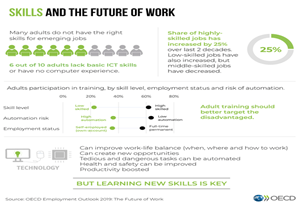 Way Forward:
According to various study reports, the educated unemployment in India is mainly due to factors which include, among other things, information asymmetries, lack of guidance for suitable jobs, etc., which indeed may get resolved through online tools and platforms as also flexible working environment.
India has comprehensively reviewed its regulatory, policy, and legal framework, enabling it to be one of the best 'ease of doing business' destinations. This, along with its cheap and educated manpower, may be favourable for building micro supply chains within India paving the way for the country to become a global manufacturing hub.
Thus, the new technological developments will bring challenges, but they also present an opportunity for us to upskill our workforce in order to emerge as a foreign investment destination and grow Indian startups for economic growth.
Source:   The Hindu
For a dedicated peer group, Motivation & Quick updates, Join our official telegram channel – https://t.me/IASbabaOfficialAccount
Subscribe to our YouTube Channel HERE to watch Explainer Videos, Strategy Sessions, Toppers Talks & many more…