In news: On November 18, 2022, Hyderabad-based Skyroot Aerospace scripted history by becoming the first private Indian organisation to launch a rocket from Indian Space Research Organisation (ISRO)'s launchpad in Sriharikota.
Vikram S rocket: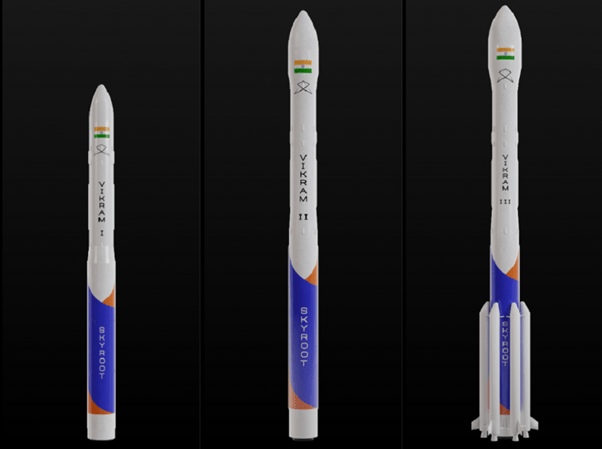 It is a part of Mission Prarambh, which means the beginning.
It is a sub-orbital rocket, which reached outer space and then splashed into the sea.
Has payload capacity of up to 300 kilograms.
Vikram-S used solid fuel-ammonium perchlorate, which is not completely green fuel.
With Vikram-2, it is planned to use liquefied natural gas (LNG), which is greener compared with traditional kerosene fuel.
Mechanisms of Vikram S:
There are four spin thrusters, which will generate the rocket's spin and stability so that it doesn't deviate from the trajectory.
Max-Q is the maximum stress on the rocket and is experienced during the lift-off.
At around 23 seconds, the rocket achieves five times the speed of sound or Mach 5.
'Apogee' is the maximum point after which it descends, falls back and splashes down into the sea.
It takes around two and a half minutes to reach the Apogee and another two and a half minutes to splash down.
Technologies used:
carbon composites: porous structure made of carbon and carbon fibre and four times lighter and has higher strength than steel.
The lighter the rocket, the more payload we can use.
3D printing: reduces the cycle time by 90 per cent compared with traditional methods and allows to build complex shapes.
Cycle time is the time required to manufacture a component.
Cost-effectiveness
Efficient technology
Utilising existing govt infrastructure
Operating out of India
About Skyroot Aerospace:
It is an Indian private aerospace manufacturer and commercial launch service provider headquartered in Hyderabad.
Mandates: cutting-edge innovation and cost-effectiveness
Next launch will be Vikram-1, an orbital vehicle that puts satellites into orbit.
Vikram-2 will have a higher capacity than Vikram-1.
Skyroot Aerospace focuses on reusability of rockets.
Source: DTE
Previous Year Questions
Q.1) With reference to India's satellite launch vehicles, consider the following statements: (2018)
PSLVs launch the satellites useful for Earth resources monitoring whereas GSLVs are designed mainly to launch communication satellites.
Satellites launched by PSLV appear to remain permanently fixed in the same position in the sky, as viewed from a particular location on Earth.
GSLV Mk III is a four-staged launch vehicle with the first and third stages using solid rocket motors; and the second and fourth stages using liquid rocket engines.
Which of the statements given above is/are correct?
1 only
2 and 3
1 and 2
3 only
For a dedicated peer group, Motivation & Quick updates, Join our official telegram channel – https://t.me/IASbabaOfficialAccount
Subscribe to our YouTube Channel HERE to watch Explainer Videos, Strategy Sessions, Toppers Talks & many more…