Context:
The Intergovernmental Panel on Climate Change's (IPCC) sixth assessment report highlights the risks of increasingly severe, interconnected and often irreversible impacts of climate change on ecosystems, biodiversity, and human systems.
Similarly, the recent Global Risks Report 2023 released by the World Economic Forum (WEF), titled as Cooperation in a Fragmented World these Global Risks
Global Risk: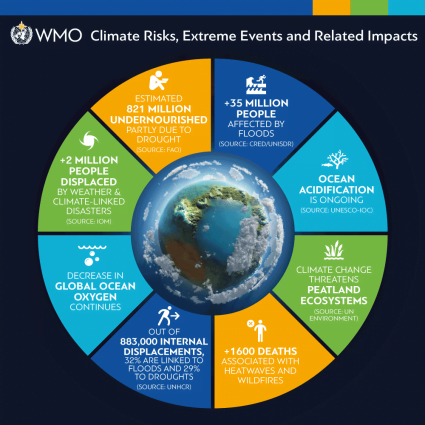 'Global risk' is defined as the possibility of the occurrence of an event or condition which, if it occurs, would negatively impact a significant proportion of global gross domestic product, population or natural resources, according to the WEF.
The findings by the WEF are concerning since the impact of natural disasters or extreme weather events disproportionately affects low- and middle-income countries.
Such events figure among the top five risks in 25 countries, especially developing coastal countries across Latin America, Africa and South-East Asia including India.
In 10 countries, natural disasters and extreme weather events were perceived to be the top most severe risk in the short term or in the next two years
Findings
'Failure to mitigate climate change' as well as 'failure of climate change adaptation' are the two most severe risks facing the world in the next decade
'Natural disasters and extreme weather events' is also the second-most severe risk that the world needs to be prepared for in the next two years
This is followed by 'Biodiversity loss and ecosystem collapse'.
Over the next 10 years or by 2033, the interconnections between biodiversity loss, pollution, natural resource consumption, climate change and socioeconomic drivers will makes for a dangerous mix
In the meantime, the current global pandemic and war in Europe has been held responsible for the energy, inflation and food crises.
'Cost of living' ranks as the top most serious global risk in the short term (over the next two years).
Concerns for India:
India recorded extreme weather events on 291 of the 334 days between January 1 and November 30, 2022 according to India's Atlas On Weather Disasters prepared by the Centre for Science and Environment and Down To Earth (CSE/DTE).
The country witnessed an extreme weather event of some sort in one or more of its regions for more than 87 per cent of the time over these 11 months.
These extreme events have a link with human-caused greenhouse gas emissions and the climate crisis as the Intergovernmental Panel on Climate Change said in its sixth assessment report.
The IPCC assessment, titled Climate Change 2021: The Physical Science Basis dedicated a chapter to weather extremes for the first time.
Further, Human-caused greenhouse gas emissions have led to an increased frequency and / or intensity of some weather and climate extremes since pre-industrial times
Global challenges:
Atmospheric levels of carbon dioxide, methane and nitrous oxide have all reached record highs.
Emission trajectories make it very unlikely that global ambitions to limit warming to 1.5°C will be achieved.
Existing measures to prevent or prepare for climate change have been "ineffective" or "highly ineffective".
Biodiversity within and between ecosystems is already declining faster than at any other point during human history. But unlike other climate-related risks, 'Biodiversity loss and ecosystem collapse' has not been perceived to be of concern over the short term. It has been ranked as the fourth most severe risk in the long term or over the next ten years (by 2033).
Growing demands on public- and private-sector resources from these socio-economic short term crises attributed to geopolitical tensions, will likely reduce the speed and scale of mitigation efforts over the next two years.
These have, in some cases, also reversed progress on climate change mitigation, at least over the short term.
For example, the European Union spent at least 50 billion euros on new and expanded fossil-fuel infrastructure and supplies. Some countries including Austria, Italy, the Netherlands and France restarted coal power stations
Suggestions for future:
The Kunming-Montreal Global Biodiversity Framework (GBF) adopted at 15th Conference of Parties (COP15) to the UN Convention on Biological Diversity (CBD) is thus a significant breakthrough as far as global action on biodiversity is concerned.
COP 27 Commitments made in Sharm El-Sheikh like the loss and damage fund breakthrough agreement to provide funding for vulnerable countries hit hard by climate disasters.
Accelerating Renewable Energy Transition in SIDS: Thirty-six small island developing States and their partners have come together to share strategies and galvanize momentum in the transition to renewable and resilient energy systems.
Cool Coalition: See how the world is coming together to deliver efficient, climate-friendly cooling for all, including through enhanced national climate plans. The coalition highlights promising innovations such as "cooling paper" that keeps temperatures down in buildings.
The Energy Efficiency Alliance: Three Percent Club: A coalition of government, corporate and non-governmental leaders, the alliance champions accelerated energy efficiency, helping individual countries prepare roadmaps to boost efficiency. The Three Percent Club sets a target of an annual 3 per cent improvement in energy efficiency.
Coalition for Climate Resilient Investment of UN: This initiative mobilizes the global private financial industry, in partnership with key private and public institutions, to integrate climate risks in investment decision-making. It now has 65 members with nearly $10 trillion in assets and has helped develop tools for modelling risk-informed cash flow and infrastructure priorities.
Ocean Risk and Resilience Action Alliance: ORRAA connects governments, financial institutions, the insurance industry, environmental organizations and actors from the Global South to build resilience to ocean risk. It pioneers finance and insurance products aimed at incentivizing $500 million in investment in nature-based solutions by 2030.
Way forward
At COP26 negotiations in Glasgow, India led a joint statement around phasing out coal.
However, the progress towards the adaptation support required for those communities and countries increasingly affected by the impacts of climate change too will be insufficient.
With G20 presidency in hand, India needs to act in global interest based on the principle of co-benefits to deal with climate change as the world is inter-related.
Source DTE
For a dedicated peer group, Motivation & Quick updates, Join our official telegram channel – https://t.me/IASbabaOfficialAccount
Subscribe to our YouTube Channel HERE to watch Explainer Videos, Strategy Sessions, Toppers Talks & many more…