Context: According to a UNICEF recent publication, nearly 70 per cent of the Intergovernmental Authority on Development (IGAD) region comprise arid and semi-arid lands prone to recurrent droughts in the horn of Africa.
About Horn of Africa: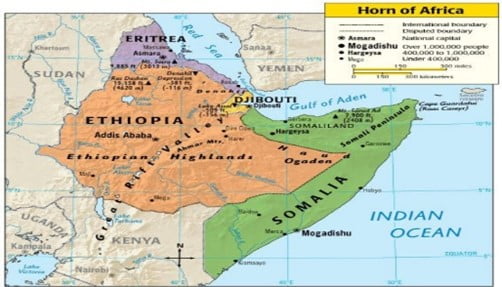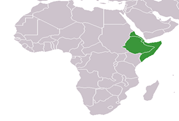 The Horn of Africa (alternatively Northeast Africa, and sometimes Somali Peninsula) is a peninsula of East Africa that juts for hundreds of kilometers into the Arabian Sea, and lies along the southern side of the Gulf of Aden.
It is the easternmost projection of the African continent.
It indeed resembles in outline the horn of an animal — perhaps especially, the horns of the Black Rhinoceros, whose historic range includes parts of Ethiopia:

The angle between its northern and south eastern coasts approximates that at the tip of the rhino's upper horn.
The concavity of its northern coast, and convexity of its southern, echo similar curvatures on the rhino's lower horn.

The term also refers to the greater region containing the countries of Djibouti, Ethiopia, Eritrea and Somalia. As such, it covers approximately 2,000,000 km² and is inhabited by about 86.5 million people.
Sudan and Kenya are sometimes included as well.
The Horn of Africa is a UNESCO Biodiversity Hotspot and one of the two entirely arid ones.

However the Horn of Africa suffers largely from overgrazing and only 5% of its original habitat still remains.
Geography and climate
The Horn of Africa, almost equidistant from the Equator and the Tropic of Cancer, is an arid region.
Socotra is a small island off the coast of Somalia, in the Indian Ocean, that is considered to be part of Africa. Its size is 3,600 square km. It is a territory of Yemen, the southernmost country on the Arabian peninsula.
Economy: States of the region depend largely on a few key exports:
Sudan: Cotton 50% of total exports.
Ethiopia: Coffee 80% of total exports.
Somalia: Bananas and livestock over 50% of total exports.
Source: DownToEarth
Previous Year Questions
Q.1) Consider the following pairs:
Region often mentioned in the news:     Country
Anatolia                                                     Turkey
Amhara                                                      Ethiopia
Cabo Delgado                                             Spain
Catalonia                                                     Italy
How many pairs given above are correctly matched? (2022)
Only one pair
Only two pairs
Only three pairs
All four pairs
Q.2) Which one of the lakes of West Africa has become dry and turned into a desert?
Lake Victoria
Lake Faguibine
Lake Oguta
Lake Volta
For a dedicated peer group, Motivation & Quick updates, Join our official telegram channel – https://t.me/IASbabaOfficialAccount
Subscribe to our YouTube Channel HERE to watch Explainer Videos, Strategy Sessions, Toppers Talks & many more…