Context: Recently forest officials of Katarniaghat division says it has plan for the financial inclusion of the Tharu people that live near the Katarniaghat Wildlife Sanctuary (KWS).
About Katarniaghat Wildlife Sanctuary (KWS):
The Sanctuary is a protected area in the Upper Gangetic plain in Uttar Pradesh.
It was brought under the purview of the 'Project Tiger' in 1987.
KWS with the Kishanpur Wildlife Sanctuary and the Dudhwa National Park it forms the Dudhwa Tiger Reserve, which was established in 1975.
Katerniaghat Forest provides strategic connectivity between tiger habitats of Dudhwa and Kishanpur in India and the Bardia National Park (Nepal).
The Gairwa river flows in the sanctuary area is declared as a sanctuary for Mugger and Gharials.
Fauna: Endangered species including, tiger, rhino, swamp deer, hispid hare, Bengal florican, the white-backed and long-billed vultures.

It is among the few places in India where Gangetic dolphins (fresh water dolphins) are found in their natural habitat.

Flora: Its fragile Terai ecosystem comprises a mosaic of sal and teak forests, lush grasslands, numerous swamps and wetlands.
About Tharu People/tribe: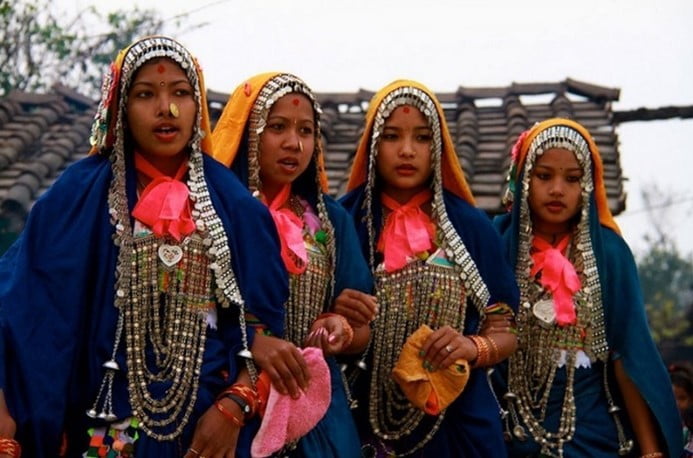 The word Tharu is believed to be derived from sthavir, meaning followers of Theravada Buddhism.
Community belongs to the Terai lowlands, amid the Shivaliks or lower Himalayas in India and Nepal.
They live mostly in Uttarakhand, Uttar Pradesh, and Bihar in Indian terai region.
They speak various dialects of Tharu, a language of the Indo-Aryan subgroup, and variants of Hindi, Urdu, and Awadhi.
In central Nepal, they speak a variant of Bhojpuri, while in eastern Nepal, they speak a variant of Maithili.
Tribe worship Lord Shiva as Mahadev, and call their supreme being "Narayan".
They believe "Narayan" is the provider of sunshine, rain, and harvests.
Tharu women have stronger property rights than is allowed to women in mainstream North Indian Hindu custom.
Source:  Hindustan Times
Previous Year Questions
Q.1) Which of the following Protected Areas are located in Cauvery basin? (2020)
Nagarhole National Park
Papikonda National Park
Sathyamangalam Tiger Reserve
Wayanad Wildlife Sanctuary
Select the correct answer using the code given below:
1 and 2 only
3 and 4 only
1, 3 and 4 only
1, 2, 3 and 4
Q.2) Which of the following are the most likely places to find the musk deer in its natural habitat? (2020)
Askot Wildlife Sanctuary
Gangotri National Park
Kishanpur Wildlife Sanctuary
Manas National Park
Select the correct answer using the code given below:
1 and 2 only
2 and 3 only
3 and 4 only
1 and 4 only
For a dedicated peer group, Motivation & Quick updates, Join our official telegram channel – https://t.me/IASbabaOfficialAccount
Subscribe to our YouTube Channel HERE to watch Explainer Videos, Strategy Sessions, Toppers Talks & many more…