---
(PRELIMS & MAINS Focus)
---
Quasicrystals
Open in new window
Syllabus
Prelims – Science and Technology
Context: Scientists have discovered a third natural source of quasicrystals, extending the latter's reputation for violent origins.
About Quasicrystals: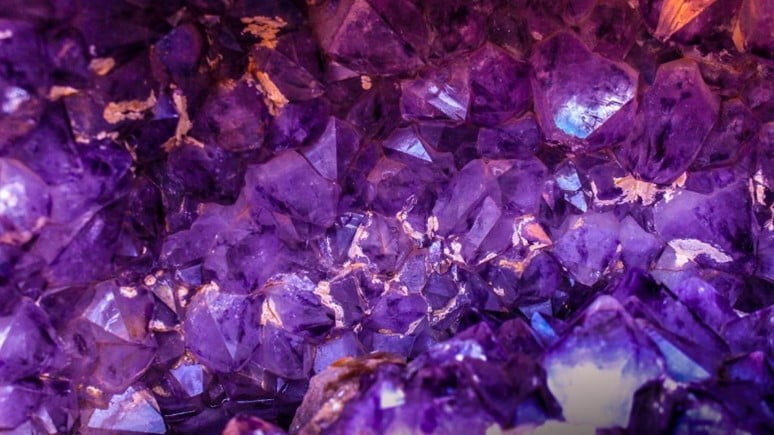 Quasicrystal, also called quasi-periodic crystal, matter formed atomically in a manner somewhere between the amorphous solids of glasses and the precise pattern of crystals.
In quasicrystals, the atoms are arranged in a pattern that repeats itself at irregular, yet predictable, intervals.
The American-Israeli scientist Dan Shechtman discovered quasicrystals in the lab in 1982.
The first natural quasicrystal found was as microscopic grains in a fragment of the Khatyrka meteorite lying in the Koryak mountains of Russia.
The second time scientists found natural quasicrystals in the remains of the Trinity test of the Manhattan Project.
Recently in the Sand Hills dunes in northern Nebraska, where scientists found silicate glass which is a dodecagonal quasicrystal, rare even for quasicrystals.
Three varieties: icosahedrite, decagonite and proxidecagonite.
Proxidecagonite is also known as quasicrystal approximant.
Icosahedrite's crystal structure exhibited fivefold symmetry in two dimensions where the pattern repeated itself after being rotated by 72º.

Icosahedrite exhibited 20-fold symmetry in three dimensions.

Decagonite exhibited 10-fold symmetry by 36º
They inhibit properties like electrical properties, optical properties, thermal properties, hardness, anticorrosive properties and hydrogen absorption properties.
Source:  The Hindu
Previous Year Questions
Q.1) Consider the following statements:
Other than those made by humans, nanoparticles do not exist in nature.
Nanoparticles of some metallic oxides are used in the manufacture of some cosmetics.
Nanoparticles of some commercial products which enter the environment are unsafe for humans.
Which of the statements given above is/are correct? (2022)
1 only
3 only
1 and 2
2 and 3
Q.2) Recently, scientists observed the merger of giant 'blackholes' billions of light-years away from the earth. What is the significance of this observation? (2019)
'Higgs boson particles' were detected.
'Gravitational waves' were detected.
Possibility of intergalactic space travel through 'wormhole' was confirmed.
It enabled the scientists to understand 'singularity'.
---
Grishneshwar Temple
Open in new window
Syllabus
Prelims – Art and Culture
Context: Recently, Former U.S. Secretary of State Hillary Clinton visited the historic Grishneshwar temple, which is the 12th Jyotirlinga in the country.
About Grishneshwar Temple: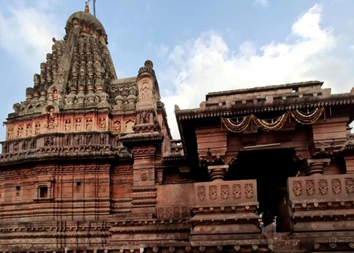 Grishneshwar Jyotirlinga Temple also known as Ghushmeshwar Temple, is one of the shrines dedicated to Lord Shiva that is referenced in the Shiva Purana.
This pilgrimage site is located in Ellora (also called Verul), less than a kilometer from Ellora Caves – a UNESCO World Heritage Site in the state of Maharashtra.
The temple structure was destroyed by the Delhi Sultanate in the 13th and 14th-century.
It went through several rounds of rebuilding followed by re-destruction during the Mughal-Maratha conflict.
It was rebuilt in the current form in the 18th century by Ahilyabai Holkar of Indore, after the fall of the Mughal Empire.
Architectural design of the temple:

The Grishneshwar temple is an illustration of Maratha temple architectural style and structure.
It is built of red rocks and is composed of a five-tier shikara.
This 240 ft x 185 ft temple is the smallest Jyotirlinga temple in India.
There is a Nandi bull in the court hall.
Source: The Hindu
Previous Year Questions
Q.1) Consider the following pairs:
Site of Ashoka's major rock edicts                      Location in the State of
Dhauli                                                                        Odisha
Erragudi                                                            Andhra Pradesh
Jaugada                                                             Madhya Pradesh
Kalsi                                                                          Karnataka
How many pairs given above are correctly matched? (2022)
Only one pair
Only two pairs
Only three pairs
All four pairs
Q.2) The Prime Minister recently inaugurated the new Circuit House near Somnath Temple Veraval. Which of the following statements are correct regarding Somnath Temple? (2022)
Somnath Temple is one of the Jyotirlinga shrines.
A description of Somnath Temple was given by Al-Biruni.
Pran Pratishtha of Somnath Temple (installation of the present day temple) was done by President S. Radhakrishnan.
Select the correct answer using the code given below:
1 and 2 only
2 and 3 only
1 and 3 only
1,2 and 3
---
Vivad se Vishwas II scheme
Open in new window
Syllabus
Context: The Budget has proposed the Vivad se Vishwas-2 scheme to settle long-pending litigation in cases where an arbitration order has been challenged in any Indian court.
About Vivad se Vishwas II scheme:
The Vivad Se Vishwas scheme was announced under Union Budget 2020 to reduce ongoing legal disputes under direct taxation.
It is a "one-time settlement" scheme that contains a draft pact between the litigating parties to bring finality to the dispute.
It is proposed to be implemented through a functionality on the Government e-Marketplace (GeM) portal.
Under this scheme, the interest and penalty associated with the disputed tax amount is completely waived off.

As a result, the taxpayer has to pay only the amount of disputed tax.
Conditions for the one time settlement under the scheme:
no state government or any other private firm is party to the case, or
The dispute pertains to pending financial claims, and not any performance claims.
Eligibility:
Companies or entities in domestic contractual disputes with the central government and associated bodies only can seek to settle pending matters under the 'Vivad se Vishwas II' scheme.
The scheme would apply to disputes where one of the parties is either the Centre, its autonomous bodies, public sector banks, financial institutions and enterprises, Union Territories, including Delhi, and their agencies, and organisations where the Centre has a stake of 50 per cent, like metro rail corporations.
Disputes, where claims are raised against procuring entities as above along with some other party (state government or private party), shall not be eligible under the scheme.
Disputes having only financial claims against the procuring entities will be settled through this scheme.
The scheme proposes graded settlement terms depending on the pendency level of the dispute and it is proposed to cover only cases involving domestic arbitration and cases under international arbitration are not eligible to be settled under this scheme.
Source: Business Standard
Previous Year Questions
Q.1) With reference to the Indian economy, consider the following statements:
If the inflation is too high, Reserve Bank of India (RBI) is likely to buy government securities.
If the rupee is rapidly depreciating, RBI is likely to sell dollars in the market.
If interest rates in the USA or European Union were to fall, that is likely to induce RBI to buy dollars.
Which of the statements given above are correct?
1 and 2 only
2 and 3 only
1 and 3 only
1, 2 and 3
Q.2) With reference to the Indian economy, consider the following statements :
Commercial Paper is a short-term unsecured promissory note.
Certificate of Deposit is a long-term Instrument issued by RBI to a corporation.
'Call Money' is short-term finance used for interbank transactions.
"Zero-Coupon Bonds' are the interest-bearing short-term bonds issued by the Scheduled Commercial Banks to corporations.
Which of the statements given above is/are correct? (2020)
1 and 2 only
4 only
1 and 3 only
2, 3 and 4 only
---
e-Gram SWARAJ
Open in new window
Syllabus
Context: Union rural development and Panchayati raj minister Giriraj Singh recently launched Mission Antyodaya Survey 2022-23, which will shed light on how government schemes have benefited rural India and what is the current economic situation of the country's villages.
The survey will be conducted among gram panchayats across the country, all of which have their profiles on E-Gram Swaraj portal.
About  E-Gram SWARAJ:
It is one single interface on which the details will be listed panchayat wise.
The platform will provide records of work from planning to the implementation in every village panchayat under Gram Panchayati Development Plan (GPDP).
All the details related to Panchayat Sachiv and Panch can be viewed on Gram Swaraj Portal.
The works of the Ministry of Panchayati Raj will be accessible through Gram Swaraj Portal.
The Gram Swaraj Portal and application will provide a boost in transparency by decentralized planning of development projects, with progress reports updates and increased accountability.
Anybody can create an account on the Gram Swaraj Portal and know about the developmental works of villages.
Source: Economic Times
---
Article 356 of the Indian Constitution
Open in new window
Syllabus
Prelims – Polity and Governance
Context: Recently, Prime Minister recalled in Rajya Sabha that Congress governments at the Centre had dismissed many state governments by "misusing" Article 356 of the Constitution.
About Article 356:
Every state shall comply with all directions given by Union on matters it empowers to do so. If any state fails to comply with the directions of the union, then President Rule can be imposed.
History of Article 356:
Article 356 was inspired by Section 93 of the Government of India Act, 1935.

This provided that if a Governor of a province was satisfied that a situation had arisen in which the government of the province cannot be carried on in accordance with the provisions of the said Act,
Then he could assume to himself all or any of the powers of the government and discharge those functions in his discretion.

The Governor could not encroach upon the powers of the high court.
Section 93 allowed the British authorities to exercise ultimate power when they deemed it necessary.
A Nine-judge Bench in its decision in 1994 noted the specific instances when President's Rule can be imposed and when it cannot.
Article 356 can be invoked in situations of the physical breakdown of the government or when there is a 'hung assembly', but it cannot be used without giving the state government a chance to either prove its majority in the House or without instances of a violent breakdown of the constitutional machinery.
Conditions to impose President's rule:
A state legislature is unable to elect a leader as Chief Minister for a time prescribed by the Governor of that state.
Breakdown of a coalition leading to the Chief Minister having minority support in the house.
Loss of majority in the assembly due to a vote of no-confidence in the house.
Elections are postponed for unavoidable reasons like war, epidemic or natural disasters.
Revocation of President's rule:
If approved by both houses, the president's rule can continue for 6 months.
It can be extended for a maximum of 3 years with the approval of the Parliament done every 6 months.
President's rule can be revoked at any time by the president and does not need the Parliament's approval.
Source: Indian Express
Previous Year Questions
Q.1) With reference to Indian Judiciary, consider the following statements.
Any retired judge of the Supreme Court of India can be called back to sit by the Chief Justice of India with prior permission of the President of India.
A High court in India has the power to review its own judgement as the Supreme Court does.
Which of the statements given above is/are correct?
1 only
2 only
Both 1 and 2
Neither 1 nor 2
Q.2) Consider the following statements:
The President of India can summon a session of the Parliament at such a place as he/she thinks fit.
The Constitution of India provides for three sessions of the Parliament in a year, but it is not mandatory to conduct all three sessions.
There is no minimum number of days that the Parliament is required to meet in a year.
Which of the statements given above is/are correct? (2020)
1 only
2 only
1 and 3 only
2 and 3 only
---
National Council for Applied and Economic Research (NCAER)
Open in new window
Syllabus
Context: According to business confidence has recovered from the lows of the pre-pandemic (2019-20) and the following two pandemic years, though sentiments continued to soften sequentially in the three quarters of the current fiscal.
About NCAER:
Established in 1956, NCAER is India's oldest and largest independent, non-profit, economic policy research institute.
It is one of a handful of think tanks globally that combine rigorous analysis and policy outreach with deep data collection capabilities, especially for household surveys.
It undertakes grant-funded research and commissioned studies for governments and industry, and is one of the few think tanks globally that also collect primary data.
NCAER has set up a National Data Innovation Centre (NDIC) to serve as a laboratory for experiments in data collection, interfacing with partners in think tanks, Indian and international universities, and governments.
NCAER's work falls into four thematic areas:

Growth, Macro, Trade, and Economic Policy
Investment Climate, Industry, Infrastructure, labor, and Urban
Agriculture and Rural Development, Natural Resources, and Environment
Poverty, Equity, Human Development, and Consumers.
Source: Business Standard
Previous Year Questions
Q.1) In India, which one of the following compiles information on industrial disputes, closures, retrenchments and lay-offs in factories employing workers? (2022)
Central Statistics Office
Department for Promotion of Industry and Internal Trade
Labour Bureau
National Technical Manpower Information System
Q.2) What was the purpose of the Inter Creditor Agreement signed by Indian banks and financial institutions recently? (2019)
To lessen the Government of India's perennial burden of fiscal deficit and current account deficit
To support the infrastructure projects of Central and State Governments
To act as independent regulator in case of applications for loans of Rs. 50 crore or more
To aim at faster resolution of stressed assets of Rs. 50 crore or more which are-under consortium lending
---
The Role of Labour Unions/Trade Unions in Emerging Sectors
Open in new window
Syllabus
Mains – GS 2 (Governance) and GS 3 (Economy)
Context: There have been many reports of layoffs in the last few months, especially in emerging sectors.
Lay-offs have been taking place not only in India but in major economies like the U.S. too. Large, medium and small enterprises as well as start-ups have let go of dozens or even thousands of workers.
About Labour Union/Trade Union:
History of Trade Union Movement in India
In 1870, the first labour organization Working Men's Club was founded in Calcutta by Sasipada Banerjee. He also published in the journal 'Bharat Sramajibi'.
In 1875, Sorabjee Sharpoorji Bengalee of Mumbai organized the labour agitation in Bombay against the appalling conditions of workers, especially women and children.

Thus, the first organized labour agitation was organised by S. Bengalee.
It results in the formation of the first factory commission in the country in 1875.

In 1875, Narayan Meghaji Lokhande was the first to represent the grievances of the Indian working class before the Labour Commission of Bombay.
In 1890, M Lokhande set up the first association of Indian workers the 'Bombay Mill-Hands Association' in Bombay.
In 1897, the Amalgamated Society of Railway Servants of India was established.
In 1920, the All Indian Trade Union Congress (AITUC), the first trade union on an All-Indian basis, was formed.

The four founder fathers of AITUC were Lala Lajpat Rai, N. M. Joshi, Joseph Baptista, and Diwan Chaman Lal.

In 1926, British Government in India passed the Trade Union Act of 1926, which was the first labour enactment to legalize the formation of the Labour Union in India.

In 1928, Girni Kamgar Union organized the Bombay Textile Mills strike under the communists.

In 1947, Indian National Trade Union Congress (INTUC) was formed as the labour wing of the Indian National Congress (INC) with the efforts of Sardar Vallabbhai Patel and Gulzarilal Nanda.
In December 1948, the Indian Federation of Labour (IFL) merged with Hind Mazdoor Sabha (HMS) and formed United Trade Union Congress (UTUC).
In 1955, Jan Sangh (now Bhartiya Janta Party) also established its labour wing known as Bharatiya Mazdoor Sangh (BMS), founded by Dattopanti Thengdi.
In 1970, the Centre of Indian Trade Union (CITU), affiliated with the Communist Party of India (Marxist), was formed with T. Ranadive as its first president.
Major reasons for the lay-offs:
Impact of COVID-19 pandemic
Changes in business strategy
Automation and technology advancements
Re-evaluation of company goals and priorities
Mergers and acquisitions
Financial difficulties
Frequent changes in government policies and regulations
Decreased investment
Decreased demand for goods and services
Increased competition
The Amazon story:
Labour Union in Amazon:
Amazon workers at the warehouse at Staten Island called JFK8 succeeded in forming the Amazon Labour Union.
Amazon reacted by filing numerous objections with the National Labour Relations Board, the federal body that protects the rights of private sector employees to join together.
On the other hand, employees at the warehouse near Albany voted overwhelmingly against unionisation in October 2022 as many of them were sceptical of the bargaining power of a union vis-à-vis a giant like Amazon.
In India:
Amazon shut down Amazon Food and Amazon Academy.

It retrenched workers in the Indian facility in a gradual manner.

The Deputy Chief Labour Commissioner in Bengaluru served a notice seeking information from the company.

But it is well-known how seriously employers, especially multi-national corporations (MNCs), take labour departments; they ignore conciliation meetings more often than trade unions.
Importance of Labour Unions in Emerging Sectors:
Job Security and Protection against Mass Lay-offs:

Labour unions play an important role in advocating for job security and protecting workers against mass layoffs, particularly in emerging sectors where layoffs may be more widespread.

Support for Re-employment and Career Development:

Labour unions can provide support and resources for re-employment and career development for workers who have been laid off, helping them to find new job opportunities and secure their financial future.

Negotiation of Severance Packages:

Labour unions can negotiate with employers to provide adequate severance packages for workers affected by mass lay-offs, helping to mitigate the financial impact of job loss.

Collective Bargaining Power:

By pooling their resources and bargaining power, labour unions can negotiate with employers to secure better wages, benefits, and working conditions for workers, making them less vulnerable to layoffs and more able to secure their financial future.

Advocacy for Workers' Rights and Protections:

Labour unions can use their voice and influence to advocate for workers' rights and protections against mass lay-offs, working to prevent layoffs and ensure that workers are treated fairly and equitably.
Landmark Cases About Trade Unions In India
All India Bank Employees' Association v. N.I.Tribunal
The case laid down the rights of members of trade unions that are covered under the fundamental right to freedom of expression and speech under Article 19(1) (c).
However, the court ruled that Article 19(1) (c) does not include a right to achieving all the goals for which the trade union was created.
The ruling also ruled that adequate industrial legislation can govern or restrict trade union strikes.
Balmer Lawrie Workers' Union, Bombay and Anr. v. Balmer Lawrie & Co. Ltd. and Ors
The SC's underlying assumption was that a recognised union represents all workers in a particular industrial project or industry. In the MRF United Workers case, this matter was also mentioned.
Kalindi and Others v. Tata Locomotive and Engineering Co. Ltd
The Supreme Court concluded that there is no right to representation unless it recognises it through its standing orders.
In Bharat Petroleum Corporation Ltd. v. Maharashtra General Kamgar Union and Others, the decision was upheld.
Way Forward:
Labour unions play a crucial role in emerging sectors by advocating for the rights and interests of workers.
In industries such as technology and renewable energy, where working conditions and job security may be uncertain, unions provide a voice for employees and negotiate fair wages, benefits, and working conditions.
Historically, the role of trade unions in India was mostly limited to collective bargaining for economic reasons.
On the other hand, trade unions currently play an important role in employee welfare, cultural programmes, banking, and medical facilities, as well as raising awareness through training and education of trade union members.
Despite a few recent events that can mainly be classified as one-off situations, most trade unions have succeeded to create a climate that allows for a constructive conversation between workers and employers about whatever requests they may have.
Furthermore, Indian trade unions have ensured that a forum exists to support better industrial relations, industrial growth, and productivity improvement over time.
Source:  The Hindu
---
Practice MCQs
Daily Practice MCQs
Q.1) Consider the following pairs:
Trade Union and associated person
Centre of Indian Trade Union – B. T. Ranadive
Indian National Trade Union Congress – Sardar Vallabbhai Patel
All Indian Trade Union Congress – Lala Lajpat Rai
How many of the pairs given above is/are correctly matched?
None
One pair only
Two pairs only
All three pairs
Q.2) Article 356 of the Indian Constitution delas with
President's rule
National Emergency
Financial Emergency
None of the above
Q.3) Consider the following statements regarding Grishneshwar Temple:
It is one of the shrines dedicated to Lord Vishnu that is referenced in the Vishnu Purana.
The Grishneshwar temple is an illustration of Maratha temple architectural style and structure.
It is the largest Jyotirlinga temple in India.
Which of the statements given above is/are correct?
1 and 2 only
2 only
3 only
1 and 3 only
Comment the answers to the above questions in the comment section below!!
ANSWERS FOR ' 10th February 2023 – Daily Practice MCQs' will be updated along with tomorrow's Daily Current Affairs.st
---
ANSWERS FOR 9th February

 

– Daily Practice MCQs
Answers- Daily Practice MCQs
Q.1) – a
Q.2) – b
Q.3) – d
For a dedicated peer group, Motivation & Quick updates, Join our official telegram channel – https://t.me/IASbabaOfficialAccount
Subscribe to our YouTube Channel HERE to watch Explainer Videos, Strategy Sessions, Toppers Talks & many more…