Context: India and South Korea recently acknowledged the 50th anniversary of India-South Korea diplomatic ties.
About India – South Korea bilateral relations: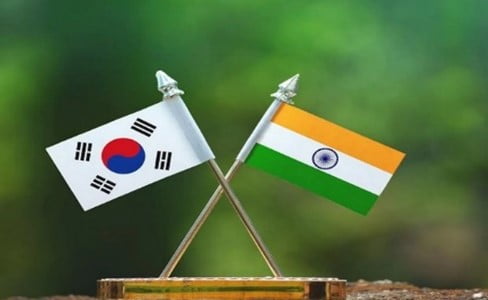 Political
During the Korean War (1950- 53), India played a major role in a cease-fire agreement signed between both the warring sides (North Korea and South Korea) and the ceasefire was declared in July 1953.
Comprehensive Economic Partnership Agreement (CEPA) was operationalized from in January 2010.
In May 2015, the bilateral relationship was upgraded to 'special strategic partnership'.
India has a major role to play in South Korea's Southern Policy under which Korea is looking at expanding relations beyond its immediate region.
Similarly, South Korea is a major player in India's Act East Policy under which India aims to promote economic cooperation, cultural ties and develop strategic relationships with countries in the Asia-Pacific.
Regional Stability:
The regional tensions in South Asia especially between India and China create a common interest for India and South Korea.
This could be a collaborative approach for regional stability.
Nuclear:
South Korea's key interest in managing their nuclear neighbour (North Korea) is similar to India's considerations toward Pakistan.
The US alliance system, established with South Korea and Japan, puts pressure on North Korea to cap its nuclear programme.
Containing North Korea is beneficial to India's economic and regional ambit in East Asia.
It also adds to its approach to the nuclear non-proliferation regime as a responsible nuclear state.
Economic:
The current bilateral trade between India and South Korea is at USD 21 billion and the target that has been set is USD 50 billion by the year 2030.
India and South Korea have signed the Comprehensive Economic Partnership Agreement (CEPA), 2010 which has facilitated the growth of trade relations.
To facilitate investment from Korea, India has launched a "Korea Plus" facilitation cell under 'Invest India' to guide, assist and handhold investors.
Diplomatic:
There is a long-lasting regional security dilemma with the continued verbal provocations and a conventional arms race.
Thus, despite the alliance system, Seoul appears to be searching for a stronger diplomatic stand on imminent regional issues beyond the alliance system.
South Korea's approach to India comes with strategic optimism for expanding ties to ensure a convergence of interest in planning global and regional strategic frameworks.
Cultural:
Korean Buddhist Monk Hyecho or Hong Jiao visited India from 723 to 729 AD and wrote the travelogue "Pilgrimage to the five kingdoms of India" which gives a vivid account of Indian culture, politics and society.
Nobel Laureate Rabindranath Tagore had composed a short but evocative poem – 'Lamp of the East' – in 1929 about Korea's glorious past and its promising bright future.
Indian diaspora:
Many Indian scholars are pursuing post-graduate and Ph. D programmes, mostly in pure sciences live in South Korea.
During the past few years, many professionals, mainly in the areas of IT, shipping and automobile have immigrated to ROK.
Coordination Committee by the Indian high commission works to bring all the Indian Associations in ROK onto a common platform.
The Committee is an effective platform for dissemination of information and coordinating cultural events/activities.
Multilateral Platforms Shared by Both the Countries:
United Nations
World Trade Organisation
ASEAN Plus
East Asia Summit (EAS)
G-20
Challenges
Inadequate Trade: In the last few years, India and South Korea have faced serious blockades to their economic ties.

Trade between the two countries was sluggish and there was no major inflow of South Korean investment into India.

Indian Diaspora: Within South Korea, the integration of Indians in the local population is far from complete, with some instances of racial prejudice or discrimination toward Indians
Inadequate acknowledgment of Korean Culture: To a certain extent Indians are unable to distinguish between the cultural and social characteristics of South Koreans from that of Japanese/Chinese.
Unfulfilled potential of Cultural Centres: Indian Culture Centre (ICC) was established in Seoul to promote people-to-people contacts.

However, ICC has to reach an exponentially wider audience and its focus has to expand beyond the urban, English-speaking elite of Seoul.
The same may be applicable to South Korean culture centres in India.

Multi-dimensional challenges: The current emerging alignment between India and South Korea, which has the potential to bring the two countries closer together, may prove short-lived if proper attention is not paid to the multi-dimensional challenges it faces.
Way Forward:
India's significance for South Korea is growing primarily because of the latter's deepening strategic dilemma with China – its largest economic partner. South Korea's shifting perception about its economic engagement with China has influenced Seoul's strategy towards other Asian powers. Against this background, policymakers in Seoul see India as a crucial partner and their government is taking various steps to upgrade ties under their new policy framework called the 'New Southern Policy.'
India-Republic of Korea (RoK) relations has made great strides in recent years and has become truly multidimensional. The bilateral relations are spurred by a significant convergence of interests, mutual goodwill and high-level exchanges.
Source:  Indian Express
For a dedicated peer group, Motivation & Quick updates, Join our official telegram channel – https://t.me/IASbabaOfficialAccount
Subscribe to our YouTube Channel HERE to watch Explainer Videos, Strategy Sessions, Toppers Talks & many more…