Context: Recently, the Union Home Minister stated that the ministry is determined to destroy the entire ecosystem of Left-Wing Extremism (LWE) by "financial choking".
According to the Union Home Minister, for the first time in four decades, the number of deaths of civilians and security forces in Left Wing Extremism (LWE) came down to under 100 in 2022.

Left Wing Extremism had come down by 76% in 2022 as compared to 2010.
About Left-wing Extremism(LWE) in India:
Left-wing extremists, popularly known as Maoists worldwide and as Naxalites/Naxalism in India, has been a major threat to India since the 1960s.
The term Naxalism derives from the name of the Naxalbari village in West Bengal where a peasant revolt took place against local landlords over a land dispute in 1967.
The origins of Left Wing Extremism (LWE) in India goes back to the Telangana peasant rebellion (1946-51), the movement was at its peak in 1967, when the peasants, landless labourers, and Adivasis raided the granaries of a landlord in the Naxalbari village in West Bengal.
Red Corridor: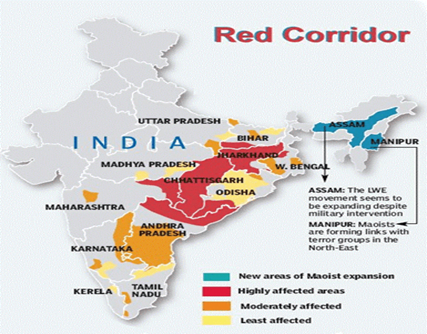 The influence zone of LWE in India is called the Red corridor, which has been steadily declining in terms of geographical coverage and number of violent incidents.
States data:
In 2021, Chhattisgarh accounted for 90 percent (45 out of 50) of all security personnel deaths in the country.
Jharkhand is the only state that recorded security personnel deaths (5) besides Chhattisgarh in 2021.

In 2019, when 52 security force personnel deaths were recorded in the country, Chhattisgarh accounted for just 42 percent (22) of those with Maharashtra accounting for 16 deaths and Jharkhand for 12 deaths.

Other states for which data has been provided by the government are Bihar, Odisha and Telangana.
All recorded zero deaths in 2021.
In 2022, Odisha recorded three deaths while Jharkhand recorded two.
Reasons for Left Wing Extremism:
Tribal discontent:
The Forest (Conservation) Act, 1980 deprives tribals, who depend on forest produce for their living, from even cutting a bark.
Massive displacement of tribal population in the naxalism-affected states due to development projects, mining operations and other reasons.
No Follow-Up from administration:
It is seen that even after police takes hold of a region, administration fails to provide essential services to the people of that region.
Confusion over tackling naxalism as a social issue or as a security threat.
State governments considering naxalism as the central government's issue and thus are not taking any initiatives to fight it.
Lack of Livelihood:
People who do not have any source of living are taken into Naxalism by Maoists.
Maoists provide arms and ammunition and money to such people.
Governance related issues:
Government measures its success on the basis of the number of violent attacks rather than the development done in the Naxal-affected areas.
Absence of strong technical intelligence to fight with Naxalites.
Infrastructural problems, for instance, some villages are not yet connected properly with any communication network.
Reasons for decline in violence:
Greater presence of security forces across the LWE affected States.
Loss of leaders on account of arrests, surrender and desertions.
Rehabilitation programs by the governments.
Better monitoring and shortage of funds and arms.
Intelligence sharing and raising of a separate 66 Indian Reserve Battalion (IRBs), CRPF battalions like COBRA battalion, Bastariya battalion etc were done by the government to curb the menace of LWE organisations.
Government Initiatives to Fight LWE:
Operation Green Hunt: It was started in 2009-10 and massive deployment of security forces was done in the Naxal-affected areas
Aspirational Districts Programme: Launched in 2018, it aims to rapidly transform the districts that have shown relatively lesser progress in key social areas.
SAMADHAN doctrine is the one-stop solution for the LWE problem. It encompasses the entire strategy of government from short-term policy to long-term policy formulated at different levels. SAMADHAN stands for-

S- Smart Leadership,
A- Aggressive Strategy,
M- Motivation and Training,
Actionable Intelligence,
D- Dashboard Based KPIs (Key Performance Indicators) and KRAs (Key Result Areas),
H- Harnessing Technology,
Action plan for each Theatre,
N- No access to Financing.

ROSHNI is a special initiative under, Pandit Deen Dayal Upadhyaya Grameen Kaushalya Yojana (Formerly Ajeevika Skills), launched in June 2013 for training and placement of rural poor youth from 27 LWE affected districts in 09 States.
Road Connectivity: Construction of 17,462 km of roadways had been sanctioned to improve road connectivity, of which work on about 11,811 km had been completed.
Mobile connectivity: For better mobile connectivity, 2,343 mobile towers had been installed in the first phase during the last eight years, and approval given to upgrade them to 4G. This apart, 2,542 new mobile towers were being installed in the second phase.
Eklavya Residential Model School: More than 100 Eklavya Residential Model Schools were sanctioned in 21 years prior to 2019, while in the past three years, 103 have been sanctioned.

So far, 245 Eklavya schools had been sanctioned in 90 LWE-affected districts and 121 of them were now functional.

Banks, ATMs and Post offices for financial inclusion:

The government also facilitated the opening of 1,258 bank branches and 1,348 ATMs in the worst hit districts, besides 4,903 post offices.
Way Forward:
Innovative measures are required to be employed in preventing IED(Improvised Explosive Device) related incidents which have caused significant casualties in recent years.
Emphasis should be laid on the capacity-building and modernization of the local police forces.
States should rationalize their surrender policy in order to bring innocent individuals caught in the trap of LWE in the mainstream.
States also need to adopt a focused time-bound approach to completely eliminate LWE groups and ensure all-round development of the affected regions.
What makes the LWE particularly disturbing is its correlation with the demographic youth bulge in the general Indian population.

If the Indian state fails, the widespread unemployment could lead to a serious internal security situation.

The Centre and the States should make efforts in synchronise that are crucial in eliminating such radicalization amongst groups.
Source: Indian Express
For a dedicated peer group, Motivation & Quick updates, Join our official telegram channel – https://t.me/IASbabaOfficialAccount
Subscribe to our YouTube Channel HERE to watch Explainer Videos, Strategy Sessions, Toppers Talks & many more…