Context: Sant Ravidas birth anniversary
About Sant Ravidas: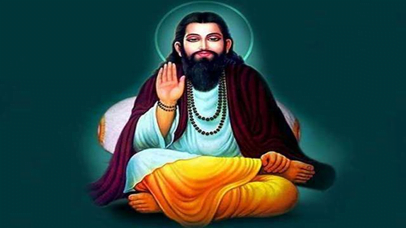 Ravidas, or Raidas, was an Indian mystic poet-saint of the bhakti movement and founder of the Ravidassia religion during the 15th to 16th century CE.
He is venerated as a guru (teacher) in the modern regions of Uttar Pradesh, Rajasthan, Gujarat, Maharashtra, Madhya Pradesh, Punjab and Haryana.
He was a poet, social reformer and spiritual figure.
The life details of Ravidas are uncertain and contested. He was born in Varanasi into untouchable leather-working Chamar caste.
He valued the worship of a formless God.
Ravidas's devotional Verses were included in the Sikh scriptures known as Guru Granth Sahib.
The Panch Vani text of the Dadupanthi tradition within Hinduism also includes numerous poems of Ravidas.
He taught removal of social divisions of caste and gender, and promoted unity in the pursuit of personal spiritual freedom.
Along with Kabir, he was one of the most noted disciples of Bhagat Ramanand.
41 verses of Bhakta Ravidas are incorporated into Sikh's religious book, Adi Granth.
He was vocal against the varna (caste) system
He imagined an egalitarian society called Begumpura, means "land without sorrow"
His disciples came to be known as Ravidas-panthis and followers came to be known as Ravidassias.
He also mentioned 'Sahaj', a mystical state where there is a union of the truths of the many and the one.
About Ravidassias:
The Ravidassias are a Dalit community of whom the bulk — nearly 12 lakhs — live in the Doaba region.
The Dera Sachkhand Ballan, their largest dera with 20 lakh followers worldwide, was founded in the early 20th century by Baba Sant Pipal Das.
Once closely connected with Sikhism, the dera severed these decades-old ties in 2010, and announced they would follow the Ravidassia religion.
The announcement was made on Guru Ravidas Jayanti in Varanasi.
From 2010, the Dera Sachkhand Ballan started replacing the Guru Granth Sahib with its own Granth, Amritbani, carrying 200 hymns of Guru Ravidas, in Ravidassia temples and gurdwaras.
Source:   NewsOnAir
Previous Year Questions
Q.1) With reference to Indian history, consider the following texts:
Nettipakarana
Parishishtaparvan
Avadanashataka
Trishashtilakshana Mahapurana
Which of the above are Jaina texts  (2022)
1,2 and 3
2 and 4 only
1,3 and 4
2, 3 and 4
Q.2) With reference to the cultural history of India, consider the following pairs:
Parivrajaka — Renunciant and Wanderer
Shramana — Priest with a high status
Upasaka — Lay follower of Buddhism
Which of the pairs given above are correctly matched? (2020)
1 and 2 only
1 and 3 only
2 and 3 only
1, 2 and 3
For a dedicated peer group, Motivation & Quick updates, Join our official telegram channel – https://t.me/IASbabaOfficialAccount
Subscribe to our YouTube Channel HERE to watch Explainer Videos, Strategy Sessions, Toppers Talks & many more…