---
(PRELIMS & MAINS Focus)
---
Mission Vatsalya
Syllabus
Context: Recently, a consultation meeting of the functionaries of Child Care Institutions was held to review the effective implementation of Mission Vatsalya.
About Mission Vatsalya:-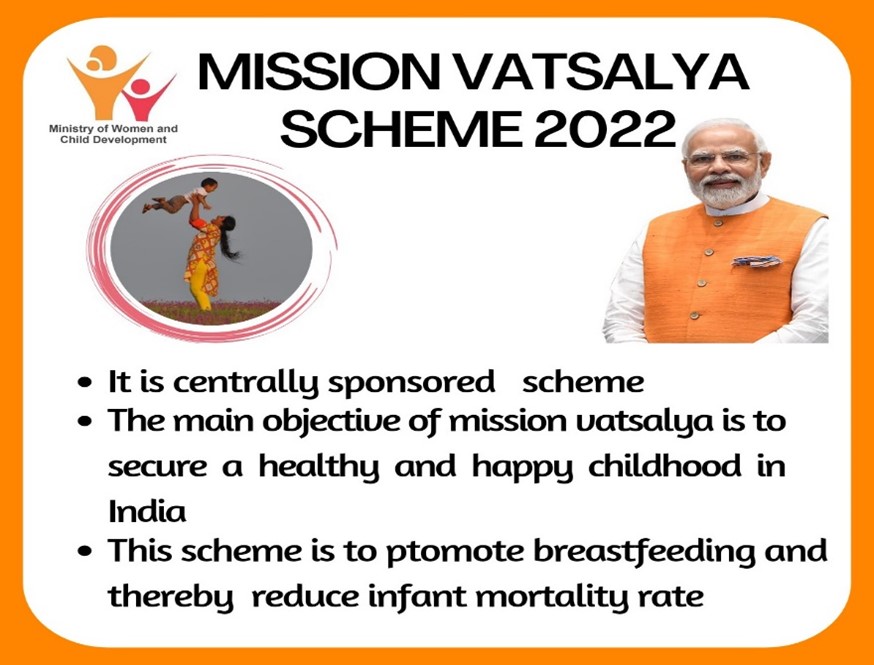 IMAGE SOURCE: government plans
It's an umbrella scheme for child protection services in the country.
Ministry: Ministry of Women and Child Development.
Prior to 2009, the Ministry of women and child development Implemented three schemes for children in need of protection,
The juvenile justice programme for children in need of care and protection as well as children in conflict with the law,
The integrated programme for street children,
The scheme for assistance to children's homes.
In 2010, these were merged into a single plan known as the Integrated Child Protection Scheme.
In 2017, it was renamed "Child Protection Services Scheme," and again in 2021-22 it was renamed as Mission Vatsalya.
It is one of the new triad of schemes along with Mission Shakti, and Poshan 2.0.
It aims at securing a healthy and happy childhood for every child. (UPSC MAINS: Measures to promote the rights and interests of the girl child)
Components:-
Strengthening service delivery structures
Upscaling institutional care and services
Encouraging non-institutional community-based child care
Emergency outreach services
Training and capacity building
Objectives:-
To secure a healthy and happy childhood for each and every child in the country.
To ensure opportunities to enable them to discover their full potential.
To assist States/UTs in delivering the mandate of the Juvenile Justice Act 2015. (UPSC CSE: The Juvenile Justice (Care and Protection of Children) Amendment Bill, 2021)
To achieve the Sustainable Development (SDG)goals.
It promotes family-based non-institutional care of children in difficult circumstances.
Implementation:-
Under the mission, the Government plans to partner with the private sector as well as volunteer groups.
MUST READ: Early Childhood Care and Education (ECCE)
SOURCE: PIB
PREVIOUS YEAR QUESTIONS
Q.1) What is the purpose of 'Vidyanjali Yojana'? (2017)
To enable famous foreign educational institutions to open their campuses in India.
To increase the quality of education provided in government schools by taking help from the private sector and the community.
To encourage voluntary monetary contributions from private individuals and organizations so as to improve the infrastructure facilities for primary and secondary schools.
Select the correct answer using the code given below:
2 only
3 only
1 and 2 only
2 and 3 only
Q.2) What is the aim of the programme 'Unnat Bharat Abhiyan'? (2017)
Achieving 100% literacy by promoting collaboration between voluntary organizations and the government's education system and local communities.
Connecting institutions of higher education with local communities to address development challenges through appropriate technologies.
Strengthening India's scientific research institutions in order to make India a scientific and technological power.
Developing human capital by allocating special funds for health care and education of rural and urban poor, and organizing skill development programmes and vocational training for them.
---
RBI's lightweight' payments system
Syllabus
Context: Recently, the Reserve Bank of India (RBI) announced the conceptualisation of the 'lightweight' payments system.
About RBI's lightweight' payments system:-
The lightweight' payment system is to ensure uninterrupted digital payments during emergencies such as natural calamities or war.
Background: the RBI is working on strengthening the oversight framework for Centralised Payment Systems as part of the Utkarsh 2.0 initiative.
Salient Features:-
This system will operate independently of existing payment technologies like UPI(Unified Payment Interface), NEFT (National Electronic Funds Transfer), and RTGS(Real-Time Gross Settlement (RTGS))
It can be operated from anywhere.
It requires minimal staff during emergencies.
It will process critical transactions, such as bulk payments and interbank payments, during extreme and volatile situations.
The system operates on minimalistic hardware and software.
It gets activated only when needed.
Lightweight' payments system v/s UPI(Unified Payment Interface)
UPI and other conventional systems prioritise handling large transaction volumes and require a stable and robust infrastructure. (UPSC CSE: UPI)
On the other hand, the lightweight system is designed to operate even in volatile and extreme conditions when regular payment systems may not be accessible.
Utkarsh 2.0:
In January 2023, the Reserve Bank of India (RBI) launched Utkarsh 2.0, which is the second phase of its medium-term strategy for strengthening regulatory and supervisory mechanisms.
Utkarsh 2.0 builds upon the foundation laid by Utkarsh 0.1, which was launched in July 2019 and covered the period from 2019 to 2022.
Utkarsh 2.0 will guide the RBI over the period from 2023 to 2025 and includes six vision statements that are designed to improve the performance of the RBI's statutory and other functions, enhance its relevance and significance at the national and global levels, and improve its internal governance, infrastructure, and human resources.
The six vision statements are:
Excellence in performance of statutory and other functions:
Strengthened trust of citizens and institutions in the RBI:
Enhanced relevance and significance in national and global roles:
Transparent, accountable, and ethics-driven internal governance:
Best-in-class and environment-friendly digital and physical infrastructure: This vision statement seeks to improve the RBI's digital and physical infrastructure by making it the best-in-class and environmentally friendly
Innovative, dynamic, and skilled human resources:
MUST READ: Bharat Bill Payment System (BBPS)
SOURCE: THE INDIAN EXPRESS
PREVIOUS YEAR QUESTIONS
Q.1) With reference to the Indian economy, consider the following statements: (2022)
If the inflation is too high, the Reserve Bank of India (RBI) is likely to buy government securities.
If the rupee is rapidly depreciating, RBI is likely to sell dollars in the market.
If interest rates in the USA or European Union were to fall, that is likely to induce RBI to buy dollars.
Which of the statements given above are correct
1 and 2 only
2 and 3 only
1 and 3 only
1, 2 and 3
Q.2) With reference to digital payments, consider the following statements: (2018)
BHIM app allows the user to transfer money to anyone with a UPI-enabled bank account.
While a chip-pin debit card has four factors of authentication, the BHIM app has only two factors of authentication.
Which of the statements given above is/are correct?
1 only
2 only
Both 1 and 2
Neither 1 nor 2
---
Agni-1 Missile
Syllabus
Context: The Strategic Forces Command recently carried out a successful training launch of a Medium-Range Ballistic Missile, Agni-1.
About Agni-1 Missile:-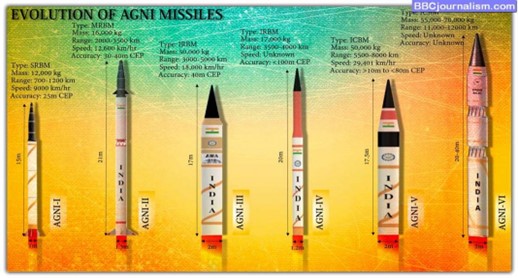 IMAGE SOURCE: autojournalism.com
Agni-1 is a single-stage, solid-fuel missile. (UPSC CSE: Agni – Prime)
It was first test-fired in 2002.
It has been successfully test-fired 11 times.
It is 15 meters long and weighs 12 tonnes.
It is powered by a solid-fuel rocket motor.
It is a part of India's nuclear deterrent. (UPSC MAINS: Significance of nuclear tests conducted in Pokhran)
The Strategic Forces Command (SFC) of the Indian Army uses it.
It is road-mobile, which gives it a high degree of mobility and makes it difficult for an enemy to target.
It has a range of 700–900 km, which gives it the ability to strike targets in Pakistan and China.
It is capable of carrying a nuclear warhead.
This missile has the capability of striking targets with a very high degree of precision.
The latest upgrade to the Agni-1 missile includes:-

a new guidance system that makes it more accurate and
a new warhead that increases its destructive power.
Strategic Forces Command (SFC)
The SFC is a tri-Service command that forms part of India's Nuclear Command Authority (NCA).
It was created on January 4, 2003 by an executive order of Cabinet Committee on Security (CCS) headed by then Prime Minister Atal Bihari Vajpayee.
Function: It is responsible for the management and administration of the country's tactical and strategic nuclear weapons stockpile.
A Commander-in-Chief of the rank of Air Marshal heads it.
Nuclear Command Authority (NCA)
NCA is India's nodal authority responsible for command, control and operational decisions regarding India's nuclear weapons programme.
It has Executive Council and Political Council.
The NCA's directives are executed by the Strategic Forces Command
The National Security Adviser (NSA) chairs the Executive Council.
It gives inputs to the Political Council, which authorises a nuclear attack if need be.
The Political Council is chaired by the Prime Minister and is advised by the Executive Council.
MUST READ: Agni-3 missile
SOURCE: FINANCIAL EXPRESS
PREVIOUS YEAR QUESTIONS
Q.1) What is "Terminal High Altitude Area Defense (THAAD)", sometimes seen in the news? (2018)
An Israeli radar system
India's indigenous anti-missile programme
An American anti-missile system
A defence collaboration between Japan and South Korea.
Q.2) With reference to Agni-IV Missile, which of the following statements is/are correct? (2014)
It is a surface-to-surface missile.
It is fuelled by liquid propellant only.
It can deliver one-tonne nuclear warheads about 7500 km away.
Select the correct answer using the code given below:
1 only
2 and 3 only
1 and 3 only
1, 2 and 3
---
Mettur dam
Syllabus
Context: The customary date of June 12, 2023, when Cauvery water is scheduled to be released from the Mettur dam is nearing.
About Mettur Dam:-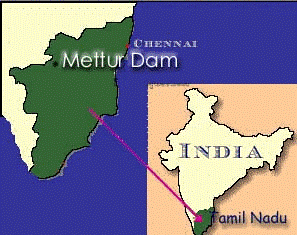 IMAGE SOURCE: mettur.com
Mettur Dam is regarded as one of the largest and oldest dams in India.
The tributary Bhavani joins Kaveri on the Right bank about 45 Km below Mettur Reservoir.
Thereafter it enters the plains of Tamil Nadu.
Historical Background:-
The actual construction of the Mettur Dam began in the year 1925.
It was inaugurated in 1934, by the Governor of Madras, Sir George Stanley.

The reservoir was named after him.

The structure of the dam was designed by British architect Mr Ellis.
The project was supervised by another British engineer, Mr Mullings.
Salient Features of Mettur Dam:-
State: Tamil Nadu
Type of dam: Gravity, Masonry
Operated by: Tamil Nadu Generation and Distribution Corporation Ltd.
Nearest Town: Mettur
River: Kaveri
District Name: Salem
Popular attraction: A park at the base of the dam called Ellis Park is a.
River Kaveri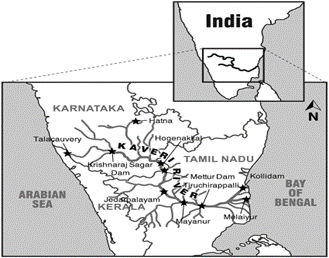 IMAGE SOURCE: ResearchGate
Kaveri is designated as the 'Dakshin Bharat ki Ganga' or 'the Ganga of the South'.
The Cauvery River rises from the Brahmagiri range in the Coorg district of Karnataka.
River basin: it extends over the states of Tamil Nadu, Karnataka, Kerala, and the Union Territory of Puducherry. (UPSC CSE: Linking Rivers)
Tributaries:-

Left Bank: the Harangi, the Hemavati, the Shimsha, and the Arkavati.
Right Bank: Lakshmantirtha, the Kabbani, the Suvarnavati, the Bhavani, the Noyil, and the Amaravati joins from the right.

It descends from the Eastern Ghats in a series of great falls. (UPSC MAINS: Inter-state river water disputes)
It drains into the Bay of Bengal.
It is bound by:-

Western Ghats on the west
Eastern Ghats on the east and the south
The ridges separate it from the Krishna Basin and Pennar Basin on the north.

The Nilgiris(an offshore of Western ghats) divide the basin into two natural and political regionse., the Karnataka plateau and the Tamil Nadu plateau.
Principal soil types: black soils, red soils, laterites, alluvial soils, forest soils, and mixed soils.

Red soils occupy large areas in the basin.
Alluvial soils are found in the delta areas.

Sivasamudram waterfalls: the river descends from the South Karnataka Plateau to the Tamil Nadu Plains through this waterfall.
MUST READ: Cauvery Water Authority
SOURCE: NEW INDIAN EXPRESS
PREVIOUS YEAR QUESTIONS
Q.1) With reference to the Indus River system, of the following four rivers, three of them pour into one of which joins the Indus direct. Among the following, which one is such river that joins the Indus direct? (2021)
Chenab
Jhelum
Ravi
Sutlej
Q.2) Consider the following Rivers: (2021)
Brahmani
Nagavali
Subarnarekha
Vamsadhara
Which of the above rise from the Eastern Ghats?
1 and 2
2 and 4
3 and 4
1 and 3
---
Article 299
Syllabus
Context: Recently, the Supreme Court gave judgement on the claims of immunity while entering into a contract in the President's name under Article 299 of the Constitution.
About Article 299:-
Article 298 grants the Centre and the state governments the power to carry on trade or business, acquire, hold, and dispose of property, and make contracts for any purpose.
Article 299 delineates the manner in which these contracts will be concluded.
Article 299 of the Constitution provides that "all contracts made in the exercise of the executive power of the Union or of a State shall be expressed to be made by the President or by the Governor of the State" and that all such contracts and "assurances of property made in the exercise of that power shall be executed" on behalf of the President or the Governor by persons in a manner as directed and authorised by them. (UPSC CSE: Governor)
The phrase 'expressed to be made and executed' under Article 299 (1) means that there must be a deed or contract in writing and that it should be executed by a person duly authorised by the President of the Governor on their behalf.
As per the 'Chatturbhuj Vithaldas Jasani v. Moreshwar Parashram & Ors'(1954), there must be a definite procedure according to which contracts must be made by agents acting on the government's behalf; otherwise, public funds may be depleted by unauthorized or illegitimate contracts.

It implies that contracts not adhering to the manner given in Article 299(1) cannot be enforced by any contracting party.

Article 299 (2) says that essentially, neither the President nor the Governor can be personally held liable for such contracts.
MUST READ: Responsibilities of President
SOURCE: THE INDIAN EXPRESS
PREVIOUS YEAR QUESTIONS
Q.1) Consider the following statements: (2020)
The President of India can summon a session of the Parliament at such a place as he/she thinks fit.
The Constitution of India provides for three sessions of the Parliament in a year, but it is not mandatory to conduct all three sessions.
There is no minimum number of days that the Parliament is required to meet in a year.
Which of the statements given above is/are correct?
1 only
2 only
1 and 3 only
2 and 3 only
Q.2) With reference to the Legislative Assembly of a State in India, consider the following statements: (2019)
The Governor makes a customary address to Members of the House at the commencement of the first session of the year.
When a State Legislature does not have a rule on a particular matter, it follows the Lok Sabha rule on that matter.
Which of the statements given above is/are correct?
1 only
2 only
Both 1 and 2
Neither 1 nor 2
---
Earth system boundaries (ESBs)
Syllabus
Prelims –Environment and Ecology
Context: Recent reports suggest that seven of eight Earth system boundaries (ESBs) that are critical for the stability of the planet's health and survival of species have already been crossed.
About Earth system boundaries (ESBs):-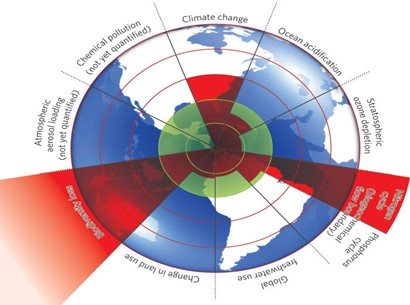 IMAGE SOURCE: researchgate.net
Earth System Boundaries (ESBs) are scientifically measured limits for climate, freshwater, biodiversity and different kinds of pollution.
Operating within these limits, can help maintain a stable and resilient planet. (UPSC CSE: Climate Change Performance Index (CCPI))
These are hard limits and even temporary overshooting of some of the boundaries can permanently damage the planet's critical systems. (UPSC CSE: Climate Finance )
Key Findings of the Report:
Two or more ESBs have already transgressed 52% of the world's land surface, affecting 86% of the global population.
India, along with other parts of South Asia, Europe, and parts of Africa is an ESB transgression hotspot.

Himalayan foothills have recorded at least 5 ESB transgressions.

The seven ESBs that have been crossed are:-

Climate, functional integrity, and levels of surface water, groundwater, nitrogen, phosphorus and aerosols.

The eighth, which has not been crossed, is. 5 degrees C warming:
The global annual mean interhemispheric aerosol optical depth (AOD) difference, which measures the degree of air pollution globally has also not been crossed.
MUST READ: Intergovernmental Panel on Climate Change (IPCC)
SOURCE: HINDUSTAN TIMES
PREVIOUS YEAR QUESTIONS
Q.1) "Climate Action Tracker" which monitors the emission reduction pledges of different countries is a: (2022)
Database created by a coalition of research organisations
Wing of "International Panel of Climate Change"
Committee under "United Nations Framework Convention on Climate Change"
Agency promoted and financed by United Nations Environment Programme and World Bank
Q.2) Consider the following statements: (2022)
The Climate Group is an international non-profit organisation that drives climate action by building large networks and running them.
The International Energy Agency in partnership with the Climate Group launched a global initiative "EP100".
EP100 brings together leading companies committed to driving innovation in energy efficiency and increasing competitiveness while delivering on emission reduction goals.
Some Indian companies are members of EP100.
The International Energy Agency is the Secretariat of the "Under2 Coalition".
Which of the statements given above is correct?
1,2, 4 and 5
1,3 and 4 only
2,3 and 5 only
1,2, 3, 4 and 5
---
Central Electricity Authority
Syllabus
Prelims –Important Institutions
Context: As per recent reports of the Central Electricity Authority, 57% of the power generated will be via renewable sources by 2027.
About Central Electricity Authority:-
The Central Electricity Authority (CEA) is a statutory organization constituted under Section 3 (1) of the repealed Electricity (Supply) Act, of 1948.
It later continued under Section 70 of the Electricity Act, of 2003.
Background: It was established as a part-time body in 1951 and made a full-time body in the year 1975.
Composition: as per Section 70 (3) of the Electricity Act, 2003, the authority shall consist of not more than 14 members, including its chairperson.

Not more than eight shall be full-time members appointed by the Central Government.
Chairperson: the Chief Executive of the authority.

Function:-

It advises the government on matters relating to the National Electricity Policy (NEP).
It formulates short-term and prospective plans for the development of electrical systems.
It is the designated authority for cross border trade of electricity.
It also prescribes the standards on matters such as the construction of electrical plants, electric lines and connectivity to the grid, safety and grid standards and installation and operation of meters.
It is also responsible for the concurrence of hydropower development schemes of central, state and private sectors for the efficient development of rivers and their tributaries for power generation.
Renewable Energy in India
With a population of 1.3 billion, India has a massive demand for energy to fuel its rapidly growing economy. From a power deficit nation at the time of Independence, the efforts to make India energy-independent have continued for over seven decades. Today, we are a power surplus nation with a total installed electricity capacity of over Four lakh MW.
Today, India is the world's third largest producer of renewable energy, with 40% of its installed electricity capacity coming from non-fossil fuel sources.

The Journey towards Renewable Energy in India
As a developing nation at the time of Independence, India relied heavily on coal to meet its energy demands. However, India has always been committed to looking for more alternative energy sources for sustainable development. The beginning was made with hydropower, with major hydroelectric power projects appearing on the scene of India's energy arena.
Over the years, many policy and regulatory initiatives have promoted hydropower development and facilitated investments. Today, we are 5th in the world regarding usable hydropower potential.
Bhabha Atomic Research Centre (BARC) was founded in the 1950s to secure the country's long-term energy independence. Today, we are the only developing nation with indigenously developed, demonstrated and deployed nuclear reactors for electricity generation.
Work on wind energy started in India during the 1960s when the National Aeronautical Laboratory (NAL) developed windmills. Today, we have the 4th largest wind power capacity in the world, blessed with a constant movement of wind, especially in the Southern, Western and North Western regions.
India has spearheaded the International Solar Alliance (ISA), which is an action-oriented, member-driven, collaborative platform for increased deployment of solar energy technologies.
The membership of the ISA is open to all member-states of the United Nations, and 107 countries are signatories to the ISA Framework Agreement at present. The Alliance aims to efficiently utilise solar energy to reduce fossil fuel dependence, thereby creating a greener planet
Over 800 biomass power and bagasse/non-bagasse cogeneration projects have been installed in the country for feeding power to the grid.
India's vision is to achieve Net Zero Emissions by 2070, in addition to attaining the short-term targets which include:
Increasing renewables capacity to 500 GW by 2030,
Meeting 50% of energy requirements from renewables,
Reducing cumulative emissions by one billion tonnes by 2030, and
Reducing emissions intensity of India's gross domestic product (GDP) by 45% by 2030.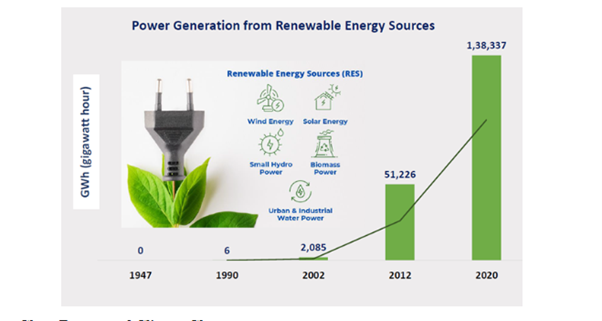 MUST READ: The Electricity (Amendment) Bill 2022
SOURCE: THE HINDU 
---
Mains:
Retain Sedition Law with Amendments: Law Commission
Syllabus
Mains – GS 2 (Polity and Governance)
Context: The Law Commission of India has recommended against the total repeal of sedition law (Section 124A of the Indian Penal Code) and has instead proposed that the provision be retained with certain amendments.
Highlights of the report submitted:
The report highlighted that the offense of sedition is frequently regarded as a remnant of colonial rule, established during a time when it was frequently employed against India's freedom fighters.
The Commission suggested that a provision analogous to Section 196(3) of the Code of Criminal Procedure, 1973 (CrPC) may be incorporated as a proviso to Section 154 of CrPC, which would provide the requisite procedural safeguard before the filing of an FIR with respect to an offence under Section 124A of IPC.
About Sedition Law:
Sedition laws were enacted in 17th century England when lawmakers believed that only good opinions of the government should survive, as bad opinions were detrimental to the government and monarchy.
The law was originally drafted in 1837 by Thomas Macaulay, the British historian-politician, but was inexplicably omitted when the Indian Penal Code (IPC) was enacted in 1860.
Section 124A was inserted in 1870 by an amendment introduced by James Stephen when it felt the need for a specific section to deal with the offence.
Today the Sedition is a crime under Section 124A of the Indian Penal Code (IPC).
Section 124A IPC:
It defines sedition as an offence committed when "any person by words, either spoken or written, or by signs, or by visible representation, or otherwise, brings or attempts to bring into hatred or contempt, or excites or attempts to excite disaffection towards the government established by law in India".
Disaffection includes disloyalty and all feelings of enmity.
However, comments without exciting or attempting to excite hatred, contempt or disaffection, will not constitute an offence under this section.
Punishment for the Offense of Sedition:
It is a non-bailable offence.
Punishment under Section 124A ranges from imprisonment up to three years to a life term, to which a fine may be added.
A person charged under this law is barred from a government job.
They have to live without their passport and must appear in court at all times as and when required.
Need of continuation of Section 124A:
Misuse of freedom of speech: Freedom of speech although is protected through Article 19 (1) but it is not unlimited.

Sometimes speech is used as a tool to destabilise country polity and to promote enmity in society.
The main reason behind the continuation of Sedition act after independence was to prevent the misuse of free speech (reasonable restrictions) that would be aimed at inciting hatred and violence.

Internal security: Maoist insurgency and rebel groups virtually run a parallel administration; it would be dangerous to abolish it.

These groups openly advocate the overthrow of the state government by revolution.
Thus keeping section 124A is important for Indian security.

Destabilising polity: Sometimes, propaganda and facts are modified and used to destabilise the country's peace and polity by deliberately targeting government actions.
Arguments for Section 124A:
Section 124A of the IPC has its utility in combating anti-national, secessionist and terrorist elements.
It protects the elected government from attempts to overthrow the government with violence and illegal means.
The continued existence of the government established by law is an essential condition of the stability of the State.
Many districts in different states face a Maoist insurgency and rebel groups virtually run a parallel administration.
These groups openly advocate the overthrow of the state government by revolution.
Therefore, there is a need to retain the provision to effectively combat anti-national, secessionist and terrorist elements.
The plea had contended that the provision which was used by the British against Mahatma Gandhi and Bal Gangadhar Tilak is still being "grossly abused" to stifle freedom of speech and expression of those who choose to express dissent against policies of the Governments in power.
Arguments against Section 124A:
Mahatma Gandhi called Section 124A "the prince among the political sections of the IPC designed to suppress the liberty of the citizen".
Jawaharlal Nehru said that the provision was "obnoxious" and "highly objectionable", and "the sooner we get rid of it the better".
It is a constraint on the legitimate exercise of constitutionally guaranteed freedom of speech and expression.
Dissent and criticism of the government are an essential ingredient of robust public debate in a vibrant democracy.
The British, who introduced sedition to oppress Indians, have themselves abolished the law in their country.

There is no reason why India should not abolish this section.

The sedition law is being misused as a tool to persecute political dissent. A wide and concentrated executive discretion is inbuilt into it, which permits the blatant abuse.
Way Forward:
India, being the largest democracy in the world, has to ensure its essential ingredients of free speech and expression. The expression or thought that is not in consonance with the policy of the government of the day should not be considered sedition.
It is also essential to protect national integrity. Given the legal opinion and the views of the government in favour of the law, it is unlikely that Section 124A will be scrapped soon. However, it should not be misused as a tool to curb free speech.
Source:   Indian Express
---
Code of ethics and code of conduct for Civil Servants
Syllabus
Mains – GS 2 (Role of Civil Services in Democracy) and GS 4 (Ethics – civil service values and ethics in public administration)
Context: There are some basic rules a civil servant needs to follow, and the limitations they are placed under.
About Civil Services:
A civil servant is an official in the service of the people in a contemporary democracy who is recruited based on established criteria.
Civil servants are officials who must be aware about the country's laws and regulations and are expected to operate in the best interests of the nation and its citizens.
According to the head of the Canadian Public Service, one of the most essential tasks of the public service is to "speak truth to power."
There are three All India Services (governed by Article 312 of the Indian Constitution) – the Indian Administrative Service, the Indian Police Service and the Indian Forest Service – which are selected by the central government with officers allotted to various state cadres.
Other services are called Central Civil Services.

These services are under the central government itself with no state cadre system.

They include services such as the Indian Foreign Service, the Indian Revenue Service, Customs and Central Excise Service and several others.
Code of conduct for civil servants:
"Conduct Rules," a compilation of guidelines with "do's and don'ts," was released in the 1930s.
According to the All India Services (Conduct) Rules, 1968, every member of the service shall maintain:

Integrity and honesty;
Political neutrality;
Promoting the principles of merit, fairness and impartiality in the discharge of duties;
Accountability and transparency;
Responsiveness to the public, particularly to the weaker section;
Courtesy and good behaviour with the public.
Code of ethics vs code of conduct rules:
There is no ethical code for civil servants in India, despite similar standards exist in other nations.
We have a set of guidelines that forbid a range of typical acts.
These standards for behaviour have a function, but they are not a code of ethics.
While the Conduct Rules provide basic guidelines such as "keeping integrity and unwavering commitment to duty," the code of conduct is typically intended to list particular acts deemed inappropriate for civil servants.
Recently, there has been some concern that additional "generic norms" should be added to the list of permitted conduct.
In 2007, the Ministry of Personnel, Public Grievances, and Pensions published a draft "Public Service Bill" to establish a set of generic standards of civil servants known as "values."
The major "values" envisioned in the Bill are as follows:

Allegiance to the various ideals enshrined in the preamble to the Constitution
Apolitical functioning
Good governance for the betterment of the people to be the primary goal of civil service
Duty to act objectively and impartially
Accountability and transparency in decision-making
Maintenance of the highest ethical standards
Merit to be the criteria in the selection of civil servants consistent, however, with the cultural, ethnic and other diversities of the nation
Ensuring economy and avoidance of wastage in expenditure
Provision of a healthy and congenial work environment

Communication, consultation and cooperation in the performance of functions is the participation of all levels of personnel in management.
Issues with the Conduct Rules:
Vague: For example, while the promotion of casteism is not covered under any specific Conduct Rules, casteiest behaviour can be interpreted as "unbecoming of a member of the Service".
Ambiguous: Ideas like personal integrity are not well defined. That is why evils like taking dowry are banned but seemingly common.
There is no ethical code for civil servants in India.
Way Forward: Nolan Committee on Public Life Standards
The Committee on Standards in Public Life (CSPL) is a non-departmental British government advisory body established in 1994 to advise the Prime Minister on ethical standards in public life. They were as follows:
Selflessness: People in positions of public trust should make decisions solely in the public interest.

They should not do so in order to benefit financially or in any other way for themselves, their families, or their friends.

Integrity: Public officials should not bind themselves financially or otherwise to outside individuals or organisations that could sway them in the performance of their official duties.
Objectivity: Holders of public office should make decisions based on merit when carrying out public business, such as making public appointments, awarding contracts, or recommending individuals for rewards and benefits.
Accountability: Public officials are responsible to the public for their decisions and actions, and they must submit to whatever scrutiny is appropriate for their position.
Transparency: Public officials should be as transparent as possible about all of their decisions and actions.

They should give reasons for their decisions and limit information only when it is clearly in the public interest.

Honesty: Public officials have a responsibility to disclose any private interests that may conflict with their public duties and to take steps to resolve any conflicts in a way that protects the public interest.
Leadership: Public officials should lead by example in promoting and supporting these principles.
Source:  Indian Express
PREVIOUS YEAR QUESTIONS
Q.1) Which one of the following has been constituted under the Environment (Protection) Act, 1986? (2022)
Central Water Commission
Central Ground Water Board
Central Ground Water Authority
National Water Development Agency
Q.2) Which one of the following is the purpose of `UDAY', a scheme of the Government? (2016)
Providing technical and financial assistance to start-up entrepreneurs in the field of renewable sources of energy
Providing electricity to every household in the country by 2018
Replacing the coal-based power plants with natural gas, nuclear, solar, wind and tidal power plants over a period of time
Providing for financial turnaround and revival of power distribution companies
---
Practice MCQs
Daily Practice MCQs
Q1. With reference to the contracts under Article 299, consider the following statements:
The President and the Governor can be personally held liable for such contracts.
Article 299 delineates the manner in which these contracts will be concluded.
Which of the statements given above is/are incorrect?
1 only
2 only
Both 1 and 2
Neither 1 nor 2
Q2. Consider the following statements:
The Central Electricity Authority (CEA) is an executive body.
The Central Electricity Authority (CEA)looks after the cross border trade of electricity.
Which of the statements given above is/are correct?
1 only
2 only
Both 1 and 2
Neither 1 nor 2
Q3. Consider the following statements:
Sivasamudram Waterfalls is on the banks Krishna River.
Lakshmantirtha and the Kabbani are the right bank tributaries of Kaveri.
Which of the statements given above is/are incorrect?
1 only
2 only
Both 1 and 2
Neither 1 nor 2
Comment the answers to the above questions in the comment section below!!
ANSWERS FOR ' 3rd June 2023 – Daily Practice MCQs' will be updated along with tomorrow's Daily Current Affairs.st
---
ANSWERS FOR 31st May

 

– Daily Practice MCQs
Answers- Daily Practice MCQs
Q.1) – a
Q.2) – b
Q.3) -a
For a dedicated peer group, Motivation & Quick updates, Join our official telegram channel – https://t.me/IASbabaOfficialAccount
Subscribe to our YouTube Channel HERE to watch Explainer Videos, Strategy Sessions, Toppers Talks & many more…