With Mains just days away, we know how each one of you must be feeling
anxious.
determined.
focussed.
scared.
A mixed bag of emotions
And we totally understand. We also know how important it is, at this point, for you to really ascertain your position so that you can identify areas that need more attention.
To help you solve these doubts in your mind and provide you with the winning guidance, IASbaba has decided to conduct..
FREE OPEN TLP FULL MOCK TEST for GENERAL STUDIES and ESSAY
WHY SHOULD YOU ATTEND THIS FULL MOCK TEST BY IASBABA?
Here you will not just appear for the examination to test your knowledge, but to understand if your approach has been preparing you for the next cutoff or not. Your speed, your decision-making skills, your weak areas, and your strong ones all will get evaluated. 
And deep down inside, you know that you want this reality check.  
We will be conducting an Open Mock for all GS Papers (Including Essay)
Note:  Synopsis shall be provided.
This test is being conducted so that you practice writing the exam in a simulated environment. We are trying to replicate the UPSC Environment, where in you write for 6 Hours everyday.
This will be very helpful for you in a way that you won't feel anxious or nervous during the UPSC Mains 2023 Exam.
Note: TLP Open Mocks is only for the ones who are appearing for UPSC Mains 2023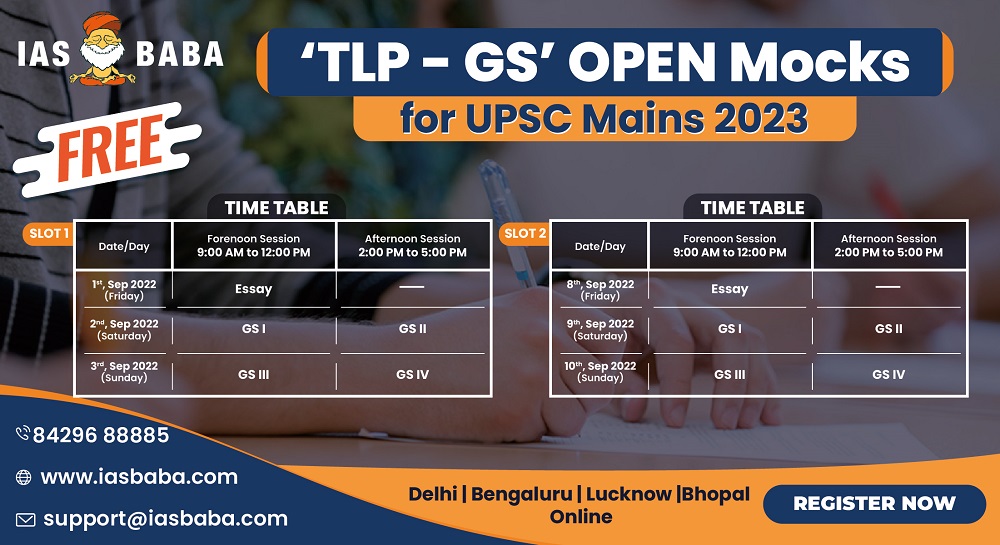 General Studies & Essay Slots
ARE YOU READY TO CRACK UPSC-MAINS 2023?
We know that you are and we wish you all the very best!
Team IASbaba 🙂