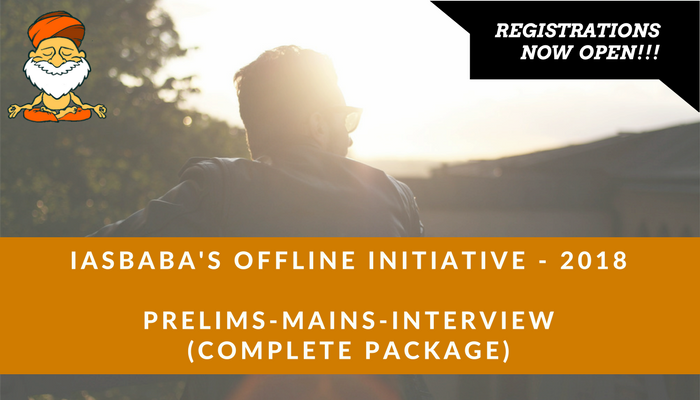 At IASbaba we have a single guideline before starting any initiative "Can we at IASbaba do it the best in comparison to any existing system, Can we redefine the way things are delivered" 
If the answer to the above is yes , then only we go ahead with an initiative and not for mere sake of doing things
A testimony to the above has been 60 Day Program, TLP program and ILP Program which have now become the biggest online environment for UPSC learning.
As on today our App is downloaded by 2,50,000 plus aspirants with the highest rating of 4.6 (UPSC standalone).
We started an offline course for a select group of 150 students and the response has been phenomenal.
Where normal coaching centres would have a success ratio of 1-4%, IASbaba clearly wants to have a success ratio of 30% at each successive stage
In sync with the above vision we proudly announce the commencement of Comprehensive Integrated Classroom Program (Prelims, Mains and Interview) for 2018.
Selection in UPSC Civil Services Exam is like climbing a mountain. You not only need proper equipment and training but also a very strong resolve and mental make-up. Despite having everything you can't do it without a proper guide who can help you out at every single step.
This is where we come into the picture. IASBABA was started with an aim to provide one stop destination for all your preparation needs.
All our programs are extremely outcome oriented in a time bound manner. You can read the reviews of Online programme here Link 1 and Link 2
With the Workshops we were able to help you prepare Essay in 30 minutes with a proven framework or make you understand IR and Ethics strategy in an hour. What to read? What not to read? How to Read? and nuances of UPSC preparation were cleared with Current Affairs, Mains Answer writing strategy. All our workshops received tremendous response. You can cross check it here- Link 1, Link 2 and Link 3
Coming to our OFFLINE Classroom program (2016 & 2017), the classes were designed to provide high output – input ratio. And the response was overwhelming and the feedback was even better.
We wish you set higher standards in offline the similar way we have set in online.
It is said that if you want to win a race your first step is very important.  That is when you get into a proper rhythm and get to the finish line. We are here to give you that perfect start and keep you on the track. The details of the program are as follows:
---
IASbaba's OFFLINE Classes 2018 (Prelims-Mains-Interview)
---
Last year when we announced about our for Offline classes, we received close to a couple of thousand requests for our classroom. In the end we prioritized 150 students (Which got dragged to 180). Our concern was that we raise above the quality which we have been offering online to make it the best in India.
We have created 2 channels for admission to IASBaba :
1)This year as promised, for nearly 100 plus students there would be no fees! (FREE)
In the above 100 there are few conditions set by the sponsoring institutes.
For example : 20 seats might be reserved for aspirants from Minority and physically handicapped.
IASbaba would not like to reveal the exact list of sponsorers. However it promises that quite a number of them will be for people with no social markers.
There will be an entrance exam for the above and it will be held in 3rd week of June.
2) You can fill up the form (Registration Link is provided @ the end)
Link will be sent for select candidates for admission.

For the select list of candidates, it will be

first cum first basis.

You will have

10 days

from the day you receive your invite to join the program.

Or you can come over to the centre, meet either of the Co – founders and on their submission join the course.This would be the quickest way.
You can join the program and go ahead and write the scholarship test. If you are eligible under the scholarship program you will get a refund of the fee paid.
To remain inclusive IASbaba has decide to go ahead with no fee increase for the present year.
Basic Information about IASbaba's OFFLINE Classes in FAQ format:
Why should I join IASbaba?
Look at the video above; we don't have to tell you that 🙂
When will the classes start?
July (MidWeek) 2017 – Tentative. Once Prelims Exam is over, we will come up with the exact date.
When will the Entrance Test for the Offline Classes be held?
June (3rd Week)

2017 – Tentative. Once Prelims Exams is over, we will come up with the exact date.
Duration of the classes?
9- 10 Months (6-7 months of Classroom program followed by Tests)
Is this Prelims-Mains-Interview Oriented Classes?
Yes, it is an integrated program covering all the 3 Stages of UPSC Preparation. We don't take classes exclusively for Prelims Only.
Will Optional Classes be conducted?
Optionals might be scrapped for 2018 or 2019. IASbaba does not want to work for short term goals.
Weekday and Weekend Batch timings?
Weekday :

7 am – 9 am (Monday – Friday) – Tentative

Weekend :

2pm- 7pm (Saturday) & 9am- 5pm (Sunday) – Tentative
If I am residing outside Bangalore or Karnataka, how do I contact you?
You can contact us on –
Mail :  2018batch@iasbaba.com
Mobile No.:   

9035077800/8602242429

 (Please contact between 10 am – 5 pm)
PG accommodation & Cost of Living:
About Rajajinagar and Vijaynagar:
Rajajinagar and Vijayangar form the old part of Bangalore .Both were started as middle class layouts in early 80's . Accommodation and food is relatively cheaper compared to newer areas of Bangalore. Coupled with this one can find excellent transpiration facilities.
Vijayanagar to Rajajinagar is to 10-15 minute drive and 20 minutes by bus.
Vijaynagar is know to have at least 50 PGs and acts as a base to any UPSC aspirants. We are just 3.5 kms ( 15-20 min in bus ) from Vijaynagar.
Cost of living:
  

On sharing basis : 5-6 k (including food)

  

On Single basis : 7-9k per month (including food)

  

In these areas you can get a decent 2 bedroom house for 8-10k
List of PG's with phone number:
We are sharing with you a list of Paying guests located within 2 kms of the centre-
For Girls: There are 3 high quality PGs within a km of the institute. The following are the same:
For Guys: We don't find many PGs confirming to good standards.
Also on https://www.nestaway.com  you can find at least 200 vacancies in the surrounding areas of Vijaynagar , Rajajinagar and Malleshwaram.
Venue:
Classes would be conducted in KLE. There is a study centre at our office facility. There are 4 libraries located with 3.5 kms of the centre and UPSC friendly.
For any Doubts & Queries –
E-Mail :  2018batch@iasbaba.com
Contact No.:  9035077800/8602242429  (Please contact between 10 am – 5 pm)
Office Address: 220, First Floor, 28th Cross, 2nd Block, Rajaji Nagar, Karnataka 560010 (Land Mark- Near KLE College)
---
Please note that, details about 2017 Mains OFFLINE Classes will be announced in the next post (in a few days)
---
"Join us only if you think you have the fire and passion to crack this examination in the very first attempt with IASbaba"