IASbaba's Letter to Genuine Aspirants
We have been receiving a lot of flack on certain public forums meant for the sincere Civil Service aspirants. We at IASbaba had pledged not to respond to spammers and illogical criticism as that would have deviated our energy and efforts which are meant for serious candidates.
Although, we know that the majority of comments at various discussion threads are being made by people who have reasons to fear from our popularity, we considered it imperative to allay the fears of our genuine followers for once and for all.
And it is going to be for the first and the last time. You are all grown-ups and you can make informed choices.
Let it be simple guys! We have something to offer to you. We told you its benefits. We showed you our credentials and work. We also promised you something bigger, better and more effective. And yes, we decided to charge some fees for the survival of the website and the people associated with it. Now it is upto you to make a decision. If you like our plan and want to have a fruitful association; welcome aboard! And if you think that our plan is not meant for you; all the best for your career and life!
Those who are preaching about ethics, let us tell you meaning of ethics. By no way charging money for one's efforts and energy is unethical. What is unethical is defrauding the aspirants. What is unethical is running away from responsibility. We are at pains to see the endless discussions on the amount of money that we are charging. This is nothing but a result of the unethical conduct of the business minded entities that see their students as mere consumers. So, what is unethical is creating consumerism among aspirants.
What is unethical is feeding half baked info to confuse aspirants.
For example, people questioned our traffic.
What they said: IASbaba can not have so much traffic. Look at alexa rank.
What they did not tell you : Alexa takes an average of over 6 months for ranking.Given that we began on June 18 , 2015.So naturally we have initial 3 months not counted and its bases it ranks on age of website(we are now what took other websites 2-3 years).Naturally it causes heartburn.
Check out for yourself: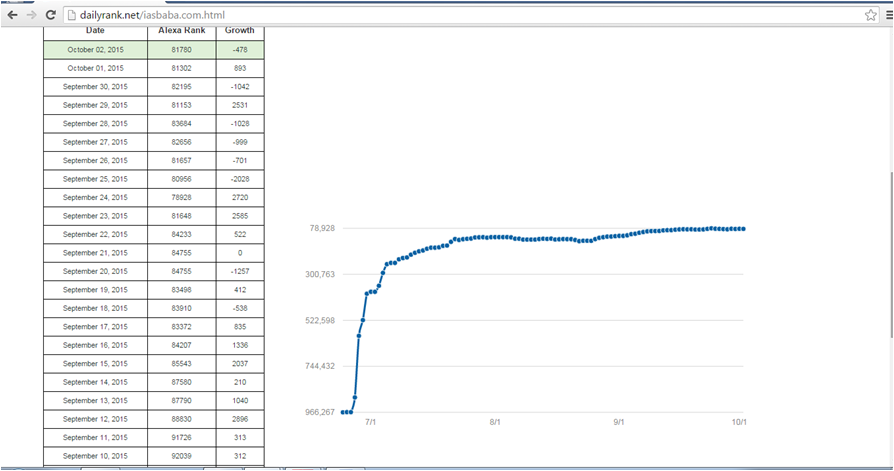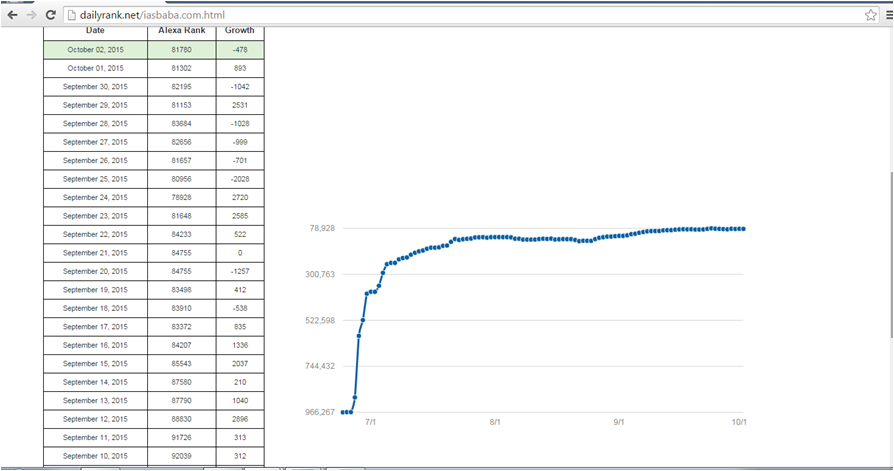 From 9,66,267 to 81870 in 3 months.
Kindly check out for yourself in :
http://dailyrank.net/iasbaba.com.html
This is actually low because it is cumulative.Imagine we would be in coming 3 months.
Now checkout these figures from Google dashboard.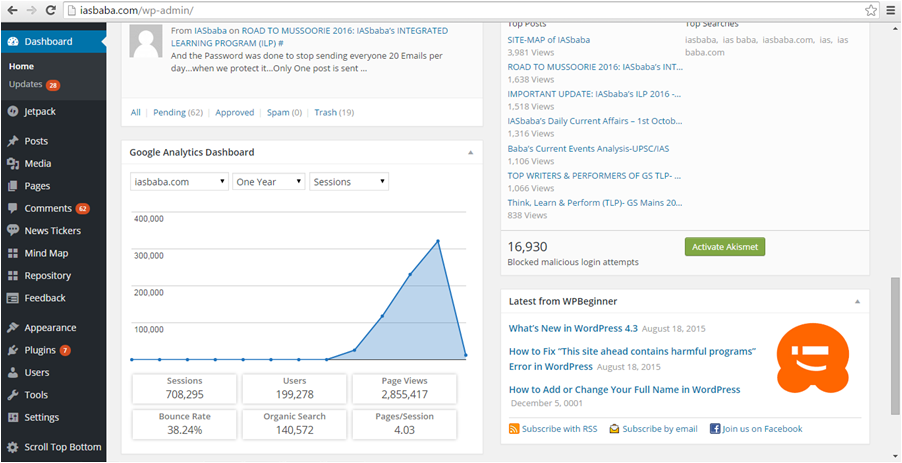 Now does it feel that people in some forum presents entire wrong info(Saying that it is done from paint).
We have legal option of taking him to criminal court for defamation and filing a FIR for criminal defamation.
Whether we would do it? We shall take a call on it.
Given that they want to "Guide" students and charge for it.
We want to be different. We have been responding to almost all the personal queries that we get from our followers. Who does that? Perhaps no one. We want to tell our genuine followers that you are not a consumer for us and we must not be a business entity for you. A consumer gets what he pays for, while a student gets much beyond his expectations. We want partners in our journey. Hence the careful scrutiny for program.
What stops us from taking all of you who have applied to ILP program 3 is that, we won't be able to do justice to all our students.We want to give the best of our time and to dedicated students. Help them build a strong foundation. And use that to aim for the stars.
We were also subjected to personal attacks. While it pained to have seen the image assassination of few of our founders, it also gave us confidence as we always knew that an effort of this scale would draw all types of crowds. There are those who are driven by perception and then there are those who see for themselves, evaluate a situation and only then form an opinion. We are hell bent to filter the second type from the rest. They have the ingredients to succeed and we have already planned the roadmap for them. For those, who doubt our credentials and make demeaning comments, go get your basics right. Almost, all those coaching giants that people pour their money into are being driven by once failed CSE candidates. We wanted to end this exploitation and we will.
Of course, there are those who are here to create panic. We have found several IP addresses that are spamming us by forming multiple user names. We have only one thing to say to them: Get some life friends! We are trying to do something good for the aspirant community with a genuine intention. All your efforts to unsettle us will be futile. In fact, the number of enrollment will break your hearts!
The quality of our content, guidance and initiatives speak for itself and we firmly believe that our credentials are formed by them and not by our degrees, success or failures. We take pride in the progress that we have made in the past 4 months and won't hesitate in reiterating the same. We have mentioned various figures in our previous posts not to show how big we have become but to instill confidence and express our gratitude to our followers that we are growing very fast and it is only because of their support.
We have only two requests from our followers:
If you feel that ours is an honest effort, come forward and support us in helping you achieve your goals. Spread the right word to the right people and don't waste your time and energy in unnecessary bickering.
Make this program your pride, your religion and your passion for the coming few months. Let's show our distractors what we are and what we can become!
And yes! Try to remember the last occasion when you participated in an endless bickering. Now, ask yourself a question: what did you get ultimately? Did it give you the necessary skills to secure a rank in CSE? Did it help you solve questions? Did it anyhow make you feel better? You must have got the answers friends!
On the occasion of Gandhi Jayanti, we remember one of his sayings
"First they ignore you, then they laugh at you, then they fight you, then you win"  🙂 
Thank you
IASbaba
Now, coming to –
FAQ's regarding ILP-2016 (Program 1, 2 and 3)
With the announcement of our 2016 initiative, ILP-2016, we have received over hundreds of emails asking various questions and doubts. So, here is the post of the most broad and Frequently Asked Questions to answer your every doubt and solve your every problem.
If your question is out of the scope of these FAQs, then you can still email us, so that we can call you up and clear all your doubts.
We believe that, 'Only a clear mind with absolute clarity can take the most rational decision'
FAQs
1) Can a working professional use this?
Yes, our daily targets and topic-specific notes will be minimal, and it would not take more than 4-6 hours to complete them. It is not the amount of time that you spend on studies that matters, what matters is the quality smart study with minimal wastage. We will ensure that you hit the nail right on its head. So, yes, any working professional who can spare minimum of 4 hours can take this up, but he should ensure that there will be continuous dedication for over 14 months, every single day. And over the weekends put in more number of hours, say 8-10 hours.
Additionally you may feel overburdened at some point of time. Friend! You need to buckle up since you are aspiring for something BIG. We have given you 2 Days for Revision every fortnight (It will be disclosed in Micro Plan)
2) How many seats are available in each program?
Program 3 is the only plan with a limited number of seats, because it has personal guidance and counselling over phone. So depending on our resources and the number of people interested in joining us, we will restrict to a logical number.
Program 2 and program 1 do not have seat restriction.
3) If I make it through prelims of 2015, should I take this up?
No. We do not want you to waste your money. You should focus on Mains. We will try our best to assist you even more. After Mains, you can join if you are not sure of getting an interview call. Again, it is your discretion.
4) Fee payment in installment?
There is no provision for installment for Program 1 & 2. Only a few genuine and deserving will get it for program 3.
5) What kind of notes would we provide?
Those who get registered will be getting a micro-plan with our day-to-day coverage of all the topics. Sources' too will be provided. We shall provide you quality notes on many topics and references to ensure that you study minimum and get maximum benefit. The notes will focus on 'conceptual understanding' and 'simplifying the concepts' wherever required.
Note: Value-added notes will be given which would complement your daily studies and targets. Notes which are redundant and copy-pasted would not be provided as there won't be much use. Our aim is to hit the bull's eye, not read everything under the sun. Our Prelims oriented notes will be provided wherever required. So we will focus on quality coverage as and wherever we feel you need.
Mind-Maps– To have a 'multi-dimensional' perspective on any issue and this will also aid in increasing your retention capacity.
Current Affairs– Prelims Specific Current Affairs Capsules– Biweekly
6) Is it available in Hindi?
As of now, NO! But if we get resources, we shall start off with this initiative.
7) Will mock interviews be conducted for program -2 enrolls also?
If you have got through Mains (Get an Interview Call), then we would be more than happy for you to succeed. So, yes, we will assist the Program 2 and Program 1 enrolls also.
8) When will the registration start? 
It's already started. Click on this link- http://iasbaba.com/2015/09/important-update-payment-gateway-is-active-for-ilp-2016-program/
For program 3 it will be invite only.
9) What is the last date of Registration?
For Program 1: Test-Series ONLY – NO Time Limit!
For Program 2: Test-Series, ILP-2016 – NO Time Limit!
For Program 3: Test-Series, ILP-2016,Counselling & Telephonic Interaction+ Workshop – October 22nd, 2015
10) When will the plan and schedule for the Test Series-2016 announced?
The plan for the Test Series will be announced by 10th October, 2015. The Test-Series date will be announced in the plan itself. The Test- Series will consists of 20 Tests (inclusive of 3 Full Mock Test)
The Test Series will end by July, 2016.
11) When will the ILP 2016 Program 2 & 3 Start?
We will be starting our Program 2 & 3 after Prelims Results are Out (Tentative October 25th, 2015). So that you too get ample time to make an informed Decision.
The Selection Process or Enrollment for Program 3 will end by October 22nd, so that aspirants who could not make it into Program 3 can get enroll themselves for Program 2. The Enrollment for Program 2 will continue till the end of October (31st October, 2015)
12) What are the Payment Options available?
Online – through Payment Gateway (or)
NEFT/IMPS – Here you can directly transfer the amount to IASbaba's account.
Offline – make the payment in the nearby Bank and send us the acknowledgement.
Note: You can find IASbaba's Account Details once fill the form. Please check the below link for the instructions – http://iasbaba.com/2015/09/important-update-payment-gateway-is-active-for-ilp-2016-program/
13) Where shall I post my Queries?
If you have any Queries regarding IASbaba's ILP -2016 Program, mail us on iasbabailp2016@gmail.com with the appropriate Title/Subject
14) How answer writing will be evaluated?
For Phase 1, there won't be any answer evaluation. You will be given Mains related questions to follow and write pointers when you study for Prelims Plan. This will ensure that notes too will be prepared for revision and when you enter phase-2, you will have ready materials (important points) to develop your base for this phase.
For Phase 2– Questions will become more analytical in nature but this phase will be based on covering Mains syllabus. For questions under this section, we will provide directions to understand the demand of the question and how to approach an answer based on the directives like comment, analyze, discuss etc . Synopsis will not be given for all the questions. It will be done only for certain questions which are analytical or directive based. This will assist you in proper understanding of answer writing techniques.
Answer Evaluation- Post Prelims on the lines of TLP-2016. We will not evaluate all your answers here. But if you are registered users, you will get more attention. Practically it is impossible to evaluate all the answers. This is not a Mains Test Series so try to understand the overall essence of the program.
15) Is there any member in your team who can help with optional?
Forums will be created based on the demand. Aspirants can make use of this Forum to discuss and share resources based on your Optional. We will provide you inputs if we have expertise on a particular Optional but no promise.
16) How often will be personal mentorship? And how Program-3 is different from Program-2?
Under Program 2, We will create a Forum –'Share your Doubts- ILP 2016 Program 2'. You can use the Forum, for quick response from Senior Aspirants and IASbaba.
Under Program 3, we will conduct a workshop, where we will set the momentum for you to approach the exam with confidence. We will clear all your doubts regarding Preparation Strategy, time management etc.
We will make calls every 15 days. We will keep track of your performance, guide you and give you tips on how to make your preparation better.
Kindly note that, we will not entertain frivolous questions; make sure that the questions are preparation specific Only.
Note: Phase 1, 2, 3 and 4 will be common to both Program 2 and 3. This will also include Test Series.
17) When will the workshop be held for Program 2 also and when? 
Yes. Probably in January in Bengaluru and Delhi
18) How will revision be ensured in between the phases?
Two days is reserved for revision every two weeks. Do go through the micro-plan to understand it perfectly. 🙂
19) When will the Micro-Plan be published?
It will  be published by October 4th, 2015.
20) Will the Test Series Plan be made available to All (Both Registered and Non-Registered Users)?
Yes. Only the Test Series Plan of program 1.
21) What are the special features of IASbaba's ILP -2016 program?
App, Test-Series (Real time, Result Oriented), a Separate Platform – Q&A Section, Forum, Repository (Virtual Library). Click on the below link to find out more about these services.
App, Virtual Library, Forum, Separate Platform, Test-Series 2016
For Complete/Detailed plan -> IASbaba's Road to Mussoorie – ILP 2016
22) I am not enrolling to any of the Programs. So will I not get any updates? What are the Free Initiatives running on your website?
The following Initiatives will run for FREE (Irrespective of whether you have enrolled for 2016 program)
IASbaba's Daily Current Affairs

IASbaba's Monthly Magazine

Think Learn & Perform (TLP) Program –MAINS GS

Think Learn & Perform (TLP) Program –MAINS OPTIONALS

Yojana Magazine

RSTV Analysis 

Press Information Bureau (PIB)
Please note that, the micro-level plan for first month of ILP – 2016 will also be available to ALL.
23) IASbaba's Team
No one asked this question until we launched our plan for 2016. However, we respect the queries regarding our credentials, identity and address. Although, we firmly believe that our work speaks for itself, we would love to clear the clouds of doubt for all of you. IASbaba is not an individual. Rather it is an idea. An idea that is being driven by some entrepreneurs and supported by few civil servants. We are based in different states and our existence is in the virtual cyber space, rather than the brick-mortar office.We are on our way of acquiring a permament dedicated destination in Delhi and Bengaluru. What address we should provide to you? We don't have a head office. Many of us don't even see each other for long duration. But we don't regret it. Technology has made it possible to squeeze the world at our finger tips and everyone is entitled to leverage that. We are doing precisely the same.
Still, we make following announcements to our genuine followers:
You would get a chance to interact with all of us during our workshops planned for different phases.
We can't reveal the names of all the civil servants associated with our initiative due to conduct issues but we will provide you the chance to interact with them over phone and also during our workshops.
We are expanding and in the near future we will have a physical office. We will communicate all the necessary address details then. Still if you want to know the addresses of the founders, we can provide that to you but that would hardly serve any purpose for you.
24) CONTACT US
iasbaba2015@gmail.com and iasbabailp2016@gmail.com
For a dedicated peer group, Motivation & Quick updates, Join our official telegram channel – https://t.me/IASbabaOfficialAccount
Subscribe to our YouTube Channel HERE to watch Explainer Videos, Strategy Sessions, Toppers Talks & many more…