IASbaba's Daily Current Affairs – 26th November, 2015
NATIONAL
TOPIC: 

General Studies 3:

Indian Economy and issues relating to planning, mobilization of resources, growth, development and employment; Major crops cropping patterns in various parts of the country, agricultural produce and issues and related constraints, issues of buffer stocks and food security; Food processing, upstream and downstream requirements, supply chain management.

General Studies 2:

Functions and responsibilities of the Union and the States, Government policies and interventions for development in various sectors and issues arising out of their design and implementation,
The need for unifying agricultural markets
Tomatoes, onions, pulses—food inflation is not only a topic of heated discussions in homes, but also a persistent worry for policymakers.
The usual export bans or raids on hoarders are almost old fashioned in nature and they have little impact over the long run.
Indian agriculture needs meaningful structural reforms.
Unified agricultural market:
This envisages the idea of entire India as one market, wherein the farmer can sell his produce in any part of India.
The creation of a unified agricultural market is an important item on the reform agenda.
The idea made an appearance in the two budgets and economic surveys since the National Democratic Alliance came to power.
The NITI Aayog too is working on a blueprint.
It is expected to bring about much-needed uniformity in prices across agricultural markets in the country.
Flawed APMC's:
The existing Agricultural Produce Market Committee (APMC) Acts force farmers to sell their produce only to government-designated  It eliminated private players who were squeezing the farmer.
However the mandisrestricted the economic freedom of farmers even as they were captured by local political elites who rig auctions.
Further, the multiple charges levied within the mandis—such as market fees, licensing fees and commission etc. pushed up prices of agricultural commodities.
Inadequate infrastructure did not help either.
Model APMC Act put to dust:
In order to tackle the negatives of the existent APMC acts, the union government in 2003 circulated Model APMC acts which the state governments had to implement .
But the model has remained a mere blueprint in many states.
Karnataka model:
Karnataka stands out from the other states in this respect of agricultural marketting. Its Rashtriya e Market Services Pvt. Ltd (ReMS), a joint venture with NCDEX Spot Exchange Ltd, is a good working example of what the model APMC envisaged.
First, to ensure ease of doing business, it integrated 51 of the 155 main market yards and 354 sub-yards into a single licensing system.
Second, for improving efficiency and transparency, it introduced automated auction and post-auction facilities (weighing, invoicing, market fee collection and accounting).
Third, to guarantee quality, assaying facilities were made available in the markets.
Finally, in collaboration with NCDEX, it linked all APMCs in the state electronically, and enabled the discovery of a single state price for every commodity on a single platform.
Outcomes of the Karnataka model:
The Karnataka model helped resolve the issues of all the stakeholders.
It gave the farmer the power to accept, reject and bid the prices for his commodity on the basis of a transparent system.
It increased the revenues of APMCs, helped in effective management of its funds and assets, and curbed corruption.
The other states need to learn from this model.
Scheme for Promotion of National Agricultural Market:
In July 2015, the cabinet committee on economic affairs earmarked an amount of Rs.200 crore for the Central Sector Scheme for Promotion of National Agricultural Market through the Agri-Tech Infrastructure Fund.
The scheme seeks to integrate 585 regulated markets in the country through a common e-platform and will also allow access for private markets.
Reforms need to be taken to realize national agricultural market:
Single licence valid across the state.
A single-point levy of market fee with elimination of multiple fees and taxes.
Provision for electronic auction as a mode for price discovery for the agricultural produce.
Way ahead:
Agriculture is in the state list of the Constitution, and the unified agricultural market can be executed only in collaboration with the states.
The states have already taken the lead in policy innovation, be it labour laws in Rajasthan, land acquisition reforms in Tamil Nadu or land pooling for urbanization in Andhra Pradesh.
The Karnataka model of agricultural markets reforms should be seen as a similar case and states should cooperate in creating a National Agricultural Market.
Connecting the dots:
Critically examine the provisions of APMC Act.
Examine the need for creation of a National Agricultural Market in India.
For MIND MAPS on 'Agricultural Produce Market Committee (APMC) Act' refer the below link-
http://iasbaba.com/2015/11/iasbabas-daily-current-affairs-24th-november-2015/
NATIONAL
TOPIC: 

General Studies 3 : Mobilization of resources, growth, development and employment ; Infrastructure-Energy
Indigenization of technology and developing new technology
General Studies 2: Government policies and interventions for development in various sectors and issues arising out of their design and implementation. 
A Solar-y Alternative
It had always been a surprising aspect of the energy development of India, which has almost 300 days of sunlight and still solar energy playing a dismal part in India's energy mix.
Solar power generation today has adorned a competitive stance against with that of coal and this has significant impacts on the mechanism of meeting peak loads.
Concentrated Solar Thermal Power:
Present: A power plant has been set up in Thar and is all set to produce power at around INR 4.50 per unit making the CSP mechanism appear costly on the forefront but:
PV panels lose half a per cent of their efficiency for every degree of temperature rise above ambient levels leading to a fall of 2 per cent in delivered power for every degree of heat.
PV power needs to be stepped up to grid voltages thereby increasing cost of transmission (almost up to 3 times)
Advantages of CSP:
They have the ability to provide power day and night without any fossil back-up as they store the sun's energy for longer periods at low cost and with negligible loss
They can produce steam (well above 593 degree Celsius) which is required for supercritical power stations and thereby qualifying to be used with the ultramodern turbines that are used in the ultra-mega power plants
Thus, the power is fed directly without stepping up the voltage
Distribution cost stays reduced
Challenges to CSP:
No domestic manufacturing base for production of CSP equipment; making it difficult to find reliable and low-cost options—this also forms the main reason of banks being wary in extending loans
Components used have still not reached the economies of scale, completely lacking competitive pressure
Absence of auxiliary power in rural areas and thus, looks out for alternative power supply which increases the project costs
Industry Risks:
Day's Affair: Most of the bids that are happening are focussing on production and deliverance of energy in the daylight hours only. Even in those daytime hours, issues of efficiency creep in. Also, storage of electricity to be transferred in the later part of the day is a very expensive affair (as Photovoltaic plants can store power only as electricity).
Land Acquisition issues have majorly failed the ambitions related to the construction of solar panels and leveraging India's energy mix.
Data: Lack of reliable irradiation data will make it difficult to calculate the amount of generated output and the rate of investment, thus making them more prone to risks and lower mitigation capacity (no studies & recorded measurements)
Lack of Accurate Information: The existing limited projects leads to asymmetric information regarding the experience with technology and the resulting learnings to be derived for further improvement.
Access to Finance: The Bank's learning curve is progressing but still the pace remains moderately fine. Solar thermal power has largely been avoided in the past owing to the high initial cost of setting up the plants and the higher tariffs accompanying the bidding process.
Controversial Coal: Government is planning to more than double its coal-fired power output by setting up 455 more coal-based power plants by 2030. The decision might come under strict scrutiny when the entire world is gathered together to voice their opinion against burning and the resulting global warming.
IASbaba's Views:
There is a need for a greater deployment of technology in developing the CSP components in India and thus, indigenous technology needs to be enhanced with adequate research and development in this sector to make it more viable in the face of increasing solar energy in the country. Government can also do well to provide the CSP plants with monetary support or reliable supply of power.
Construction of Solar Panel can be done on canal or even over National and State Highways—Benefits outlined:

Doesn't need land acquisition
Reduced water evaporation
Saves the land for other purposes like agriculture, housing, industry etc
Successful Rain water harvesting
Construction of Floating Solar Panels:

Cool temperature of water bodies leads to higher efficiency of solar cells
Less water evaporation
Maintenance of electricity output (even in dry season)
Generates more power than land-based solar installation
Government, under its 'Make in India' initiative have definitely outlined multi-disciplinary measures to be employed for the growth of the energy sector as well. But more assistance needs to be provided in the form of
Long term loans and lower interests,
Division of the target of 1,00,000 MW Solar Power into two sections:

Reserve the bulk of the extra-capacity solar thermal power generation
Issue separate tenders for each part

Standards for project feasibility studies,
Suited changes in the REC Price band,
Proper monitoring mechanism,
Timely provision of grid infrastructure,
Proper dissemination of knowledge related to permits and streamlining of the allotment of clearances,
Development of demonstration and research projects,
Large scale deployment of technology
Increase in the prospects of 'Skilling India' and generating employment
Connecting the Dots:
Is solar energy sustainable? What are the major problems associated with solar power generation?
What is solar energy and how it is generated? State its benefits and limitations.
MUST READ
The country deserves a productive winter session- The opposition should enforce accountability through debates, not disruption
A fragile coalition- Turkey's shoot-down of a Russian fighter jet exposes the differences within the anti-IS alliance
Work it out- On GST, Congress needs to acknowledge limits of obstructionism. BJP must reach out, engage Opposition.
India trails neighbours- Need to improve maternal mortality figures
'Housing for All' scheme to come with cheap power and water
From non-performing to performing- A well-functioning insolvency resolution framework is fundamental for dealing with business failures
MIND MAPS
1. Parliamentary Committees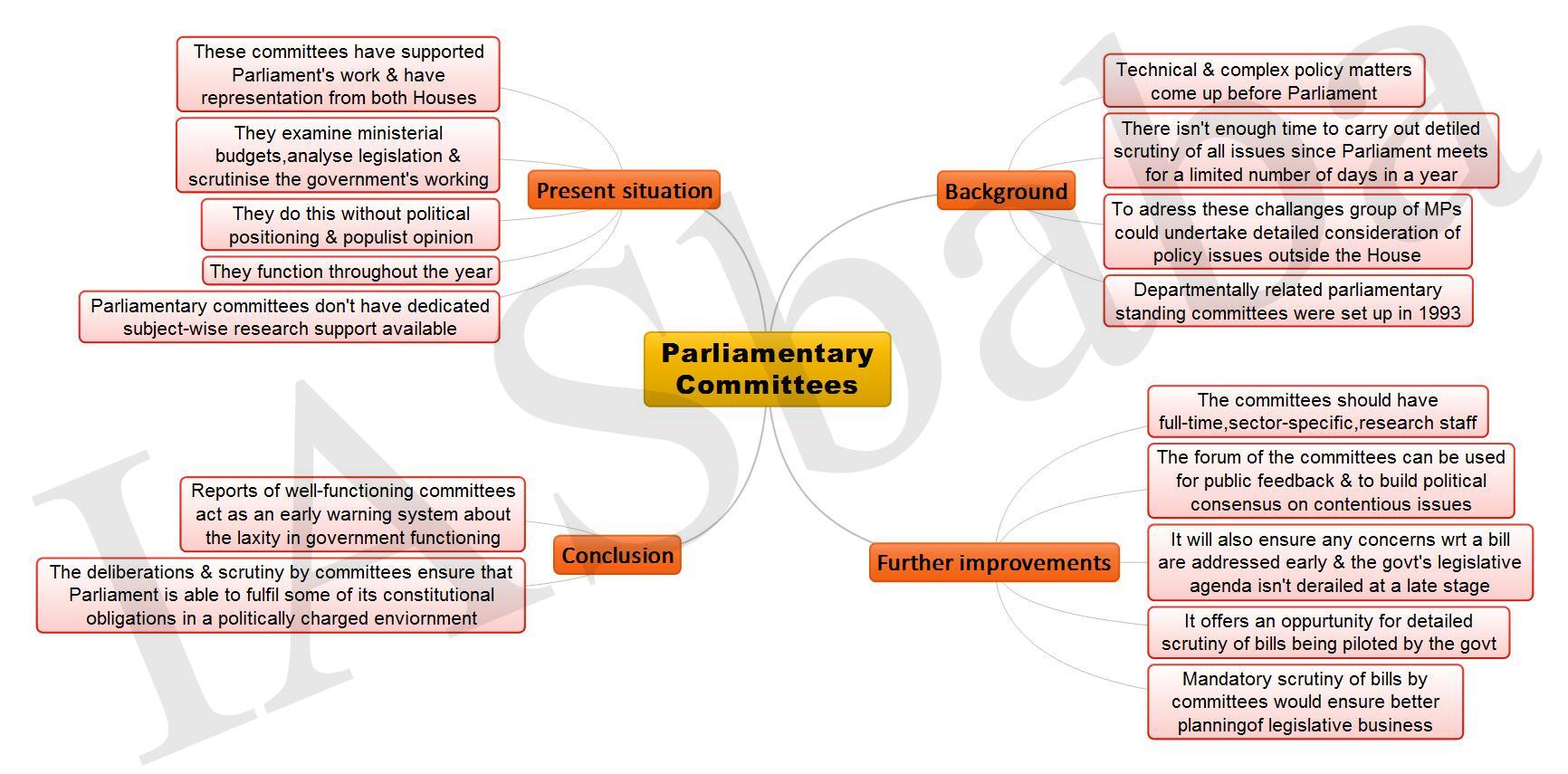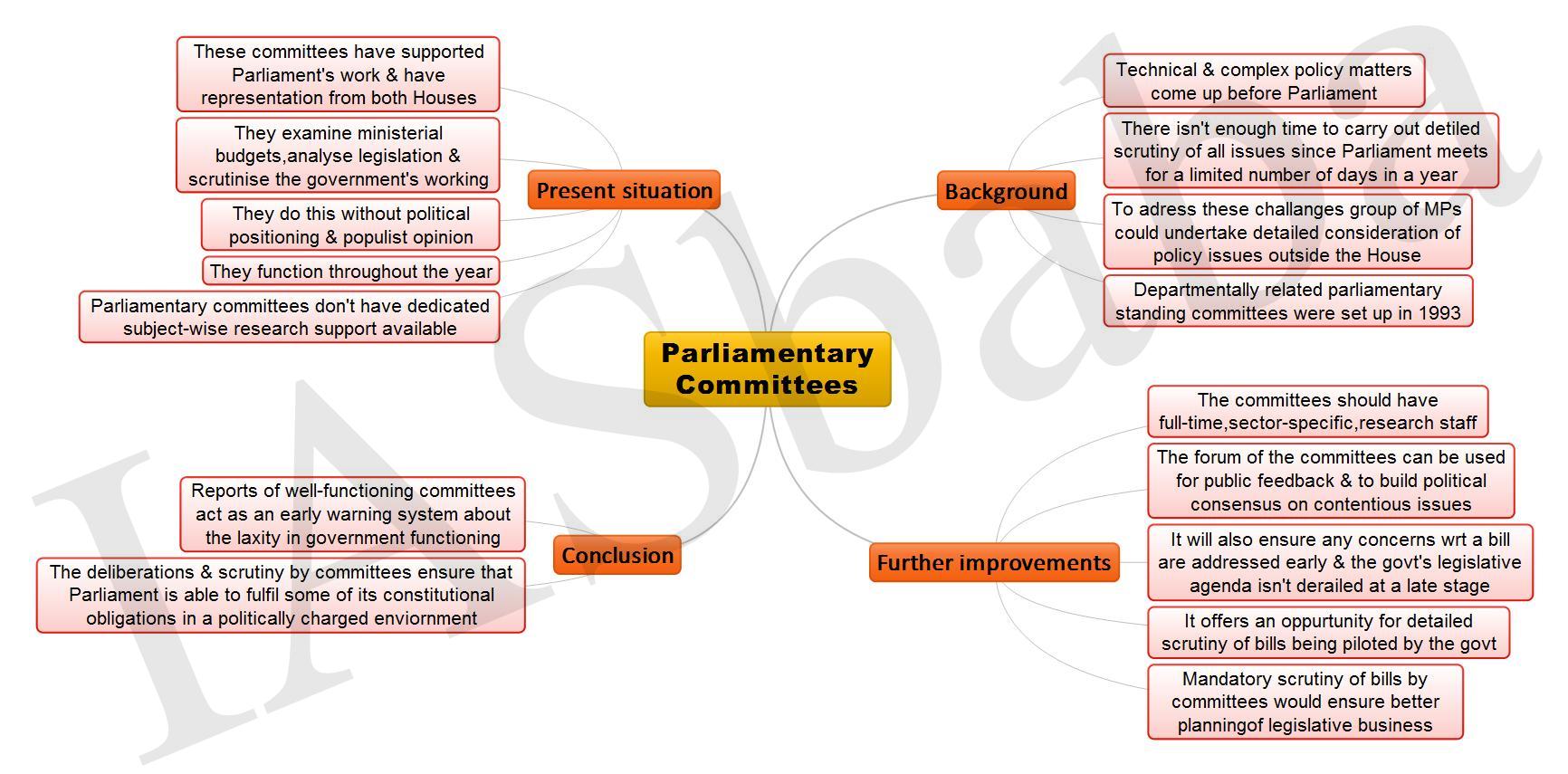 2. Bills in Winter Session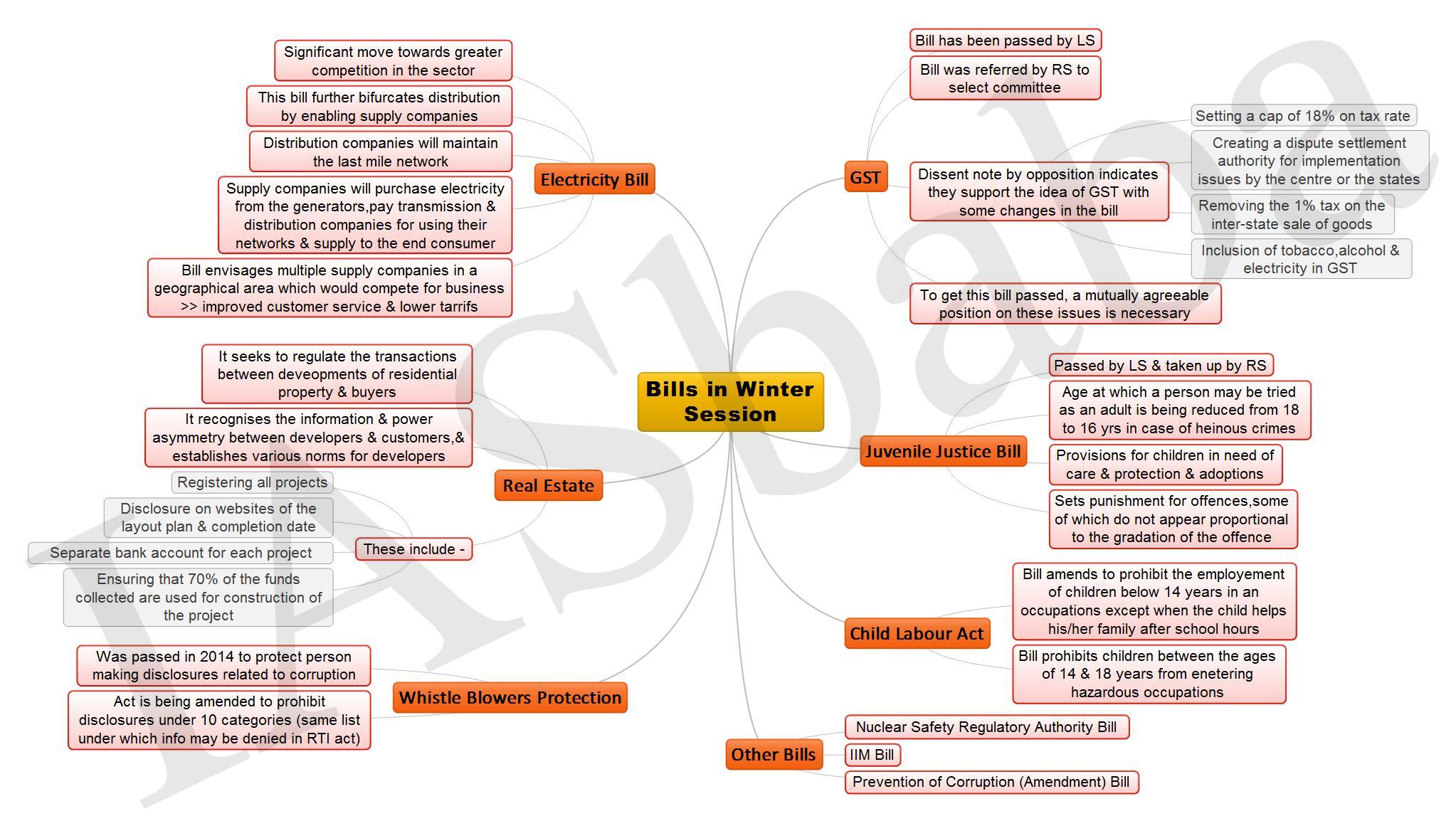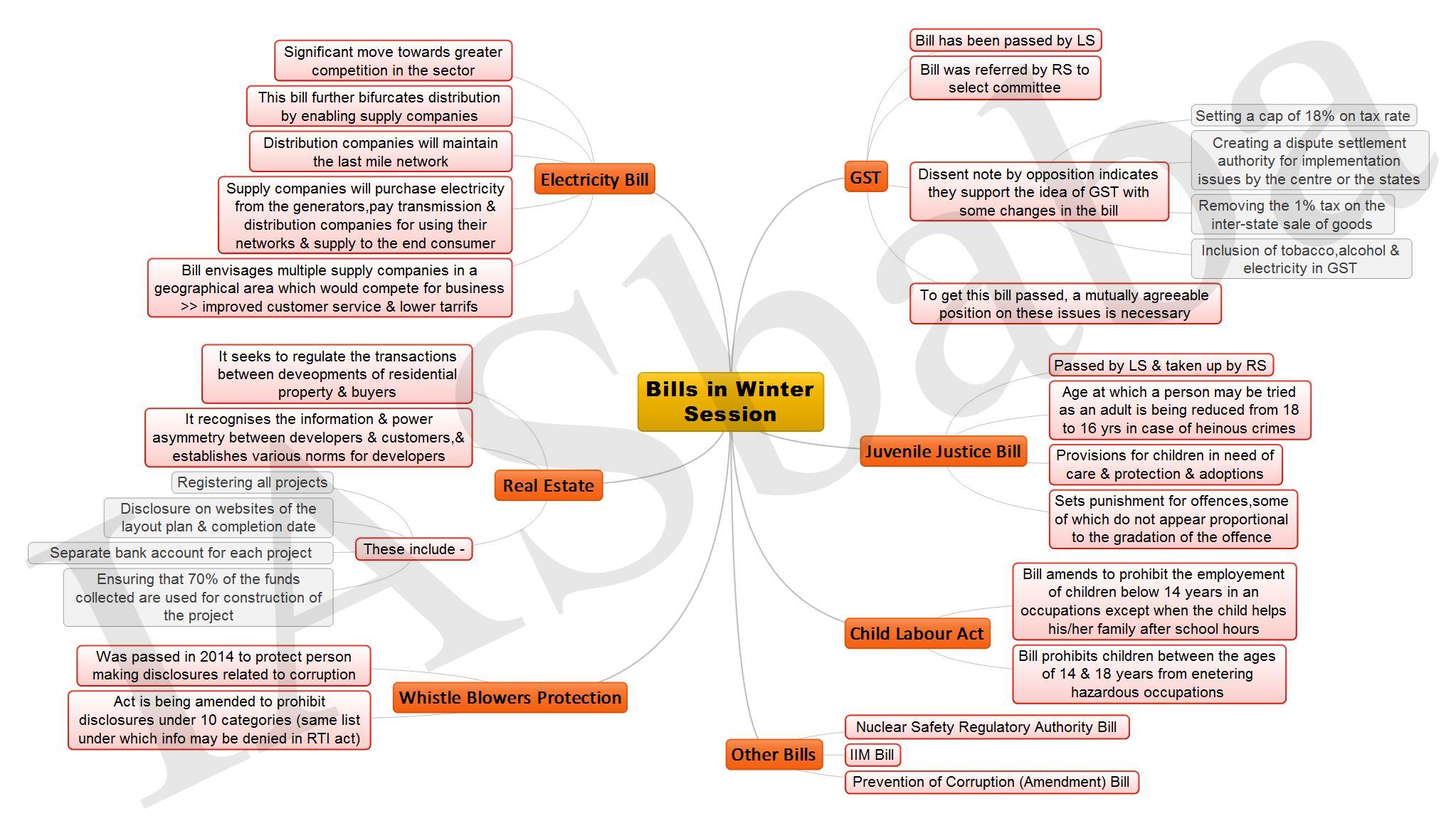 For a dedicated peer group, Motivation & Quick updates, Join our official telegram channel – https://t.me/IASbabaOfficialAccount
Subscribe to our YouTube Channel HERE to watch Explainer Videos, Strategy Sessions, Toppers Talks & many more…