IASbaba's Daily Current Affairs – 11th February, 2016
INTERNATIONAL
TOPIC:

 General studies 3: Security challenges and their management in border areas; linkages of organized crime with terrorism.
General studies 2: Effect of policies and politics of developed and developing countries on India's interests, Indian diaspora.
A country in free fall: Syria
Rapid advances by the Syrian Arab Army and its allied militias into the northern city of Aleppo and the southern city of Dara'a suggest that a part of the Syrian civil war might be near an end.
Massive Russian air strikes have raised the morale of the Syrian government's forces, which have cut off rebel supply lines to Turkey and to Jordan erasing in a few weeks gains made by the rebels since 2011.
Aleppo is now virtually surrounded, while two major towns (Ibta and Dael) near Dara'a delivered themselves to the government.
The western edge of Syria, from Aleppo to Dara'a, is now almost in government hands.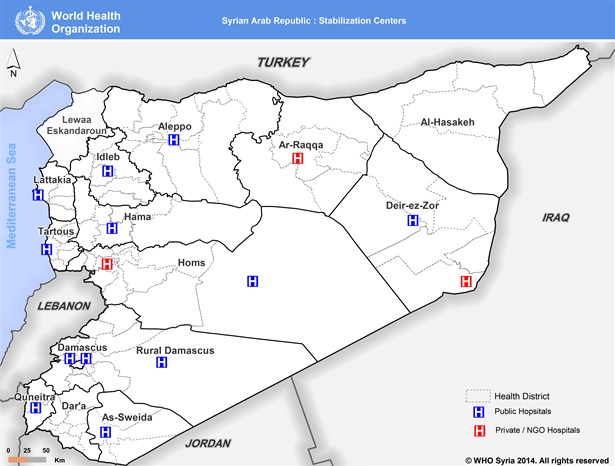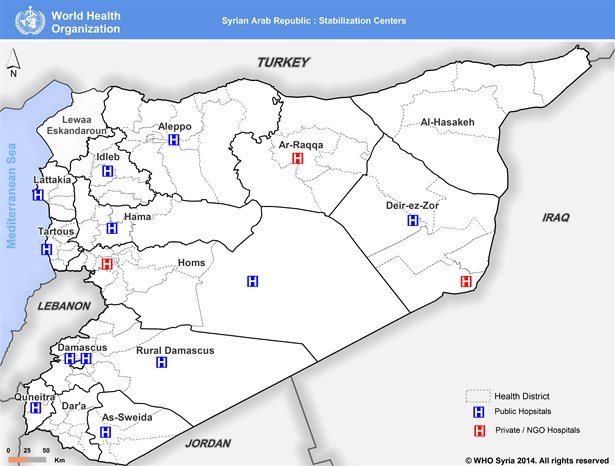 IS growing stronger on the eastern front:
Out in eastern Syria, the Islamic State (IS) continues to hold territory despite the barrage of air strikes from the United States and Russia.
The loss of Ramadi in Iraq and pressure from Twitter has not dampened the confidence of the IS.
It continues to hold Raqqa and to spawn newer and newer ways to reach its supporters on social media.
Like the IS, much the same attitude is visible from Jabhat al-Nusra, the al-Qaeda affiliate in Syria.
Failed peace process for Syria:
Terrible days lie ahead for Syria.
A meeting to formulate a peace process in Geneva was abandoned by the opposition.
They felt correctly that they had come to the UN table in a posture of defeat.
This was more surrender than negotiation.
The Istanbul- and Paris-based Syrian opposition have found that since the Russian intervention, their military positions are now greatly reduced.
Rebels groups that are being pinned down will strike with ferocity, there is no easy way to imagine negotiations or surrender.
Death and destruction:
According to Damascus-based Syrian Centre for Policy Research, around 4,70,000 people have died by the end of 2015 out of 23 million. This was established based on various surveys and studies.
A critical situation in Syria:
Close to half of Syria's people have been dislodged by this war, many rushing across the border but most taking shelter with friends and families within Syria itself.
More than half the population is unemployed, with survival being found in the shadows of the destroyed cities and towns.
Poverty rates are dangerously high, 85 per cent are in poverty, while as many as 69 per cent are in extreme poverty and over a third are in abject poverty.
Life expectancy has dropped from 70 years in 2010 to 55 years in 2015, a full 15 years lost.
Collapsing economy:
Until last year, the Syrian government continued to pay salaries to government workers, an infusion into the economy that kept consumption alive.
Under pressure last year from a string of battlefield defeats and morale problems in the military, the government shifted its priorities to military spending.
Inflation struck hard, pushing up prices not only of essential goods for consumption but also for inputs towards manufacturing.
Exports out of Syria collapsed and the internal market fell victim to the fragmentation of the country under different power brokers.
Syria has been de-industrialised by this conflict. It is now reliant upon agriculture, which has been lucky to have good weather this year, and so a decent harvest of wheat, olives and fruit.
Hunger would be a much greater problem than it is now if the weather had not turned.
A sad story:
The unity of Syria long a proud part of Arab nationalist thought is no longer inevitable.
The country has already been fragmented by the war economy.
Regime change has left 23 million Syrians with no real country.
It is being slowly wiped off the map.
Connecting the dots:
Critically examine the various factors responsible for the present crises in Syria.
INTERNATIONAL
TOPIC:
General studies 2:
Effect of policies and politics of developed and developing countries on India's interests, Indian diaspora.
Bilateral, regional and global groupings and agreements involving India and/or affecting India's interests.
Important International institutions, agencies and fora- their structure, mandate
General studies 3:
Sustainable Development, Conservation, environmental pollution and degradation, Security challenges
Operationalising 'Blue Diplomacy'
Constituents of Blue Economy
The blue economy encompasses in it
The "green economy"— with focus on the environment
The "ocean economy" or "coastal economy"— with its emphasis on complementarities among coastal and island states for sustenance and sustainable development
Specialising in the "Blue Economy"—
Why the 'Blue Economy':
The oceans have been an age-old source of livelihood, trade, colonialism, storms and piracy, encompassing within its realms present opportunities and challenges with the learnings of the past
The traditional blue-water economy has been in operation, from the point of view of bilateral stakes or economic pursuits; including the negotiators of the UN Convention on the Law of the Sea (UNCLOS) gaining prominence since the 1980s
The new blue economy, introduced by Gunter Pauli in his 2010 book, The Blue Economy: 10 Years — 10 Innovations —100 Million Jobs, has opened new avenues for bilateral and multilateral work, involving the environment, energy, defence and food production.
Blue Economy Strategic Thought Forum India—
Under the auspices of the National Maritime Foundation
Defines the blue economy as— "Marine-based economic development that leads to improved human wellbeing and social equity, while significantly reducing environmental risks and ecological scarcities"
Central Principle of the Blue Economy—
Idea of cascading nutrients and energy the way ecosystems do, via fascinating innovations inspiring innovators
Cascading energy and nutrients leads to sustainability by reducing or eliminating inputs, such as energy, and eliminating waste and its cost, not just as pollution, but also as an efficient use of materials
Innovations: Potential to increase rather than shed jobs, as emulating natural systems will mean the deployment of humans rather than machines
Examples of Forwarded Ideas—
Eliminating air in freezing water,
Use of food-grade ingredients as fire retardants,
Growing mushrooms with coffee-shop waste,
Silk as a replacement of titanium,
Electricity generated by walking and talking, etc.
Since the 1980s—
The discovery of manganese nodules and cobalt crusts on the ocean floor has since 1980s, led to a euphoric moment related to 'marine mining', thus establishing a stake over marine resources in the run for resources currency.
Escalating costs and the need of the hour when connected with the industrial development has also added fuel to the rivalry-in-heart of the nation's having their eyes upon the resources.
And, this led to the establishment of the International Seabed Authority—UNCLOS– "Constitution of the seas", which came into force in 1994, became the basis for the legal rights for mining in the open sea
India & the Indian Ocean Region
Need to strengthen security and economic cooperation— In a new theatre of tension
Re-emergence of piracy
US rebalancing of forces
Counter-measures by China —

Deep economic interests in "protecting" the sea lanes in the Indian Ocean through which most of their imports of fuel traverse and a large part of their manufacturing exports are shipped
One belt, One road (Obor) — is a $150 billion grandiose development strategy and framework for China to push for a bigger role in global affairs and to increase its exports

British colonialists and the American imperialists—guard their trade routes and fuel supplies (motive as well as the money to fund their military adventures)
Importance— Both the traditional blue-water economy and the new blue economy are important for India's sustainable development. The imperatives of cooperation and the need for adept diplomacy are evident.
In September 2015, the Indian Ocean Rim Association (IORA) hosted the first Ministerial Blue Economy Conference and identified priorities
Priority Areas—
Maritime security:
Freedom of navigation in Indian Ocean
Safety and security of sea lanes in Indian Ocean
Share best practices in coastal security
Disaster Reduction & Management:
Coordination in the Search and Rescue Operation
Hold workshop to share experiences on disasters frequenting the areas
Management of cyclones, monsoon floods, etc
Oil spills: Joint training and solutions
Trade-Investment:
Working group on trade-investment
Will hold a workshop on customs (duty) harmonization and trade policy of member countries
Closer interaction with other regional organisations
Strive for Blue-Economy
Fisheries Management:
Regulation of fishing activates in coastal waters
Harvest fish stocks in sustainable manner (No fishing during breeding season)
Combating illegal fishing and damaging fishing techniques (e.g. Use of very fine nets, Trawling issues)
S&T-Academic Cooperation:
Between universities and academies of member-states
Exchange of ideas between the Academic and Business Forums
Tourism-Cultural Exchanges— People to people as well as Business contact
Goal 14 of the UN's Sustainable Development Goals (SDGs) — "Conserve and sustainably use the oceans, seas and marine resources for sustainable development" — makes detailed references to the reduction of marine pollution, conservation of coastal and marine areas and regulated fish harvest.
IASbaba's Views:
The convergences in the IORA and SDG agendas have to be developed into action, especially when there exists no strategic clarity per se. Therefore, the initiative must be built upon and sustained—

To boost India's own civilian maritime infrastructure
To ramp up its capabilities to take up major maritime projects in other countries
To lend some vigour to its defence diplomacy in the region
To frame the government's plans for a more purposeful maritime engagement in the Indian Ocean

India's neighbourhood policy assumes primary importance in light of the blue economy as well as India can profitably integrate its ongoing programmes like Make in India, Smart Cities, Skill Development and self-reliance in defence.
A process of training of a diplomatic cadre can help India move towards immediate grasping of the immense possibilities forwarded by the blue economy and Delhi's forthcoming chairmanship of the BRICS will offer a splendid opportunity to highlight the cooperation needed for the blue economy which needs to be encashed in a timely manner.
Connecting the Dots:
Outline the steps India needs to take to establish its strategic and economic interests in the Indian Ocean Region.
Stating the importance of IOR-ARC, briefly describe the challenges that the 'ocean diplomacy' presents with itself?
MUST READ
A peaceful way out on Siachen
Related Articles:
Revisiting Pakistan before the window shuts again
Growth data send conflicting signals
Is the war against the IS India's war?
Related Articles:
Reclaiming The PIL- It was envisaged as a means of providing access to justice to the disadvantaged
It doesn't trickle down- Processes of knowledge diffusion reinforce inequalities. We need explicit pro-poor targeting of efforts
Related Articles:
TRAI rules in favour of Net neutrality
Nothing free or basic about 'Free Basics' (Facebook's initiative)
Suitable jobs for a woman
The mechanics of central banking-Quantitative easing effectively financed borrowing, conflating the divide between monetary and fiscal policy
Related Articles:
Fashioning a Banking Turn- Public Sector Banks
Capacity building in Banks and Non-Bank Institutions
The problem of debt concentration
'A solution, with its own problems'- Strategic Debt Restructuring Scheme
Distorted gas allocation to fertiliser sector
MIND MAPS
1. IMF Reforms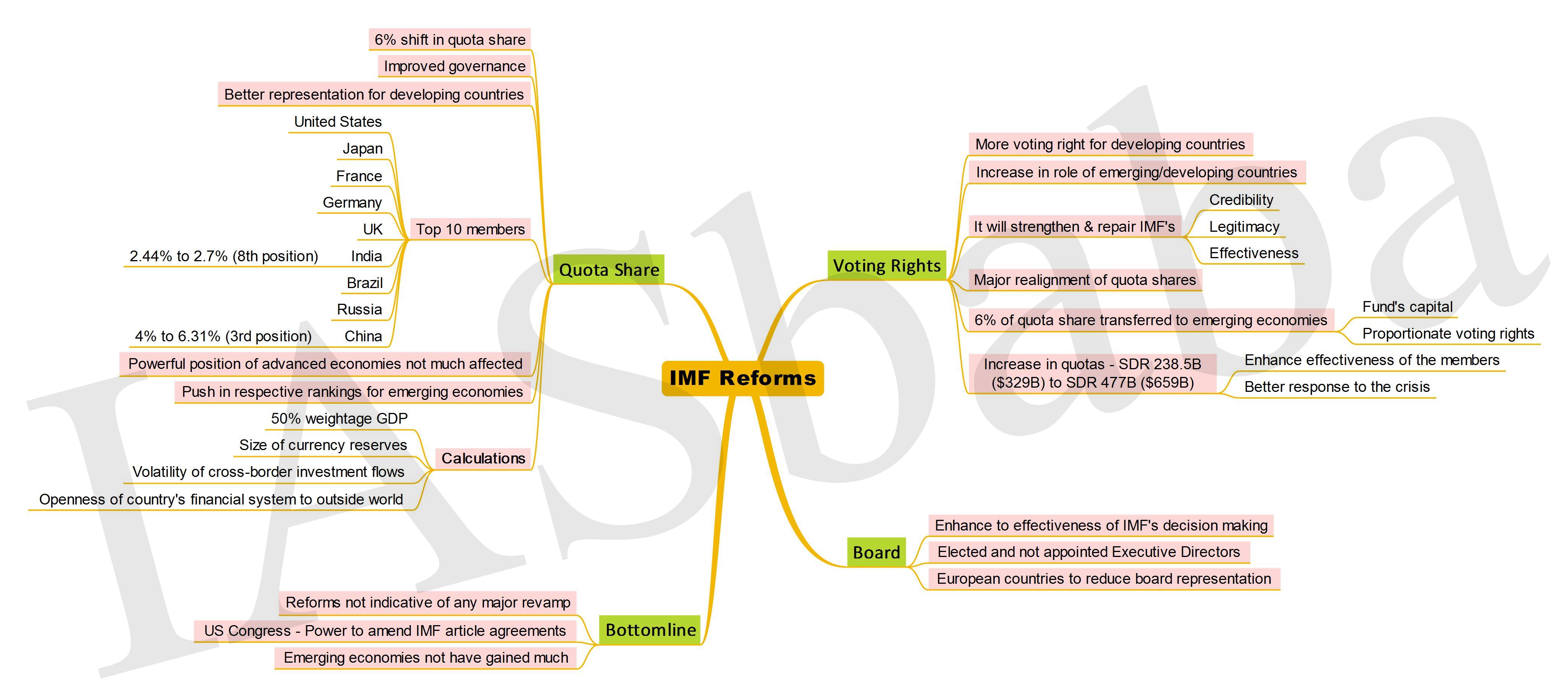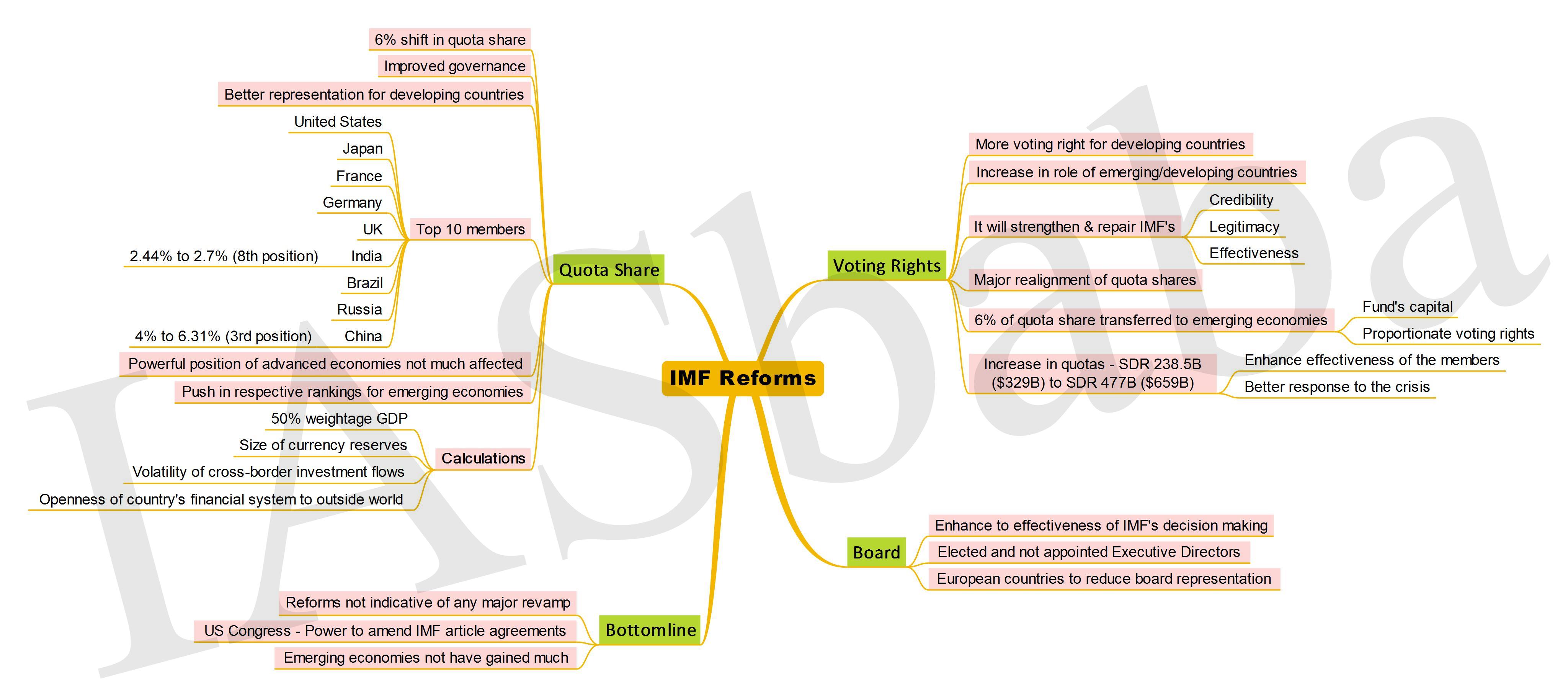 For a dedicated peer group, Motivation & Quick updates, Join our official telegram channel – https://t.me/IASbabaOfficialAccount
Subscribe to our YouTube Channel HERE to watch Explainer Videos, Strategy Sessions, Toppers Talks & many more…