IASbaba's TLP 2016 [29th March]: UPSC Mains GS Questions [HOT]: Synopsis
---
1. What are your views on allowing foreign universities to operate their campuses in India? What are the associated concerns being expressed by the academia in India? Critically examine the issue.
Introduction
A recent survey by Centre for World University Rankings featured not even a single Indian university in the top 300 universities in the world. This reflects the poor condition of our Indian universities with respect to poor infrastructure and facilities, inefficient and insufficient faculty, less incentives for R&D and poor academic industry interface. Allowing foreign universities to operate their campuses in India to plug these loopholes seems a viable option considering its benefits but in the longer run it cannot be a permanent solution. There are some experts who support limited entry based on the reputation of the institution.
List some benefits/advantages of allowing foreign universities
Proponents argue that it would increase choices for students and enhance competition in the sector.
Indian students pay heavy tuition fees to foreign universities. It will help Indian students get foreign education at an Indian price. Additionally, it will help those Indian students who are unable to go abroad due to financial constraints.
Foreign universities might bring modern technology and will help and motivate students to undertake research work.
They attract a significant number of students from countries all over the world. This not only brings foreign money but also adds to their diversity which has its own intangible benefits for a country.
Associated concerns expressed by the academia in India (Choose any 3-4 points)
Opponents argue that it would limit access and lead to commercialization, westernization and monopolization. Shaping the Indian minds on global lines could lead to complete shift and destruction of some efficient traditional methods.
High ranking educational institutes are reluctant to open new campuses for the fear of brand and quality dilution. These institutions might only be interested in garnering their profits rather than improving the quality of education.
It is not a great idea to aim for foreign investment in education when there is underutilisation of domestic capital in the sector.
Prevalent exorbitant fee structure: The high fee structure will impede the participation from a vast majority of students.
The foreign Universities may give more importance to the certification of the students than the training and education. These institutions may not provide need based curriculum as it may not be beneficial to them from profit earning motive.
Foreign Universities have their own syllabus and methodology for imparting education according to the policy and practices in their country, which might distort the vast, historical culture & heritage of India.
Conclusion
Today's requirement is not of foreign universities but upgradation of existing universities which are able to compete with foreign universities. There is no doubt that there is a huge demand and supply gap in our higher education system. Inviting foreign universities to fill this gap seems attractive, but this should not stop us from building our higher education system indigenously. The Indian education system should not be degree-driven, instead it must be dividend-driven.
Best answer: Sahil Garg
Education is a process which knows no boundaries. Exposure of knowledge on an international level makes an individual more aware and conscious. The debate on whether foreign universities should be allowed to operate in India can be supported since:
It will increase the exposure level of a normal Indian. He will have more options to pursue his career. Thus, it will lead to effective utilization of talent, something which India is currently struggling at.
2. Many foreign universities are globally recognized for their high educational standards a more practical approach, R&D investment. Hence, this will boost the dismal state of innovation.
3. Will lead to cultural amalgamation, which will help the diplomatic efforts of the government.
4. Most Foreign universities are known for their better management and effective utilization of resources.
5. Will act as an impetus for Indian universities to improve
However, the concerns raised also stand solid ground.
1. Education disparity will increase – high fees, higher standards will make these universities a place for the rich and the elite. Class and caste differentiation will widen. Inclusive growth will suffer.
2. Foreign universities might not offer insights into social, regional, historical aspects of India. Thus, India will slowly and willingly loose its own demographic dividend, thus starting domestic westernization.
3. Students who graduate from such universities might be persuaded or themselves choose to work for foreign firms, thus beating the indigenous innovation.
Any hasty decision on allowing foreign universities might prove detrimental. A more balanced approach will be to improve and modernize the existing curriculum in the Indian universities, according to changing global needs and demands, and slowly allowing foreign universities with proper regulation and monitoring.
---
2. Governance matters need to incorporate human psyche and behavioural traits for effective and efficient operation of public policies. Do you agree? Examine.
Introduction:
1.Governance is a process resulting from effective interaction of govt, civil society and the private institutions. The more government as an institution can understand the needs of citizens, the more effective and easy the governance will be. Apart from the transparency initiatives like RTI and gradual progress towards e-governance, understanding what people demand and desire holds paramount importance.
2.Government introduced tax on PF withdrawal and they had to unfortunately withdraw them within days after huge cry and also they are in process of withdrawing excise duty on jewellery with ongoing protests. This has led to debate on incorporating human behavioural and psyche for effective implementation of policies.
Do you agree?
Give your affirmative stand.
Examine (the need):
To increase the efficiency of policy implementation.

Ex: in Swatchh Bharat Abhiyan human behaviour needs to change to achieve success. Since merely building toilets wont put an end to open defecation in the country.
To involve the masses in all govt. policies.
To pursue policies for a long term and a sustainable manner.

Ex: social auditing like in MGNREGA.
To avoid pilferage of money.
Need based policies according to applicability in a region and not just blanket approach.
Examples:
Increasing prices of goods creates anger and instability in minds of people. Govt has

Provided subsidies like urea, sugar, LPG etc,
GST tax which would create a uniform tax structure,
PDS scheme, FCI giving grains at low prices, etc.

Increasing deaths due to starvation causes pain and anguish in people. Ujjwala yojana to give LPG to BPL households women, Kisan vikas patra, kisan credit card, etc are examples,
To give help to old age people schemes like Atal pension yojana, NPS, OROP etc were helpful.
To ward off late works in public offices creating hatred for public offices, Digital India, MyGov etc is a boon,
To combat farmers suicides which imbibes fear and depravity in the pubic, JAM trinity is helpful.
to combat female infanticide, Beti Bachao Beti Padhao provides a guideline.
Conclusion:
However, such operations can add delay in framing urgent policies and may lead to one section unhappy if their suggestions are not incorporated. It then becomes essential for government to choose best of all suggestions and that too in limited time. Government has to persuade citizens to participate more in debates and discussions on policy matters. Apart from educated class, opinions of lower strata of society also have to be incorporated into. Governance will become more efficient with more public participation.
Best answer: KK
http://a.disquscdn.com/uploads/mediaembed/images/3421/1741/original.jpg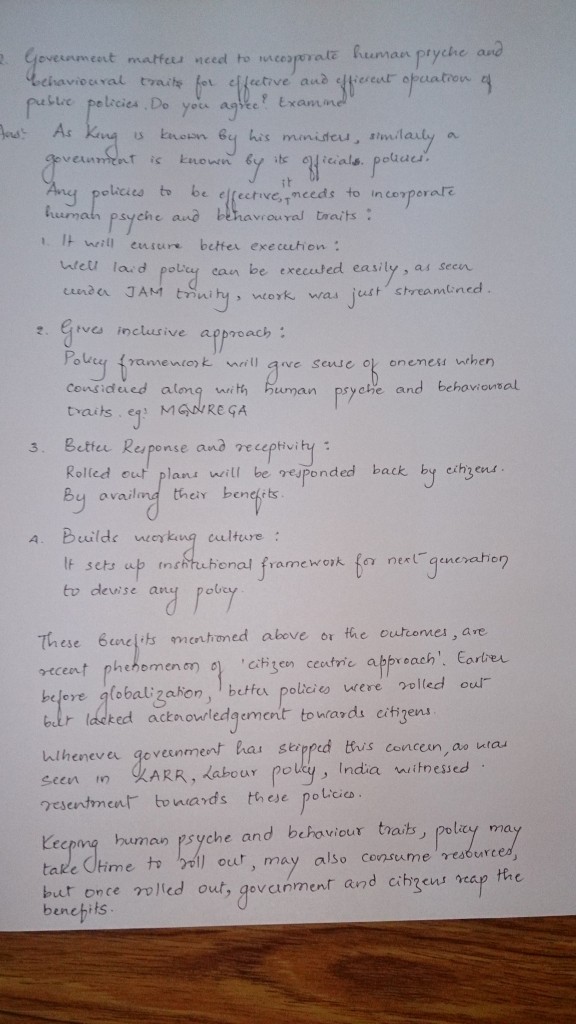 ---
3. The best brains of the country prefer venturing out to other countries rather than staying back in India? Why such trend exists? Can you identify some domains in which this trend is endemic? What can be done to address this?
Define brain drain: the moving out of highly educated and skilled workforce from India to other countries is called brain drain. This causes double damage to economy as substantial amount is invested in their education the benefit of which is reaped by foreign countries
As per UNDP estimates India loses $2billion a year due to immigration and $10 billion of forex for paying study fees. Almost 3000 or 53% of AIIMS doctors migrated (while Indian government spend rs2 crore/doctor) to US and at the same we have huge shortage of doctors in India.
Body:
Reasons:
Push factors: unemployment, low wages, corruption.
lack of funds ,collaboration and recognition in researchers.
Difficulty in starting business because of over regulation, red-tapism and higher taxes in India
Pull factors: higher wages, and better prospects of life, for doctors and engineers
Better infrastructure, funds, collaboration and recognition for scientists and researchers
Better educational prospects in higher education for students, as no Indian university features in top100 universities of the world
Domains where such trend exists :
IT and software industry: engineering professionals go to US,UK, Norway etc.
Researchers and scientists moving to USA,UK and other western countries
Doctors and nurses moving to western countries and West Asian countries
Semi skilled and blue collar workers going to West Asian countries
Measures to reverse this trend:
Increasing the access to Higher education, by increasing the teaching standards, infrastructure and facilities
Promoting R&D in India ,this will help in retaining the researchers and scientists in India.
Increasing the jobs in India, make in India and skill India initiatives can help in this .
Startup India, Stand up India, Ease of doing business, and Bankruptcy code initiatives will help in single window clearance, easy entry and easy exit policies to set up businesses easily, and will reduce corruption and redtapeism
GIAN initiative, which creates synergy between academia and industry will help in bridging the gap between industry demand and supply of labor
Briefly write your opinion and conclude.
Best answer: WONDERWOMAN
A recent report by the national science foundation shows that Indians continue to be the single largest source of professionals populating the American workforce. Similarly a report from OECD stated that highly educated Indians were the fastest growing set of emigrants to OECD countries.
This clearly shows that India is facing a deep problem where most of its educated and best workers are lost to other countries. This situation of BRAIN DRAIN has become a major problem for India .
The reasons can be seen as follows:
1 ECONOMIC FACTORS : THIS is a Major reason for such voluntary form of migration. Low income, unemployment, underemployment are the major reasons that push people to other countries in search of greener pasture. Economic factors that motivate people can be seen in terms of PUSH AND PULL factors. Push factors include those that compel a person to migrate such as bad opportunities, low level of wages. Pull factors are those which attract migrants to an area by providing better opportunities, better amenities, higher standard of living . Both the above factors have a combined effect and cause migration.
2.SOCIO-CULTURAL AND POLITICAL FACTORS: people also migrate to get rid of social cultural problems that may have haunted them for life such as caste discrimination, class divisions and many other social factors. Political factors may include a perceived sense of increasing inequalities in our country or a sense of deprivation or sense of increasing intolerance (as was suggested by many people recently ( though these things may not have a strong basis)). Other factors such as government policies of reservation, son of soil, corruption may impact migration and cause brain Drain.
3. Due to lack of R and D (research and development) facilities and sponsors in India many scientist migrate.
This trend can be seen in all sectors however it seems endemic to the following sectors :
Doctors and engineers usually migrate for economic reasons to US AND UK.
Non skilled workers who migrate mainly as labourers to Middle east for both social and economic factors.
Scientist who migrate for recognition, availability of funds and better collaboration.
entrepreneurs migrate sometimes to get rid of regressive tax policies.
The government has launched a plethora of schemes to attract highly qualified scientist and best brains back to India with ushering in new schemes such as START UP INDIA, MAKE IN INDIA,DIGITAL INDIA.
However its important that these schemes are implemented so as to create job opportunities in India. Also :
Its important to bring in transparency and ease of doing business in India.
steps need to be taken to curb Red tapism corruption and so on.
We need to make India investor friendly,business friendly.
Tax policies need to be progressive in nature.
Quick redressal system .
Better wages, better infrastructure such as start up centres, better transport facilities so that people do not migrate in search of better life style and facilities ( this can also be accomplished through smart cities )
Making people aware of the loss Indian economy faces through brain drain so that they become aware of the choice they make.
Focus on research and development provide funds to research scholars and provide job opportunities to them .
Its only when government and citizens take collaborated action can this situation be addressed. The government and the bureaucracy on its part need to implement the policies nicely and the citizens need to understand their duty of putting their country on top priority that provided them with all the education.
Thus its only when citizens and government take it up together can this problem
For a dedicated peer group, Motivation & Quick updates, Join our official telegram channel – https://t.me/IASbabaOfficialAccount
Subscribe to our YouTube Channel HERE to watch Explainer Videos, Strategy Sessions, Toppers Talks & many more…