IASbaba's Daily Current Affairs – 12th April, 2016
ECONOMICS
TOPIC: 
General Studies 3:
Inclusive growth and issues arising from it; Banking
General studies 2:
Government policies and interventions for development in various sectors and issues arising out of their design and implementation; Governance
Unified Payment Interface— A step towards a cashless economy
A cashless economy is a system where flow of cash or physical currency is non-existent and all monetary transactions are done electronically via internet enabled banking or wallets, and debit or credit cards; at most abolishing or at times, reducing the physical presence between two transacting parties.
Such transactions can be purchases, bill & utility payments and clearances or transfers and India moved a step closer towards becoming a cashless economy with the launch of National Payments Corporation of India's (NPCI's) unified payment interface (UPI).
Touted as one of the most important innovation of the financial sector with 19 banks partnering with NPCI (an umbrella organization for all retail payments systems) to offer services based on UPI which will have a significant impact on the ease of retail payments at a time when mobile banking transactions (surged 82% over the same period the previous year) is picking up.
Unified Payment Interface (will)
Make e-commerce transactions easier— Improvement in the ease of making payments, the ease of saving and the ease for buying financial products
Facilitate micropayments and person-to-person payments: e-payments on delivery & digitizing last-mile payments
Allow customers to instantaneously transfer funds across different banks with the use of a single identifier which will act as a virtual address and eliminate the need to exchange sensitive information such as bank account numbers during a financial transaction
Working of UPI—
Interface- been built on the same infrastructure as the Immediate Payment Service (IMPS), which is currently used by banks for real-time transfer of cash
Transaction limit for IMPS-1 lakh/transaction
Steps towards a cashless economy
Payments Banks-
Objective: to accelerate financial inclusion
Will provide basic savings, deposit, payment and remittance services to people without access to the formal banking system; will not be in the business of lending
Small finance banks- will offer basic banking services, accepting deposits and lending to unserved and underserved sections including small business units, small and marginal farmers, micro and small industries and entities in the unorganized sector.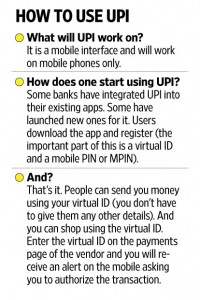 Courtesy (image )- http://www.livemint.com/Industry/BTgri6AXTbue3WFPyp6dEN/Unified-payments-interface-new-banks-signal-revolution-in-b.html
IASbaba's Views:
Banks should take upon the onus to facilitate its expansion by communicating the benefits of its usage to their customers via various channels, to make it a norm.
Grievance redressal mechanisms need to be worked upon and effective technologies need to be put in place to lead to its efficient working and expand its access to formal financial channels
NPCI should work towards protecting the system from security breaches and fraudulent transactions
Focus should also be towards bringing in those outside the payments universe and those without smartphones under the UPI payment landscape.
Connecting the Dots:
Critically analyse the issues associated with payment banks in India
Does there exist a direct correlation between a developed economy and a cashless economy? Justify your stand
NATIONAL
TOPIC:
General studies 2:
Government policies and interventions for development in various sectors and issues arising out of their design and implementation. 
General studies 3:
Disaster and disaster management.
When populism trumps public safety
The Sunday fire tragedy at the Puttingal Devi temple in Kollam, Kerala, which claimed more than 100 lives, raises several questions with regard to public safety management and the role of the district administration in ensuring safety during occasions such as major religious festivals.
Questions that rise after the incident:
The chief issue is whether the Kollam administration mainly the police was incompetent or merely negligent because of external pressure.
An enormous Kumbh Mela that attracts several millions passes off without incident.
But a Kollam festival that draws just a few thousands ends in a colossal mishap.
How does one explain the contradiction?
Is it that the Uttar Pradesh civil set-up is more sensitive and efficient than its Kerala counterpart?
Or is it a case of government reluctance to be tough on the eve of Assembly elections?
Complex task of Indian administration:
One of the most complex tasks the Indian administration has to perform is the handling of massive religious congregations.
On all these religious occasions, the local administration have to encounter devotee indiscipline of the worst order, particularly the desire to be the closest to the sanctum sanctorum.
Devotee excitement is usually compounded by the lack of control over the event by the organisers, normally a local committee of citizens, some with a dubious reputation for managing finances and some with high political connections.
Public safety, for them, is often low priority.
Festivals and fireworks:
In the Kollam horror, there are reports that the local administration had turned down the request for a fireworks competition between groups which are regular participants in the festivities and come from various other temples in the region.
If this was so, why was the order not implemented?
The distinctive feature of many Kerala festivals is that they cut across religions, and are looked upon as more of a social event.
The fireworks display is the most exciting feature of religious festivals in Kerala. In fact, it is a huge draw for foreign tourists. 
A point to note here is no State government in India would like to antagonise even the smallest of religious denominations.
This is the tragedy of our polity.
There are no signs that this appalling situation will change even in decades.
A statistical outlook:
Both stampedes and fireworks at festivals have caused a large number of casualties in our country.
Perhaps these account for far more than what we have suffered at the hands of terrorists.
The stampedes at the Mahamaham Festival in Tamil Nadu (1992; 50 casualties), the Nashik Kumbh Mela (2003; 39 casualties) and Mandher Devi temple in Satara, Maharashtra (2005; nearly 300 casualties) come readily to mind.
Consider these along with the fire accidents in Delhi's Uphaar cinema (1997; 59 deaths) and Kolkata's AMRI Hospital (2011; over 90 deaths) to convince ourself that we either do not have a uniformly stringent fire safety policy, or the wisdom and courage to enforce it if we ever had one.
Lessons not learnt:
We have learnt only few lessons from these gory happenings.
The routine appointments of commissions of inquiry and suspensions of police personnel are a knee-jerk response to what is becoming a human rights violation by the state in neglecting fundamentals to regulate religious assembles and to strictly implement safety measures on public occasions or inside public buildings.
Connecting the dots:
To what extent religion can act as a tool for bridging social capital in India?
MUST READ
Giving peace a chance in Yemen
Clearing the smoke on LPG reform
Mind-map
http://iasbaba.com/2016/03/iasbabas-daily-current-affairs-24th-march-2016/
Raja-Mandala: India, US and Artificial Intelligence- Delhi needs a policy framework and engagement with Washington to take advantage of a tech revolution critical for its own security
The Next Leader of The UN- Innovations to the selection procedure this year will make it more transparent.
Related Articles:
A greater need for UNSC reforms
US wants a stronger Indian military to deter, not provoke, conflict with China- If the United States could flip a switch and make the Indian military more powerful than it is today, it would have every interest in doing so

 The biosimilar opportunity for Indian healthcare companies- The market for biosimilars is an attractive one for Indian companies, with Japan being the third-largest market after the US and the EU, according to a report
The myth of the dumb Indian peasant- The perception of a farmer as a 'dumb peasant' in public policy lies at the core of the agrarian crisis
With eye on China, India signs key defence pact with Maldives- Pact among a handful signed between PM Narendra Modi and Maldives President Abdulla Yameen, who arrived in New Delhi on Sunday
Related Articles:
China factor in India Maldives relation: an analysis
Time to give meaning to land ownership – Poorly defined property rights have undercut India's economic potential
For a dedicated peer group, Motivation & Quick updates, Join our official telegram channel – https://t.me/IASbabaOfficialAccount
Subscribe to our YouTube Channel HERE to watch Explainer Videos, Strategy Sessions, Toppers Talks & many more…