IASbaba's Daily Current Affairs – 4th June, 2016
DEFENCE/SECURITY
TOPIC: General studies 3:

Role of external state and non-state actors in creating challenges to internal security. 
Challenges to internal security through communication networks
Security challenges and their management in border areas; linkages of organized crime with terrorism.
India's gateway to South-East Asia : #Manipur is Burning
Some basics before we go into the issue:
Manipur à India's gateway to South-East Asia
Manipur is inhabited by three major ethnic groups – the Meiteis in the valley, and the Nagas and the Kuki-Chin tribes in the hills. The State is home to 33 recognized tribes.
People are predominantly Mongoloid, and speak Tibeto-Burman languages. Manipuri language which is the mother-tongue of the Meitei people is the lingua-franca of the State.
Manipur's alleged forcible merger with the Indian union and late grant of statehood has been seen as some of the reasons behind the rise of several insurgency movements in the State.
Most of the tribes, inhabiting the hill areas of the State too have been represented by several outfits. In addition, the Naga insurgent outfits' demand for the inclusion of the hill districts of Manipur in the present day Nagaland has also impacted on the prospects of peace in Manipur.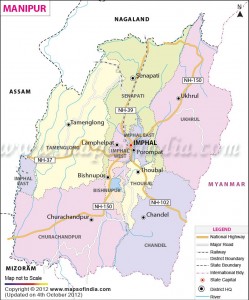 Courtesy (image): http://www.mapsofindia.com/maps/manipur/manipur-map.jpg
INSURGENCY
For a separate independent Manipur
Manipur was declared as a separate state in 1972 (after a protracted agitation interspersed with violence)
The emergence of insurgency in Manipur is formally traced to the emergence of the United National Liberation Front (UNLF) on 24 November 1964.
The alleged 'forced' merger of Manipur and the delay in the conferring of full-fledged statehood to it was greatly resented by the people of Manipur.
Since then several other outfits, like the People's Liberation Army (PLA), founded on September 25, 1978, People's Revolutionary Party of Kangleipak (PREPAK) set up on October 9, 1977 and the Kangleipak Communist Party (KCP) that came into being in April, 1980 have emerged in the valley areas consisting of four districts of the State. All these insurgent groups have been demanding a separate independent Manipur.
Today, Manipur is one of the worst affected states in the Northeast where at least 12 insurgent outfits are active at present and the security force operations have made little difference to their capabilities.
For Implementation of a permit system
Recently, Manipur has been beset by massive public protests by citizens demanding the implementation of a permit system
Implementation of a permit system will regulate the entry and residency of outsiders
Protests in Imphal Valley – an area only about a ninth the size of the troubled state – account for about 60% of the Meitei population
In other words, majority of people living in Imphal Valley are Meitei people and demand for permit system is dominated by this section
THE REAL ISSUE:
Meitei people demanding the introduction of an Inner Line Permit to stop the inflow of outsiders
Hill-dwelling Naga tribes in Manipur seeking a future free of Meitei domination
Insecure Kuki and Zomi groups (who are also hill dwelling tribes) are caught in the middle
United Naga Council (UNC) in Manipur and other groups, those of the Kuki and Zomi, had for long felt deprived of development and jobs by Meitei control over the administration
In addition, Naga insurgent outfits' demand for the inclusion of the hill districts of Manipur in the present day Nagaland
Thus, Meitei people fear that any settlement with this pre-eminent Naga rebel group could spark a merging of Naga tribal homelands in Manipur with Naga homelands in Nagaland, Arunachal Pradesh and Assam
This brought to the fore the movement for the Inner Line Permit system
Manipur's Congress-led assembly passed a populist bill to implement a permit system to regulate the entry and residency of outsiders, and amendments to two Acts regulating ownership of land and establishments.
Riots immediately erupted in southern district comprising of Zomi and Kukis. Citizens here feared the bills would place non-Meitei folk at a further disadvantage.
Dozens were injured and several killed in police firing during the protests. Still protests are active against the government to withdraw the bills.
A major Meitei rebel group, United National Liberation Front (UNLF), has for long been suspected as being part of a conglomerate sponsoring the ILP movement.
Conclusion:
Situation can be attributed to snake and ladder game – Meitei people hold the dice (control over administration) and pawns remain the citizenry, driven by a collective hysteria accumulated by years of repression (snakes) by the Indian security establishment, a corrupt local political establishment, an economy in shambles, and paranoia over the Naga peace settlement territorially tearing Manipur apart.
Manipuri's fires have just begun. It is important that both the Central government and State government intervene in the issue and frame a peaceful solution among all the groups, before the fire spreads throughout the state. If not country may witness one more incident such as the Bodo insurgency (Kokrajahar incident) which ultimately might lead the India's gateway to South-East Asia to near stand-still.
Connecting the dots:
Discuss the insurgency problems faced by Manipur state. Can the much demanded implementation of a permit system to regulate the entry and residency of outsiders solve those insurgency issues? Critically examine.
INTERNATIONAL
TOPIC:  General studies 2

Bilateral, regional and global groupings and agreements involving India and/or affecting India's interests.
Effect of policies and politics of developed and developing countries on India's interests, Indian diaspora
India & the growing salience of South Asian nations
Examples of the new developments based on strategic interests—
China is catching up in its trade and investment, and in some cases, its economic diplomacy has been accompanied by expanded strategic cooperation with India's neighbours
The $ 46 billion China-Pakistan economic corridor—a vision to link western China by road and rail down to the Gwadar deep water port
Status of a "dialogue partner"— Accorded to Colombo and Kathmandu in the Shanghai Cooperation Organisation by Beijing
Through Silk Road "belt and road" vision, it can splurge extensive resources on initiatives such as the Asian Infrastructure Investment Bank
Has emerged as a top exporter of goods to the region, breaking into South Asian markets with its export-led growth strategy
Financially—
Major donor to the AIIB (capital pool of $100 billion), and to the reserve fund of the New Development Bank (the "BRICS bank"),
Has created its own Silk Road Fund of $40 billion in capital
India & the unfolding globalisation of the Subcontinent—Diminishing role of India
South Asian Region: The South Asian region is one of the least economically integrated regions in the world—
Below potential intraregional trade due to high transport costs, protectionist policies, and political tensions
Broader regional trade expansion also has been affected due to deep enmity between India & Pakistan
Size:
Bangladesh: Eighth largest in the world (more than 160 million)
Afghanistan (33mn), Nepal (29mn) and Sri Lanka (21mn) are at 40th, 46th and 57th positions respectively
Mini States: Only Bhutan and Maldives, with their populations below 1 mn
Current Dynamics with India—
Much weight given to Pakistan:
India needs to reinvent its discourse w.r.t. Pakistan as other regions are getting pushed aside with the maximum space being occupied by one country owing to an increased focus on tackling—
Islamic identity,
Ever-emerging issues related to the critical geopolitical location,
Close association with the Western military alliances
Their possession of nuclear weapons
Rebuilding Afghanistan— has exhausted India off considerable amount of energy and focus. In fact, the underlying issues are mostly in continuance with issues related to Pakistan— India's strategy towards Pakistan and the battle against violent religious extremism.
The misses—
Bangladesh:
This eighth largest country is also one of the fastest growing economies of the world and is open to massive investments in the infrastructure sector. Its position can be utilized strategically as a bridge between South Asia, China and South East Asia.
China in Bangladesh: Around 2005, China overtook India as Bangladesh's top trading partner—displaced many Indian goods in Bangladesh, offering cheaper Chinese products (especially cotton and other fabrics central to the garment industry) without the visa, transport, and customs challenges that had limited trade between India and Bangladesh
India has been a major economic partner to Bangladesh since its independence in 1971, and Bangladesh enjoys duty-free access to Indian market for almost 98 per cent of its products since the end of 2011. India should thus, encash the current peaceful situation (the 2015 Land Boundary Agreement), to address border issues affecting trade in the near future as well as widening and deepening the traction for creative and sustainable initiatives.
Bhutan and Nepal:
Nepal has been blessed with an important strategic position (important for both India & China) and likewise, India and Bhutan share "mutually beneficial economic inter-linkages" too.
A 1996 trade agreement between India and Nepal increased bilateral trade volume, which now accounts for more than half of Nepal's total trade
But in 2005, at the peak of Nepal's Maoist insurgency, a low point in its relations with India, Sino-Nepali relations shifted both economically and politically. Chinese goods flooded Nepali markets as Nepal diversified its imports and lessened its dependence on India.
However, India's recent announcement of an additional $1 billion to Nepal for post-earthquake reconstruction can add a sweet spot in the age-old friendship
China & Bhutan— Increased influence of China in Bhutan can lead to China moving further South to occupy the Doklam plateau and attain strategic leverage and an advantage over the Chumbi Valley. This, in the long term, could make the Siliguri corridor—the point that connects mainland India to its North East—vulnerable.
Sri Lanka:
India signed its first free trade agreement with Sri Lanka and the impact of Indian investments in projects like housing and railways have continuously benefitted the local population over the past decade.
China in SL:  Since 2005, Chinese exports to Sri Lanka have quadrupled to close to $4 billion, coming closer to Indian levels (dramatic gap between Indian and Chinese contributions)
Chinese development assistance to Sri Lanka—mostly in the form of concessional loans—began in 2009 after the Sri Lankan civil war and then spiked dramatically in 2011.
Chinese support for a port, airport, and cricket stadium in Hambantota also speaks of an increasingly close relationship between the two countries— The Colombo port of call of two Chinese submarines in late 2014 and reports that Sri Lanka granted Chinese state-owned enterprises operating rights at the Hambantota port (matter of concern for India)
Features prominently in China's Maritime Silk Road project
Note: Sri Lanka's new president, Maithripala Siresena, has however suspended several Chinese projects, including the $1.4 billion Colombo port city due to the opacity of financing terms.
Maldives: is a highly coveted piece of maritime real estate and thus, there exists no doubts that China is trying to make inroads into the Maldives to fulfil its strategic objectives. Indian government has rightfully been worried of possible Chinese reclamation in the Maldives keeping events in the South China Sea in mind. India should take efforts to urgently revitalise and expand the 'Trilateral Maritime Security Cooperation' as well, given the growing maritime security challenges in the area and to safe-guard and further consolidate strategic influence in the extended neighbourhood.
Way Ahead:
A future of cooperation and competition is definitely possible with an overlap in the efforts of both India and China—
The development of the Bangladesh-China-India-Myanmar economic corridor (new opportunities for constructive cooperation)
India's "Act East" policy converging with China's focus—aiming to facilitate commerce, culture, and connectivity throughout Southeast Asia
The pressing infrastructure needs can demand greater convergence in their resources and efforts to generate greater connectivity enabling both China and India to tap further into Asian markets through trade and investment
India should sail over the challenges posed by the new geopolitical dynamism by—
Reducing the gap between its own perception of being superior and addressing the huge gap that is being filled by China – economically, politically and militarily
The past mistakes and losses owing to the Partition, the inward economic orientation of socialist India, and the neglect of connectivity and commerce at and across the frontiers must be left behind and should be taken up with a fresh perspective (to not only perform damage control but also rein in various other hidden possibilities)
The nature of intervention in other countries internal affairs need to be double-checked before coming down to conclusions. Moreover, India should in its 'neighbourhood strategy' also adopt a balanced outlook towards these disturbances and only after a proper calculation should take a step ahead with the consent of the major stakeholders.
Connecting the Dots:
Has the 'right to unilateral means' been an overarching policy of India's neighbourhood relations with its neighbours? Discuss.
Comment on India's "neighbourhood first" strategy.
MUST READ
It's raining cheer
The echoes at Gulbarg Society
Drawing Kabul into a closer embrace
Related Articles:
India's challenge in Afghanistan
India, US, a new moment
Related Articles:
India- US relationship- a Strategic Imperative
India US Defence Cooperation and Make in India Initiative
Holiday ends for Mauritius
Drowned in red
Why everyone wants a piece of India Post's payments bank
Related Articles:
Payment Banks: Banks for the unbanked aam aadmi
MIND MAPS
1. Mauritius Tax Treaty and Singapore Pact


For a dedicated peer group, Motivation & Quick updates, Join our official telegram channel – https://t.me/IASbabaOfficialAccount
Subscribe to our YouTube Channel HERE to watch Explainer Videos, Strategy Sessions, Toppers Talks & many more…