IASbaba's Daily Current Affairs – 13th September, 2016
NATIONAL
TOPIC: General Studies 2

Functions and responsibilities of the Union and the States, issues and challenges pertaining to the federal structure, devolution of powers and finances up to local levels and challenges therein.
Separation of powers between various organs dispute redressal mechanisms and institutions.
Inter-State Water Dispute
Cauvery water crisis
In News: The Cauvery water dispute has been plaguing Karnataka for a century now and recently, for almost a week, there have been protests against the Supreme Court's order to Karnataka to release 15,000 cusecs of water for Tamil Nadu.
The Cauvery River originates in Karnataka and goes on to flow through Tamil Nadu, before meeting the Bay of Bengal. The 765-km-long river cuts across Karnataka and Tamil Nadu. A lot of its basin area is covered by Kerala and Puducherry. The basin is now claimed by three states and a Union territory: Karnataka, Tamil Nadu, Kerala and Puducherry.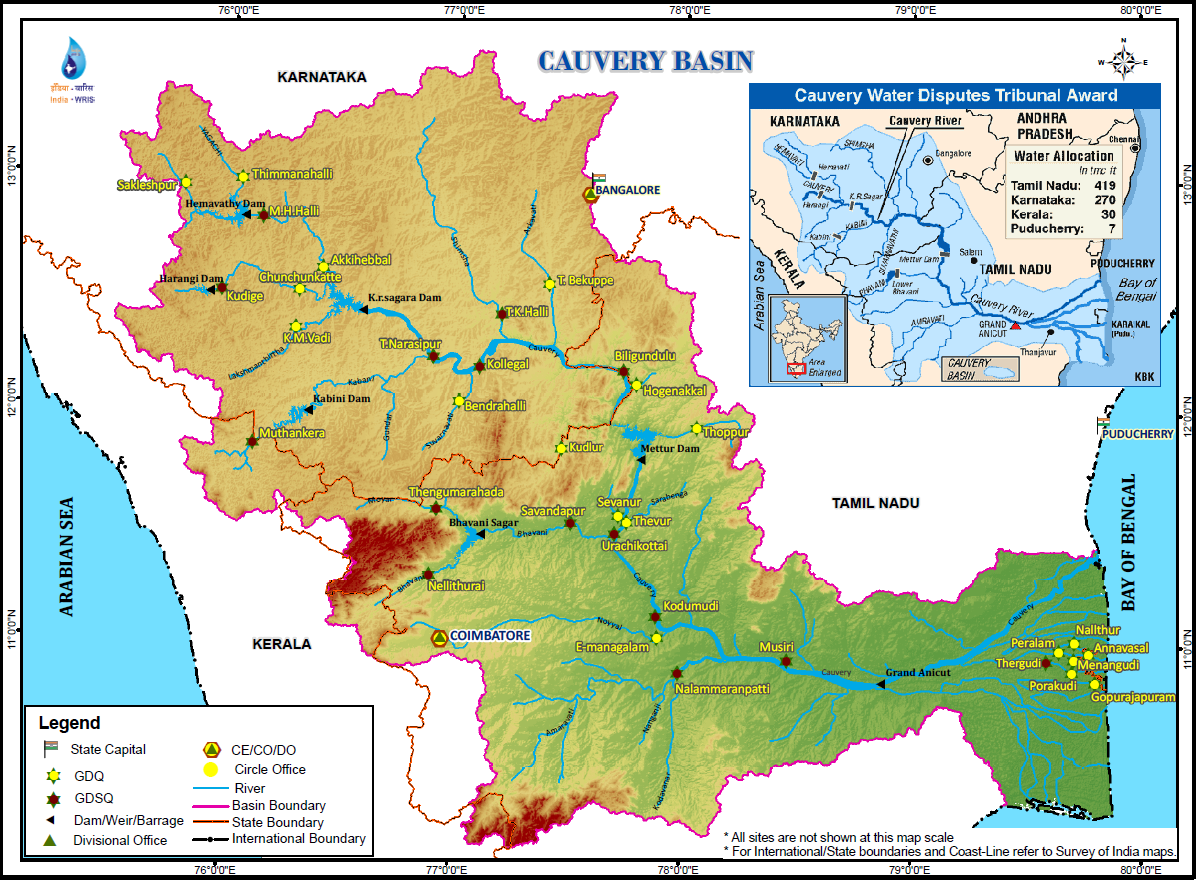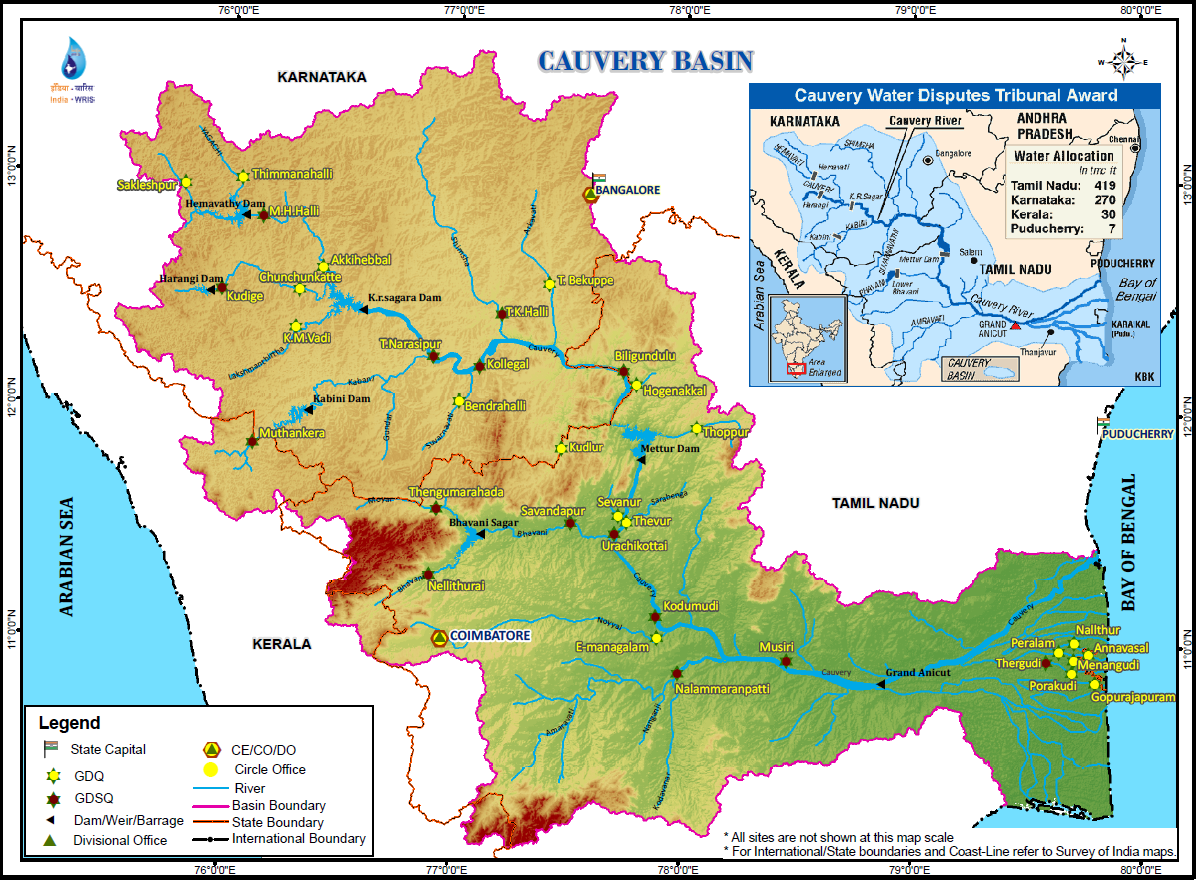 Picture credit:
https://interstatedisputes.files.wordpress.com/2013/10/cauvery_basin.png
http://im.rediff.com/news/2007/feb/06cauvery.gif
Genesis of the trouble
The latest chapter of the dispute over water-sharing between the two states has been going on since the 1970s and has its origin in two agreements signed between the erstwhile Madras Presidency and the Princely State of Mysore in 1892 and 1924, (It was decided to divide the river water between the two states), which lapsed in 1974.
Tamil Nadu then asked the Congress-ruled government at the Centre to form a tribunal to look into the diversion of water and ensure that it gets its due share.
When Centre did not heed to Tamil Nadu demand, it approached the Supreme Court, which, in May 1990, ordered the creation of the Cauvery Water Disputes Tribunal.
In 1991, the tribunal passed an interim award ordering Karnataka to release 205 tmc ft (thousand million cubic feet) of water every year to Tamil Nadu. This prompted strong and in some places, violent protests in Karnataka, which delayed the release of water.
For the next 14 years, both sides continued to spar over water-sharing and the legal battle continued, until the Cauvery Water Disputes Tribunal announced its final award in 2007. The order from the tribunal meant that Karnataka would have to release 192 tmc ft of water from its catchment to Tamil Nadu every year.
However, the tribunal failed to comprehensively and authoritatively state how the water was to be shared in "distress years", when the flow in the Cauvery was deficient owing to inadequate rainfall.
Current Scenario
In its latest petition before the Supreme Court, Tamil Nadu said that it had not received the mandated amount of water from the Cauvery between June and August, resulting in a shortfall of about 50 tmc ft.
Owing to the petition, SC ordered Karnataka to release water to Tamil Nadu. However, this was met with severe protests in Karnataka.
Karnataka woes
The Indian Meteorological Department's website seems to bear this out. Hasan and Kodagu, two important catchment districts for the Cauvery in Karnataka, have recorded rainfall deficiency. The state was 18 percent short of normal rainfall.
The decision from Supreme Court, therefore, could worsen Karnataka's drinking water situation in the state in the coming days. Farmer's representatives argued that their livelihoods are at stake if Karnataka releases more water.
Tamil Nadu woes
Farmers in Tamil Nadu have borne the biggest brunt of the crisis and have faced increasing debts and a drastic reduction in their income due to the loss of the summer crop.
Around 40% of the population in the delta region is landless labourers. As the productivity comes down, it directly has brought down the days of work for farmers.
The soil on the Tamil Nadu side is fit for only paddy cultivation, which it has been producing for thousands of years.
Karnataka, on the other hand, is cultivating large-scale water-intense crops such as sugar cane, despite their soil's dry-land-farming qualities.
The tribunal's failure to work out a more expansive formula for distress years has given an excuse to Karnataka to withhold supply repeatedly.
Even in a bountiful year, there is resistance from various groups in Karnataka to open its dams.
Way Ahead
The lack of resolution on political maneuvering from both states is big concern and cause of worry. To untangle the dispute the resolution should be to manage demand and not supply!
Create an additional storage reservoir to store overflows from a healthy monsoon year to a drought year.
Transfer of water from the Godavari River and from the west flowing coastal rivers of Karnataka into the Cauvery basin.
The states in dispute tailor their agricultural economy i.e. drop one crop season. Reduce cultivation of water guzzling crops like paddy and sugarcane. Sugarcane crops and liquor factories demand water. Growing less sugarcane and more food crops along Karnataka can solve the crisis to a great extent.
Let Neerkattis, the traditional water managers find a solution. A Neerkattisis a traditional water expert. With no political authority, he has community-driven administrative power. Water managers still play crucial roles in states like Uttarakhand.
Stop managing rivers as per the colonial agreements. Water should be brought in the Concurrent list of legislative subjects from the State list, so that the disputes can be decided upon by the Centre and not just the state governments.
Every year, the level of rain deficit is increasing. In changing times, the government must aid and advice farmers in opting for water efficient crops such as millets
It is an undeniable fact that both the states need Cauvery for survival. Care should be taken to not let the row affect inter-state relations, because the issue strikes an "emotional note" with the people on both sides. Keeping the interest of farmers on both sides in mind, the governments should initiate a serious dialogue. This is the only way to find a permanent solution.
Connecting the dots:
Constitutional mechanism to resolve the inter-state water disputes have failed to address and solve the problems. Is the failure due to structural or process inadequacy or both? Discuss with the recent examples.
Related Articles:
Permanently fighting drought in India 
NATIONAL/ETHICS
TOPIC:
General Studies 2
Government policies and interventions for development in various sectors and issues arising out of their design and implementation.
Important aspects of governance
General Studies 4
Attitude: content, structure, function; its influence and relation with thought and behaviour; moral and political attitudes; social influence and persuasion.
Emotional intelligence-concepts, and their utilities and application in administration and governance.
Nudge unit: a new tool in the policy toolbox
NITI Ayog has tied up with the Bill & Melinda Gates Foundation to set up a 'nudge unit' that will work towards bringing about behavioural changes and recommending policy corrections to help make the programmes more effective.
Nudge Unit= It is officially known as Behavioural Insights Team which was first set up in UK to apply nudge theory (behavioural economics and psychology) to try to improve government policy and services while minimising expenditure.
What is a Nudge?
At a conceptual level, if policy design is the map and development outcomes as the destination, then nudges are the road signs that guide you towards the best route.
Formulating these road signs requires expertise at two levels

Understanding why consumers pick less optimum routes (cognitive biases)
Designing signs that guide users to better routes (nudges/interventions)

'Nudging' refers to altering the decision-making environment in the context of biases and 'irrational' behaviour that decision-makers often display.
Why is a nudge unit required in India?
Toilets built at great expense are not used.
New variants of tuberculosis spread because patients do not complete the course of drugs prescribed by hospitals.
Rash driving on roads kills thousands of people every year.
Parents do not immunize children even when it does not cost them anything.
This shows how behavioural quirks lead to public policy failures.
Hence, there is a need of behavioural public policy wherein behavioural research is integrated into public policy.
Behavioural interventions can have the potential to increase the efficacy of social spending.
Public policy is often focused on the problems of market failure or state failure. Far less attention is paid to the deeper problem of social failures.
Thus, the focus and direction of nudges should be influenced by individuals' ideas and concerns about their own behaviour.
Let us look at some examples to understand the nudging action
Nudge to vote
The average voter turnout in all elections (General, State and local) have not been encouraging, especially the local level elections in India.
Nudging can be done by

Providing discounts to voters at retail outlets and restaurants.
Phone campaign experiment (of USA) where the registered voters are informed about high voter turnout in their area and they must also follow the lead.

Of course, there is little empirical evidence of success of such interventions but perhaps they add value to taking the effort to vote, and can be seen as a reward-based approach to improve voter turnouts.
Nudge to pay taxes-honestly and on time
Tax avoidance (by Individuals + companies) is a problem which leads to poor tax compliance data. Government spends excessive resources on monitoring and scrutiny, yet the tax compliance statistics are difficult and time-consuming to come by.
Instead, if IT department engages at individual level, a personalised approach has high chances of increased tax compliance than mass media communication.
Nudge people not to litter
India generated more than 100,000 tonnes of solid waste per day in 2011-12, which on a per capita basis works out to more than 100 grams of waste per person per day.
Common public health and hygiene problems in India relate to open defecation, public urination, and poor civic sense when it comes to littering.
Flagship programmes like Swachh Bharat Abhiyan will have little success if it is expected that providing money will lead to open defecation free India in 2019! What requires is to have basic societal, community and individual level understanding why toilets are not built/preferred.
Innovative experimental Ideas like religious/cultural imagery on public walls to prevent urinating and spitting, wifi garbage bins where free wifi is provided for taking efficient care of rubbish, star ads focussing more on changing the attitude than just promoting building of toilets etc. can be torchbearer in cleanliness campaign.
Other nudges
Colour-coded footprints in Delhi's metro, guiding users to the correct metro line helps the commuter immensely.
Immunization rates in some Rajasthan villages climbed after free lentils were given to women who brought their babies to local dispensaries.
Using fictionalized photographs of a person getting run over by a train reduced incidences of railway-related deaths significantly at unmanned crossings
Hence, this is just a beginning towards a new approach for effective implementation of public policies. The nudge unit is expected to recommend changes in advertising, financial outflow and other softer elements related to the success of the programmes like Swachh Bharat, Jan Dhan Yojana, Digital India and Skill Development through social messaging and new ad campaigns.
Limitations of nudge units
A nudge unit can help the government deal with human behaviour and social realities challenges but there are limitations:
Behavioural sciences may design better social sector programmes but they are of limited use unless bigger challenges like rapid economic growth, poverty reduction and macroeconomic stability are addressed and solved effectively.
It may fall prey to paternalistic view that planners know better than citizens.
Behaviour patterns vary in different states. Policy formulation based on one/certain behavioural approach may not go down well with all states.
Conclusion
The most well-intentioned social interventions fail because of the ground realities that policymakers often fail to grasp.
Understanding cognitive biases correctly and formulating interventions that take into account such biases can have a huge impact on making public-spending more effective. It will compel the ministries to make constant back-end policy corrections.
Behavioural scientists have shown that people value loss avoidance more than gain acquisition. Hence, 'loss norm' can be followed to induce people to take advantage of public policies crafted for them. (Loss norm= disadvantages due to non-following of public welfare policies)
The government already uses choice interventions like subsidies and taxes to shape citizen behaviour. However, more institutional mechanisms are needed to advocate behavioural research to improve public policy design and deliver better outcomes for taxpayer money.
Connecting the dots:
Nudge units have been recently proposed to be set up for more effective policy implementation. Critically explain the importance of nudge units with examples.
Government policies are not only about formulation and implementation but also understanding the public acceptance of such policies. What is the importance of public acceptance of policies and suggest measures to improve the wide acceptability of such policies.
MUST READ
NAM meet 2016- The Margarita mirror
Why healthcare access eludes India
Related article:
A case of public health in India
Transit at Gojadanga- Cross-border trafficking at India-Bangladesh border
New dynamic in the North West
Beginning A Conversation
The maze of cross-subsidies
The case for directly elected leaders
Governance: an area of deficit in pensions
India need not genuflect at RCEP
Related articles:
Trans-Pacific Partnership (TPP) & India
Which parts of the economy are growing?
For a dedicated peer group, Motivation & Quick updates, Join our official telegram channel – https://t.me/IASbabaOfficialAccount
Subscribe to our YouTube Channel HERE to watch Explainer Videos, Strategy Sessions, Toppers Talks & many more…