IASbaba's Daily Current Affairs – 1st October, 2016
ENVIRONMENT/S & T
TOPIC: General Studies 3

Environment and Ecology, Bio diversity – Conservation, environmental degradation, environmental impact assessment, Environment versus Development
Major crops cropping patterns in various parts of the country, different types of irrigation and irrigation systems storage, transport and marketing of agricultural produce and issues and related constraints; e-technology in the aid of farmers
Science and Technology- developments and their applications and effects in everyday life
Achievements of Indians in science & technology; indigenization of technology and developing new technology.
GM Mustard Issue
What is a GM crop?
A GM or transgenic crop is a plant that has a novel combination of genetic material obtained through the use of modern biotechnology.
For example, a GM crop can contain a gene(s) that has been artificially inserted instead of the plant acquiring it through pollination.
The resulting plant is said to be "genetically modified" although in reality all crops have been "genetically modified" from their original wild state by domestication, selection, and controlled breeding over long periods of time
Why GM Mustard in news?
Recently GEAC i.e the government has deferred a decision on allowing commercial cultivation of Mustard DMH-11, a transgenic crop developed by Centre for Genetic Manipulation of Crop Plants at Delhi University.
GM mustard (DMH11) is the first food crop to have applied for commercialisation after the indefinite ban on the GM brinjal by the Jairam Ramesh-led environment ministry in 2010.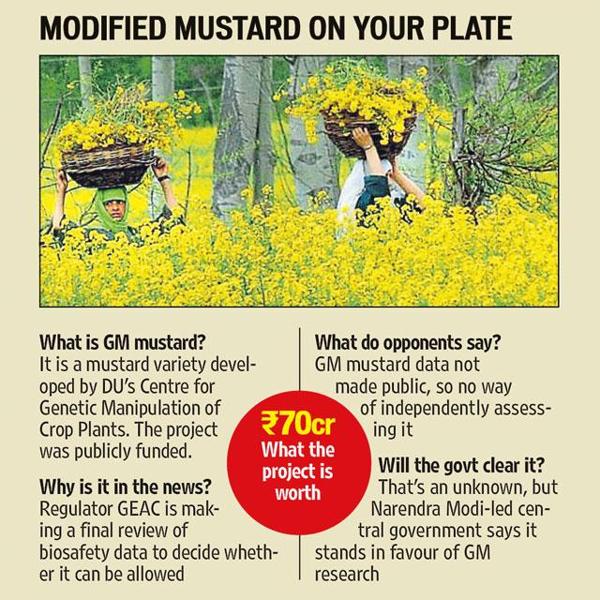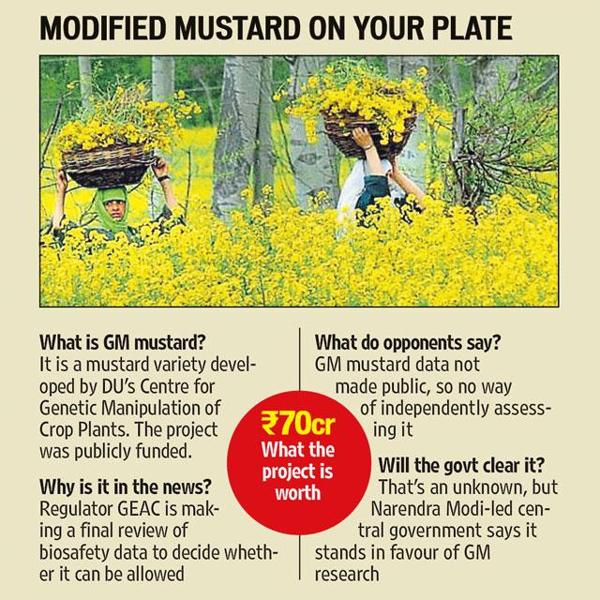 Picture Credit: http://www.hindustantimes.com/rf/image_size_800x600/HT/p2/2016/02/08/Pictures/govt-may-support-gm-mustard-ht-delhi_6196d8cc-ce52-11e5-94bd-a06a76346e8f.jpg
What is GM Mustard?
DMH-11 is a Genetically Modified (GM) mustard hybrid. Hybrids are normally obtained by crossing 2 genetically diverse plants from the same species.
The 1st-generation offspring resulting from it has higher yields than what either of the parents is individually capable of giving. But there is no natural hybridization system in mustard, unlike in, say, cotton, maize or tomato. This is because its flowers contain both the female (pistil) and male (stamen) reproductive organs, making the plant naturally self-pollinating.
What scientist has done is to create a viable hybridization system in mustard using GM technology. The resulting GM mustard hybrid, it is claimed, gives 25-30% more yield than the best varieties such as 'Varuna' currently grown in the country.
Scientists at the Centre for Genetic Manipulation of Crop Plants (CGMCP) in Delhi University, however, showed that this problem could be addressed by crossing Indian mustard cultivars with juncea lines of East European origin like 'Early Heera' and 'Donskaja'. The combination of the 2 divergent gene pools enhanced the crossing options; the resultant F1 progeny were found to exhibit significant heterosis.
What is a controversy about GM Mustard?
Many scientist claim that at a time when sustainable farming and low-input agriculture are becoming the buzzwords, it is surprising that agricultural scientists continue to recommend crop varieties that will end up doing more harm to the environment and crop fields. GM mustard will require almost double the quantity of fertiliser and water.
Other health concerns of GM Hybrid Mustard include: allergenicity; gene transfer, especially of antibiotic-resistant genes, from GM foods to cells or bacteria in the gastrointestinal tract; and 'out crossing', or the movement of genes from GM plants to conventional crops, posing indirect threats to food safety and security.
GM mustard can affect honeybees directly and indirectly through effecting flowering and pollen production. Protease inhibitors have proved detrimental to the longevity and behaviour of bees.
Regulatory weakness – The Genetic Engineering Approval Committee, which is responsible for approving large-scale releases and commercialisation of GMOs, functions under the Ministry of Environment and Forests and is not entirely independent.
The case of the Review Committee on Genetic Manipulation that supervises and clears research activities and also small-scale field trials is even starker. It is part of the Department of Biotechnology, whose primary task is to promote biotechnology. DBT therefore is the promoter as well as the regulator. On several occasions, developers of transgenic crops have also been members of regulatory committees.
Should India Ban GM Crops?
GM technology has already been commercialized in India through Bt cotton, which is also based on incorporation of foreign genes derived from a soil bacterium, Bacillus thuringiensis.country's cotton production has gone up more than 2½ times since Bt hybrids were first planted in 2002. Nor has any evidence emerged really of Bt cotton causing any adverse human or animal health effects.
While the likes of Pakistan, Bangladesh, Myanmar, Philippines and Vietnam are adopting GM technology to improve crop yields and reduce input costs, we are still questioning its potential not on the basis of scientific evidence, but using emotional arguments.
Bangladesh was the 1st country to approve the commercial planting of Bt brinjal in late-2013, after being disallowed by India. Bt brinjal has been harvested over 2 seasons, with farmers deriving better marketable yields and incomes from its successful commercialization.
Conclusion
In a current environment where climatic change would have negative effects on yield of many major crops which could seriously undermine food security, GM crops are the way forward. However at the same time to convince the opponents of GM crops to allow commercialization of GM crops we need a strong regulatory framework. What is therefore needed is an independent biotechnology regulatory authority, a single organization that will replace the multiple committees – at least six – that are part of the current regulatory structure. This authority would deal with the use of all GMOs in agriculture, pharmaceutical and biodiversity sector.
Connecting the dots:
Write a critical note on the genetically modified crops and food production scenario in India with special focus on related policies.
Write a brief note on genetically modified crops and how they differ from hybrid crops. What are the possible challenges and benefits of GM crops?
Discuss the controversy regarding GM Mustard in India. Critically examine whether India should ban GM crops?
NATIONAL
TOPIC: General Studies 2

Government policies and interventions for development in various sectors and issues arising out of their design and implementation.
Issues relating to development and management of Social Sector or Services relating to Health, Education, Human Resources.
Challenges to financial inclusion
Ensuring financial inclusion in India is a challenge where nearly one-fourth of population is illiterate and below the poverty line.
The two indicators, poverty and illiteracy, vary widely between different States in India.
Rural poverty is above 30% of population in places such as Assam, Bihar, Madhya Pradesh, Uttar Pradesh, Orissa, Jharkhand, Chhattisgarh, and Manipur.
Rural poverty can be attributed to lower farm income, lack of sustainable livelihood, lack of skills, under employment and unemployment.
In such circumstances, there is utmost need of financial inclusion. But, impractical goals and their blanket implementation fails to achieve its worth.
Fraud due to illiteracy
Though India has literacy rate of 73% but some states such as Bihar, Uttar Pradesh, Jharkhand, Madhya Pradesh and Rajasthan have literacy rate ranges between 62-70%.
The banks have devised a way to address limitations arising out of illiteracy by ensuring biometric access to bank accounts.
However, Aadhar seeding implies that numericals still have to be to be punched into the machine to operate an account.
As all the numerals are in English, only the banker or the business correspondent (BC) can punch in the Aadhaar number. Also, the messages received on phone are also in English and thus, an illiterate person has to seek someone's assistance to understand and interpret the message.
In each of the above cases, the privacy of an individual's bank balance is breached. This makes the illiterates, females and elderly vulnerable to malpractices.
There are also stories that enterprising BCs give the same Personal Identification Number (PIN) to all the residents in a single village to ensure ease of business.
This gives a chance of once again compromising the privacy of the beneficiaries as well as embarrassment to officials when direct benefit transfers through bank accounts are implemented on a larger scale.
In addition, it has to be also examined that despite extensive efforts from authorities, PMJDY has underperformed. One of the reason could be the product offered. A recurring deposit suits the salaried income group more than people in informal sector whose incomes are uncertain, seasonal and unplanned.
Thus, a financial inclusion strategy sensitive to regional, demographic and gender related factors, needs to be carefully crafted.
Accounts have to be operational
When PMJDY was announced, mainly public sector banks (PSBs) rose to the occasion in ensuring that every unbanked household had a bank account.
With an unparalleled feat in financial inclusion of achieving 25 crore PMJDAs, the PSBs should also shoulder the responsibility to ensure that these bank accounts are operational.
However, it has to be noted that before PMJDA, total accounts on books of commercial banks were around 1 lakh crore. With incoming of such huge numbers of bank accounts but the limited resources with banking sector, the attention of bankers shifted from their principal activity of mobilising resources and lending to reliable borrowers.
To ensure that the banking industry is robust and existing banking assets safe, the next challenge is to monitor existing borrower accounts.
Regulatory authorities
There are number of regulatory authorities that have a role to play in financial inclusion — Reserve Bank, National Bank for Agriculture and Rural Development (NABARD), Securities and Exchange Board of India, Small Industries and Development Bank of India, and MUDRA bank.
But, there is a need to fix responsibility on a single regulatory authority to ensure that JDAs are operational.
In this context, NABARD has an extensive presence across the country and was formed for the purpose of development of agriculture and rural areas. Thus, NABARD should be made the nodal and accountable agency for financial inclusion.
Though it might not have the existing capacity to accept the challenge but can certainly be prepared in a phased manner in next few years. It has now been investing in modernising, and infusing technology in cooperative institutions.
Conclusion
Is interest rate the most important factor to borrow money and in larger picture, for financial inclusion? Not Exactly- Here's why
The moneylenders still account for 30% of total banking business. Despite persistent efforts by institutions in formal sector moneylenders still flourish in the financial market.
During chanakya, the interest rate structure was risk weighted and banking business flourished even then— traders were generally charged 60% per annum, if goods passed through forest then 120%, and sea-borne cargo at 24%.
Then in modern times, if interest rates matter, then the reason for people going to moneylenders despite a network of banks, cooperatives, MFIs and SHGs, has to be acquired through grassroot level research.
Traditionally, financial inclusion meant opening new bank branches in rural and unbanked areas. But now, it should be taken now in broader sense which includes taking formal financial services across India and adapting technology to cater needs of the grass-root level beneficiaries.
Connecting the dots:
What is financial inclusion? What steps are taken by government to escalate the process?
Critically examine the government schemes to achieve financial inclusion.
Related articles:
The path named Financial Inclusion
MUST READ
Uri as inflection point
Not So Clean
The die is cast- India and Pakistan
Perils of Gandhiplomacy
Women prefer contesting polls on reserved seats, especially panchayat level elections
What is the ideal distance between two ports?
India likely to speed up hydropower projects on rivers flowing into Pakistan
For a dedicated peer group, Motivation & Quick updates, Join our official telegram channel – https://t.me/IASbabaOfficialAccount
Subscribe to our YouTube Channel HERE to watch Explainer Videos, Strategy Sessions, Toppers Talks & many more…