IASbaba's Daily Current Affairs – 3rd November, 2016
SOCIAL ISSUE / WELFARE
TOPIC: General Studies 2

Welfare schemes for vulnerable sections of the population by the Centre and States and the performance of these schemes; mechanisms, laws, institutions and bodies constituted for the protection and betterment of these vulnerable sections
Issues relating to development and management of Social Sector/Services relating to Human Resources
Miseries of a contract labour
What is Contract Labour?
Contract labour generally refers to workers employed by or through an intermediary or a third party. Such labour can be distinguished from the permanent workers in following aspects
Absence of employee-employer relationship
Method of wage payment
No direct relationship with the principal employer
Absence of names on the muster roll of principal employer/ establishment
According to Section 2(b) of the Contract Labour (Regulation and Abolition) Act, 1970 ('Contract Labour Act'), a workman shall be deemed to be employed as "contract labour" in or in connection with the work of an establishment when he is hired in or in connection with such work by or through a contractor, with or without the knowledge of the principal employer.
Supreme Court Judgement
In a significant judgment, the Supreme Court has ruled that contract workers should get the same pay as permanent workers because denial of the principle of equal pays for equal work:
Led to exploitative enslavement,
Is a violation of human dignity, and
Is against the provision of Article 39(d) of the Indian Constitution.
Contract workers suffer because:
They lack job security and social security
They are given inadequate remuneration for the work performed.
Lack bargaining power
Trade Union 
Trade unionism is a result of Industrial Revolution. Trade unions are an association of wage earners to ensure safeguarding the interests of workers and improving the working conditions.
Various benefits that accrued due to the trade unions are as follows:
Worker Empowerment
Socialism and worker welfare
Proper regulation of personnel matters
Dispute settlement and grievance redressal
Participative decision making and enhanced bargaining power
However, the trade union movement in India suffers from a major problem. Contractual labour is neither given membership nor voting rights to which members of trade unions are eligible. This happens due to the following reasons:
Greater Management Hostility: Workers believe that forming a union which includes contract workers is bound to provoke the management into greater hostility towards them.
Management Attitude: Managements have usually been totally against discussing any issues concerning contract workers.
Vulnerability of Contract Labour: Contractual workers are highly insecure and vulnerable compared to regular workers. The chances of their dismissal from the company for indulging in union activities are very high.
Attitude of Permanent Workers: Permanent workers themselves don't want to extend union membership to contract workers because at a workplace with high number of contract workers, permanent workers could get highly marginalised.
Contract Labour in India – Provisions and Challenges
India's contract workers, with the exception of some PSUs in select sectors such as steel and coal, remain both heavily exploited and largely un-unionised. Even though various legislations and provisions exist with respect to contractual labour, there is a need to ensure their effective enforcement along with additional labour reforms to ensure their welfare.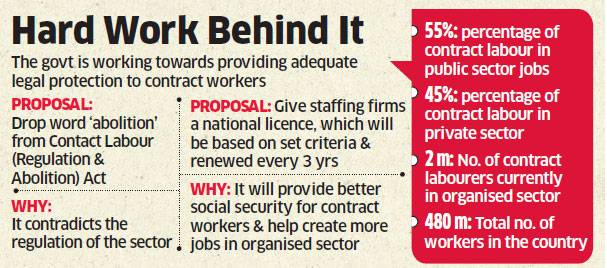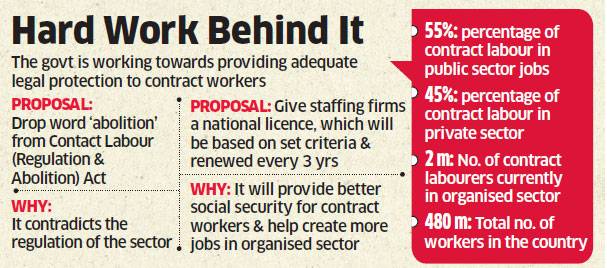 Picture Credit: http://img.etimg.com/photo/53257736/1.jpg
Trade Union Act, 1926
Under Trade Unions Act, 1926 ('Trade Union Act'), Section 2 (g) defines workmen as any person employed in trade or industry whether or not in the employment of the employer with whom the trade dispute arises and any workman who works in a factory can join a union of that factory. But trade unions typically have only permanent workers as members. The reason cited for this is the absence of direct relationship with the principle employer.
Contract Labour (Regulation and Abolition) Act, 1970
Contract Labour Act was enacted to abolish contract labour. This Act on the other hand cemented their exploitation by offering a legal operating framework to labour contractors. Prior to this legislation, temporary and permanent workers could make claims on their employer and negotiate as members of the same union. But the Contract Labour Act, by introducing a distinction between an 'employer' and a 'principal employer', increased the scope of hiring contract labour. Hence, there is a proposal to drop the word 'abolition' from the name of the Act.
When the Contract Labour Act was enacted it expressly prohibited the employment of contract labour for core production work. As a result, workers are shown to have been hired for non-core jobs such as cleaning or gardening. But once the worker is employed, he is engaged in production work and there is no documentation to show that a contract worker is actually in production.
Conclusion
There is an urgent imperative to stop this growing exploitation of contractual labour. The sooner companies realise the larger implications of their short-sighted approach, the better, not only for their own sake, but also for society at large. Further, labour reforms to address the above concerns are also important for the success of Make in India and for India to climb up the rankings on World Bank's Doing Business Report.
Connecting the dots
Discuss various provisions and reforms undertaken in India in recent for improvement in conditions and safeguarding the interest of industrial labour.
India Inc. Is exhibiting short sightedness in dealing with contract labour. Highlight he problems faced by contractual labour. Also discuss, how the existing scenario can be improved for the betterment of both the contractual labour as well as the companies utilising their services.
ENVIRONMENT
TOPIC:
General Studies 3
Conservation, environmental pollution and degradation, environmental impact assessment
General Studies 2
Functions and responsibilities of the Union and the States, issues and challenges pertaining to the federal structure
Government policies and interventions for development in various sectors and issues arising out of their design and implementation.
A domestic climate change strategy
India recently ratified the Paris Agreement, assuring it a seat at the 55/55 table—ratification by at least 55 countries and accounting for at least 55% of global greenhouse gas (GHG) emissions was required for the agreement to come into force—where countries will negotiate the mechanisms and provisions under the agreement.
India has demonstrated leadership in climate negotiations by ratifying the Paris agreement.
However, while the ratification indicates intent to implement the agreement in its true spirit, it needs to address critical concerns such as

Having a domestic implementation strategy
Having sufficient consultations with state governments and others to take stock of climate preparedness.
Having sufficient information about sub-national contexts, to keep in mind domestic concerns while negotiating.

Like many countries, India has also built caveats in its ratification instrument, where it clearly mentions that climate action will be in the context of India's developmental goals, existing national laws and available means of implementation.
Such caveat is important as there is yet no clarity around the manner in which provisions of the agreement will take shape.
Simultaneously, India has to also develop legislation and provisions required to implement the agreement domestically in the pre- 2020 scenario.
Involvement of the states
The roles and responsibilities of the state government has to be realised as they are the ultimate implementing authorities of climate policies
India's Nationally Determined Contributions (NDC) goals include a 175GW renewable energy target, and an overall emissions-intensity reduction of 33-35% over 2005 levels.
To implement this, the first step would be to allocate mitigation burden among states and also prioritize adaptation efforts.
India has to pay detailed attention to key issues like a transparent GHG emissions accounting and monitoring, review and verification framework, and a detailed implementation plan.
To ensure that India is on track, both national and state plans need to be reassessed and reviewed to build the necessary capabilities for states to implement climate plans in the context of developmental and NDC goals.
Among the various state action plans submitted, Karnataka and Himachal Pradesh are the only two states with a detailed sector-wise GHG inventory. Most state action plans lack clearly defined targets and timelines.
There needs to be a standard framework to assess the different priorities of states as different states have given varying importance to different sectors which is an indication of what they identify as vulnerable sectors, in both mitigation and adaptation efforts.
Built up of state-level profiles of GHG emissions from different sectors can help inform about different focus areas for each state as the funds for climate action are limited and hence must be utilized in a cost-effective manner.
Funding for the projects
To implement NDCs, India would need $2.5 trillion up to 2030, for which external finance would be critical, in addition to its domestic budget allocations.
In fiscal 2016-17, $1.27 billion was transferred to the National Clean Energy Fund (NCEF) through collection of coal cess. In that, $750 million allocated to renewable energy, $380 million to the ministry of water resources and $150 million to environment and forests.
World Bank has committed to raise $1 billion in 2017 for promoting India's solar mission. But India also must strategically seek other sources such as the Green Climate Fund and leverage the International Solar Alliance to meet NDC targets.
The state capacities have to also meet the mitigation action and thus there is a need to work out inter-state financial and technology transfers to assist the socio-economically backward states.
Adapting to the changes
India has to develop its adaptation capacity along with focusing on state roles and funding issues.
Recent studies by the Council on Energy, Environment and Water (CEEW) estimate that India has already faced about Rs1 trillion worth of direct damage costs due to extreme climate events such as floods, cyclones and temperature changes, over the last five years.
It is estimated that this may further rise to about $360 billion by 2030.
In such scenario, securing the livelihoods of over a billion people and minimizing the risk towards development outcomes due to climate change becomes imperative.
Conclusion
India needs to establish a transparent regime with the cooperation of state governments with data being generated at the state level.
India can extend Paris Agreement domestically by including 'common but differentiated responsibilities' at respective state-level capabilities to allocate mitigation targets and adaptation efforts on the principle of equity.
Just like India continues to strengthen international cooperation, it should do it at the domestic level, with better centre-state and inter-state coordination to make the implementations of targets a reality.
Connecting the dots:
What is Paris agreement? How can India contribute towards mitigating climate change effects without compromising its development goals?
Cooperative federalism should be the key behind implementing climate change policies in India. Evaluate.
MUST READ
Crushed by the cane lobby
Centre moots registry to vet geospatial data
Misframing the issue
Encounter vs rule of law
Pakistan's power struggle behind its aggression
The vulnerability of the Chinese Corridor
Folly of hiring technical contract staff
A win-win flight
For a dedicated peer group, Motivation & Quick updates, Join our official telegram channel – https://t.me/IASbabaOfficialAccount
Subscribe to our YouTube Channel HERE to watch Explainer Videos, Strategy Sessions, Toppers Talks & many more…