IASbaba's Daily Current Affairs – 23rd February 2017
NATIONAL
TOPIC:
General Studies 1
Role of women and women's organization, population and associated issues, poverty and developmental issues, urbanization, their problems and their remedies.
General Studies 2
Issues relating to development and management of Social Sector/Services relating to Health.
Old aged and elderly problems in India
Introduction
India has the highest demographic dividend it is said. Meanwhile it also true that the young population is ageing and it is time we take adequate measures to cater to their needs in all aspects from health care, infrastructure and social understanding.
Issue:
While India's celebrated demographic dividend has for decades underpinned its rapid economic progress, an equally counter force may offset some of the gains from having a relatively young population:
Rapid ageing at the top end of the scale.
This is a cause of deep concern for policymakers as India already has the world's second largest population of the elderly, defined as those above 60 years of age.
As this 104-million-strong cohort continues to expand at an accelerating pace, it will generate enormous socio-economic pressures as the demand for healthcare services and tailored accommodation spikes to historically unprecedented levels.

It is projected that approximately 20% of Indians will be elderly by 2050, marking a dramatic jump from the current 6%.

However, thus far, efforts to develop a regime of health and social care that is attuned to the shifting needs of the population have been insufficient.
While more mature economies have created multiple models for elder care, such as –

Universal or widely accessible health insurance,
Networks of nursing homes
Palliative care specializations.
It is hard to find such systemic developments in India.
Actions needed:
Experts also caution that as the proportional size of the elderly population expands, there is likely to be a shift in the disease patterns from communicable to non-communicable, which itself calls for re-gearing the health-care system toward "preventive, promotive, curative and rehabilitative aspects of health".
Advocacy and information campaigns may be necessary to redirect social attitudes toward ageing, which often do not help the elderly enjoy a life of stability and dignity.
As highlighted in 'Uncertain Twilight', (a four-part series in The Hinduon the welfare of senior citizens), the ground realities faced by the elderly include abandonment by their families, destitution and homelessness, inability to access quality health care, low levels of institutional support, and the loneliness and depression associated with separation from their families.
Indian Scenario:
On the one hand, the traditional arrangements for the elderly in an Indian family revolve around care provided by their children.
According to the National Sample Survey Organisation's 2004 survey, nearly 3% of persons aged above 60 lived alone.
The number of elderly living with their spouses was only 9.3%, and those living with their children accounted for 35.6%.
However, as many among the younger generation within the workforce are left with less time, energy and willingness to care for their parents, or simply emigrate abroad and are unable to do so, senior citizens are increasingly having to turn to other arrangements.
In the private sector, an estimated demand for 300,000 senior housing units, valued at over $1 billion, has led to a variety of retirement communities emerging across the country, in addition to innovations in healthcare delivery for this group.
Yet the poor among the elderly still very much depend on the government to think creatively and come up with the resources and institutions to support their needs.
Conclusion
It is therefore important that a holistic policy action is designed and implemented at all levels. Further a well oiled structure should be in place for ensuring accountability in all aspects from health care, social dwelling and raising awareness in the society. Hence India needs to prepare to avoid a demographic disaster.
Connecting the dots:
As important it is to leverage a 'Young India' more important it is to plan for an 'Ageing India'. Critically analyse the current policy atmosphere for old aged in India and necessary reforms to ensure there is ageing with dignity.
ENVIRONMENT
TOPIC: General Studies 3

Disaster and disaster management.
Conservation, environmental pollution and degradation, environmental impact assessment
Chennai Oil spill- Environment loses to bureaucracy
Background:
On January 28 2017, two cargo ships collided off the Ennore coast in Kamarajar Port causing oil to spill into the sea.
Though the contents of the ship's cargo- LPG, spirit oil and diesel remained intact, the engine oil leaked out of the damaged ship.
This Spill has caused pollution along the beach as well as threat to marine life.
Due to wave action and the southern current, the spill spread some 34 km in the ocean.
It has been already three weeks post the disaster which has exposed the lacuna in the State's disaster recovery mechanism, lack of transparency and coordination. However, many volunteers helped to clean the beach of oil spill.
The poor response
After the accident, KPL delayed action and the response was utterly inadequate. There was no information about the spill in the public domain.
Despite whatever the probe reports say, had response mechanisms swung into action, the oil spill could have been contained.
On the contrary, Kamarajar Port officials issued a press release stating that "there is no damage to the environment like oil pollution and no casualty or injury to persons."
This led to loss of precious time in cleaning the oil spill. In addition to it, they did not even reveal the actual quantity of oil spill leading to miscalculations in covering the area to contain the oil spill.
The authorities should have acted immediately to contain the disaster — not act immediately to contain the damage to their reputations when a disaster happens.
Environmental damage
The marine life along Ennore coast has been disastrously affected.
Bunker oil is heavy oil. With weight and density, it will become like a tar ball, and sink to the sea bottom and settle on the sea bed. This will restrict the oxygen supply to marine life. Once fishes come into contact with the oil, their respiratory system will get affected and they will die.
In addition to fishes, Olive Ridley turtles nest along the coast in Chennai, and also from Ennore to Pulicat are now facing threats. While the biggest dangers turtles face are from trawling nests — the oil spill is likely to cause major problems too.
Turtles need to come up to the surface to breathe while in the sea. Sometimes, they ingest surface water while taking in air. The present water contains toxic oil which hey will ingest, ultimately leading to their death.
The surface oil will be carried by currents and it will get deposited on floating seaweed. Young turtles live in the seaweed, which act as a shelter for them. Hatchlings are also known to swallow little particles in the water.
While some news reports talk of bioremediation being carried out by experts, the sludge is reported to have a heavy concentration of nine heavy materials such as zinc, lead and arsenic which are non-biodegradable and cannot be removed by bioremediation.
These will remain in the ecosystem for the foreseeable future, poisoning marine life all the way up the food chain and causing irreparable damage to humans as well as to the marine ecosystem.
What is unexpected is that the oil spill has spread till Mamallapuram, about 60 km south of Ennore. It is also now reported that the slick has spread to Cuddalore in the south, will soon reach the Pichavaram mangroves and then northwards to affect the Pulicat mangroves.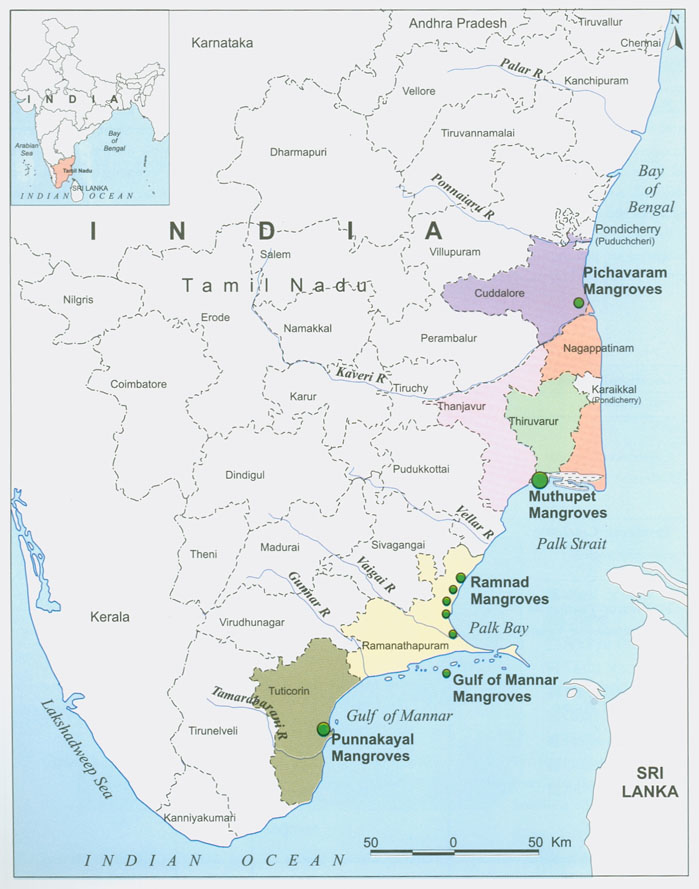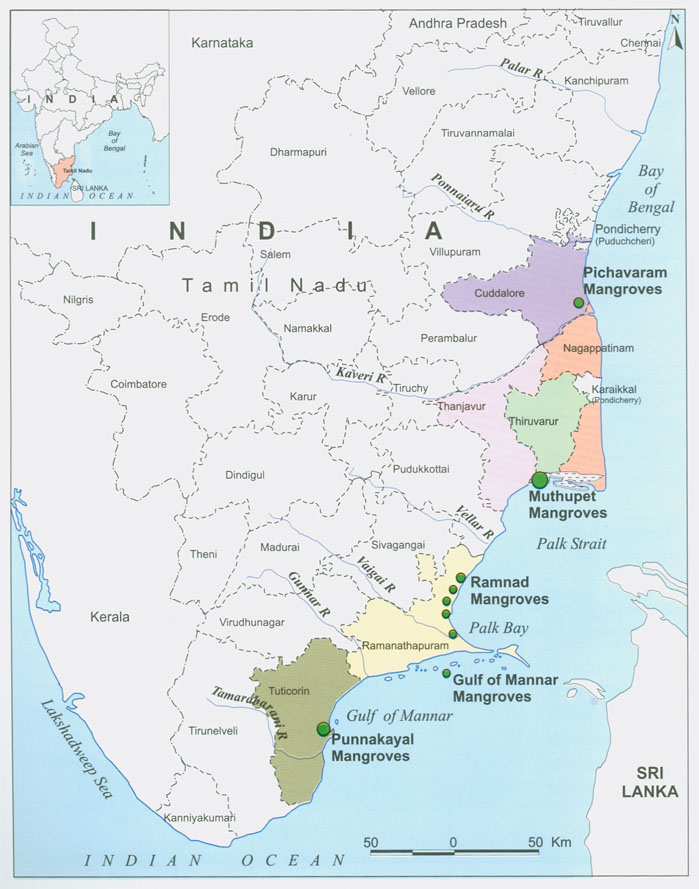 Picture credit: http://mangrovesocietyofindia.in/tamilnadu.jpg
Livelihood hurt
Loss in fish catch and polluted fishes has led to loss of livelihood of the fishermen.
Due to the oil spill, nobody has gone out to fish. Labourers who are dependent on the fish trade, who used to make Rs. 400-500 a day, are hardly making Rs. 50.
This has created problems for the family to survive. In a response to it, children might be expected to work to meet ends.
NGT Judgement
In a Landmark NGT judgement — Samir Mehta vs the Union of India — in the aftermath of the sinking of MV Rak off the Mumbai coast, it was observed that "an oil spill has significant negative impacts on marine ecology, particularly on the aquatic community.
Impact of immediate nature includes the mortality of different animal species, both microscopic and macroscopic invertebrates like molluscs, arthropods, echinoderms, etc. and vertebrates, especially fish.
Long-term impact includes changes in the community structure caused mainly by changes in physiological and biological behaviour of different species in the community due to differential impact of the oil spill."
Administrative responsibility
The Ministry of Defence promulgated the National Oil Spill Disaster Contingency Plan in 1996.
The Indian Coast Guard has been demanding, for over 20 years now a State contingency plan from States. Despite all States being asked to come up with a contingency plan, only a few have complied, as there seems to be no compulsion or obligation to submit a plan.
Recently, the Tamil Nadu State Coastal Zone Management Authority requested all the Port Trusts to prepare a Comprehensive Oil Spill Management Plan to detect the oil spill for their areas since none of the Ports have a Comprehensive Oil Spill Management Plan, which is in consonance with the National Oil Spill Disaster Contingency Plan of the Ministry of Shipping and Surface Transport, Government of India
In fact, many of the officers involved in the clean-up operation and the whole oil spill privately admitted that this was the first time they were dealing with such a problem. While it was a learning exercise for them, it also exposed the lack of preparedness to deal with oil spills.
Still many questions remain unanswered such as how much oil has actually been spilled into the sea when initial claim was just one to two tonnes, the Coast Guard put the figure at more than 20 tonnes and a report on the investigation to find out who was at fault and what action needs to be taken. This will still take considerable time though.
There should be transparency about disaster-related information, especially details regarding the current status of the spill, or precautions the public needs to take which ought to have been widely disseminated by any responsible administration.
Health hazards
Many people, who were involved in the clean-up operations, reported skin allergies and minor injuries.
The skin allergies were due to the oil, while the minor injuries were from volunteers slipping on the oil-coated rocks.
Bunker oil is more toxic than crude oil. It has heavy hydrocarbons, polycyclic aeromatic hydrocarbons – these are toxic compounds and could have an adverse impact on health. It is carcinogenic
The volunteers have also complained of breathing problems.
It was more worrying that there was lack of adequate safety equipment provided to those in the clean-up operations.
Thus, the negligence of owners and authorities led to difficulties faced by humans and animals alike for no fault of theirs.
IASbaba's views
The oil spill is destroying marine life, livelihoods and causing permanent damage to biodiversity.
The massive ramifications of the act has been sidelined by the state as well as media to focus more on the political developments happening in state. This shows the cruel irony which allowed responsible to escape attention and accountability.
Instead of authorities announcing that the spill containment work has been almost completed, they should be truthful in their work and allow containment and damage control until the damage is contained.
The public needs to know how much damage has occurred, where and whether the damage continues, the safety precautions to be taken and till when.
Transparency in work and sharing of information honestly is the very least that the public expects from its governments. The guilty must be brought to books and culpable owners/crew should be severely penalised.
It must ultimately be ensured that the polluters pay an exemplary price for their mistake.
Ordinary citizens have the power to move the government with their concerted and determined effort as seen in Chennai recently and this is the right cause for which citizens have to come together and force accountability and action from the authorities.
Connecting the dots:
How does oil spill affect the biodiversity? Enumerate certain oil spill incidences of world in past which affected significantly to marine and human life.
MUST READ
A foreign policy of cruel populism
A pit stop to change attitudes
Court self-corrects
Learn the lesson
Free trade is good, for the poor too
Isro has impressed; now for policy innovation
Collaborate and conquer