IASbaba's Daily Current Affairs 12th June, 2017

IASbaba's Daily Current Affairs – 12th June 2017
NATIONAL
TOPIC:
General Studies 2
Government policies and interventions for development in various sectors and issues arising out of their design and implementation.
General Studies 3
Conservation, environmental pollution and degradation, environmental impact assessment
Science and Technology? developments and their applications and effects in everyday life
Achievements of Indians in science & technology; indigenization of technology and developing new technology
A shift towards Electric Vehicles(EVs)
In news:
In May 2017 Nagpur became the first Indian city to have an electric cab fleet—with about 100 EVs from the Mahindra stable and around 100 e-rickshaws from Kinetic linked to the Ola transport aggregator platform. Also, the state-run power giant NTPC set up its first Electric vehicle(EV) charging stations in Delhi and Noida.
Policy shifts:
Power minister Piyush Goyal has announced that government officials and agencies will soon be using only EVs.
Public buses are also expected to go electric.
Road transport and highways minister Nitin Gadkari has promised a national EV policy before the end of the year
The government's think tank, Niti Aayog, has already put out a road map for India's mobility transformation that has three core elements: "shared", "electric", and "connected".
The goal, according to the power minister, is to have no diesel or petrol car sales in the country by 2030.
This marks a sharp shift from the current policy that incentivizes both hybrid vehicles – which combine fossil fuel and electric power – and electric cars.
NITI Aayog's mobility plan:
In its report Niti Aayog recommends-
The government must subsidize the EV industry while penalizing conventional cars.
Taxes and interest rates for loans on EVs should be lowered.
The sale and registration of conventional cars should be lowered
Using taxes from diesel and petrol car sales to create electric charging stations.
It also suggests setting up "a manufacturer consortium for batteries, common components, and platforms to develop battery cell technologies and packs and to procure common components for Indian original equipment manufacturers."
NEMMP & FAME India Scheme:
In 2015, as part of the National Electric Mobility Mission Plan (NEMMP), the government had launched the FAME India (Faster Adoption and Manufacturing of Hybrid and Electric Vehicles) scheme with an aim to promote eco-friendly vehicles, offering incentives on electric and hybrid vehicles. The FAME India scheme is aimed at accelerating sales of eco-friendly vehicles to up to 7 million vehicles by the year 2020. However, sales of EVs have been abysmally poor.
Mainstreaming electric vehicles will require :
An overhaul of the country's energy and transport infrastructure. For example, EV charging stations will have to be set up on a war footing.
Electricity generation will have to improve significantly even as its piggybacks on the push for solar energy.
EV technology (especially the battery) will have to become much cheaper before it can perform well in a price-sensitive market like India.
If these challenges can be tackled effectively and India can leapfrog to EV technology, then of course, the benefits to be had are numerous.
Benefits of EVs:
Environment-friendly EVs will reduce air pollution and thus contribute to the fight against climate change. As per NITI Aayog's report EVs will help in cutting down as much as 1 gigatonne (GT) of carbon emissions by 2030
Lower India's dependence on imported oil
Will cut India's energy demand (from the road sector for passenger mobility).
Save the country $60 billion in energy bills on petrol and diesel by 2030(As per Niti Aayog)
EVs efficient—with regenerative braking capturing energy otherwise wasted and also due to the inherent efficiency of motors, especially at low speeds
The focus should not only be on EVs:
Apart form EVS there also other technology options which shouldn't be ignored.
Like,
Hydrogen-powered fuel cells
It offer an equally eco-friendly option.
Both are zero emission, and the hydrogen-powered fuel cells can in fact be recharged faster.
They also give more mileage than the lithium-ion batteries commonly used in EVs today.
CNG vehicles
They are cheap, almost as clean as EVs, and the related infrastructure is already in place.
The government should not be deciding the winner?
Issue:
Governments generally do not have a good track record when it comes to picking tech winners. For example,
After the 1970s energy crisis in the US, the Carter administration pumped millions of dollars into thermal solar technology which did not yield any viable commercial results even as the old photovoltaic cell technology continued to evolve. Later, corn-based ethanol was all the rage and the government again put good money into developing a market for it but eventually it too collapsed.
These examples indicate there are many risks associated with the government picking the winner—a job that is better left to the market and industry.
Conclusion:
The government should have a role. However, instead of trying to pick winners, the government should focus on building an enabling business environment that supports research and innovation. Thus, instead of pumping money into one project or firm, it should support clean energy research in general. That way, the government does its part in steering the policy ship towards clean energy while still being technology-agnostic.
Connecting the dots:
With NITI Aayog's mobility transformation plan a shift in government's strategy towards Electric Vehicles(EVs) is visible. Discuss the challenges involved in adopting the EV technology in Indian context ad also the benefits such transformation would provide.
NATIONAL
TOPIC:
General Studies 2
Government policies and interventions for development in various sectors and issues arising out of their design and implementation.
General Studies 3
Conservation, environmental pollution and degradation, environmental impact assessment
Science and Technology? developments and their applications and effects in everyday life
Achievements of Indians in science & technology; indigenization of technology and developing new technology
Harnessing wind power through Kites
Introduction:
Wind energy in India has seen steady development in the last decade. With 32,279.77 MW of installed wind generation capacity (compared to 12,288.83 MW of solar power), India is one of the leading generators of wind energy worldwide. Yet, due to certain constraints, and more recently the more competitive rates in solar energy, there are concerns that the share of wind energy may decline.
Benefits of wind power over solar power:
Unlike non-storage solar energy, wind turbines are not affected by night and day.
Challenges in generating wind power:
Generation of electricity from wind energy depends on both the season and geographical location.
Wind farms require massive areas of land.
In India, wind turbines produce 70 to 80 per cent of their generation in a span of six months. Moreover, to calculate the annual kilowatt per hour (kWh) produced from a turbine, one has to calculate the estimated number of hours of wind at a certain height as well as its speed. On an average, in India, the plant load factor (PLF) is only around 20 to 30 per cent. Hence, with a 25 per cent PLF, a 1.5 MW turbine would produce around 3,285,000 kWh in a year. Below a wind speed of around 30 mph, however, the amount of energy generated would be quite small.
Government's policy towards wind power:
The government has announced that its target for wind energy generation by 2022 is 60,000 MW.
What needs to be done?
Harnessing the wind energy potential will require huge investments as well as the requisite land.
However, this problem may be resolvable through the use of a new technology – scores of kites to generate wind energy.
This technology is believed to not only cut the cost of generating wind energy but also enhance the efficiency quotient.
How does it work?
The basic idea is to locate the kites, which are essentially light and controllable aerodynamic flying devices, in a formation at heights of around 750 metres and more in order to harvest the strong and consistent winds available in that region of the atmosphere (wind velocity at those heights is twice that at the ground level) and thus generate low-cost energy.
The system is operated in periodic pumping cycles, alternating between reel-out and reel-in of the lines attached to the kite and the drum on the ground. During reel-out, the kite flies in figure-eight manoeuvers at high speeds of 70 to 90 km/h, creating a high traction force which is converted into electricity by the drum and the connected generator. Once the kite reaches the maximum height, it is de-powered by releasing the steering lines so that the whole wing rotates and aligns with the wind. Using the drum/generator module as a winch, the kite is then pulled back to the initial position to start the next pumping cycle. De-powering reduces the traction force during reel-in by 80 per cent, thereby allowing less energy to be consumed as against the energy generated during the reel-out cycle. Once the descent is complete, the kite is allowed to climb once more, where it generates electricity once again. This allows these kites to be more efficient than traditional wind turbines.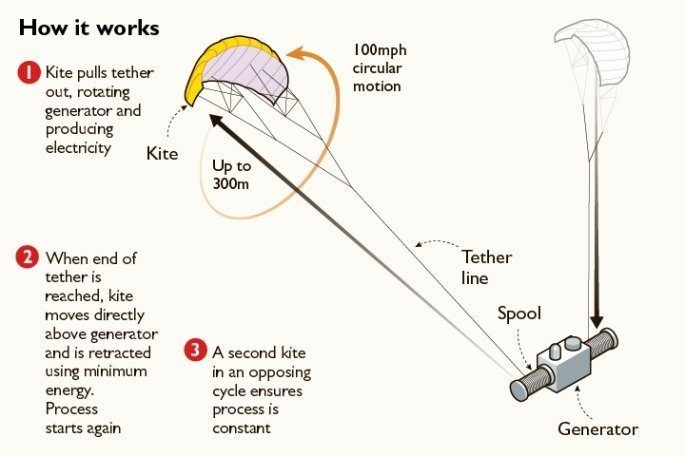 Source:https://www.thememo.com/2017/05/30/kite-wind-farms-take-off-in-uk-as-fut….
Benefits of using kite wind:
According to some estimates, the cost of generation from these kites could be around 50 to 60 per cent less than from traditional wind farms, both on- and off-shore.
Moreover, these kite power systems can be flexible. As modular, small-scale power production plants, they can be applied to single houses, for autonomous electricity production as well as for remote areas and villages not yet connected to the power grid.
At the same time, they can also serve as huge power plants generating several megawatts and even gigawatts. For example, an Italian firm, KiteGen, has developed a prototype with a capacity for producing 27 MW of peak power.
Some of the advantages kite power systems have over conventional turbines include negligible noise emission and bird hits, near invisibility, and ability to withstand storms.
Moreover, they do not need huge concrete foundations and tonnes of steel for the tower and the blades. As a result, they do not require scarce metals or rare earth elements like neodymium for the magnet in a wind power plant, thereby making them far more environment-friendly than their conventional counterparts.
Wind kites also require less power to operate.
Challenges:
Some technical issues will have to be resolved before these kites can replace traditional turbines.
A major challenge is lightning, which could damage the small computer placed inside the kite.
Given the height at which the kites would be flying, the location of these wind farms will have to be carefully planned so as not to interfere with or hamper the flight paths of aeroplanes.
Conclusion:
Although India is no longer deemed power-deficient, it is by no means energy secure as millions of people do not have access to grid connections. As connectivity increases, the demand for power will surge. Moreover, initiatives like Make in India, Power for All Campaign for total rural electrification by the end of 2017, and the drive to ramp up the use of electric vehicles in place of fossil fuel-based vehicles, among others, will see a quantum jump in energy consumption. While evolving solar technology can fill some of the gap, the government should also look at other new energy technologies across the energy spectrum to meet its energy generation target. India's record in wind energy development is good. But the existing technology is fast becoming outdated. Evolving technologies like kite wind should therefore be considered.
Connecting the dots:
The government has set a target of generating about 60 GW of wind energy generation. Discuss the challenges involved in relying on wind turbines and how kites can be used to harness wind power.
MUST READ
Neighborhood first in Nepal
Six days of war 50 years of occupation
Leave them alone
Economic forecasting is not a science
The crops of wrath
The right balance-China, Pakistan and India
A great figurehead
Whose fight is it anyway?
The great highway loot
Why are telecom firms in the doldrums?
The evolving state of Indian states
Entrepreneurship and jobs-Think small
Angry Bharat