IASbaba's Daily Current Affairs (Prelims + Mains
Focus)- 27th December 2017
---
(PRELIMS+MAINS FOCUS)
---
Personal Rapid Transit (PRT) 
Key pointers:
The projected ₹4,000-crore pod taxi scheme — also known as Personal Rapid Transit (PRT) — is a dream project of Road Transport and Highways Minister Nitin Gadkari.
The NHAI has been mandated to execute it on Delhi-Gurgaon pilot corridor (12.3 km) from Delhi-Haryana border to Rajiv Chowk in Gurgaon on a PPP (public-private partnership) basis.
PRT is an advanced public transport using automated electric pod cars to provide a taxi-like demand responsive feeder and shuttle services for small groups of travellers and is a green mode of uninterrupted journey.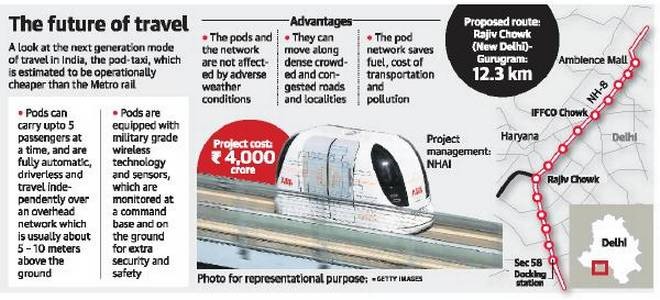 Pic credit: http://www.thehindu.com/news/national/article22282384.ece/alternates/FREE_660/TH27New%20Pod%20Taxicol
The pilot project, to be taken up on design, build, finance, operate and transfer (DBFOT) basis, is meant for a 12.3-km stretch from Delhi-Haryana border.
The model is in place in London's Heathrow airport, Morgantown and Masdar city.
Article link: Click here
---
India to become 5th largest economy in 2018 
Key pointers:
India is set to overtake the United Kingdom and France to become the world's fifth largest economy next year, as per a report.
Currently ranked seventh, India will move up to fifth place in 2018 and vault to third spot by 2032, the Centre for Economics and Business Research, a London-based consultancy, said in its annual rankings.
"Despite temporary setbacks… India's economy has still caught up with that of France and the U.K. and in 2018 will have overtaken them both to become the world's fifth largest economy in dollar terms," said CEBR.
Cheap energy and a digital revolution will drive economic growth globally, it said. 
Article link: Click here
---
Rs 500 a month for TB patients
Key pointers:
The Expenditure Finance Committee (EFC) has approved an incentive of Rs 500 a month for all tuberculosis patients for the duration of the treatment, irrespective of their income level.
The money is for nutrition support, as TB is known to be a disease of undernutrition.
The incentive amount, though, is a fourth of what was envisaged in the National Strategic Plan for TB Elimination released earlier this year with the aim of eliminating the disease by 2030.
"To address financial and nutritional hardship the patient and family undergoes due to TB and to reduce catastrophic cost to patient due to TB, cash incentive of Rs 2,000 will be provided for every TB patient through Direct Benefit Transfer," says the National Strategic Plan for TB Elimination.
TB burden in India:
India is the country with the largest TB burden in the world.
The bacterial infection kills an estimated 4.80 lakh Indians every year and more than 1,400 every day.
India also has more than a million 'missing' cases every year that are not notified (despite a government directive on mandatory notification of TB cases) and most remain either undiagnosed or unaccountably and inadequately diagnosed and treated in the private sector.
A joint monitoring committee set up to evaluate the TB programme had singled out fund constraint as a major challenge.
Article link: Click here
---
(MAINS FOCUS)
---
ECONOMY
TOPIC: General Studies 3:

Economic Development – Indian Economy and issues relating to planning, mobilization of resources, growth, development and employment;
Effects of liberalization on the economy, changes in industrial policy and their effects on industrial growth.
Inclusive growth and Challenges of inequality.
Countering inequality in India: Lessons from China
In news:
The release recently of the World Inequality Report 2018 has brought into focus an aspect of economic progress in India- the continuous growth in inequality since the mid-1980s.
The top 1% of income earners received 6% of the total income in the early 1980s, close to 15% of it in 2000, and receives 22% today. As this is a report on a global scale, we can see the trend in inequality across the world, providing a comparative perspective across countries.
A comparison between India and China:
Since 1980, while the Chinese economy has grown 800% and India's a far lower 200%, inequality in China today is considerably lower than in India.
The share of the top 1% of the Chinese population is 14% as opposed to the 22% reported for India.
This shows that growing inequality need not necessarily accompany faster growth, observing that inequality actually declined in China from the early 21st century. By then China had grown faster for longer than most countries of the world ever did.
How meaningful the above comparison is?
Though representing different political systems, they had both been large agrarian economies at similar levels of per capita income when they had started out in the early 1950s.
Moreover, the absence of democracy in a society does not by itself guarantee faster economic growth and greater income equality.
For a populous poor country to lift itself to a higher growth path and stay there requires imaginative public policy and a steady governance.
Lessons from China:
Its leadership combined the drive for growth with the spreading of human capital.
Human capital may be understood as a person's endowment derived from education and robust health.
The share of the Indian population with secondary schooling is less than 15%. China had by the early 1970s achieved the level of schooling India did only by the early 21st century.
The spread of health and education in that country enabled the Chinese economy to grow faster than India by exporting manufactures to the rest of the world.
These goods may not have been the byword for quality but they were globally competitive, which made their domestic production viable.
The resulting growth lifted vast multitudes out of poverty.
As the human capital endowment was relatively equal, most people could share in this growth, which accounts for the relative equality of outcomes in China when compared to India.
An added advantage is the greater participation of women in the workforce of China, an outcome that isn't true for India.
Indian context:
India has lower per capita income, persistent poverty and by all accounts rising inequality.
Economic progress here has been neither efficient nor equitable. Democracy per se cannot be held responsible for this. There are States in India with superior social indicators than China.
This shows that not only is democracy not a barrier to development but also that similar political institutions across India have not resulted in same development outcomes across its regions.
Way forward: Deepening democracy
Given the growing inequality in India, the direction that public policy should now take is evident.
There is need to spread health and education far more widely amidst the population. India's full panoply of interventions, invariably justified as being pro-poor, have not only not spread human capital, but they have also not been able to prevent a growing income inequality.
We now need to reorient public policy so that the government is more enabling of private entrepreneurship while being directly engaged in the equalisation of opportunity through a social policy that raises health and education levels at the bottom of the pyramid, as China has done.
Connecting the dots:
China fares far better than India when it comes to income inequality. Discuss the reasons behind. What lessons India can take from China?
Also read: India's high inequality is hurting growth
---
NATIONAL
TOPIC:
General Studies 3:
Conservation, environmental pollution and degradation, environmental impact assessment
General Studies 2:
Government policies and interventions for development in various sectors and issues arising out of their design and implementation.
Tackling pollution: Checking Stubble burning
Background:
The pollution level in Delhi reached unprecedented levels this year. Paddy stubble burning in October and November is a major contributor to Delhi's air pollution.
Punjab and Haryana governments have banned it, and a stiff fine is levied — Rs 2,500 for two acres and up to Rs 15,000 for larger areas. Despite this, stubble burning goes on. 
Issue:
Bans and fines are unlikely to be effective. To devise a policy with a chance to succeed, one needs to understand the reasons why farmers prefer burning.
Today, paddy harvesting is done by harvester combines, which leave two thirds of the stalks on the ground. When manually harvested, the crops can be cut at the bottom and the stalks could be sent for other uses such as paper mills, animal bedding, etc. However, manual harvesting has become very expensive. Labourers charge around Rs 4,000 per acre and take three to four days. A harvester combine does it in half an hour and charges Rs 1,200 per acre.
Farmers burn paddy straw after the crop is harvested. It is the cheapest and quickest way to get their fields ready in time for the sowing of next crop.
Stubble burning has also some other advantages.
It kills weeds including those resistant to herbicides.
It also kills slugs and other pests.
Disadvantages of stubble burning:
Stubble burning causes smoke and particulate pollution that can move over long distance.
In Punjab alone, 15 million tonnes of paddy straw is burnt every year. One tonne of straw when burnt releases 3 kg of particulate matter, 60 kg of carbon monoxide, 1,460 kg of carbon dioxide, 199 kg of ash and 2 kg of sulphur dioxide. Thus 15 million tonnes of paddy straw will generate 45 million tonnes of particulates. This poses a lethal hazard.
Stubble burning also implies loss of nutrients.
Yet, a farmer's economic compulsions dominate his decision.
Checking stubble burning:
To check stubble burning, we need to find a way that provides him economic incentive to cease from it.
Punjab and Haryana plant some 10.5 million acres of paddy. If the burning is to be stopped, farmers would want Rs 2,800 per acre, which is the extra cost of employing manual labour. Bearing such cost is not only impossible but also irrational.
We need to thus generate a demand for economical use of straw, so that it will be gathered and used, eliminating the need for burning.
Stubble can be used to make bio-char or cellulosic ethanol, burn in a power plant or plant the next crop without tillage.
Bio-char is a fine-grained, carbon-rich, porous product remaining after straw has been subjected to pyrolysis at low temperatures in an environment with little or no oxygen.
Bio-char with its highly porous structure, improved water retention and increased soil surface area when used with other fertilisers, increases the yield by up to 30 per cent to 50 per cent for some soils and crops.
Another use of paddy straw will be as fuel in a power plant.
A 12MW plant of IFCL in Patiala district collects a lakh tonne of straw and generates 5.5 crore kWh of electricity.
Around 10 to 12 power plants can cover the whole paddy-rice area in Punjab and Haryana.
Using stubble to make cellulosic ethanol.
HPCL is setting up a plant in Punjab to produce ethanol from paddy straw.
Both power generation and cellulosic ethanol provide options that can be implemented quickly. Also, they provide additional income to farmers for the paddy stubble. While power plant is a proven technology, cellulosic ethanol production is a new one but a very important technology for the country's energy security and emission reduction.
Conclusion:
Thus, a multipronged strategy is called for promoting power plants and ethanol production. A subsidy can be given so as to encourage private entrepreneurs to set up these plants. Only then can we hope to reduce stubble burning substantially and also add to the farmers' income.
Connecting the dots:
Levying stiff fines and banning stubble burning is an ineffective way to deal with the issue. Analyze. Suggest better ways to check it, if any.
Stubble burning in adjoining states of Punjab and Haryana has been responsible for pollution in Delhi. How far do you agree with the statement? Suggest ways stubble burning can be checked.
---
MUST READ
How India rejects bad patents
Segregation must begin at home
The 'poor' proxy in public interest litigation
Mental health care Act- A paradigm shift
For a dedicated peer group, Motivation & Quick updates, Join our official telegram channel – https://t.me/IASbabaOfficialAccount
Subscribe to our YouTube Channel HERE to watch Explainer Videos, Strategy Sessions, Toppers Talks & many more…