IASbaba's Daily Current Affairs (Prelims + Mains
Focus)- 30th December 2017
---
(PRELIMS+MAINS FOCUS)
---
The National Medical Commission Bill 2017
Part of: Mains GS Paper II- Government policies and interventions for development in various sectors and issues arising out of their design and implementation.
Key pointers:
The National Medical Commission Bill 2017 envisages allowing Ayush practitioners (Ayurveda, Yoga and Naturopathy, Unani, Siddha and Homoeopathy) to practise modern (allopathic) medicine after clearing a bridge course.
The Bil seeks to overhaul the structure of medical education, introduce a medical exit examination and bring an end to the Medical Council of India.
It envisages a "joint sitting" of the (National Medical) Commission, the Central Council of Homoeopathy and the Central Council of Indian Medicine at least once a year to decide "approving specific bridge course that may be introduced for the practitioners of homoeopathy and of Indian Systems of Medicine to enable them to prescribe such modern medicines at such level as may be prescribed".
A 25-member commission selected by a search committee headed by the Union Cabinet Secretary will replace the elected MCI.
Four boards dealing with undergraduate, postgraduate medical education, medical assessment and rating and ethics and registration will regulate the sector.
Replacing the MCI with a new regulatory structure was necessitated by allegations of corruption dogging the council ever since the arrest of its then chief Ketan Desai in 2010.
Article link: Click here
---
Amendment to Insolvency and Bankruptcy code 
Part of: Mains GS Paper II- Indian Economy
Key pointers: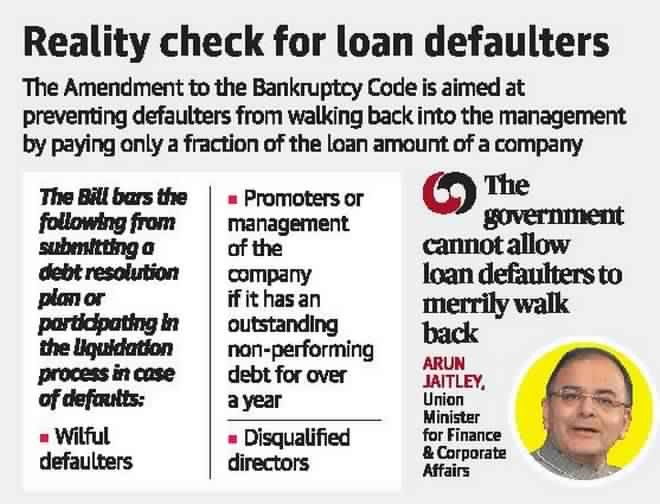 Pic credit: http://www.thehindu.com/todays-paper/tp-national/article22329388.ece/alternates/FREE_660/29-Phukan-InsolG4A350G741jpgjpg
The Lok Sabha amended the Insolvency and Bankruptcy Code law to prevent wilful defaulters and existing promoters from taking part in insolvency proceedings of stressed assets of companies unless they make their bad loans operational by paying up interests.
Changes have had to be made to ensure that ineligible people do not find loopholes to walk back into the companies against which insolvency proceedings were initiated.
Article link: Click here
---
Smart Robo Cop
Part of: Mains GS Paper II- Awareness in the field of robotics.
Key pointers:
A life-sized robot, claimed to be the world's first smart policing robot, was launched in Hyderabad city.
The bot called the Smart Robo Cop is equipped with cameras, and an array of sensors connected to GPS in its beta version and has been developed by H-Bots Robotics, a Hyderabad-based robotics technology company.
All the components have been sourced from within the country.
It has been created to support security systems in the city.
The robot can move, recognise people, take complaints, detect bombs, identify suspects, interact with people and answer to queries.
How does it work?
Placed in any locality, the robot has been equipped with a system where people can lodge a complaint with the police from where it is stationed. The complaints can be lodged through video, audio and photos.
People can also make use of emergency services. For example, an accident can be reported from the spot or even if one wants to complain to the SHE Teams with the help of capture option that is available.
Article link: Click here
---
(MAINS FOCUS)
---
ETHICS & INTEGRITY
TOPIC: General studies IV:

Public/Civil service values and Ethics in Public administration
Ethical concerns and dilemmas in government and private institutions.
Strengthening of ethical and moral values in governance.
Probity in Governance: Concept of public service; Philosophical basis of governance and probity.
Codifying conflict of interest
Introduction:
There is a need for removing discretion and codifying the conflict of interest inherent in having senior bureaucrats assuming corporate roles post-resignation or retirement.
What is conflict of interest?
A conflict of interest (COI) is a situation in which a person or organization is involved in multiple interests, financial or otherwise, one of which could possibly corrupt the motivation or decision-making of that individual or organization.
A conflict of interest exists if the circumstances are reasonably believed (on the basis of past experience and objective evidence) to create a risk that a decision may be unduly influenced by other, secondary interests, and not on whether a particular individual is actually influenced by a secondary interest.
Examples-
The case of the Food Safety and Standards Authority of India.
FSSAI is theoretically supposed to be independent in monitoring food safety and yet, until 2014, industry representatives were regularly appointed to scientific committees.
The Sharada Prasad Committee constituted to review the functioning of sector skill councils (SSCs) had termed these councils a hotbed of crony capitalism because of conflict of interest.
Issue:
India has an official policy, regulated by the Ministry of Personnel, whereby senior bureaucrats have to seek permission for commercial employment after their retirement. However, such grants of permission within cooling-off period depend primarily on government discretion, with no codified mechanism.
Some bureaucrats seem to have meshed the virtues of public service with private profit in retirement. They expose themselves to a potential conflict of interest.
At present, conflicts of interest that arise out of an MP's private interest are regulated by the Code of Conduct for Ministers; Code of Conduct for Members of the Rajya Sabha, Rules of Procedure and Conduct of Business in the Lok Sabha and Rajya Sabha and Handbook for Members. Both Houses have an Ethics Committee to oversee the ethical conduct of MPs. The similar is the case with civil servant and judiciary. But by and large, these ethical books have been ineffective so far.
Example of Canada:
In Canada, ministers must follow the Conflict of Interest and Post-Employment Code that outline ethical standards and private and public interests.
It prohibits use of information obtained officially for personal gain.
All Members are barred from voting on matters in which they have pecuniary interest.
There is a lobbyist registration system.
Ministers cannot engage in an outside profession or actively in business.
It restricts members from simultaneously holding certain posts.
There are some post-tenure employment restrictions.
Way ahead:
Making disclosing conflict of interest mandatory:
We need legislation to make non-disclosure of a conflict of interest punishable.
M.S. Natchiappan's private member's bill (The Prevention and Management of Conflict of Interest Bill, introduced in 2012), the legislation ought to cover all arms of governance, including the judiciary, the legislature and the executive.
The Bill talks about setting up of an institution for prevention and management of conflict of interest.
The recommendation of the Parliamentary Standing Committee on the Department of Personnel and Training, calling for early retirement if interested in post-retirement private service is established, needs to be implemented.
Increasing the mandatory cooling period to five years so that no undue influence can be exerted by the retired bureaucrat.
To solve the issue, it is important to understand the scale of the problem, determine the right legal mechanism to deter and work towards changing our lackadaisical cultural norms on conflict of interest.
Towards transparency:
A culture of transparency needs to be fostered.
Bureaucrats, retired and current, should talk openly about their post-retirement plans. Public disclosure of their interests would clear the air, enabling their views to be given appropriate merit.
An open, public data platform enlisting all post-retirement appointments of civil servants will increase transparency.
There is nothing wrong in letting experienced bureaucrats utilise their expertise in the private sector — if adequate rules are framed and followed that enable the elimination of any conflict of interest.
Conclusion:
As acknowledgement of conflict of interest exists in the corporate world, with significant oversight through consumer watchdogs, credit rating agencies and activist shareholders, the same should exist for governance.
Conflicts should be codified in a stringent legal framework, making compromise of the public interest a serious crime. Cleaning up business interests, and strengthening a moral code over such conflicts is needed.
Without such transformation, India's society, governance and its private sector will remain open for insider trading.
Connecting the dots:
What do you mean by the term 'conflict of interest'? There is a need to codify conflict of interest in regard to Indian governance system. Discuss. 
---
DISASTER MANAGEMENT
TOPIC:
General Studies 1:
Urbanization, their problems and their remedies.
General studies 2 and 3:
Government policies and interventions for development in various sectors and issues arising out of their design and implementation.
Disaster and disaster management.
Solving the problem of Fires Accidents: Mitigation and Prevention strategy
Introduction:
On an average, in India, every year, about 25,000 persons die due to fires and related causes. Probably many of these deaths could have been prevented, had we taken enough fire protection measures. No comprehensive data is available in India on the economic losses suffered on account of fires.
Recently, on the night of December 28, 14 people died and 54 others were injured as the result of a fire at a restaurant in Mumbai's Kamala Mills.
There were at least 11 major fires in Mumbai alone this year, of which the second-last one on December 25 killed 12 workers in a Gujarati snack shop in Saki Naka. The greater number of these cases occurred in factories or small manufacturing units.
The onus of the majority of these fires rests with the owners of the places. But whether the fires took place in residential buildings, work places or restaurants, the main culprit is the respective State Municipal Corporation within the Indian polity.
The real concern: Unplanned Urban Planning
It is mandatory for every single new residential building (in many cities) to have a rigorous fire audit before it gets an occupancy certificate. One cannot stress the need for zero tolerance of any short-coming, flaw or missing element. The same holds for every factory, laboratory, office, school, workshop, library, zoo, museum, research facility, restaurant, four and five-star hotel and any other building.
However, these pre-conditions are not tested prior to getting the occupancy certificate.
Lack of fire escape routes in buildings and mock fire drills are common in most Indian cities.
The manner in which some areas are laid out, there are urban villages which are unplanned, unorganised sections of settlements. These are places where the road-width is so small that even a fire tender may not go in. For instance, in Delhi, certain urban chic places such as Hauz Khas Village, Shahpur Jat are firetraps.
The fire rescue has to be motorcycle-based in these places because even four-wheelers may not reach.
Mitigation Strategy:
For mitigating a fire in any occupancy, whether it is a business house or in a factory or in a residential building, require a deep understanding about the problem, comprehensive Fire Safety Audit, regular inspection, maintenance and repair of defective equipment.
Infrastructure in place- fire-stations equipped with modern technology and well trained fire-fighters, dedicated helpline to reduce response time- mapping of cities using color coded zones based on their level of vulnerability.
Adherence to SOPs' (Standard Operating Procedures), since in many cases Standard Operating Procedures are already in place but are not implemented due to untrained staff/inadequate numbers of deployment or political interference
On ground execution- mandatory fire safety drills & training for response at all public and private work places, schools, educational institutions- courses for people interested in being volunteers in case of fire-incidents.
Arrangements for speedy medical attention should be done by ensuring prior medical aid at event location, implementing concepts like green corridor
 Prevention strategy:
Fires start when source of ignition comes into contact with combustible material. If we can control all sources of ignition and combustible material, we can greatly reduce the potential for fire. Adhering to explosion resistant building codes and reorientation of all existing infrastructures to make it fire resistant.
Heating and lighting systems that are inadequately maintained or safeguarded present risks. Many fires occur from electrical faults or misuse. Smoking is a notorious fire risk. It should be prohibited in all areas where it is especially dangerous. Strict quality checks and standards of electrical appliances, equipments, households items like stoves etc that often are cause of fire accidents.
Automatic fire sprinklers coupled with detection are the most effective fire protection system found in High Rise buildings which can, not only detect the fires, but also extinguish the fires in the initial stage itself. Application of Water Mist in various situation is gaining momentum every day.
Major fires start in storage area and warehouses than production areas. Poorly stored goods, even though they are not flammable, may help to spread fire and hinder fire fighters gaining access to the seat of the fire or reduce the effectiveness of sprinkler systems. Goods tidily stored with gangways may help to inhibit the spread of fire.
The legislations, standards and codes have a vital role in forcing the occupiers to provide the required fire protection system, both active and passive. Complying with all the fire and safety measures and adhering to the National Building Code of India, 2005.
The way ahead:
Notions of safety, security and quality are not built into us from school level. We don't get basic first aid training. Our cultural attitude is one of "chalta hai" (It is Okay!!) and we think the next building will catch fire, not ours. It will happen to somebody else not me.
The buildings have to be planned, designed and detailed to be fire safe. There have to be fire audits of each of the buildings every six months, or at least once in a year.
There has to be a safety officer who sits in a room with CCTV monitors, sprinkler systems, fire alarm systems, fire extinguishers. Often people are not trained how to use the fire extinguisher, and which one to use when. We have national building codes, local building bylaws, national electrical codes. But they are never implemented or enforced because of systemic problems.
There should be lessons learnt from the fatal fire in Mumbai. By properly blending both precautionary and mitigation measures, we can greatly reduce the adverse impacts of a fire hazard and thereby prevent the loss of lives and property.
Connecting the dots:
There were many incidents of major fire tragedies in our country. What precautions should be taken to prevent fire hazards? What are the mitigative measures for fire accidents? Discuss.
---
MUST READ
Lured by blood
Taking on the gatekeepers
Before the next Mumbai disaster
Changing chalta hai
Welcome reform