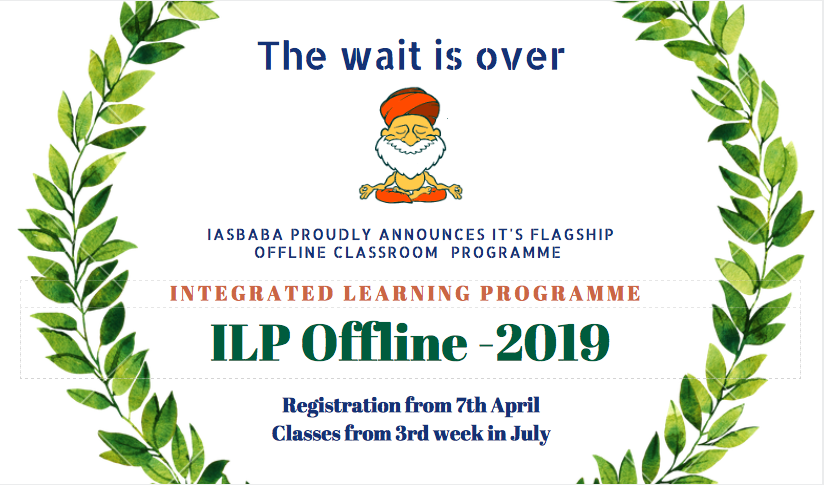 Dear friends,
"There are only two ways to live your life. One is as though nothing is a miracle. The other is as though everything is a miracle." – Albert Einstein
In a short period of just 3 years, IASBaba has grown to be a brand of its own. This has been possible because of pure passion, the quality of people at IASbaba, their perseverance, urge to excel and the faith and support that you all have provided. It is nothing sort of a miracle.
At IASbaba we have a single guideline before starting any initiative "Can we at IASbaba, do the best in comparison to any existing system, Can we redefine the way things are delivered"
Yes, if we are doing a classroom programme, then we would want it to be the best!
Most structured and at the same time the one which can bring any ordinary person to UPSC standards in the shortest time.
This was the motto with which we started our classes 3 years back. And you can see where IASbaba is today!
Every Online and Offline programme of IASBaba is meticulously designed to suit the requirements of UPSC.
Why is 60 Day Programme so famous and most trusted? The answer is its QUALITY and its relevance to UPSC Questions and standard.
Integrated Learning Programme (ILP) ONLINE– Today it is the number 1 Online Programme that provides the best guidance for not only Prelims but Mains as well. Quality and affordability is it's USP.
Our classroom programme, which is the best programme in terms of quality and largest offline programme in Bangalore is known for imparting individual attention to students.
A further testimony to the above has been
---
We have two OFFLINE Class Programme's conducted by IASbaba – CONNECT TO CONQUER (C2C) and INTEGRATED LEARNING PROGRAMME (ILP) – OFFLINE. Unique features of both the programmes are given below.
CONNECT TO CONQUER (C2C): OFFLINE MAINS ANSWER WRITING PROGRAMME
When we started our C2C programme, the intention was very clear and defined. It was solely to focus on answer writing not by merely a named initiative but through imparting true guidance and feedback to all our students on one to one basis. It was to build a strong foundation and in-depth understanding of the subject matter. The programme is nothing short of a SKILL DEVELOPMENT ECOSYSTEM where everything is designed to impart the required skill before you leave the system.
No ecosystem works if the ingredients are not properly designed and placed in for the core value building.
It is not merely a Test Series where you write and get the review from unknown sources. It is designed to fill the gap of mentorship and guidance at the same time.
Since it is Mains Answer Writing, it is expected that students have finished their syllabus at least once and have a basic understanding of Mains as a whole. To reap the dividend of this initiative, it is the core requirement and nothing else.
---
How it differs from others?
Students are divided into groups of 15
For every group, a mentor is allotted.Each of the mentor allocated is one high quality
The mentor evaluates the answer sheets on an individual basis and sits with you to provide strategic feedback.
This process lets you uncover the inherent flaws in your answers.
The mentors are hardworking and put extra effort to guide students in all possible ways. They are more like your friend than a teacher. You can reach out to them personally for anything related to preparation.
---
This programme has transformed our students in the following ways
With only 2-3 sitting with their mentors, students have understood the nuances of Answer writing. Most of them started off with Ground Zero on Day 1 and now they are able to write good answers
From stories and unrelated content to crisp and to the point content in their answers is the reflection of the thought building process that they are undergoing in C2C.
The detailed synopsis and discussion with their mentors provide a strong foundational support to them.
From inherent fear to attempt a question to attempting them with full confidence and quality is the output that is being worked upon here.
In fact, this is the first time anywhere in UPSC coaching an individual mentor is associated with the aspirant.
This program is in direct competition and better version of a similar offered and it is offered at HALF the price. Please cross-check with students and make an informed decision.
Also, we have heard rumours of competitors wanting to copy this program 🙂
Rather than we boasting about our Offline Classes (unlike other normal institutes which in reality are another way around), you can get the feedback from the horse's mouth. This is what our students have to say about Connect to Conquer (C2C).
NOTE- C2C Phase-II would be launched immediately after prelims. Details of Phase -II will be announced shortly.
---
FLAGSHIP OFFLINE PROGRAMME-INTEGRATED LEARNING PROGRAMME 2019- FRESHERS
This program is meant for those who have completed 0% of syllabus yet determined to succeed in the first attempt itself.
Our flagship program ILP OFFLINE is designed to help freshers learn from first principles and build strong basics. This approach helped our students solve several confusing/ambiguous questions of Prelims 2017.
We believe in smart work. Our classes and materials guide aspirants to get the best results with minimal time and effort.
Even working professionals who were regularly attending our weekend classes of ILP Offline 2016-17 have given their interview and are waiting for the results.
In line with our tagline – "One Stop Destination for UPSC Preparation", we have created an ecosystem that would stand true to its name 'One Stop' for every student who is part of it.
The quality and pedigree of IASbaba faculty is unmatched by UPSC standards.
Regarding the quality and importance of ILP OFFLINE 2018 programme, you can hear it from the students themselves.
---
---
Features of IASbaba's Offline Classes:
Integration of Online Programme with Offline Classes – Offline Classes will be complemented by ILP online program which would contain Babapedia (Current Affairs), Value Added Notes (VAN), Test Series.
Duration of the programme will be 15 months.
The classes will be conducted keeping all the 3 Stages of the examination (Prelims, Mains, Interview) in mind. All GS papers will be covered before Prelims.
Prelims (GS + CSAT) and Mains Tests are incorporated in the programme. The tests will be designed keeping a fresher's preparation in mind. Accordingly, there will be a gradual increase in the difficulty level of the test.
In tune with the demand of UPSC, there will be weekly Current Affairs Classes/Discussions and Test.
Motivation and Prelims & Mains Strategy class exclusively by Toppers and Founders.
We have the best mentors for the programme who will guide you throughout with the best possible support.
Library Facility with WIFI and AC. This is where you get to interact with veterans many of them who are rank holders and accelerate your preparation. (It will be separately charged)
Note: Optional guidance for subjects like Public Administration, Geography, Anthropology, Sociology is provided. Kannada Literature Optional Classes are charged separately.
---
Eligibility criterion to Join Offline Classes
We do not have "X" criterion of the syllabus that needs to be completed and 'X' books to be read to join our programme. An aspirant with Basic English and Aptitude is all we are looking forward to.
A FRESHER who has the passion, zeal and perseverance to clear the exam in his/her 1st attempt, one who is honest and dedicated to put in that extra effort can join our Offline Programme. There are many students who are in their final year of graduation who joined the weekend batch and are ready to ace.
We believe in the practical transformation of an individual who has no skill and want to assist/impart the required skill in the process.
All you need to do is fill the form and wait for our call. If we find you eligible we would offer you the invite!
---
How our Offline Classes differs from others?
Since we invite Freshers, the programme starts with strategy classes to make you understand the process of UPSC
The first few classes will enable you with the proper understanding of Prelims and Mains.
We are not selective in the selection of students to boast about the results later. Rather, we want to be part of the real transformation of a person from

'Nil-UPSC' to 'Nail-UPSC'.

The cohort group of students encompass a variety of backgrounds and experience to share with. Few of them are experienced/veterans, have joined the programme keeping aside their ego and ready to learn with a fresher as a fresher to get their basics right.
Such a group of students act as a catalyst for others to be competitive
ILP 2019 will be integrated with Offline classes.
Subjects will be covered through short modules followed by regular tests in the end.
This will provide double exercise and benefit to offline students, one through conceptual learning in class and the other through the online setup.
There will be regular tests for Prelims and Mains both as per the plan.
---
By the end of this programme:
You will understand the importance and meaning of smart work
How to analyse an issue and present your answer in line with the demand of the question
Write UPSC level answers in mere 3 months into the course.
Take a stand on diversified opinion & issues which will help you in your Interview
In short, you will come to know, on what it takes to be in the coveted list of successful candidates!
---
There is no wishful thinking or claims of ranks in future. We believe that right work in the right direction will definitely be rewarded. We are expecting good news around the corner with 2017 Results. Wait for the Surprise !!
We welcome you to come to Bengaluru, talk to our students about the classes and get their feedback before joining. You can also visit different institutes, compare the programs offered, material provided and make an informed choice.
Let us share a story with you:
One day, a man was walking with his favourite Horse and the Horse fell into a deep precipice. The man was unable to pull it out no matter how hard he tried. He, therefore, decides to bury it alive.
The man started pouring the soil on the horse from above. Every time he poured the soil, the Horse felt the load and shook it off his back. As more and more soil was poured, the Horse felt the load, shook the soil off its back and steps on it. The more the load was poured, the higher it rose. By noon, the Horse was out, grazing in green pastures, with its master.
Success is like the Horse mentioned in the story.
Are you ready to see the dream transforming into reality? If yes, come and join us with the best minds in UPSC preparation and make history!!
***Details will be shared on 7th April with the Registration Form***
For a dedicated peer group, Motivation & Quick updates, Join our official telegram channel – https://t.me/IASbabaOfficialAccount
Subscribe to our YouTube Channel HERE to watch Explainer Videos, Strategy Sessions, Toppers Talks & many more…