Hey guys,
This is Tushar Gupta . I got AIR-113 in my first attempt at the age of 22 years in UPSC examination. I had graduated from IIT Hyderabad in 2016. Having started my preparation in Oct 2016, I gave Prelims the very next year, gradually making through mains and interview to be in the final coveted list. To all the aspirants preparing for this examination, IT IS POSSIBLE to clear it in the very first attempt when you actually start afresh few months before.
I had never read newspapers in my life nor prepared extensively during my last semesters in college. But a systematic approach to the exam will sail you through. Now what I followed may not necessarily work for everyone a 100%. Every person has their own unique strategy. So don't blindly copy any one person's strategy. Read multiple strategies and make for yourself a "Common Minimum Program (CMP)" which will suit your study style.
My PRELIMS Marks: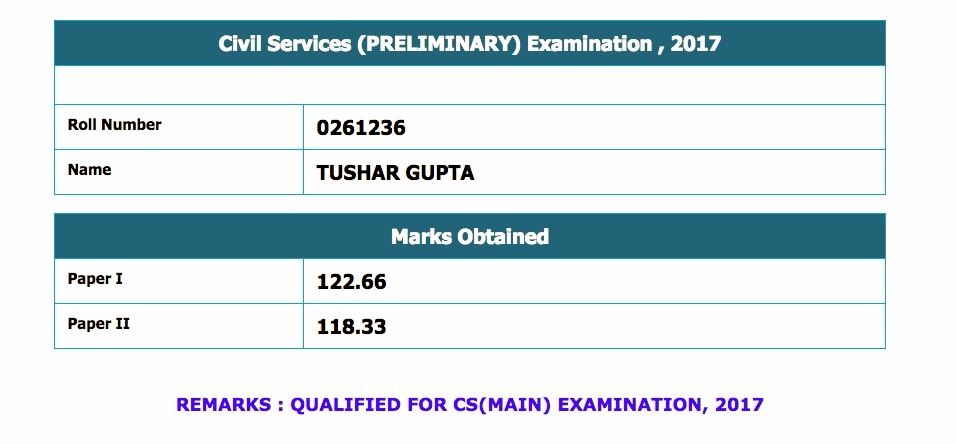 My MAINS Marks: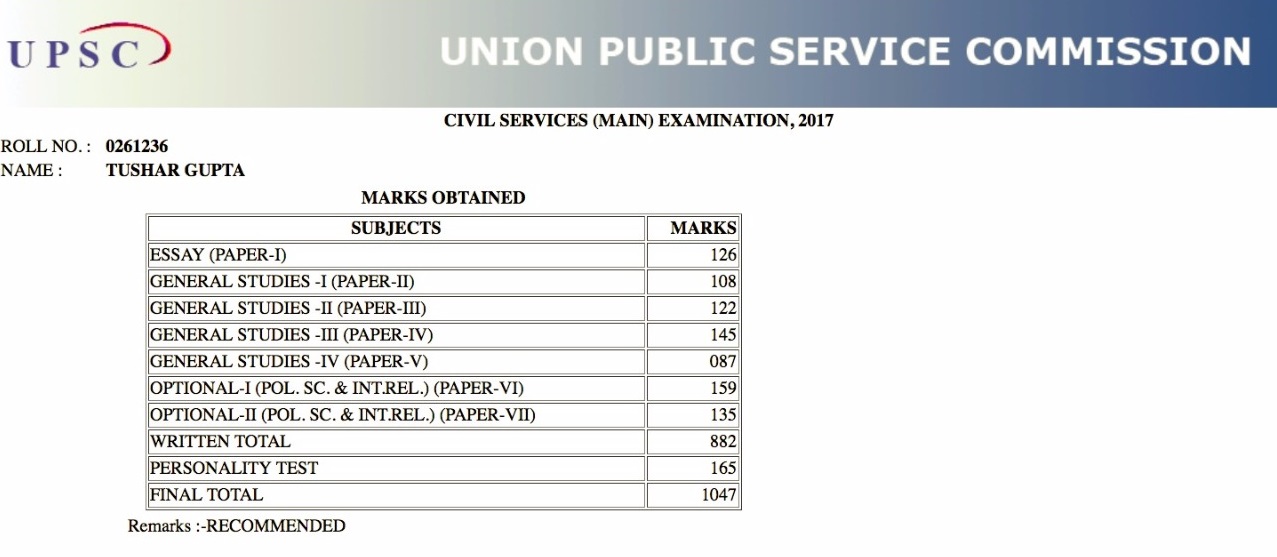 Why do you want to do UPSC?
Make a clear objective for yourself. You are going to face tough times, but if u are clear in your mind as to why u are preparing, it will become much easier for you to carry on.
Personally speaking, initially it was the fame and glory for which I was preparing, but gradually as I read more and more, i realized that one can actually make a real change in the lives of the most marginalised people in the society who are not even able to have 2 square meals a day.
One achieves greatness when one thinks beyond his own self.
Whenever I felt demotivated, i used to go out for a stroll and see the abject poverty on the streets and feel that as an administrator there was a lot that i could do for them. That kept me motivated. Having a goal is very very important, and a point which cannot be stressed enough.
Miscellaneous tips 
Download the syllabus and print it.
Spend 1-2 days understanding what the syllabus is. This is going to be ur "Holy Grail" throughout your preparation
The course has been designed very comprehensively and intelligently. Understand what UPSC wants from a civil servant.
Important Question – Is Coaching required?
Let me be very clear. There is no need to go to the coaching centers for GS which also happen to be exorbitantly expensive. Self-preparation is the key to this exam.
I would suggest putting the amount of time you would spend in coaching in self-study, as self-study is what will carry you to the end. At the end of your coaching period of 9 months for GS, all you will have are notes from the standard sources. Whereas, by self-study you could learn all of this and revise it many times in those 9 months.
Here I want to caution my engineer friends. Coaching in Kota is required to crack the JEE exam, but not in UPSC. Instead of acting as a facilitator it acts more as a hindrance. Of course many people might disagree with me, but I stand by what I say and would recommend aspirants to go for self-study unless you feel that you won't be able to cope and cover the course on your own.
Coaching for Optional can be done as that is where you require significant depth and analysis. Here the experience of the teachers should be imbibed to the fullest extent.
In case you decide not to take a coaching for GS then read a lot of strategies to make the CMP. IASbaba's Integrated Learning Programme (ILP) is also a good initiative which can be followed, though I personally had done Think Learn Perform (TLP) Mains Answer Writing Programme and Daily Current Affairs Quiz compilations. Home is the best place to prepare as the environment at home is the most positive with your parents always being there to support you.
Smart work 
One thing that needs to be understood with UPSC preparation is that you need to cover more Width and less depth.
Do not unnecessarily waste your time by going into too much details. The course is very vast, so you need a good command over various topics and not just depth in some topics.
And always understand that in UPSC – "Reading less is scoring more". It does not mean that you don't study, but that you study from limited sources and revise it again and again 
For example, for Modern History instead of reading NCERTs, Spectrum, Bipin Chandra and some other books, Just read Spectrum and revise it 10 times, instead of reading from 10 different sources.
PRELIMS
How to read the books – First just take a reading of the book
Then look at the last years papers- Understand what they are trying to ask you and why?
Then read the book again and this time make shorter notes on it – Eg: Polity – Emergency provisions – make a table of all 3 types so that you can revise it all quickly without having to go through the complete chapter again
Always read everything from the point of view of an IAS officer and how it could help u serve the nation better- Example: PDS system, don't just read it, try to understand the problems it is facing on the ground. Try to relate it practically.
I used to be very anxious that I won't be able to remember anything – how does one by heart such large books. It used to seem impossible. The answer is Smart Notes and Extensive revisions. You revise it so many times that it starts to stick in your memory.
How many questions to be attempted in the Prelims paper?
Irrespective of however much you may have studied, you will know around 20-25 questions with certainty of all options. In rest of the questions, intelligent elimination is required.
It is very important to know your optimum in the number of questions attempted. The best way to approach the paper is to attempt as many questions as possible.
If you know only around 20 questions with certainty, then in the rest of the questions you are taking a chance. In that case the more you attempt, more are the chances that you will score higher.  Start with 80 questions, see your score. Try 5 more and calculate your score. Follow this till you reach your optimum. My optimum was between 95-100. If i was able to eliminate even one option, i used to attempt that question.
Do not go with the "I will attempt 60 questions and focus on accuracy." More often than not, it doesn't work. Of course you could follow the 60 questions technique if you feel it is better.
Stick to at least 1 test series completely and you could also do another one (especially the full tests if time is less)
In tests, 100 marks is the benchmark for a good score. Higher the better.
To be noted
IASbaba's Daily Quiz and 60 Days Plan, Compilation of 5 daily TLP Questions can be done. It is one of the best sources to complete current affairs which I followed pretty extensively!
How to make notes ?
Always follow the rule of 1/10th. If the subject matter is 1000 words, the notes should be less than 100 words period.
You can use handwritten notes or Online Note making platform like Evernote or Onenote to create your notes.
I would suggest that you use Evernote to make notes. It has many advantages
You would be able to organize your notes much better.
You can add any new updates into the well organised notes and highlight it for later reference and revision
You can have pics also added to your notes which help you remember better
Color coding of notes would also allow much quicker revisions especially near the exam when time is all the more essential.
What to WATCH ?
RSTV
Go to IASbaba website and they have given the links to UPSC relevant RSTV debates and its summaries.
You don't necessarily need to make notes on anything. Just try to understand what they are talking about.
If there are some very good points, you could do.
AIR Online broadcasts 
Again no need to make notes unless there is something very important as the objective here is not to get more notes but to understand about issues by listening to the experts on that topic.
Any form of Audio Visual learning sticks in your head much longer. You can refer IASbaba's AIR Discussions
PRELIMS PREPARATION: 
Polity
Economy 
Mrunal Economy Lectures – 2015 series
In the later ones Mrunal sir is teaching with a significant focus on banking exams as well. So they tend to go too much into details when it's not required for a UPSC aspirant.
SriRam IAS economy notes – can be referred to selectively
Sanjiv verma – not that useful
NCERTs – 11th and 12th
Micro-Economics not necessarily that important
Economic Survey and Budget are very very important whose importance just cannot be overstated. Read the original documents and not a summary by any coaching as you will be able to understand the kind of language a civil servant is expected to use.
Make a note of various terms which can be used in the answers
Focus on all the boxes as well because they are a favourite place for UPSC to ask questions from
Budget 
Listen to the Budget speech
There is no need to go too much into the numbers.
Read the summary which the Ministry of Finance makes and puts on the official website.
Also Yojna comes on Budget. Do give that a thorough read.
Geography 
Ratanjil Mam Geography lessons
World history ones should be focused on too much as they have a level which i feel is much above UPSC GS papers. Just go through them without putting in an effort to actually mug them up
NCERTs – 11th and 12th class
Try to make shortcuts wherever possible
Maps are very important. Open last year papers and you will see that every year questions based on maps are asked.
World Maps
Learning all the countries, major straits, Mountain ranges, Rivers, Deserts, Highlands is important as they create a much larger peripheral knowledge which will help you understand a lot of other things as well especially while reading the newspapers.
The best way to learn countries is, divide the world down into Continents and learn 2-4 countries every day by making them on a political map of that continent. Write the ones you had learnt the previous day and add 2-4 more that day. In a month's time you would have a command over all the countries in the world.
Watch Roman Saini videos on Maps. They are very helpful as well.
India Maps – Rivers, Ports, Lakes, Natural Parks, Biosphere reserves, Rainfall patterns etc.
Modern History 
Spectrum – more than sufficient
Make notes based on the areas from which questions came last year as well
Example – Events leading upto independence
Example – 1 page notes for all the acts and major things in them
Ancient and Medieval 
TN board books are very good as all the major points are given in it in a short precise and a crisp manner. You can make shorter notes for quicker revision. This will also help you understand Art and Culture much better.
But if u have time – do go through the Old NCERTs – but I wouldn't recommend making notes out of it as it has just too much information which is not being asked by UPSC in the GS papers
Art and Culture 
First look at the 10 videos put up by Mrunal (Mam teaches these videos) – helps with understanding terminology which is used in Indian Art and Culture.
Her videos are closely associated to Nitin Singhania's Book on A&C, so you should read it in parallel with the video lectures.
Then focus on Nitin Singhania completely and finish it. You can leave some unimportant chapters like the one on festivals and others.
11th Class Fine arts NCERT should also be read as in my year Prelims many questions were directly from this book.
Environment 
Shankar IAS
Extra focus on the International conventions and Climate Change organisations as pretty detailed questions can be expected from this section.
Various Schedules of IUCN Red Book – color coding can be done in Evernote for better remembrance. I am going to share my notes on this so you can go through them and see if it works for you.
Science and Technology 
My way is mainly for Engineering students or those with a science background
NCERTs are not required
Rather following Vision IAS Current affairs is more than enough
Going by the past few year trends, Space is becoming increasingly important section where UPSC loves to ask questions from. Go to the ISRO website and make notes on everything – Launchers, Types of satellites, Types of orbits into which the satellites go into, Satellites in news, Re-usable launch vehicle, Sounding rockets among others.
Also make compiled notes on the submarines, types of aircrafts, IGMDP, UAVs etc. which will help you answer question on these more easily in case questions come. You will also understand news much better as you will have an idea of what is actually being talked about.
Current Affairs 
There are various sources to read current affairs from. The best one according to me was VisionIAS booklet. It used to the most exciting part of my month. The amount of information presented in such a beautiful form was just a delight to read and in the process the CA also got covered. I also referred to IASbaba's Daily News Analysis from Mains point of view.
You should read books for 12 months from the date of the exam – be it prelims or mains
It has a lot of information which you will tend to forget pretty often. Revise it again and again and you will see that after a few revisions you will be able to cover the booklet very easily.
I would also recommend that finish the booklet in 1 or max 2 days. Don't plan to study 2-3 pages daily. It will simply waste your time and you won't be able to assimilate the knowledge
It used to take me 1 hour to cover 10 pages the first time. So around 8-10 hours to complete the whole booklet.
Miscellaneous 
You will need to know information about various Acts being passed in the parliament. VisionIAS does a very good job of covering them but you can also read "PRS Legislative research" to get an even more detailed view.
Make a list of Committee reports in one place so that you can answer prelims questions and also put them in your Mains answers,
Magazines
Yojana – It is advisable that Yojana is read in one sitting as all the articles are not equally important. If you feel that the particular article may not be that useful, just skim through it.
Kurukshetra – It can also be referred to selectively. You can refer to IASbaba's Yojana/Kurukshetra Gist.
There is no need to go after CSR or EPW as they are given in too much detail and the Return on investment in their case becomes low. Moreover there is limited time to clear the examination, so you can't be reading everything.
India Yearbook can also be referred to selectively.
Many questions on various Govt schemes are also an important portion for prelims and mains questions. Detailed preparation also informs you of all the areas where the govt is focusing and thus important ones. You can refer to "IAS Parliament book on Schemes"
Make a compilation of Military exercises with various countries and other misc things you might find important.
Final Tips 
Don't put more than 2 months exclusively in Pre preparation
Revise 8-9 times at least
If possible make notes of the mistakes you committed in the test papers and keep revising them
You can stop reading the newspaper around 15 days before the final exam
100 marks in tests are good, the more you get the better (except of course Art and Culture )
NOTE: Will be coming out with a strategy regarding how to deal with Mains and Optional also.
Thank You
Tushar Gupta
For a dedicated peer group, Motivation & Quick updates, Join our official telegram channel – https://t.me/IASbabaOfficialAccount
Subscribe to our YouTube Channel HERE to watch Explainer Videos, Strategy Sessions, Toppers Talks & many more…