Hello Friends,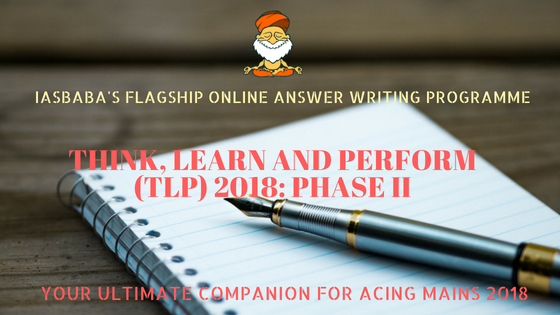 This page is dedicated to Answer Writing for Civil Services Examination, UPSC Mains. We post 5 GS questions based on static and contemporary issues and also review answers of regular participants. In the end of the day, the synopsis is also provided.
You can go through the OLD TLP segments and assess the significance and importance of this initiative and why it is so famous among successful aspirants.
---
---
---
---
---
---
---
---
1. How IASbaba was helpful in Answering 85% of GS Mains Papers 2017
2. For 2016 Mains Hit Ratio and Analysis
3. Relevance of our HOT questions have been shown in Mains 2015- Around 80% Hit ratio– Click Here
---
2017 ARCHIVES
2016 ARCHIVES
2015 ARCHIVES
---
Continuing the legacy of an initiative that has become synonymous with terms like accurate, relevant and effective, IASbaba is pleased the announce the launch of its flagship online initiative of Think, Learn and Perform (TLP) for Mains 2018.
Read the complete details here
---
---
---
---
---
---
---
---
---
---
---
---
---
---
---
---
---
---
---
---
---
---
---
---
---
---
---
---
---
---
---
---
---
---
---
---
---
---
---
---
---
---
---
---
---
---
---
---
---
---
---
---
---
---
---
---
---
---
---
---
---
---
---
---
---
---
---
---
---
---
---
---