Dear Friends,
In the Annals of UPSC history, June 3 , 2018, would go down as one of the weirdest days.
For one, most of you were left at the mercy of dice for more than 20 questions.
These are tough days for UPSC aspirants. It is understandable but at the same time, we don't completely buy the arguments that UPSC has been erratic or unreasonable in its approach. After all, it is an independent Constitutional body and is free to use any means to eliminate maximum aspirants in the very first stage of CSE. We can have passionate discussions about it and even cry for that matter but that won't help!
But then we at IASBaba are upbeat that YES in spite of being the toughest paper in UPSC history, the year in which who's who of coaching were targeted we were still able to make a tangible and substantial difference in your preparation!
We are only happy that we helped students prepare better. And this for the fourth successful year, We have done it!!
Some of the examples
Q) Which one of the following links all the ATMs in India?
Indian Banks' Association
National Securities Depository Limited
National Payments Corporation of India
Reserve Bank of India
Solution (c)
National Financial Switch (NFS) is the largest network of shared automated teller machines (ATMs) in India.
It was designed, developed and deployed by the Institute for Development and Research in Banking Technology (IDRBT) in 2004, with the goal of inter-connecting the ATMs in the country and facilitating convenience banking. It is run by the National Payments Corporation of India (NPCI).
IASbaba Reference:
ILP 2018 (Set 3 Block 2) Q.33) Solution
AIPTS 2018 (Test 29 – Q.82)
Q.) In the Indian context, what is the implication of ratifying the 'Additional Protocol' with the 'International Atomic Energy Agency (IAEA)'
The civilian nuclear reactors come under IAEA safeguards.
The military nuclear installations come under the inspection of IAEA.
The country will have the privilege to buy uranium from the Nuclear Suppliers Group (NSG)
The country automatically becomes a member of the NSG.
Solution (a)
Reference: IASbaba Value Add Notes- ILP 2018: Science Series – Energy and Defence Series and Set 2 Block 3-Solution Q.74
Q.) Consider the following pairs:
Towns sometimes mentioned in news       Country
Aleppo – Syria
Kirkuk –     Yemen
Mosul –     Palestine
Mazar-i-sharif –     Afghanistan
Which of the pairs given above are correctly matched?
1 and 2
1 and 4
2 and 3
3 and 4
Solution (b)
Reference: IASbaba 60 Days Full Mock 1- You could have easily eliminated if solved Q.69 sincerely knowing Kirkuk's and Mosul's location.
https://iasbaba.com/wp-content/uploads/2018/05/IASbaba-Prelims-2018-Open-MOCK-1-60-Day-Plan.pdf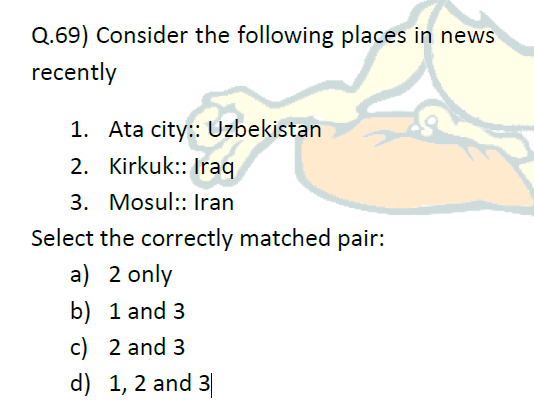 UPSC has its own way of asking questions. A sincere aspirant consistent with all the initiative must have got through many of the questions with ease. Many direct references are there and our followers will easily relate with them
In the PDF, we have tried to give detailed explanation and IASbaba's references. UPSC is still manageable if you give your 100% while preparing and while attempting the paper.
Download this for Detailed ANSWER KEY WITH EXPLANATION –

DOWNLOAD HERE
---
For the first time, UPSC has allowed the candidates to file grievances against the discrepancies/ ambiguities in the Prelims questions between 4th June to 10thJune 2018. You can go through the detailed Key Explanation given by IASbaba and if you still feel there is any anomaly in the questions, you can register your grievance.

Online Question Paper Representation Portal (QPRep) – https://upsconline.nic.in/miscellaneous/QPRep/
Thank  You
IASbaba
For a dedicated peer group, Motivation & Quick updates, Join our official telegram channel – https://t.me/IASbabaOfficialAccount
Subscribe to our YouTube Channel HERE to watch Explainer Videos, Strategy Sessions, Toppers Talks & many more…