IASbaba's Daily Current Affairs (Prelims + Mains Focus)- 10th July 2018
---
(PRELIMS+MAINS FOCUS)
---
Bringing accessibility and transparency in the administration of justice
Part of: GS Mains II – Governance and Justice – transparency & accountability and institutional and other measures; Judiciary reforms
In news:
Supreme Court is ready to go live on camera while the government mooted a separate TV channel for live-streaming court proceedings.

Live-streaming of court proceedings is an extension of the 'open court' system.
Advantages of live-streaming:
Litigants, law students and the public can watch live proceedings as they happen.

Live stream would keep a check on lawyers' conduct inside the courtrooms. With the entire country watching them, there would be fewer interruptions, raised voices and adjournments from the lawyers.
Exceptions – No live-streaming of cases involving national security concerns, matrimonial disputes and rape cases, as it affect justice and amount to a violation of the fundamental right to privacy.
Article link: SC says it is ready to go live, Centre moots a TV channel
---
Institutions of Eminence
Part of: GS Prelims and Mains II – Development and management of social sector
In news:
Six higher education institutions have been named Institutions of Eminence (IoE) by the Centre.
Indian Institute of Science (IISc), Bengaluru

Indian Institutes of Technology, Mumbai

IIT, Delhi

Jio Institute of the Reliance Foundation

Manipal Academy of Higher Education

BITS, Pilani
(Last three are private institutions)
Do you know?
An empowered committee, under former Chief Election Commissioner

N. Gopalaswami

, recommended these institutions.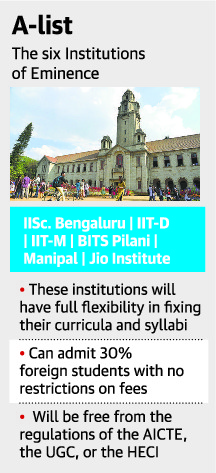 Pic: https://d39gegkjaqduz9.cloudfront.net/TH/2018/07/10/DEL/Delhi/TH/5_01/5b7ed624_2234494_101_mr.jpg
Important value additions:
The institutions of eminence will have greater autonomy compared to other higher education institutions. They can be free from the clutches of the overarching regulatory regime of bodies such as University Grants Commission (UGC), AICTE, and Medical Council Of India (MCI).

More autonomy in designing syllabi and deciding fee structure. Teachers would also be allowed to take up consultancy work among others.

Public institutions will get financial support from the human resource development ministry.

The private institutions under the project will enjoy two key freedoms: one, they can offer as much salary as they want to their teaching staff; and two, the course fee can be completely market linked. The government institutions, however, will have to follow the UGC scale of pay for permanent employees. For contractual staff including professors on contract, they too can pay as much as they wish.

If a new institutions fails to make enough progress in the first 18 to 20 months, then the government will cancel its candidature. And the disqualified institution will be replaced from a reserve list of institutions.
---
World's largest mobile factory' in Noida
Part of: GS Prelims
Key pointers:
Modi, Moon inaugurate world's largest mobile factory' in Noida

Samsung aims to double production, make India export hub

Samsung (South Korean electronics)

In line with 'Make in India' initiative
---
Person in news: percussion maestro Kuzhalmannam Ramakrishnan
Part of: GS Prelims – Art and culture
Key pointers:
Kuzhalmannam Ramakrishnan developed a lightweight version of South Indian percussion instrument mridangam.

The patent office of Union government awarded the patent for the design to the innovative product.

The Controller General of Patents, Designs and Trademarks has given the patent under 'drum' category.

Made of steel and fibre, Mr. Ramakrishnan has named the instrument as 'sadmridangam.'

According to him, the 'sadmridangam' weighs lesser than the traditional wooden mridangam but there will be no compromise on the output.

"Traditional mridangam is made out of the wood of jackfruit tree and the weight varies between 15 kg and 30 kg. But 'sadmridangam' hardly weighs 5 kg."
---
Tribe in news: Baiga tribe
Part of: GS prelims
Key points:
Baiga tribe : : Madhya Pradesh

Two tribal women from Baiga tribe were recently arrested for collecting edible mushrooms from

Sarai trees

inside

Madhya Pradesh's Kanha National Park

.

The two were found in prohibited area in the forest.
---
₹809 crore French loan for 15 Smart Cities projects
Part of: GS prelims and mains III – Infrastructure
Key points:
Agence française de développement (AFD), the French development bank, signed a €100 million loan agreement for Smart Cities Mission

The loan, which amounts to ₹809 crore, will be given for projects in one of the four sectors: sustainable mobility, public open spaces, urban governance and ICT and organisational innovation in low-income settlements.
---
(MAINS FOCUS)
---
AGRICULTURE/NATIONAL
TOPIC:
General Studies 2:
Government policies and interventions for development in various sectors and issues arising out of their design and implementation.
General Studies 3:
Issues related to direct and indirect farm subsidies and minimum support prices; Public Distribution System- objectives, functioning, limitations, revamping; issues of buffer stocks and food security
Agrarian/Rural distress and Rural Development.
OECD Assessment: Does India's Agriculture Policy need a Relook?
Introduction
Policymakers face twin challenges (with regard to addressing food security concerns) –
One, to incentivise farmers to produce more and raise their productivity in a sustainable manner;

Two, to ensure that consumers have access to food at affordable prices, especially those belong to the vulnerable sections
In order to find a fine balance between these twin objectives, India has followed myriad of policies that impact both producers and consumers. These include –
domestic marketing regulations (for example the APMC Act, Essential Commodities Act, ECA);

budgetary policies (such as input subsidies);

trade policies (such as Minimum Export Prices, MEP or outright export bans and tariff duties); and

food subsidies for consumers through the public distribution system
However, studies have shown that many of these policies work in complex ways and highly deviated to meet the primarily stated objectives.
Therefore, policy-making should be based on more informed and evidence-based research.
Highlights of joint study by OECD and ICRIER
OECD and ICRIER jointly undertook research over two years to assess the nature of agricultural policies and its impact on producers and consumers.
The report includes key policy indicators like – Producer Support Estimates (PSEs) and Consumer Support Estimates (CSEs).
The report by OECD and ICRIER estimated PSEs and CSEs over the 17 year period (2000-01 to 2016-17), highlight that –
India's PSE, on average, during 2014-15 to 2016-17 was minus 6 per cent of farm receipts. (India has Negative PSE)

India is very much in the minority in this respect as most of the other countries studied by the OECD have positive PSEs. (observe in figure below)
Do you know?
A positive PSE means that policies have helped producers receive higher revenues than would have been the case otherwise, and negative PSE implies lower revenues for farmers due to the set of policies adopted.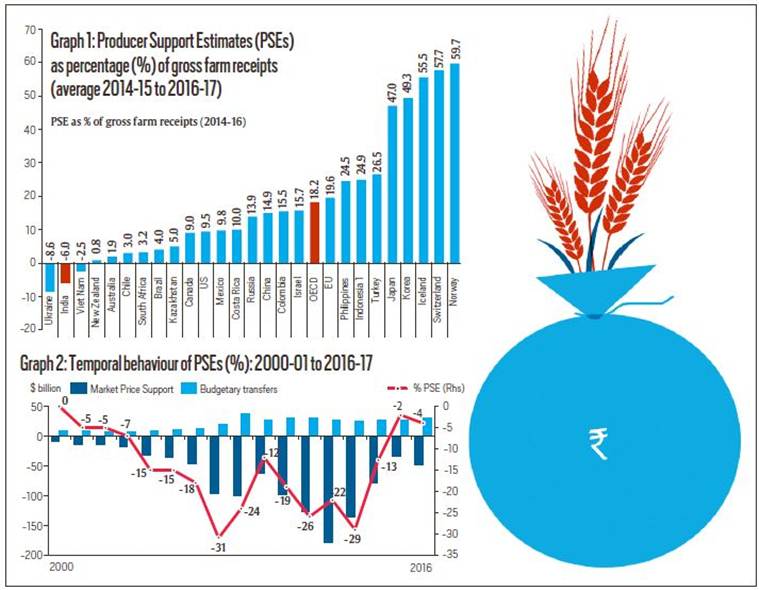 Pic: https://images.indianexpress.com/2018/07/opedw.jpg
Graph 2 which captures temporal movements of PSE (in percentage) for India also show that –
market price support (MPS) is negative

whereas, input subsidies are positive
Conclusion: (very important)
India's overall PSE (in percentage) is negative to the tune of 14 per cent on average over the entire period from 2000-01 to 2016-17.
This indicates that despite positive input subsidies, farmers in India received 14 per cent less revenue due to restrictive trade and marketing policies.
The negative PSEs were particularly large during 2007-08 to 2013-14 when benchmark global prices were high but Indian domestic prices were relatively suppressed due to restrictive trade and domestic marketing policies. (In other words, output prices that producers receive, benchmarked against global prices of comparable products was very low).
Therefore, we can deduce that there has been a pro-consumer bias in India's trade and marketing policies, which actually hurts the farmers and lowers their revenues compared to what they would have received otherwise.
Policies have failed to meet the objective of – incentivising farmers to raise productivity, building an efficient and sustainable agriculture that augments farmers' incomes and fostering rural growth and jobs all along the value chain.
The way ahead: (important)
Policy change is needed to "get the markets right" – by reforming its domestic marketing regulations (ECA and APMC), promoting a competitive national market and upgrading marketing infrastructure.

India also needs to review its restrictive export policies for agri-products which have inflicted large negative price support to farmers during the period studied.

In order to protect consumers from potential price hikes when global prices are on the rise, switching to an income policy approach through the Direct Benefit Transfer (DBT) targeted to the vulnerable sections of population would generate better outcomes all round, including for nutrition quality.

Indian agriculture and farmers would be much better-off if input subsidies are contained and gradually reduced, and the equivalent savings are channelled simultaneously towards higher investments in agri-R&D, extension, building rural infrastructure for better markets and agri-value chains, as also on better water management to deal with climate change.

Given that agriculture is a state subject, a greater degree of coordination is required between the Centre and states, and also across various ministries (for example, agriculture, food, water resources, fertilisers, rural development and food processing) for a more holistic approach towards reforming agriculture.
With these policy changes, many of which are already underway, will make Indian agriculture more competitive, more vibrant, sustainable and resilient, and will also augment farmers' incomes on a sustained basis.
Reforms to domestic market regulations and direct benefit transfers for vulnerable sections of the population could be the win-win solution.
Connecting the dots:
On one hand, Incentivising farmers to produce more and raising their productivity in a sustainable manner and on the other hand ensuring that consumers have access to food at affordable prices, especially those belong to the vulnerable sections – have been important challenges for Indian policymakers. Critically analyze how far India's agricultural policies have been able to meet above stated objectives.  Also provide suitable suggestions to meet those objectives.
---
INTERNATIONAL
TOPIC:General Studies 2:

India and its neighbourhood- relations.
Bilateral, regional and global groupings and agreements involving India and/or affecting India's interests
Topsy-turvy world: Living in uncertain times
Introduction:
We live in an uncertain time, an age of disruption and much of the world seems to be in a state of bewildering confusion.
The world has witnessed major political upheavals; escalating levels of violence; technology has become the biggest disruptor of all; many large firms are being challenged by start-ups; Artificial Intelligence is threatening everything that we are aware of. These breed uncertainty, apart from confusion.
Age of disruption
Till very recently, North Korea was seen by the U.S., and much of the West, as the principal part of the "axis of evil". But with recent (simple) meeting in Singapore, U.S. has announced that North Korea no longer poses a nuclear threat, nor is it the "biggest and the most dangerous problem" for the U.S.

Russia's Vladimir Putin is pitted against almost the entire Western world, and is being blamed for an array of human rights violations.

Afghanistan is rocked almost daily by terror attacks by the Taliban, the Tehreek-e-Taliban Pakistan, or the Islamic State.

West Asia is embroiled in several wars. Syria is the worst-affected and has almost ceased to be a state. Tensions between Iran and Saudi Arabia have intensified. Tensions between Israel and the Muslim world have peaked.

The war launched by the Saudi Arabia-led alliance of Arab States against Yemen is turning into a war without end.

In South Asia, even tiny countries like the Maldives are challenging bigger neighbours like India.

Political uncertainty in Europe. Germany, which appeared the most stable of European countries till recently, is in deep crisis politically.

France and much of southern Europe are experiencing fluid political situation.
Upside-Down World
In a world of utter confusion, autocracies or dictatorships have remained more stable, while democracies seem increasingly dysfunctional.
Under President Xi Jinping, China, for instance, is making steady progress, despite the occasional dip in economic forecasts.
Mr. Xi and the Chinese Communist Party are on achieving several milestones such as –
'wiping out poverty and becoming a moderately prosperous society by 2021' (100th anniversary of the founding of the party)

a 'Made in China target to be completed by 2025'

turning 'China into a fully developed nation by 2049' (100th anniversary of the founding of the People's Republic of China)
Russia is, again, not constrained by contrarian pulls and pressures.
It has entered into a strategic relationship with China

It is seeking to consolidate its influence in Eurasia

It has been able to stand up to the North Atlantic Treaty Organization and the West.

Its economy is also on the mend.
Other dictatorial regimes, such as Turkey, are proving more resilient than democratic regimes across the world, and better able to manage turmoil within and outside their borders.
Most democracies, on the other hand, reveal a far from homogeneous state of affairs, with ruling and opposition parties increasingly working at cross purposes.
For instance, in

Germany

's coalition government, different parties pulling in different directions.

In the

U.K

., for instance, the Conservative and Labour parties face serious internal divisions.

In the

U.S.,

both Republicans and Democrats appear in poor shape.
Indian democracy, unfortunately, is not an exception. The Bharatiya Janata Party (BJP) currently projects an image of a strong centralised party. Most other parties are split by internal dissensions. Yet, the BJP has been unable to ensure the smooth functioning of Parliament.
Concerns for India
India's position in its region is reducing; neighbourhood is bending towards China, with India looking on like a hapless bystander.

Neither during the Obama years nor during the current term of Trump administration has a single "big" idea emerged that could take the India-U.S. relationship forward.

India has failed to clearly understand the Donald Trump phenomenon and India does not fit into the calculus of Trump's new paradigm.
US insisting India to abide by U.S. sanctions on Iran; postponed the 2+2 dialogue.

There are signs of renewed engagement between Pakistan and the U.S.

India's relations with China: Despite the Wuhan summit, our relations with China remain equivocal. The Doklam stand-off has yet to be resolved.

U.S. continues to insist that India resile from its commitment to buy the Triumf missile defence systems from Russia.
Conclusion:
Without a serious debate in Parliament, it would be difficult for the government to reach a consensus on how to deal with this kind of situations.
India needs a national consensus to tide over the crisis and withstand U.S. pressure, since succumbing to it would be detrimental to our claims to 'strategic autonomy'.
The time has, hence, come for the government to seek out the Opposition to debate some of these issues inside Parliament, so that foreign policy, at least, remains on an even keel and is not buffeted by the cross-winds of adversarial party politics in the country.
In other words, India needs strategic cohesion, and Government-Opposition dialogue is vital for this.
Connecting the dots:
India needs strategic cohesion, and Government-Opposition dialogue to tackle the growing uncertainity of its foreign policy. Do you agree? Elucidate.

What is your assessment of the foreign policy being pursued by the Indian government? Do you perceive any ideological shift? Examine.
---
(TEST YOUR KNOWLEDGE)
Model questions: (You can now post your answers in comment section)
Q.1) Identify the person associated with the following achievements:
Leading artist in percussion -South Indian Instruments (Mridangam & Mridu).

Introduced 'Mridu', a unique percussion instrument in 2013.

Invented sadmridangam
Choose the correct answer
Vellore Ramabhadran

Tiruchi Sankaran

Kuzhalmannam Ramakrishnan

Bangalore Preetham
---
Q.2) Which of the following is/arepercussion musical instrument used inIndia?
Nagara

Dhol

Sarangi

Mridangam
Select the correct answer using the codes given below.
1, 2 and 3 only

3 and 4 only

1, 2 and 4 only

1, 2, 3 and 4
---
Q.3) Consider the following pairs (tribes and associated tiger reserves which they helped in increasing the tiger population)
Baiga tribe : : Kanha National Park in M.P.

Soligas : : BRT Tiger reserve in Karnataka
Choose the correct answer:
1 only

2 only

Both 1 and 2

Neither 1 nor 2
---
MUST READ
In need of a practical plan: on judicial appointments
Don't blame it on WhatsApp: on rumours and lynch mobs  
Divide and fool
Here's how the government plans to use DNA profiles, samples and records
King of the court
Raja Mandala: India and the Korean dream