IASbaba's Daily Current Affairs [Prelims + Mains Focus] – 12th July 2018

IASbaba's Daily Current Affairs (Prelims + Mains Focus)- 12th July 2018
---
(PRELIMS+MAINS FOCUS)
---
Section 377 of Indian Penal Code
Part of: GS Prelims and Mains II – Social issue; Indian Polity
In news:
In previous article we read that SC soon to decide constitutionality of Section 377.

Whether Section 377 stood in conformity with Articles 21 (right to life), 19 (right to liberty) and 14 (right to equality) of the Constitution or is it illegal.

Govt. leaves decision on Section 377 to the court

This time, the court was not confining its ambit merely to LGBTQ or sexual orientation. It is examining the aspect of two consenting adults who should not be liable for criminal action for their relationship.

In other words, whether the relationship between two consenting adults is itself a manifestation of Article 21?
---
Adultery must remain a punishable offence
Part of: GS Prelims and Mains II – Social issue; Governance
In news:
On question of whether Adultery should remain a punishable offence, the Centre said – 'Dropping it from IPC will

erode the sanctity of marriage

and can be

detrimental to the intrinsic Indian ethos

'.

Section 497 of IPC

deals with provision punishing adultery. It supports, safeguards and

protects the institution of marriage

" considering the "unique structure and culture of Indian society."

Centre has argued that striking down Section 497 would

destroy the fabric of society

itself.
---
Net Neutrality:
In news:
Government has approved the principle of net neutrality.

The move will ensure open and free Internet in India.

Telecom and Internet service providers must treat all data on the Internet equally, and not discriminate or charge differently by user, content, site, platform, or application.

They cannot engage in practices such as blocking, slowing down or granting preferential speeds to any content.
Do you know?
The Telecom Commission (TC) — which is the highest decision-making body in the Department of Telecom (DoT) — approved the recommendation made by the Telecom Regulatory Authority of India (TRAI) eight months ago.

TRAI, in November 2017, batted in favour of Net neutrality.
Important value additions:
The Telecom Commission is responsible for:
Formulating the policy of Department of Telecommunications for approval of the Government;

Preparing the budget for the Department of Telecommunications for each financial year and getting it approved by the Government;

Implementation of Government's policy in all matters concerning telecommunication.
---
Animal in news: Nilgiri tahr
Part of: Prelims – Environment and Biodiversity; Animal Conservation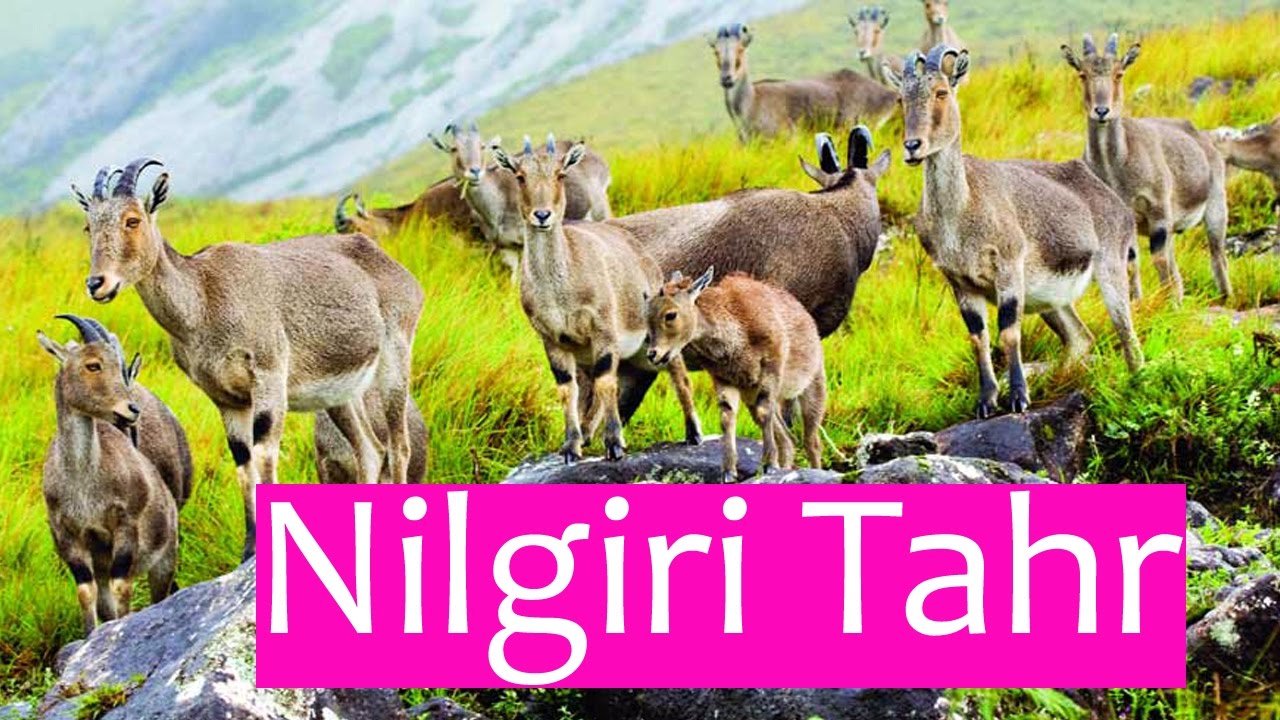 Pic: https://i.ytimg.com/vi/EQbG6_oZlRI/maxresdefault.jpg
Key pointers:
IUCN Status: Endangered

The present distribution of the Nilgiri tahr is limited to approximately 5% of the Western Ghats in southern India, in Kerala and Tamil Nadu in southern India.

It is found only in high altitudes in India's Western Ghats

The endangered wild goat could lose approximately 60% of its habitat, starting from the 2030s. (due to Climate change)

Largest of the 3 tahr species

State animal of Tamil nadu.

Threats – habitat loss, overgrazing, illegal hunting
---
(MAINS FOCUS)
---
SOCIAL/ENVIRONMENT
TOPIC:
General Studies 2
Government policies and interventions for development in various sectors and issues arising out of their design and implementation.
Welfare schemes for vulnerable sections of the population by the Centre and States and the performance of these schemes; mechanisms, laws, institutions and bodies constituted for the protection and betterment of these vulnerable sections
Issues relating to development and management of Social Sector/Services relating to Health, Education, Human Resources.
General Studies 3
Government Budgeting
Indian Economy and issues relating to planning, mobilization of resources, growth, development and employment.
Environment and Pollution
In-house air pollution
Introduction:
For many decades, it was one of the globe's most underappreciated health menaces:  household pollution in developing countries, much of it smoke from cooking fires.
The dangerous smoke — from wood, dung, kerosene or charcoal fires used by 3 billion people in villages and slums across Africa, Central America and Asia — was estimated by health officials to shorten millions of lives every year.
Choice of cooking fuel
The choice of cooking fuel in households (especially rural) has a

huge impact on living conditions

especially for women and children.

Factors such as socio-economic (availability and easy access, also determined by household income and price of fuel, education and awareness), culture or lifestyle, and, to a large extent, government policies also influence cooking fuel choice.
Affordable, reliable and clean energy for cooking is essential not only for reducing health and environmental impacts but also helping women to do more productive work and developing the rural economy.
Comparing the options
Among the various fuel options available (firewood, pellet, biogas, kerosene, liquefied petroleum gas or LPG, piped natural gas or PNG)

biogas accounts for the lowest effective greenhouse gas emission

; PNG and then LPG are next.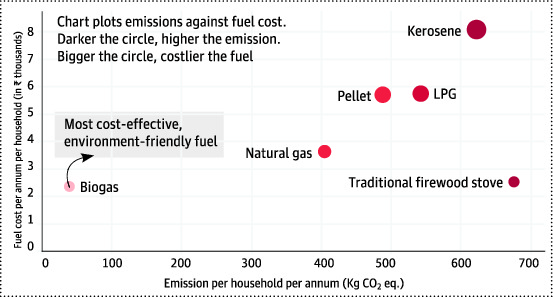 Pic: https://d39gegkjaqduz9.cloudfront.net/TH/2018/07/12/DEL/Delhi/TH/5_08/78c0aeeb_2238817_101_mr.jpg
Biogas and PNG are the best cooking energy options. LPG and kerosene are moderately cleaner.

Firewood and pellet are the most polluting.
Key facts:
Cooking fuels emit substantial amounts of toxic pollutants (respirable particles, carbon monoxide, oxides of nitrogen and sulphur, benzene, formaldehyde and polyaromatic compounds) which contribute to indoor air pollution.

Household air pollution causes non-communicable diseases including stroke, ischaemic heart disease, chronic obstructive pulmonary disease (COPD) and lung cancer.

Close to half of deaths due to pneumonia among children under 5 years of age are caused by particulate matter (soot) inhaled from household air pollution.

In households with limited ventilation — common in rural household and semi-urban areas — these pollutants could lead to severe health problems.
Initiatives taken to address in-house pollution
National level programmes to ensure that most switch to clean cooking fuels have been initiated since the 1980s.
National Project on Biogas Development (NPBD)
It was launched in 1981-82 by the Ministry of Non-Conventional Energy Sources.

Though the socio-economic and environmental impact of biogas is well recognized, NPBD has been receiving public attention and scrutiny in India because of its vast potential on the one hand and its poor performance, high mortality and non-functionality rates on the other.

The programme has been hampered by mala fide practices, poor construction material, a lack of maintenance, misrepresentation of achievements and a lack of accountability and follow-up services.
Once again, in order to ensure access to clean energy —a key focus area for poverty alleviation —the government launched a flagship programme, Pradhan Mantri Ujjwala Yojana in May 2016.
Pradhan Mantri Ujjwala Yojana
It is a scheme of the Ministry of Petroleum & Natural Gas for providing LPG connections to women from Below Poverty Line (BPL) households (with a cumulative target of providing LPG connections to more than eight crore families).

Further, the Petroleum and Natural Gas Regulatory Board (PNGRB) has been holding auctions across cities for distribution of gas for cooking through PNG.
However, since conventionally, governments have been subsidising LPG and as such a consumption-based subsidy is not available for biogas and PNG, it has led to a preference for LPG over other cleaner, safer, more cost effective and locally available options (biogas in rural areas).
Further, LPG import along with large subsidies are a drain on government resources which hamper the focus on other social development programmes.
What can work?
To promote biogas in rural and semi-urban areas,

adopting the service-based enterprise model

with suitable resource availability offers a sustainable approach. It will also help self-drive the programme.

The model is being successfully implemented in Hoshiarpur, Punjab using a 100 cubic meter biogas plant. The plant supplies clean and piped cooking biogas to 44 households and a school every day.
Such models can also generate employment significantly at the grass-root level an important additional benefit of running a biogas programme.
Promoting and scaling up PNG in urban areas and making LPG just one of the options to choose from rather than it having an edge over others.

To further enable a consumer to freely make cooking fuel choices, consumption-based subsidies need to be replaced with a functional subsidy that is provided on the basis of household income levels and local variables.
Possibility of leakages must also be eliminated by ensuring that subsidies of any kind are provided only through direct benefit transfer. Such an approach will provide a neutral thrust and promotion to different types of cooking fuels on the basis of their original virtues.
As India takes a long-term view on sustainability and energy security, it is important to create an environment where its citizens are aware of the options and make their energy choices based on the nature of the fuel and not because of socio-economic constraints.
Connecting the dots:
Why having an LPG or PNG connection important for woman empowerment? In this regard, do you think Pradhan Mantri Ujjwala Yojana can make a difference? Examine. Also discuss its other advantages.
---
SOCIAL/NATIONAL
TOPIC: General Studies 2

Government policies and interventions for development in various sectors and issues arising out of their design and implementation.
Welfare schemes for vulnerable sections of the population by the Centre and States and the performance of these schemes; mechanisms, laws, institutions and bodies constituted for the protection and betterment of these vulnerable sections
Issues relating to development and management of Social Sector/Services relating to Health, Education, Human Resources.
Can death penalty alone deter drug trafficking and smuggling?
Introduction:
Punjab government recently recommended to the Union government the

death penalty for first time offenders

convicted for drug trafficking and smuggling.

The below article tries to assess –

whether such harsher punishments can help States to deal with drug problem?

Currently, the law on drugs is covered by the

Narcotic Drugs and Psychotropic Substances Act, 1985 (NDPS Act)

.

Deterrence by harsh punishments has consistently failed, especially in the context of the NDPS Act.
About Narcotic Drugs and Psychotropic Substances Act, 1985 (NDPS Act)
The Act's primary objective is

to deter drug trafficking

.

The law contains every trick in the book to meet the above objective – strict liability offences, mandatory minimum sentences, even the death penalty for certain repeat offences, to name a few.

The system has responded to the law by maintaining a

high rate of conviction and imprisonment

.

In 2015, 41.7% of all prisoners in Punjab were in jail for various offences related to this law.

The conviction rate recorded for NDPS cases in Patiala for the same year was 90.7%. Punjab continues to be plagued by drug-related deaths, as recently as June when 23 persons died of drug-related causes.
Do you know?
The death penalty was introduced in the NDPS Act in 1989, to

deter narco-terrorism

.

The legislators even at that time believed that the only way to tackle the growing drug menace was to incorporate the harshest possible punishments in the law.
Flaws in the NDPS Act?
Offences involving commercial quantities of drugs
The law provides a mandatory minimum sentence of 10 years for offences involving commercial quantities of drugs.

In other words, people found with commercial quantities of drugs were assumed as drug traffickers.

It created a situation where many offences involving commercial quantity were, in fact, not trafficking offences at all. As a result, sentencing in pharmaceutical drug cases changed drastically across Punjab. (Unauthorised possession of 20 bottles of cough syrup led to a 10-year prison sentence)

Flaw – Given how the law interprets, it is hard to say whether the people imprisoned are traffickers, peddlers, mules or users.
Possession alone can lead to conviction
Under the law, proving possession alone is sufficient, the prosecution does not have to prove intent to lead to conviction.

Since intent is harder to prove than a criminal act alone, strict liability ensures higher convictions. There have been misuse by Punjab police as they rarely examine the intent of the criminal act.
Conclusion:
The way investigation is conducted right now, it is impossible to tell whether the person is a peddler or smuggler, or an addict feeding his habit.
Therefore, Cabinet's proposal or Punjab government's recommendation to make the law even harsher is one more attempt to play to the gallery. It may alleviate people's concerns for the time being, but it will not yield the results.
To ensure that traffickers are caught instead of users, the law must make intent an ingredient of offences under the NDPS Act. The burden of proof should be on the prosecution to prove that the accused possessed the drug for a particular purpose. Possession alone should not be sufficient to constitute an offence under the Act.
The Act is also blatantly unforgiving of anyone found in possession of any drug. Section 27 of the Act makes consuming any narcotic drug or psychotropic substance a criminal offence.
The state should consider decriminalising addiction and developing an effective treatment strategy by consulting experts, partner agencies and users, and allocating adequate resources.
Connecting the dots:
The problem of drug addiction has become a serious threat in many states of India. What in your opinion are the factors responsible for this menace? Does it portray a worrying picture of India's internal security preparedness? Critically examine.

Drug menace has the capacity to ruin India's demographic dividend. Can harsher punishments like mandatory imprisonment and death penalty help States to deal with drug problem? Examine.
---
(TEST YOUR KNOWLEDGE)
Model questions: (You can now post your answers in comment section)
Q.1) Which among the following are species endemic to the Western Ghats?
Malabar large-spotted civet

Lion-tailed macaque

Brown palm civet

Nilgiri tahr
Choose the correct answer using the codes below:
2 and 4 only

1, 2 and 4

2, 3 and 4

1, 2, 3 and 4
---
Q.2) Consider the following fauna of India:
Swamp deer

Nilgiri tahr

Blackbuck
Which of the following groups of animals belongs to the category of endangered species?
1 and 2 only

1 only

2 only

3 only
---
Q.3) Section 497 of the Indian Penal Code is concerned with
Offences Relating to Marriage

Criminal Breach of Contracts of Service

Defamation

Offences affecting the Human Body
---
MUST READ
The problems with the HECI draft Bill
Mercenary conservation: on private forests
Maternity benefits or jobs
A Needless Controversy
Who's watching the regulator?
Improving city finances is a must for India's future
Elite education doesn't guarantee good values
Plugging Asia's yawning infrastructure gap