IASbaba's Daily Current Affairs (Prelims + Mains
Focus)- 17th July 2018
---
(PRELIMS+MAINS FOCUS)
---
WPI and CPI based inflation
Part of: GS Prelims and Mains III – Indian Economy and related issues; Inflation
Key pointers:
Wholesale price inflation touches a four-year high (highest since December 2013)

Main reason for high inflation – rising fuel prices (especially crude petroleum and natural gas segment)
Important Value Addition:
We keep coming across these two terms – Wholesale Price Index (WPI) based inflation and Consumer Price Index (CPI) based inflation – in news often. Let us know what these are.

Know the basics:
What is a price index?

What is the purpose of a price index?
What is 'Wholesale Price Index'?

What is Consumer Price Index (CPI)?

Difference between WPI and CPI inflation

Does RBI use WPI or CPI Inflation to manage monetary policy?

WPI Inflation Vs CPI Inflation: Which should you keep in mind?
Visit: https://iasbaba.com/2016/09/iasbabas-daily-current-affairs-20th-september-2016/
---
ISRO's upgraded Vikas engine
Part of: GS Prelims Science and Tech; space; achievements by ISRO
In news:
All the three satellite launch vehicles of the Indian Space Research Organisation (ISRO) to be upgraded with high-thrust Vikas engine.

The main beneficiary of the high-thrust Vikas engine is said to be the heavy-lifting GSLV-Mark III launcher, which ISRO expects will put 4,000-kg satellites to space.
Key facts:
The semi-cryogenic Vikas engine will improve the payload capability.

The Vikas engine is used in the second stage of the light lifting PSLV; the second stage and the four add-on stages of the medium-lift GSLV; and the twin-engine core liquid stage of Mk-III.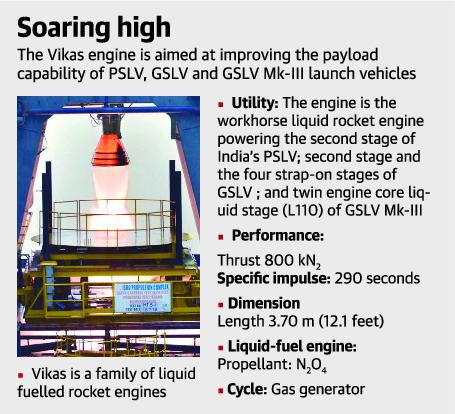 Pic: https://d39gegkjaqduz9.cloudfront.net/TH/2018/07/17/DEL/Delhi/TH/5_07/c12f1554_2251162_101_mr.jpg
---
BrahMos and US made M777 guns
Part of: GS Prelims – Missiles and Defence
Key pointers:
Short range ramjet

supersonic cruise missile

that can be launched from submarines, ships, aircraft or land

It is a joint venture between the Russian Federation's NPO Mashinostroeyenia and India's Defence Research and Development Organisation (DRDO) who have together formed BrahMos Aerospace Private Limited.

Brahmos is the world class weapon with multi-platform, multi-mission role.

It is a joint venture between India and Russia and named after the Brahmaputra and Moscow rivers.

It is now capable of being launched from land, sea and air, completing the tactical cruise missile triad for India.

The land and sea variants of Brahmos are already operational with the Army and the Navy.

It has a strike range of around 290 km and is described as the world's fastest supersonic cruise missile.
Do you know?
In November 2016, India signed a deal with

the U.S. government

under the Foreign Military Sales (FMS) programme for 145

M777 guns

at a cost of $737 million.
---
(MAINS FOCUS)
---
NATIONAL
TOPIC: General Studies 2

Government policies and interventions for development in various sectors and issues arising out of their design and implementation.
Important aspects of governance, transparency and accountability, e-governance- applications, models, successes, limitations, and potential; citizens charters, transparency & accountability and institutional and other measures.
Role of civil services in a democracy
Concerns over proposed amendments to Right To Information Act 2005
Introduction:
RTI Act provides for setting out the practical regime of right to information for citizens to secure access to information under the control of public authorities, in order to promote transparency and accountability in the working of every public authority.
Since 2005, the Act has helped to –
transform the relationship between the citizen and government,

dismantle illegitimate concentrations of power,

legitimise the demand for answers, and

assist people in changing centuries of feudal and colonial relationships.
But public servants, troubled by accountability, have seen this as interference. As a result, the RTI Act has been under constant threat of amendments.
One such proposal looks to amend RTI – for Introduction, Consideration, and Passing.
Concerns:
The proposed amendments have been kept secret; there has not even been a hint of public consultation. Any amendment to the law should have been discussed before it went to the cabinet, as in the "pre legislative consultation policy" of the government of India.

The word "Consideration" is a cleverly put indirect or coy term which can be misused.

Recently some legislative measures are pushed under the garb of money Bills that have destabilised access to information such as Aadhaar and electoral bonds.
The spirit of RTI is not just the filing of an RTI application and getting an answer. It actually mandates the replacement of a prevailing culture of secrecy with a culture of transparency.
Section 4(2) of the RTI Act is poorly implemented.
Section 4(2) says: "It shall be a constant endeavour of every public authority… to provide as much information suomotu to the public at regular intervals… so that the public have minimum resort to the use of this Act to obtain information."
However, there are attempts to undermine the RTI Act in letter and spirit.
Conclusion:
The use of the RTI has led to more than 70 citizens fighting corruption losing their lives, but the government remains unaffected. People have been demanding a strong whistle-blower protection law, but like the Lokpal, the Whistle Blowers Protection Act has been ignored, with attempts to amend the law that will completely negate its intent. People of India should not lose what has been gained through the RTI.
Connecting the dots:
Last year, the RTI law completed 12 years of its enactment. What is your assessment of the performance of the RTI law in these years? What are the concerns? Discuss.
---
Motor Vehicles (Amendment) Bill: Fixing pothole problem
Introduction:
Road safety is a very crucial issue in India.

An efficient transport system is a pre-requisite for sustained economic development. Government data shows that in 2017, approx 1.5 lakh people lost their lives in a year on India's road.

According to official statistics, potholes claimed 11,836 lives and left 36,421 persons injured in India from 2013 to 2016.
Hence the issue of road safety is a serious matter and there is an urgent need to pass the proposed Motor Vehicles (Amendment) Bill, which attempts to address the issue of liability for road defects.
Key facts:
A State-wise analysis of data pertaining to road crashes due to potholes reveals that Madhya Pradesh, Uttar Pradesh, Tamil Nadu and Maharashtra have maintained a fairly consistent record of being among the top four in road crashes, injuries and deaths due to faulty roads, particularly potholes.

Andhra Pradesh, Kerala, Odisha and West Bengal feature regularly among the top 10 States in the same category.

Pothole-related deaths increase especially during the monsoon season.

The government is committed to reduce the accidents and fatalities by 50% in five years.
The irony of the situation is that instead of booking cases against contractors or engineers for shoddy maintenance of roads, police reports often blame the victims or drivers for 'death due to negligence'. Negligence on the part of road owners or maintenance authorities is rarely brought to book.
Absence of effective law
The Indian Road Congress has prescribed over 100 sets of guidelines to ensure standardised road construction, maintenance and management, including guidelines for repairing potholes. The challenge lies in ensuring that these guidelines are implemented.

The absence of a unified statute or law on road construction, engineering and maintenance makes it nearly impossible to ensure that these guidelines are implemented.
The existing legislation for road safety, the Motor Vehicles Act, has no provisions to ensure accountability of road authorities for defects in the engineering, design and maintenance of roads.
Thankfully, the Motor Vehicles (Amendment) Bill, 2017, which seeks to strengthen the Act, has attempted to address the issue of liability for road defects.
The way ahead:
For any road crash injury or death caused by defective road design and engineering, the designated authority responsible to construct and maintain the road is to be penalised with a sum capped at ₹1 lakh.
The Bill directs that safety standards be prescribed by the Central government.
Unfortunately, road contractors and engineers will still not be held criminally liable for causing deaths and injuries, which organisations like the SaveLIFE Foundation have been demanding. But a fine, even if it is a small amount, is a step in the right direction.
The Motor Vehicles (Amendment) Bill, 2017 aims to rectify several systemic issues by providing a uniform driver licensing system, protecting children and vulnerable road users, rationalising penalties and creating a system of accountability in the construction of roads.
The Bill is not a panacea for all problems, but it is the first step towards ensuring that no deaths are caused by road crashes.
What can be done?
Potholes are usually caused by the presence of heavy traffic and water on roads.

Good drainage system, use of standardised methodology and good quality material when constructing roads.

Regular maintenance and an effective system to ensure accountability.

Incorporating the Safe System Approach in all aspects of road design, engineering and construction. This approach takes into account the possibility of human error and ensures that the surrounding environment and infrastructure are designed to save lives.
Connecting the dots:
The Motor Vehicles Act, 1988 needs overhauling. Discuss.

In absolute numbers, more people die in road accidents in India than in any other country. Discuss what measures can be taken to address these increasing fatalities and also critically comment on the steps taken by the government in this regard.
---
(TEST YOUR KNOWLEDGE)
Model questions: (You can now post your answers in comment section)
Q.1) Consider the following statements with respect to the Wholesale Price Index (WPI)
Price rise in both the Goods and Services are included in computing WPI

It is published by Office of the Economic Adviser, Ministry of Commerce and Industry

The current base year for WPI calculation is 2011-12
Which of the above statements is/are incorrect?
1 and 2 only

2 and 3 only

1 and 3 only

All of the above
---
Q.2) Consider the following statements with respect to Inflation measurement in India.
RBI has adopted Consumer Price Index (Combined) as the key measure of inflation

This was done based on the recommendation of Urjit Patel Committee
Which of the above statements is/are correct?
1 only

2 only

Both 1 and 2

Neither 1 nor 2
---
Q.3) Consider the following statements with reference to the Consumer Price Index.
It measures Inflation based on the final price paid by the consumer

Service tax and Value added Tax are not included in the computation of CPI
Which of the above statements is/are correct?
1 only

2 only

Both 1 and 2

Neither 1 nor 2
---
Q.4) Consider the following statements about the new series of Consumer Price Index
The new series is published by the RBI

It measures price rise against the base year prices of 2012
Which of the above statements is/are correct?
1 only

2 only

Both 1 and 2

Neither 1 nor 2
---
Q.5) With reference to inflation in India, which of the following statements is correct?
Controlling the inflation in India is the responsibility of the Government of India only

The Reserve Bank of India has no role in controlling the inflation

Decreased money circulation helps in controlling the inflation

Increased money circulation helps in controlling the inflation
---
Q.6) Consider the following statements about Brasilia Declaration
It is related to Road Safety

India is a signatory to the declaration
Select the correct statements
1 Only

2 Only

Both 1 and 2

Neither 1 nor 2
---
Q.7) BrahMos is the fastest supersonic cruise missile in the world. Consider the following statements regarding this:
The BrahMos is a medium-range scramjet supersonic cruise missile.

It can be launched from submarine, ships, aircraft, or land.

It is a joint venture between the DRDO of India and the Federal State Unitary Enterprise NPO Mashinostroyenia (NPOM) of Russia.
Choose the correct answer using the codes given below.
1 and 3 only

2 and 3 only

3 only

All the above
---
MUST READ
A redemptive moment
Overdue correction: on revisiting the Companies Act
Govt and the judiciary: what's the nature of the relationship, how it should evolve
A lynching in Digital South
House Under Siege
A silent emergency
Raja Mandala: India and Trump's world
For a dedicated peer group, Motivation & Quick updates, Join our official telegram channel – https://t.me/IASbabaOfficialAccount
Subscribe to our YouTube Channel HERE to watch Explainer Videos, Strategy Sessions, Toppers Talks & many more…