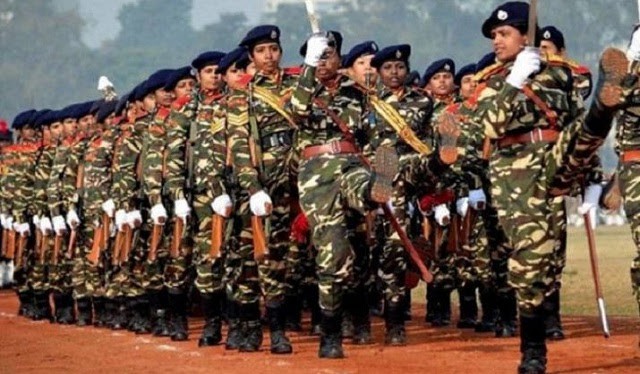 IAS UPSC Prelims and Mains Exam – 18th February 2020
---
(PRELIMS + MAINS FOCUS)
---
Women Army officers eligible for permanent commission
Part of: GS Prelims –Society and GS-II- Women Empowerment
In News:
Supreme Court:
Dismissed the Union government's submissions that women are physiologically weaker than men as a "sex stereotype" 
Declared that Short Service Commission (SSC) women officers are eligible for permanent commission and command posts in the Army irrespective of their years of service.
The court found the remarks in the note not only constitutionally invalid but also discriminatory, affecting the dignity of women officers.
More details – Refer the Mains Focus section
IASbaba's Value Addition:
Prejudice & Stereotype :
Prejudice refers to certain attitudes towards an individual or a group of individuals. 

Stereotype refers to allocation of particular roles to an individual or group of individuals.
For example, some have a prejudice towards women that they are weak. This leads to their role allocation in the society and certain jobs have been stereotyped for women-receptionists, teachers, nurse etc.
Prejudice and stereotypes lead to social inequality and exclusion. 
For example, if women are stereotyped as nurses, teachers and receptionists, they stand no chance of becoming an IAS, IPS, Astronaut, diplomat, scientist and soldier.
---
India's bird population suffers long-term decline
Part of: GS Prelims –Environment  and GS-III- Conservation
In news:
State of India's Birds 2020 (SoIB) assessment  states :
Over a fifth of India's bird diversity, ranging from the Short-toed Snake Eagle to the Sirkeer Malkoha, has suffered strong long-term declines
80% loss among several common birds 
every bird species that was found to be increasing in numbers over the long term, 11 have suffered losses
Rufous-fronted Prinia, Nilgiri Thrush, Nilgiri Pipit and Indian vulture

were confirmed as suffering current decline
The

common sparrow

have become rare in cities and urban areas. reasons for this is a decrease in insect populations as well as nesting places
Threat 
loss of habitat due to human activity,
 widespread presence of toxins, including pesticides;
 Hunting and trapping for the pet trade.. 
From Prelims Point of View:
Rufous-fronted Prinia : IUCN (least concern )
Nilgiri thrush: IUCN (Endangered )
Nilgiri pipit : IUCN (Vulnerable )
Indian vulture : IUCN (Critically Endangered )
---
Peninsular command
Part of: GS Prelims –Polity and GS-II- Defence
In news:
Chief of Defence Staff (CDS) talked about :
A road map for restructuring the Armed Forces that would holistically counter threats along the borders with China and Pakistan as well as in the Indian Ocean, backed by logistical agreements with other countries.

An

Indian Ocean-centered Peninsular Command,

possibly formed by merging the Eastern and Western Naval Commands
Chief of Defence Staff (CDS):
Cabinet Committee on Security approved the creation

Principal military adviser to the defence minister 

Appointed in a four-star rank at par with the three service chiefs 

Permanent chairman of the Chiefs of Staff Committee (CoSC) 

Function as the Military Adviser to the Nuclear Command Authority
---
Google to end 'Station' programme
Part of: GS Prelims –Sci & Tech and GS-III- IT
In news:
Google Started the 'Station' programme to bring free public Wi-Fi to 400 busiest railway stations in India.

Now decided to gradually wind down the service globally 
What ?
Google  believes that better data plans and improving mobile connectivity have made it "simpler and cheaper" for users to get online.

The programme was kick-started in India in 2015 as a partnership between

Google, Indian Railways

and

RailTel

to bring fast and free public WiFi.
---
Govt. plans research on 'indigenous' cows
Part of: GS Prelims –Polity and GS-II- Govt Policy
In news:
Government has unveiled a programme to research on 'indigenous' cows. (SUTRA PIC or Scientific Utilisation Through Research Augmentation-Prime Products from Indigenous Cows)
Funded by multiple scientific ministries, the initiative, SUTRA PIC, is led by the Department of Science and Technology 
Five themes: 
Uniqueness of Indigenous Cows, 
For Agricultural Applications, 
Cows-based utility items.
Aims 
To perform scientific research on complete characterisation of milk and milk products derived from Indian indigenous cows 
Scientific research on nutritional and therapeutic properties of curd and ghee prepared from indigenous breeds of cows by traditional methods; development of standards for traditionally processed dairy products of Indian-origin cow
---
No headway in India-U.S. trade talks
Part of: GS Prelims –Economy and GS-III- Trade
In news:
 Concerns : 
liberalising e-commerce, and investment norms for retail

Medical device price caps levied by India, 

a rationalisation of tariffs levied by both sides, 

Greater market access for U.S. agricultural and dairy products.

Full restoration of GSP (Generalised System of Preferences)
From Prelims Point of View
Generalized System of Preferences  (GSP)
Umbrella that comprises the bulk of preferential schemes granted by industrialized nations to developing countries.

Reduced Most Favored Nations (MFN) Tariffs or duty-free entry of eligible products exported by beneficiary countries to the markets of donor countries.

GSP was adopted at UNCTAD in New Delhi in 1968
UNCTAD
United Nation Conference on Trade and Development (UNCTAD) is a permanent intergovernmental body established by the United Nations General Assembly in 1964.
It supports developing countries to access the benefits of a globalized economy more fairly and effectively.
---
(MAINS FOCUS)
---
Topic: General Studies 2:

Separation of powers between various organs dispute redressal mechanisms and institutions (Judicial Overreach Vs Judicial activism)
Government policies and interventions for development in various sectors and issues arising out of their design and implementation
Women in Armed Forces
Context
The Supreme Court has asked government to adhere to its own stated policy on granting permanent commission to women in the Short Service Commission (SSC) 
At present, the women officers are allowed permanent commission (PC) only in two branches of the Indian Army, namely the Judge Advocate General and Army Education Corps.
The remaining eight branches that will open up for women SSC officers in the army are Corps of Signals, Engineers, Army Aviation, Army Air Defence, Electronics and Mechanical Engineers, Army Service Corps, Army Ordinance Corps and the Intelligence Corps
What is Short Service Commission?
It is an option of joining the Army and serving as a Commissioned Officer for 10 years

At the end of 10 years a person has two options – Either to get elected for a Permanent Commission or opt out.

Those not selected for Permanent Commission have the option of a 4 years extension. They can resign at any time during this period.

A Permanent Commission

means a career in the Army till you retire
Women in Army: Background of the case
1992: Induction of Women officers into Army started. Women were commissioned for a period of five years in certain chosen streams through Women Special Entry Scheme (WSES)
WSES had a shorter pre-commission training period than their male counterparts who were commissioned under the Short Service Commission (SSC) scheme.
2003: PIL was filed before the Delhi High Court for grant of permanent commission (PC) to women SSC officers in the Army
2006: WSES scheme was replaced with the SSC scheme, which was extended to women officers. 
Women were commissioned for a period of 10 years, extendable up to 14 years

Women were however, restricted to roles in streams specified earlier — which excluded combat arms such as infantry and armoured corps.

While male SSC officers could

opt for permanent commission at the end of 10 years

of service, this option was

not available to women officers
Impact of such a system: 
Women were kept out of any

command appointment

(they could only reach up to the level of Colonel)

Women could not qualify for

government pension

, which starts only after 20 years of service as an officer.
2008: Defence Ministry passed an order saying PC would be granted prospectively to SSC women officers in the Judge Advocate General (JAG) department and the Army Education Corps (AEC) (2 out of 10 streams in PC)
2010: Delhi High Court Order: Women officers of the Air Force and Army on SSC who had sought permanent commission but were not granted that status, would be entitled to PC at par with male SSC officers.
This order was subsequently challenged by government in the Supreme Court and also did not implement the High Court order even though it was not stayed by the apex court.
August 15, 2018: Prime Minister Modi announced that permanent commission would be granted to serving women officers of the armed forces. However, it was not implemented on the ground which led the SC to pass the present judgement
Basis of arguments put forth by the government in the Apex Court while arguing against Women's inclusion in Permanent Commission are:
Women were kept out of command posts on the reasoning that the largely rural rank and file will have problems with women as commanding officers. 

Limitations of judicial review on policy issues 

Occupational hazards

SSC is merely a support cadre

Biological arguments: Rationalization on physiological limitations for employment in staff appointments.

Deployment of women officers was not advisable in conflict zones where there was "minimal facility for habitat and hygiene. (Despite the fact that 30% of the total number of women officers are deputed to conflict areas)
Implications of Supreme Court ruling:
The court rejected all the above arguments of the government as discriminatory and against

Article 14

of the Constitution

Women on a par with male officers: SC

has done away with all discrimination for grant of PC in 10 non-combat wings in the army, bringing women on par with men.

Opening of command positions would necessarily kick-start a flurry on activities within the military. Military secretary's branch will have to begin with reorganising cadre management to accommodate women officers

It has also

removed the restriction of women officers only being allowed to serve in staff appointment

s, which is the most significant and far-reaching aspect of the judgment.
Conclusion
The bigger shift will have to take place in the culture, norms, and values of the rank and file of the Army, which will be the responsibility of the senior military and political leadership.
Connecting the dots!
Representation of Women in Parliament/Legislature – Should SC also pass an order mandating 33% of legislature seats to be reserved for Women.

Possible consequences of the ruling on Societal prejudices on women
---
Topic: General Studies 3:

Infrastructure: Energy, Ports, Roads, Airports, Railways etc. 

Government policies and interventions for development in various sectors and issues arising out of their design and implementation.
Indian Economy and issues relating to planning, mobilization, of resources, growth, development and employment.
Indian Railways' Corporate Train model
Context
Indian Railways plans to offer as many as 500 trains to private operators over the next five years.
The Kashi Mahakal Express is the country's third 'corporate' train after the two Tejas Express trains between Delhi-Lucknow and Mumbai-Ahmedabad. All these three trains are run by PSU IRCTC
How does the model work?
In this model, the corporation takes all the decisions of running the service — fare, food, onboard facilities, housekeeping, complaints etc. 

Indian Railways is free from these encumbrances and gets to earn from IRCTC a pre-decided amount, being the owner of the network. 

This amount has three components- haulage, lease and custody. 

In other words, IRCTC has to pay Indian Railways a sum total of these three charges, roughly Rs 14 lakh for the Lucknow Tejas runs in a day (up and down) and then factor in a profit over and above this.
What powers does IRCTC have?
Being a corporate entity with a Board of Directors and investors, IRCTC insists that the coaches it gets from Railways are new and not in a run-down condition, as is seen in many trains. 

In this model, IRCTC has full flexibility to decide the service parameters and even alter them without having to go to Railway ministry or its policies.

IRCTC gets the freedom to decide even the number of stoppages it wants to afford on a route, depending on the needs of its business model. 

The Lucknow Tejas, for instance, has two stops, whereas the Mumbai-Ahmedabad Tejas has six stops. These stops are business decisions.
Is this the same model for private tain operators?
Private players may not need to pay lease and custody charges as it is expected that they will bring in their own rolling stock.

Companies will have to bid for a network of routes and bids will be finalized on a

revenue-sharing model.

They (companies) will have to pay the haulage (charges for using tracks) charges at ₹686 per km to the railways. Along with this, they will have to have a portion of their revenue.

Infrastructure, maintenance and safety

will be handled by the railways.

Private train operators will be allowed to procure trains, operate and maintain them, provide better on-board experience and services to passengers, in terms of food, comfort, entertainment, among others.

Companies will also have

freedom to decide the fare
Necessity/Merits of such plans
To meet growing passenger demand:

Indian Railways runs around 13,000 passenger trains every day and an additional requirement of 3,000-4,000 trains is estimated.

Over the next five years, after the

two dedicated freight corridors

are operationalised and a lion's share of freight trains move to the corridors, a lot of capacity will free up in the conventional railway lines for more passenger trains to run to cater to the demand. 

Private train operators will bring with them the

technical and managerial expertise

which leads to optimum utilization of resources.

The step is also expected to

boost private investment in the sector

It will also

ease burden on government finances

and helps reduce the loss of Indian Railways (because of under-recovery of cost due to low fares and hefty overheads)

It will create the environment for

enhanced service quality and user experience

for the passengers
Way Ahead
Government needs to create an enabling ecosystem (policies, banking, infrastructure provision, regulation, ease of doing business) to tap the full potential of private players in railway sector.
Connecting the dots!
Bibek Debroy Committee

Should government insist on "Made in India" rakes for private players who wish to enter the sector? – Critically analyse
---
(TEST YOUR KNOWLEDGE)
---
Model questions: (You can now post your answers in comment section)
Note: 
Correct answers of today's questions will be provided in next day's DNA section. Kindly refer to it and update your answers. 

Comments Up-voted by IASbaba are also the "correct answers".
Q 1. In the context of Indian wild life, the flying fox is a
Bat

Kite

Stork 

Vulture
---
Q 2. Consider the following fauna of India: 
Indian Vulture
Nilgiri thrush
Nilgiri Pipit
Which of the above is/are endangered?
1 and 2 only

1 only

1, 2 and 3 

None
---
Q 3. 'Station' programme to bring free public Wi-Fi busiest railway stations in India started by 
Ministry of IT

Google

Wipro

Infosys
---
ANSWERS FOR 17 FEB 2020 TEST YOUR KNOWLEDGE (TYK)
---
Must Read
About Children's right to Protest:
About Trump & US politics :
About Telecom Sector's Troubles:
For a dedicated peer group, Motivation & Quick updates, Join our official telegram channel – https://t.me/IASbabaOfficialAccount
Subscribe to our YouTube Channel HERE to watch Explainer Videos, Strategy Sessions, Toppers Talks & many more…