Hello Friends,
When we started our journey in June 2015, we wanted to transform the way people approached the preparation for civil services. We started with a determination that would enable a person sitting in the remotest corner of the country to have a crack at rank 1 in the civi services examination. For the past 5 years, we have broken many barriers that used to stifle to dreams of thousands of students.
The ongoing COVID-19 pandemic has made physical accessibility a lot more difficult. With social distancing norm in place, it is difficult to imagine that normalcy would be back soon. Under the current circumstances, students are finding it hard to access quality classroom programmes.
This is where we come in. In our approach to civil services preparation, three elements have always been fundamental- accessibility, affordability and adaptability. The tenacity to adapt to testing circumstances has made us innovate in a manner that would ensure access to quality classroom programmes in the most affordable way possible. We have taken recourse to technology to address the challenge that COVID-19 has brought.
With great pleasure and pride, we introduce to you- IASbaba's e-Classroom Learning Programme (e-CLP). You aren't required to go to the classroom anymore. The classroom will come to you. At the comfort of your home, you can access high quality lectures delivered by the expert faculty of IASbaba. The overall structure and details of the programme are mentioned in the subsequent paragraphs.
Before we discuss the details of the program, let us ask you one question. What do you think is a good recipe of success?
To be honest, there isn't a single path that can take you to your goal. But, surely there are some ingredients that should be there if you want to become successful. Some of these are as follows –
Truthfulness – You need to be honest with yourself. This is the most basic mantra. You can hide from the world, you can fake your hardwork or progress, but only you will truly know what are your weaknesses and where you have to improve. Once you keep this in mind, you'll always move forward.
Keep yourself motivated – There is a lot of negativity around in the world, you might check social media and you'll find your friends enjoying their parties and vacations while you have to sit and slog. There may be some pseudo-friends who'll keep discouraging you, asking you to quit and go for some easier option. But as a wise man said, whenever you think of quitting, remember why you started.
Smart work – In current scenario, you cannot differentiate yourself from others just by doing hard work. You can't even complain that you did so much of hard work and didn't get the desired result because every second aspirant is putting that much of hard work. Where you have to edge past the other is the smart work. Work so that you improve yourself every single day.
If you think that you can promise us these three ingredients, then we have the right support for you.
To take you closer to success we have designed an approach, we call it-
BABA's 8-FOLD PATH TO SUCCESS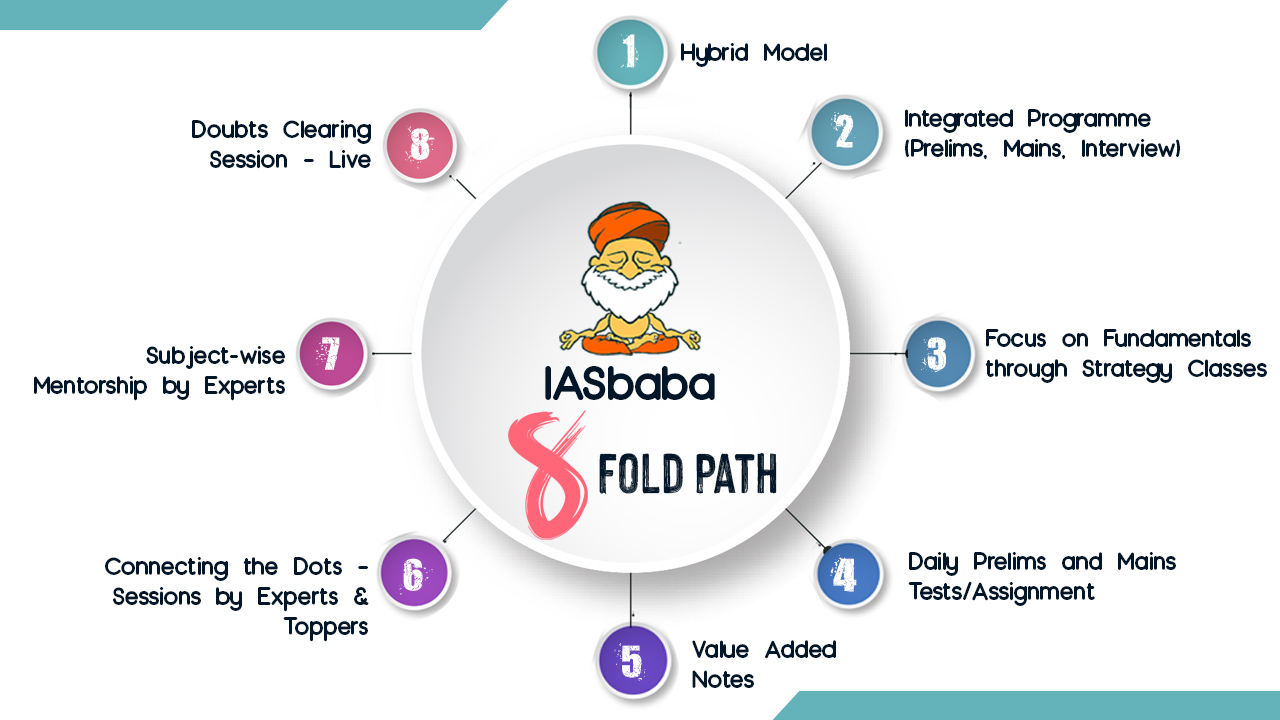 SPECIAL FEATURES OF THE PROGRAM
SUPER 50 SCHOLARSHIP
INCENTIVE BASED PROGRAM
BABAPEDIA AND WEEKLY CURRENT AFFAIRS
ESSAY GUIDANCE
SUPER 50 SCHOLARSHIP
Like other initiatives of IASbaba, a scholarship test to select Super 50 will be conducted. The top 25 students will be given 100% fee waiver and the next 25 students will be given 50% discount.
Details of Super 50 Test:
All the students will be eligible for the test. No pre-conditions.

FREE Registration !! (Please find the registration link below)

The Scholarship Test will have two parts –
Objective Test -50 MCQs from Current Affairs (January 2020 – July 2020).
Subjective Test– A Short Essay (400-500 words) and an Ethics Case Study (100-150 words).
Total marks of the test will be 150 (100 marks for MCQs and 40 marks for Essay and 10 marks for Case study).
It should be noted that in case of case-study, the approach will be checked rather than theory. Also, Essay and Ethics questions will be compulsory.
The Test (Objective & Descriptive) will be held on 8th August, 2020.
Last Date to Register 7th August, 2020 (by 8 Pm).
Interested aspirants, kindly fill the form below. Selected candidates will be intimated through email. Please do not call us or mail us.
Discretion lies with IASBaba on admission to this program.
Please Note that, All the students who have enrolled/paid for the e-CLP course will also be eligible for the scholarship test. If you qualify, complete fee amount will be refunded!!
---
---
INCENTIVE BASED PROGRAM
BABAPEDIA AND WEEKLY CURRENT AFFAIRS
ESSAY GUIDANCE
Keeping Covid situation in mind we have decided that there will be no differentiation done between online and Offline Classes, once the conditions are conducive, offline programs will be started without any change in the fee structure. Students will be able to shift from online mode to offline mode without a change in schedule. 
However, we feel HEALTH should be the top most priority now. So we would advice you to take the ONLINE CLASSROOM PROGRAM (e-CLP 2021) and start your preparation. We will make sure you get the best materials, guidance, tests and classes at your doorsteps.
By the end of the program we expect that the students will have good conceptual clarity in all the GS Subjects. Also, they will have a good understanding of the overall exam. This will help them score much better and feel a lot more confident
Considering the present situation, the comprehensive features, support, quality and duration of the program, we have kept price to the bare minimum.
Also flexibility to switch from Online to Offline is provided without any extra fee and instalment option is provided so that the program/course is affordable.
Total Fees: Rs.61,000 +  Rs.10,980(18% GST) = Rs. 71,980
Note: For students making the full payment, you will be able to avail 5% Discount till 10th August  2020!
Incase you are not able to pay full fees, then 2 Instalments will be provided. The 1st instalment (40%) needs to be paid upfront to confirm your seat.  2nd instalment (60%) should be paid 1 Month after the Program starts (i.e., by 17th September, 2020).
IASbaba's FACULTY PROFILE
Name of Faculty
Qualification
Teaching Subject
Experience in Teaching

SUNIL OBEROI

Retd. IAS

Has worked on Civil Services Reforms in India with UNDP and DoPT.Was associated with induction training of new entrants of Civil Services and In-Service training of Senior Civil Servants

Ethics, Disaster Management, Internal Security, Governance, Essay

OPTIONAL – SOCIOLOGY

8 Years in teaching and mentoring UPSC Aspirants.

5 years in training and mentoring Civil Servants (new entrants and In-Service)

MOHAN KUMAR. S

(Founder of IASbaba)

B.E in Telecommunication

R.V. College of Engineering, Bangalore

Polity
Involved with teaching and mentoring students since 8 Years
TAUSEEF AHMAD
(Founder of IASbaba)
Masters in Chemistry from Indian Institute of Technology, (IIT Delhi)
Current Affairs
Involved with mentoring students since 5 Years
ATYAB ALI ZAIDI
B. Tech in Chemical Engineering from NIT, Allahabad.
GS –Geography, Ancient, Medieval History, Art & Culture
OPTIONAL- GEOGRAPHY

Involved with teaching and mentoring students since 6 Years

HIMA BINDU
B.Tech from JNTU, Hyderabad
Modern History
6 years of experience in teaching History for UPSC Aspirants
SUMANTH MAKAM
MA Public Administration
Economics
6 years of experience in teaching Economics for UPSC Aspirants
SANDEEP
MA in International RelationsPublished Paper's in International Journals
Ethics
Involved with teaching and mentoring students since 8 Years
JUNAID YOUSUF RATHER
BE in Information Technology
Modern History,Post-Independence, World History
Involved with teaching and mentoring students since 4 Years
Sudeep T
MA in Public Administration;
B. Tech from JNTU, Hyderabad;
Pursuing LLB, Osmania University.

Polity, Public Administration, Disaster Management and Environment

Teaching experience: 6 years
Sphuran B
BTech(JNTU), MS(US)
IR/ Internal Security/Economy Faculty
Involved with teaching students for 5 Years
SHANTHILAL J
BE from BMS College of Engineering  Bangalore
CSAT – Aptitude, Logical Reasoning, Comprehension

8 years of experience in teaching CSAT for UPSC Aspirants

Exams Cleared – SBI PO,SSC CGL, IBPS PO

DR. NC VAMSHI KRISHNA

BDS (Bachelor of Dental Surgery ) from Sri Sai College of Dental Surgery, Vikarabad.

PGDHA from Apollo Institute of Medical Sciences (Hyderabad).

Society and Social Issues

OPTIONAL-
SOCIOLOGY

Involved with teaching (Sociology)and mentoring students since 5 Years
DR.RAKESH. E.S

MSc (Agricultural Science)

PhD(Agricultural Extension Management )Alma mater-Indian Agricultural Research Institute, New delhi

OPTIONAL-KANNADA LITERATURE
Teaching Kannada literature Optional subject for UPSC since 8 Years
FOR ANY QUERIES (Related to e-CLP 2021)
You can reach us on
Email id: eclp@iasbaba.com
Mobile No: 9986193413/6366456458/ 8882979568/ 9591106864/(Please call between 10 am – 6 pm ONLY)
Office Address:
BANGALORE CENTRE: IASbaba's TLP Centre 2– No. 1443/1444, 2nd Floor, Above Carzspa, Ganapati Circle, Chandra Layout, Vijaynagar, Bangalore 560040.
DELHI CENTRE: IASBABA, 5B, Pusa Road, Karol Bagh, New Delhi – 110005. Landmark: Just 50m from Karol Bagh Metro Station, GATE No. 8 (Next to Croma Store)
All the Best
IASbaba Team