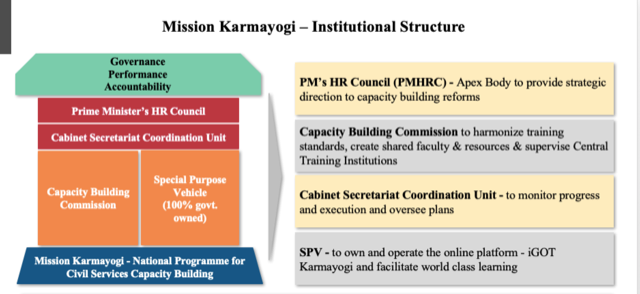 ---
(PRELIMS + MAINS FOCUS)
---
Part of: GS Prelims and GS-III- Space
In news
Recently, astronomers from the Aryabhatta Research Institute of Observational Sciences (ARIES) have found out the reasons behind intense star formation in some dwarf galaxies.
Key takeaways
Hydrogen in these dwarf galaxies is found to be irregular and sometimes not moving in well-defined orbits (non-symmetric hydrogen distribution).

Some Hydrogen around these galaxies is also detected in forms of isolated clouds, plumes, and tails 

Scientists used the Devasthal Fast Optical Telescope (DFOT) near Nainital (Uttarakhand) and the Giant Metrewave Radio Telescope (GMRT) in Maharashtra.
Do you know?
Dwarf galaxies are the most abundant type of galaxy in the universe but are difficult to detect due to their low luminosity, low mass and small size.
---
Part of: GS Prelims and GS-III- Pollution & Climate Change
In news
The National Green Tribunal (NGT) has directed the Ministry of Environment, Forest and Climate Change (MoEFCC) to modify the National Clean Air Programme (NCAP) 

NCAP proposes 20-30% reduction of air pollution by 2024.
Key takeaways
NGT's directions
Deadline to reduce air pollution by 20-30% by 2024 needs to be reduced.

Increase the target of reduction.

Review the action in terms of shift to e-vehicles and CNG vehicles, intensifying public transport systems, mechanical cleaning of roads, improvement in fuel quality, etc.

Ensure the assessment and installation of the requisite number of Ambient Air Quality Monitoring Systems within six months.
Important value additions
NCAP
It was launched by the MoEFCC in January 2019.

It is the first-ever effort in India to frame a national framework for air quality management with a time-bound reduction target.

It seeks to cut the concentration of PM10 and PM2.5 by at least 20% in the next five years, with 2017 as the base year for comparison.

The plan includes 102 non-attainment cities, across 23 states and Union territories,

They were identified by the Central Pollution Control Board (CPCB) on the basis of their ambient air quality data between 2011 and 2015.
---
Part of: GS Prelims and GS-II – Health & GS-III- Biotechnology
In news
Researchers from the World Mosquito Program have used mosquitoes infected with Wolbachia bacteria to successfully control dengue in Yogyakarta, Indonesia.
Important value additions
Wolbachia
Wolbachia are natural bacteria present in up to 60% of insect species, including some mosquitoes.

It is not usually found in the Aedes aegypti mosquito.

It is safe for humans, animals and the environment.

The Aedes aegypti mosquito spreads Dengue and other diseases such as chikungunya, Zika and yellow fever 

However, it cannot spread the disease when it is artificially infected with Wolbachia.
Do you know?
Dengue is a mosquito-borne tropical disease caused by the dengue virus (Genus Flavivirus)

The dengue vaccine CYD-TDV or Dengvaxia was approved by the US Food & Drug Administration in 2019.

It is the first dengue vaccine to get the regulatory nod in the US.
Dengvaxia is basically a live, attenuated dengue virus which has to be administered in people of ages 9 to 16 who have laboratory-confirmed previous dengue infection and who live in endemic areas.
---
Part of: GS Prelims and GS-III- Renewable sources of Energy
In news
Indian Council of Scientific and Industrial Research – Central Mechanical Engineering Research Institute (CSIR-CMERI) has developed the World's Largest Solar Tree.

It is installed at CSIR-CMERI Residential Colony, Durgapur, West Bengal.
Key takeaways
The installed capacity of the Solar Tree is above 11.5 kilowatts peak (kWp). 

It has the annual capacity to generate 12,000-14,000 units of Clean and Green Power.

There are a total of 35 Solar PV Panels in each tree with a capacity of 330 wp each.

The inclination of the arms holding the Solar PV Panels are flexible and can be adjusted as per requirement.

This feature is not available in Roof-Mounted Solar facilities.

Each Solar Tree will cost Rs 7.5 lakhs.

The interested MSMEs can align their Business Model with the Pradhan Mantri Kisan Urja Suraksha evem Utthan Mahabhiyan (PM KUSUM) Scheme for farmers, for developing a Renewable Energy based Energy Grid.
Important value additions
PM-KUSUM Scheme
Ministry- Ministry of New & Renewable Energy (MNRE).

The scheme aims to add solar and other renewable capacity of 25,750 MW by 2022.

It provides for installation of solar pumps, grid connected renewable power plants and solarization of existing grid-connected agricultural pumps.
The Scheme is being implemented through State Government Agencies.

The PM KUSUM scheme has three components.
Component-A- 10,000 megawatts (MW) of decentralised ground mounted grid-connected renewable power plants.

Component-B- installation of 17.50 lakh standalone solar powered agriculture pumps and

Component-C- solarisation of 10 lakh grid-connected solar powered agriculture pumps.
Do you know?
The Component-A and Component-C will be implemented on pilot mode for 1000 MW capacity and one lakh grid connected agriculture pumps respectively and thereafter, will be scale-up on success of pilot run.

Component-B will be implemented in full-fledged manner.
---
Part of: GS Prelims and GS-III- Innovation
In news
Global Innovation Index (GII) 2020 was recently released. 

Released by:

World Intellectual Property Organization (WIPO).
Key takeaways 
India's rank

: 48th

India has climbed 4 spots. 

With this, India ranked in the top 50 countries for the first time in the Global Innovation Index.

World's most-innovative economies

: (1) Switzerland, (2) Sweden, (3) USA, (4) UK and (5) Netherlands.

India ranks in the top 15 in indicators such as ICT services exports, government online services, graduates in science and engineering and R&D-intensive global companies.

India is the lower middle-income economy with the highest innovation due to universities like IIT Delhi and Bombay, IIS Bengaluru and other top scientific publications.
Do you know?
India was at the 52nd position in 2019 and was ranked 81st in the year 2015. 

The WIPO had also accepted India as one of the leading innovation achievers of 2019 in the central and southern Asian region.

The 2020 edition of the GII presents the annual innovation ranking of 131 economies.

Its 80 indicators explore a broad vision of innovation, including political environment, education, infrastructure and business sophistication.

The theme of GII, 2020

– Who Will Finance Innovation? 
---
Part of: GS Prelims and GS-III- Taxation
In news
Recently, the SC allowed telecom companies (telcos) 10 years' time to pay their

Adjusted Gross Revenue

(AGR) dues to the government.
Key takeaways
The telecom operators would make the payment of 10% of the total dues as demanded by the Department of Telecom by 31st March 2021.

The yearly instalments would commence from 1st April, 2021 up to 31st March, 2031.

The instalments need to be paid by 31st March every year.

In the event of any default in making payment of annual instalments, interest would be levied as per the agreement along with penalty and interest on penalty automatically without reference to court.

Besides, it would be punishable for contempt of court.

Compliance with the court order should be reported by the telcos and the telecom department every year on 7th April.

The sale of spectrum by telcos facing insolvency proceedings shall be decided by the National Company Law Tribunal (NCLT).
Important value additions
Adjusted Gross Revenue
AGR is a fee-sharing mechanism between the government and the telcos who shifted to the 'revenue-sharing fee' model in 1999, from the 'fixed license fee' model.

In this course, telcos are supposed to share a percentage of AGR with the government.

The telecom sector was liberalised under the National Telecom Policy, 1994 after which licenses were issued to companies in return for a fixed license fee.
---
Miscellaneous
Multi-State Phishing Scam
Recently, Haryana Police has identified a phishing racket which accessed over 300 nationalized and private bank accounts across many states.

Frauds were done with Phishing and use of e-SIMs as the main conduit.

Phishing is a cybercrime in which a target or targets are contacted by email, telephone, or text message.

E-SIM can not be removed as opposed to physical SIM cards, which can be removed.

The e-SIMs enable users to change service providers through a simple process.

Multiple networks and numbers can be stored on a single e-SIM too, so one can have more than one number.
---
Crete Island
Crete Island was recently in news with regard to the

Turkey-Greece stand off

.

Turkey has renewed calls for dialogue with rival Greece that would lead to the fair sharing of resources in the eastern Mediterranean,which is the major point of contention.

Both countries' forces have been conducting military exercises in the seas between Cyprus and the Greek island of Crete.

Crete is the largest and most populous of the Greek islands and the fifth largest island in the Mediterranean Sea.

It bounds the southern border of the Aegean sea.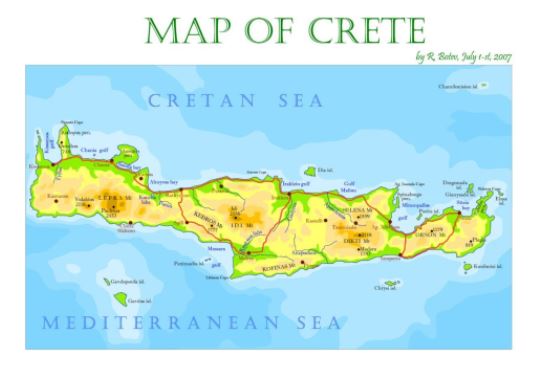 Image source: Click here
---
(MAINS FOCUS)
---
GOVERNANCE / POLITY
Topic: General Studies 2:

Structure, organization and functioning of the Executive 
Important aspects of governance, transparency and accountability, e-governance- applications 
Context: Dubbed as the biggest bureaucratic reform initiative, the Union Cabinet approved 'Mission Karmayogi', a new capacity-building scheme for civil servants aimed at upgrading the post-recruitment training mechanism of the officers and employees at all levels.
Civil Service reform measures undertaken by government in recent past
Hiring reforms by bringing a

nodal recruiting agency

(NRA)

Lateral entry in joint secretary level positions

Provision of non IAS officers in policy making roles

Training of government servants through a program called 'arambh'

Short term posting of young IAS officers at different central departments on a probation before their posting in districts
What are the existing impediments in Civil Service?
Diverse and fragmented training landscape

Evolution of silos at Department level preventing shared understanding of India's development aspirations

Difficulty in finding officials with the right competencies for a task

Lack of linkages between the Role and Competency

Inconsistencies in training priorities, competency & pedagogy

Lack of common platform and barriers to exchange of knowledge

Lack of lifelong & continuous learning environment

Redundancy & duplication of efforts
What are the core guiding principles or the Policy Framework of NPCSCB Programme?
To complement the physical capacity building approach with Online Learning

Supporting Transition from 'Rules based' to

'Roles based' HR Management

. Aligning work allocation of civil servants by matching their competencies to the requirements of the post.

To create an ecosystem of

shared training infrastructure

including that of learning materials, institutions and personnel.

To calibrate all Civil Service positions to a

Framework of Roles, Activities and Competencies (FRACs)

approach and to create and deliver learning content relevant to the identified FRACs in every Government entity.

Enable adoption of modern technological tools such as digital platforms, Artificial Intelligence, Machine Learning and Data Analytics
What is the Institutional Structure for Mission Karmayogi?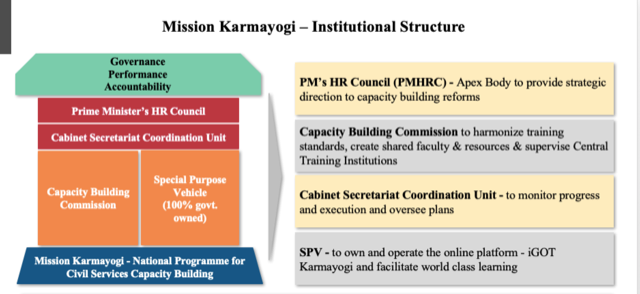 PM led Human Resource Council
It will also include state Chief Ministers, Union Cabinet ministers and eminent national and global Academicians, thought leaders, Industry leaders

This council will approve and review civil service capacity building programmes.

Mandate of the Council includes:

Apex body driving & providing strategic direction

to the Programme

Approves & Monitors

Civil Service Capacity Building plan 

Reviews reports

submitted by Capacity Building Commission
Cabinet Secretary Coordination Unit 
It comprises of select secretaries and cadre controlling authorities, headed by Cabinet Secretary

The primary function of this body is to monitor progress, and execution of plans. 
Capacity Building Commission

: It will include experts in related fields and global professionals. The mandate of the commission are: 
To prepare annual Capacity building plans and seek approval from PM HR Council

Audit human resources available in the government.

Harmonize training standards and capacity building

Create shared faculty and resources

Supervisory role over all Central Training Institutions.

Set norms for common mid-career training programs

Undertake analysis of data from iGOT-Karmayogi

Prepare the Annual HR Report on health of Civil Services and Target Achievements 
Wholly owned Special Purpose Vehicle(SPV) 
Legal:

Company under Section 8 (of Companies Act) with 100% Government ownership

Board of Directors:

Representing all

participating entities of the Programme

Revenue Model:

Self sustaining – Annual Subscription fee of INR 431 per employee 
Key functions of SPV are:
Own and operate the online Platform, iGOT Karmayogi on behalf of Government

Operationalize a robust content ecosystem

Manage assessment & certification eco-system

Telemetry data based scoring – monitoring and evaluation

Feedback assessment – driven by Artificial Intelligence & evolvable and scalable platform

Curate & deliver programmes for capacity building of Civil Servants in other countries

The SPV will own all Intellectual Property Rights on behalf of the Government of India.
What is iGOT- Karmayogi platform?
The Karmyogi Programme will be delivered by setting up an Integrated Government Online Training (iGOT) Karmayogi Platform.

iGOT-Karmayogi is a

continuous online training platform

, which would allow all government servants from assistant secretary to secretary level to undergo continuous training, depending on their domain areas.

Courses from international universities will be made available on the platform for officers to take any time

The platform is expected to evolve into a vibrant and world-class market place for content where carefully curated and vetted digital e-learning material will be made available. 

Besides capacity building, service matters like confirmation after probation period, deployment, work assignment and notification of vacancies etc. would eventually be integrated with the proposed competency framework
How is Mission Karmayogi funded?
To cover around 46 lakh central employees, a sum of Rs 510.86 crore will be spent over a period of 5 years from 2020-21 to 2024-25. 

The expenditure is partly funded by multilateral assistance to the tune of $50 million.
How is the Monitoring & Evaluation Framework of the mission?
Monitoring and evaluation of all users on the basis of Key Performance Indicators (KPI).

Users include the individual learner (Civil Servant), the supervisor, the organisation, the peer group, the content creator and the technology service provider

Prime Minister's Dash Board:

Real-time reporting of Capacity Building KPIs with Annual Score Cards and Rankings

for Departments

Capacity Building Plan-

Annual Plans submitted by each Department aligned to National ambitions
Annual State of Civil Services Report:

Consolidated Performance of Civil Services as a whole in a year with focus on achievements & contribution to National Progress
Independent Audits:

Third Party Audit of Programme, in addition to regular Audit and Quality Assurance by Capacity Building Commission
Merits of the Mission
Democratized Civil Service:

This is a New National Architecture

for Civil Services Capacity Building that will herald into Silo-less Performance. It would help augment the capacities of over two crore officials in India. 

Holistic

: This is a Comprehensive reform of the capacity building apparatus at individual, institutional and process levels for efficient public service delivery.

Competency driven HR Management policy

: The mission ensures that right person with right competencies is at the right position

Enhanced Accessibility:

The mission enables Civil Servants to learn from the best institutions and practices across the world (through marketplace of iGOT platform)

Increased Expertise

The mission is Knowledge driven and aims at building competencies to transform Civil Servants into leaders and subject matter experts.

Better Governance:

Capacity of Civil Services plays a vital role in performing core governance functions. The mission will help make Civil Servant more efficient, effective, accountable and responsive to the needs of the citizen 

Leads to better Work Culture

: The mission organically links the transformation of work culture and strengthening public institutions through adopting modern technology (iGOT Karmayogi platform) which lays emphasis on skills
Professional Growth:

It helps make available to all civil servants, an opportunity to continuously build and strengthen their Behavioral, Functional and Domain Competencies in their self-driven and mandated learning paths
Uniform Approach:

The mission will enable a uniform approach in managing and regulating the capacity building ecosystem on collaborative and co-sharing basis.
Reduces the cost

of training Civil Servants for both Centre & States, due to emphasis given on continuous online learning and shared ecosystem. Expenditure on foreign training will thence be cut down.
Do You Know?
iGOT Pilot Model has trained COVID Warriors and led India's fight against COVID

Courses were provided for diverse audiences like Doctors, Nurses, NCC Cadets, NSS Volunteers and Technicians

The pilot model supported 12 languages and the content was delivered through multiple channels (Mobile, Desktop, Offline access by iGOT TV)

The pilot was a success with nearly 12.7 lakh registered users and 14.06 lakh certificates issues
Conclusion
Mission Karmayogi aims to prepare the Indian Civil Servant for the future by making him more creative, constructive, imaginative, innovative, proactive, professional, progressive, energetic, enabling, transparent and technology-enabled. 
---
(TEST YOUR KNOWLEDGE)
---
Model questions: (You can now post your answers in comment section)
Note: 
Correct answers of today's questions will be provided in next day's DNA section. Kindly refer to it and update your answers. 

Comments Up-voted by IASbaba are also the "correct answers".
Q.1 Consider the following statements regarding dwarf galaxies: 
They are least abundant in the universe. 

They are difficult to detect due to their low mass. 
Which of the above is/are correct? 
1 only 

2 only 

Both 1 and 2 

Neither 1 nor 2
---
Q.2 National Clean Air Programme was launched by which of the following? 
National Green Tribunal 

Ministry of Environment, Forests and Climate change 

United Nations Environment Programme 

World Health Organization 
---
Q.3 Consider the following statements regarding Wolbachia bacteria? 
It is usually found in Aedes aegypti mosquito. 

It harms the environment including humans. 
Which of the above is/are correct? 
1 only 

2 only 

Both 1 and 2 

Neither 1 nor 2
---
Q.4 Recently world's largest solar tree was developed in which of the following country? 
India

Japan

USA 

China
---
Q.5 Which of the following is the concerned Ministry for Pradhan Mantri Kisan Urja Suraksha evem Utthan Mahabhiyan (PM KUSUM) Scheme?
Ministry of New & Renewable Energy 

Ministry of Environment, Forests and Climate change 

Ministry of Power

Ministry of Rural Development 
---
ANSWERS FOR 2nd September 2020 TEST YOUR KNOWLEDGE (TYK)
---
Must Read
About GST Compensation Stand-off:
About Dissent and Detention of Dr. Kafeel Khan:
About Gopalkrishna Committee report:
For a dedicated peer group, Motivation & Quick updates, Join our official telegram channel – https://t.me/IASbabaOfficialAccount
Subscribe to our YouTube Channel HERE to watch Explainer Videos, Strategy Sessions, Toppers Talks & many more…