---
(PRELIMS + MAINS FOCUS)
---
Part of: GS Prelims and GS-II- Education
In news
Recently, the report on 'Household Social Consumption: Education in India as part of 75th round of National Sample Survey – from July 2017 to June 2018' was released.

It is based on the National Statistical Office (NSO) survey. 

It provides for state-wise detail of literacy rate.

Age surveyed

: 7 years and above.
Key takeaways 
India's Overall Literacy Rate

: 77.7%.

Urban Areas

: 87.7%.

Rural areas

: 73.5%.

Male Literacy Rate

: 84.7%.

Female Literacy Rate

: 70.3%.

The male literacy rate is higher than the female literacy rate among all states. 

Best Performers

: (1) Kerala; (2) Delhi; (3) Uttarakhand; (4) Himachal Pradesh; (5) Assam.

Worst Performers

: (1) Uttar Pradesh; (2)Telangana; (3) Bihar; (4) Rajasthan; (5) Andhra Pradesh 
Digital Literacy:
Those who possess computers

: 23% of urban households and 4% of rural households.

Those who can operate a computer:

Among persons of age 15-29 years, nearly 56% in urban areas and 24% in rural areas. 

Those who use the internet:

nearly 25% in rural areas and 58% in urban areas in the same age-group 
Do you know? 
The report comes before the International Literacy Day which is celebrated on 8th September every year.

Literacy Day 2020

: It will focus on the changes and challenges in learning during the Covid-19 pandemic.

SDG 4

: ensure inclusive and quality education for all and promote lifelong learning. 

As per UNESCO, India will achieve universal literacy by 2060.
---
Part of: GS Prelims and GS-III- Pollution
In news
Recently, a webinar on the occasion of the first-ever International Day of Clean Air For Blue Skies was organised.

Organised by:

The Ministry of Environment, Forest and Climate Change (MoEFCC) 

Aim of the International Day of Clean Air For Blue Skies

: To demonstrate the close link of air quality to other environmental/developmental challenges and raise public awareness related to air quality at all levels.
Key takeaways
Indian Government's Efforts to combat air pollution:
It is committed to reducing the air pollution level in 122 most polluted cities.

In 2014, the Air Quality Index (AQI) was launched which currently tracks the levels of pollution on eight parameters.

Parameters:

Ground-level ozone, Particulate Matter (PM) 10, PM 2.5, carbon monoxide, sulfur dioxide, nitrogen dioxide, ammonia and lead.

Most harmful pollutants

: Ground-level ozone and airborne particles 

A brochure on Integrated Measures to Combat Air Pollution under the

National Clean Air Programme

(NCAP) was also launched in the webinar.
Suggestions for Improvement
States must work with city-specific plans, as every city has a different source of pollution.

Most effective way to reduce air pollution in cities is to identify the hotspots and then disburse funds. 

Use of

electric vehicles

must be encouraged and the public transport should be modernised.

Augmenting waste management Infrastructure is essential. 

Car-pooling and use of public transport must be promoted.
Do you know?
India has migrated to BS-VI standards, quality petrol and diesel, which is an important initiative to fight against pollution.

Ministry responsible for deciding the fuel standards:

Environment Ministry. 

Fuel standards implemented by:

The Central Pollution Control Board (CPCB) 
---
Part of: GS Prelims and GS-III- Forestry; Environment
In news
Recently the Director General of Forests has advocated for the amendment of National Forest Policy, 1988.

It is based on a research paper published in 2016 in the Natural Resources Forum, a United Nations Sustainable Development Journal.

The research paper called for sustainable forest management based on certification and a policy characterised by restoration, conservation and production equally.
Key takeaways from the research paper
There is a lack of reliable data relating to growing stock, consumption and production of timber.

The potential of timber production from Trees Outside Forests (TOFs) i.e. grown outside government Recorded Forest Areas (RFAs) must be explored and tapped. 

Since the domestic timber production has declined and imports have increased manifolds. There is a need to review Export-Import Policy. 

The paper emphasized on revising the Indian Forest Policy to boost domestic production.
Important value additions 
India's forests are currently governed by the National Forest Policy, 1988.

The Policy has environmental balance and livelihood at its centre.

Some features and Goals: (1) Maintenance of environmental stability through preservation and restoration of ecological balance; (2) Conservation of Natural Heritage (existing); (3) Checking Soil Erosion and Denudation in catchment areas of rivers, lakes, and reservoirs; (4) Checking extension of sand dunes in desert areas of Rajasthan and along coastal tracts

A draft National Forest Policy was released in 2019. 

The basic thrust of the draft is conservation, protection and management of forests along with safeguarding the interest of tribals and forest-dependent people.
---
Part of: GS Prelims and GS-II- Education
In news
The first-ever International Day to Protect Education from Attack is being celebrated on September 9, 2020. 

Theme:

"Protect Education, Save a Generation."
Key takeaways
The day was established by a unanimous decision of the UN General Assembly. 

UNESCO and UNICEF were called on to raise awareness of the plight of millions of children living in countries affected by conflict.

According to the Global Coalition to Protect Education from Attack (GCPEA), over the past five years, there have been more than 11,000 reported attacks on education in over 36 countries.

22,000 students, teachers and academics were killed, injured, arrested or otherwise harmed in attacks between 2015 and 2019.

UNESCO and UNICEF will facilitate the annual observance of the Day in close collaboration with partners within and outside the UN system.
---
Part of: GS Prelims and GS-III- Economy; Infrastructure
In news
The Cabinet Committee on Economic Affairs has approved monetisation of assets of POWERGRID.

It is a Public Sector Undertaking (PSU) under the Ministry of Power, through the Infrastructure Investment Trust (InvIT) model.
This is the first time any PSU in the Power Sector will undertake asset recycling by monetising its assets through the InvIT model.

It will use the proceeds to fund the new and under-construction capital projects.

This approval would help POWERGRID to monetise in the first lot, assets with gross block value of more than 7000 crore. 

These assets, which are mainly High Voltage Transmission lines and substations, are held by POWERGRID in form of Special Purpose Vehicles (SPVs).
Important value additions 
Infrastructure Investment Trusts (InvIT)
It is like a mutual fund.

It enables direct investment of small amounts of money from possible individual/institutional investors in infrastructure to earn a small portion of the income as return.
Do you know?
POWERGRID, a public limited company under the administrative control of the Ministry of Power, Government of India, started its commercial operation in the year 1992-93 and is today, a Maharatna company, engaged in the business of power transmission.
---
Part of: GS Prelims and GS-II- International Relations; Global Groupings
In news
The Asian Development Bank (ADB) and the Government of India signed a $500 million loan, to build a modern, high-speed 82-kilometer Delhi-Meerut Regional Rapid Transit System (RRTS) corridor

.
It is the first tranche of a total $1 billion facility

.
Key takeaways
It will improve regional connectivity and mobility in India's national capital region (NCR).

The first tranche loan will support construction of the first of three priority rail corridors planned under the NCR Regional Plan 2021 to connect Delhi to other cities in adjoining states.
Important value additions 
Asian Development Bank (ADB) 
It is a regional development bank established on 19 December 1966, which is headquartered in

Manila, Philippines

.

ADB aims to promote social and economic development in Asia. 

The bank admits the members of the United Nations Economic and Social Commission for Asia and the Pacific (UNESCAP) and non-regional developed countries.
Do you know?
The ADB was modeled closely on the World Bank, and has a similar weighted voting system.

From 31 members at its establishment, ADB now has 68 members.

ADB is an official United Nations Observer.

India was a founding member of the Asian Development Bank (ADB) in 1966 and is now the bank's fourth largest shareholder and top borrower.

As of 31 December 2019, ADB's five largest shareholders are Japan and the United States (each with 15.6% of total shares), the People's Republic of China (6.4%), India (6.3%), and Australia (5.8%).
---
Miscellaneous
Indira Gandhi Peace Prize 2019
Sir David Attenborough has been conferred with Indira Gandhi Peace Prize for 2019 at a virtual ceremony.

The Indira Gandhi Prize for Peace, Disarmament and Development is an annual prestigious award named after former prime minister Indira Gandhi.

It is conferred every year by Indira Gandhi Memorial Trust since 1986.

It consists of a citation and a monetary award of Rs. 25 lakh.

The award recognizes creative efforts by individuals/organizations

Sir David is an English broadcaster and natural historian.

He is best known for writing and presenting the BBC Natural History Unit.
---
The Yanomami tribe

 
The tribe has launched a global campaign to expel 20,000 gold miners from their land amid the coronavirus pandemic.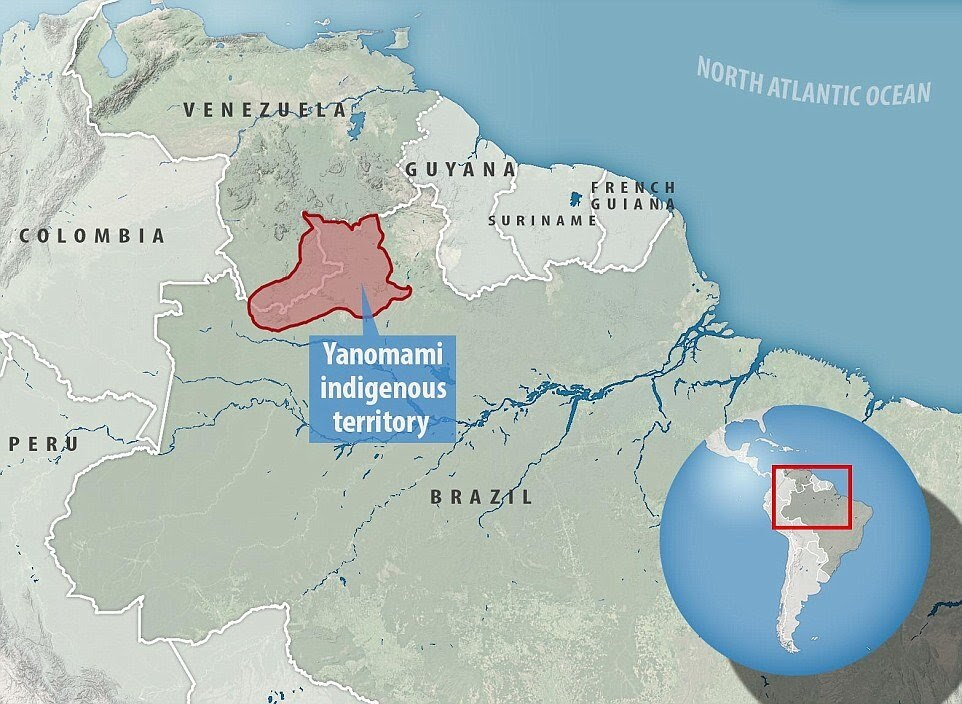 The Yanomami live in the rainforests and mountains of northern Brazil and southern Venezuela.

According to Survival International, it is the largest relatively isolated tribe in South America.

They live in large, circular houses called yanos or shabonos, some of which can hold up to 400 people.

The Yanomami consider all people to be equal, and do not have a chief. Instead, all decisions are based on consensus after long discussions and debates.

They are speakers of a Xirianá language.
---
(MAINS FOCUS)
---
POLITY / GOVERNANCE
Topic: General Studies 2,3:

Issues and challenges pertaining to the federal structure, devolution of powers
Pressure groups and formal/informal associations and their role in the Polity.
Context: Nine years ago, Anna Hazare ended his historic fast when the Prime Minister, Manmohan Singh, informed him that Parliament had expressed support for proposed changes to anti-corruption legislation.
What was the movement all about?
Anti-Corruption & Accountability

: The single point demand of the Anna movement was the institution of the Jan Lokpal to try all government functionaries when accused of corruption; even the Prime Minister.

Substantive Democracy

: It was a remarkable movement of citizens — rich, middle class, and poor — coming together to take politics back from politicians and to demand Parliament's accountability to citizens

Decentralisation

: Anna Hazare who was leading the movement said Lokpals and Lokayuktas would not eliminate the root causes of corruption in politics and government. Electoral reforms and decentralisation of power were essential
What is the present situation vis-à-vis the ideas raised in movement?
The movement for fundamental reforms of governance lost its steam.

The nation's attention has moved on, from weaknesses in institutions of governance, to threats from China on the nation's borders and to global problems caused by COVID-19.
What are the issues still plaguing our Political System?
Money dominates Electoral Process which leads to Systemic Corruption
Around the world, electoral democracies have become infected by the disease of funding political parties and elections. Money is required to win elections legitimately, even when people are not bribed to vote

Communications with citizens, essential for democracy has become expensive. 

The race to raise more money for legitimate electioneering purposes can corrupt the process of funding parties and elections. 
Challenges with Democratic Process and deliberations
The problem in electoral democracies is not only with the process by which representatives are elected, but also in the conduct of their deliberations when they come together.

Representatives fight for the largest share of the pie for their constituency rather than the growth of the whole pie.

Elected representatives must shed their local hats and put on a national hat to consider what will be best for the whole country, which seldom happens
Multi-Party Democracy is a double edged sword
Emergence of multiple Political parties has enabled even the weakest person to make his voice heard. It has democratised the electoral process.

However, when there are too many parties and too many contradictory points of view to be accommodated within a coalition, governance can break down.
Alternative of Direct Democracy has its own pitfalls
It is tempting to abandon political parties and parliaments and revert to direct forms of democracy where every decision can be put directly to all citizens to vote on. New Internet technologies make this possible. 

But, if all voters have not understood what is at stake, they cannot decide well as the U.K. has understood with its hasty Brexit referendum.

Complex issues, where many interests collide, must be resolved by reason, not settled by the numbers
Way Forward
Electoral funding must be cleaned up

Democracy within political parties improved to make representative democracy work better.

Strong local governance remains the unfinished agenda to make India's democracy strong and deep
Connecting the dots:
73

rd

& 74

th

Constitutional Amendment Act
---
INTERNATIONAL/ SECURITY
Topic: General Studies 2:

India's Foreign Policy
Context: In the wake of the current stand-off with China, there have been calls for India's foreign policy to shed its inhibitions and make a decisive shift towards the United States, as the only viable option to counter China. 
What has been the government's calls to such call?
The government has been more nuanced in its approach. 

The External Affairs Minister clarified that a rejection of non-alignment does not mean a rush to alignment: India will not join an alliance system.
What was non-alignment foreign policy?
Non-alignment was a policy fashioned during the Cold War, to retain an autonomy of policy (not equidistance) between two politico-military blocs. 

The Non-Aligned Movement (NAM) provided a platform for newly independent developing nations to join together to protect this autonomy. 

It was a disparate group from many continents, with varying degrees of proximity to, and dependence on, one or the other bloc.

NAM's flagship campaigns were de-colonisation, universal nuclear disarmament and against apartheid.
How did NAM's relevance decline post 1991?
One of the blocs (USSR) was disbanded at the end of the Cold War. 

De-colonisation was largely complete by then, the apartheid regime in South Africa was being dismantled and the campaign for universal nuclear disarmament was going nowhere. 

Freed from the shackles of the Cold War

, the NAM countries were able to diversify their network of relationships across the erstwhile east-west divide. Non-alignment lost its relevance, and NAM its original 

raison d'être

.
Has India completely abandoned Non-Alignment Policy?
For a few years now, non-alignment has not been projected by our policymakers as a tenet of India's foreign policy. 

However, India has not yet found a universally accepted successor as a signature tune for our foreign policy. 

Successive formulations have been coined and rejected.

Strategic autonomy

was one, which soon acquired a connotation similar to non-alignment, with an anti-U.S. tint. 

Multi-alignment

has not found universal favour, since it may convey the impression of opportunism, whereas we seek strategic convergences. 

Seeking issue-based partnerships

or coalitions is a description that has not stuck.

"Advancing prosperity and influence

" is a description Dr. Jaishankar (Minister of External Affairs) settled for, to describe the aspirations that our network of international partnerships seeks to further
Has the rise of China revived the concept of alliance?
The fact is that 'alliance' is as much a Cold War concept as non-alignment. 

During the Cold War, the glue that held countries of an alliance together was composed (in varying proportions) of ideological convergence and an existential military threat. 

With the disintegration of USSR and the Warsaw Pact, this glue dissolved and the international options of alliance partners widened, just like those of NAM countries

As a result, in today's times the strategic interests of Nations are no longer fully congruent. This is evident in the recent rifts between US & Europe (NATO)

Alliances in the Asia-Pacific face a bigger definitional dilemma. The threat to the alliance partners today is from an assertive China, which they are reluctant to define as a strategic adversary, because of their economic engagement with it and the huge military asymmetry.

In the immediate-term, Indian and U.S. perspectives are less convergent in India's continental neighbourhood (like Afghanistan & Central Asia)
Conclusion
Former National Security Adviser Shivshankar Menon has described today's world order as militarily unipolar, economically multipolar and politically confused. 

COVID-19 may scramble the economics and deepen the confusion further.

India will acquire a larger global profile next year, when it commences a two-year term on the UN Security Council. The strategic choices that it makes in its bilateral partnerships (like US, Russia, Iran) will be closely watched.
Connecting the dots:
Cold War

US-China Trade War
---
(TEST YOUR KNOWLEDGE)
---
Model questions: (You can now post your answers in comment section)
Note: 
Correct answers of today's questions will be provided in next day's DNA section. Kindly refer to it and update your answers. 
Comments Up-voted by IASbaba are also the "correct answers".
Q.1 Consider the following statements regarding the report on Literacy Rate released recently:
The male literacy rate is higher than the female literacy rate among all states. 

Uttar Pradesh is the worst performer in the literacy rate in India.
Which of the above is/are correct?
1 only 

2 only

Both 1 and 2

Neither 1 nor 2
---
Q.2 Consider the following statements:
Ground-level ozone and airborne particles are the most harmful pollutants.

Car-pooling and use of electric vehicles are some of the effective ways to reduce air pollution.
Which of the above is/are correct?
1 only 

2 only

Both 1 and 2

Neither 1 nor 2
---
Q.3 Consider the following statements:
Environment Ministry is responsible for deciding the fuel standards in India. 

These fuel standards implemented by

the Central Pollution Control Board.
Which of the above is/are correct?
1 only 

2 only

Both 1 and 2

Neither 1 nor 2
---
Q.4 International Day to protect Education from attack was recently launched by which of the following?
United Nations

World Health Organization

Akshaya Patra Foundation

Amnesty International
---
ANSWERS FOR 8th September 2020 TEST YOUR KNOWLEDGE (TYK)
---
Must Read
About the need for developing COVID-19 Vaccine Policy:
About aftershocks of Sterlite Case:
About Consolidation of Land Holdings:
For a dedicated peer group, Motivation & Quick updates, Join our official telegram channel – https://t.me/IASbabaOfficialAccount
Subscribe to our YouTube Channel HERE to watch Explainer Videos, Strategy Sessions, Toppers Talks & many more…