---
(PRELIMS + MAINS FOCUS)
---
Part of: GS Prelims and GS-II – International Relations
In news
India and the United States signed the Basic Exchange and Cooperation Agreement (BECA) recently.
Key takeaways
BECA, the Logistics Exchange Memorandum of Agreement (LEMOA) and the Communications Compatibility and Security Agreement (COMCASA) which were signed earlier form foundational pacts for deep military cooperation between the two countries.

BECA will help India get real-time access to American geospatial intelligence. 

The access will enhance the accuracy of automated systems and weapons like missiles and armed drones.

The sharing of information on maps and satellite images will help India access topographical and aeronautical data, and advanced products that will aid in navigation and targeting.

This could also be key to Air Force-to-Air Force cooperation between India and the US.



---
Electricity Access In India And Benchmarking Distribution Utilities Report launched
Part of: GS Prelims and GS-III – Infrastructure
In news
NITI Aayog, Ministry of Power, Rockefeller Foundation, and Smart Power India launched the 'Electricity Access in India and Benchmarking Distribution Utilities' report.
Key findings of the report
Around 92% of customers reported the overall availability of electricity infrastructure within 50 metres of their premises. 

However, not all have connections. The primary reason being the distance of households from the nearest pole.

Overall, 87% of the surveyed customers have access to grid-based electricity.

The remaining 13% either use non-grid sources or don't use any electricity at all.

The hours of supply have improved significantly across the customer categories to nearly 17 hours per day.

Nearly 85% of customers reported to have a metered electricity connection.

Access to electricity is observed in 83% of household customers.

The study suggested that a total of 66% of those surveyed were satisfied––74% of customers in urban areas and 60% in rural areas.
---
NTPC Ltd enters into loan agreement under JBIC's GREEN Initiative
Part of: GS Prelims and GS-III – Environment 
In news
NTPC Ltd entered into a loan agreement with Japanese Government for JPY 50 billion (approx. USD 482 million) under Japan Bank for International Cooperation (JBIC)'s GREEN initiative. 

GREEN initiative stands for Global Action for Reconciling Economic growth and Environment preservation initiative. 
Key takeaways 
The facility is extended under JBIC's outreach for projects, which ensure conservation of the global environment.

JBIC will provide 60% of the facility amount and the balance will be given by Japanese commercial banks under JBIC guarantee.

The loan proceeds will be utilized by NTPC Ltd for funding its capex for Flue Gas Desulphurization (FGD) & Renewable Energy projects.

FGD, substantially reduces the SOx emission in the flue gases of thermal power plants and is a critical step towards environmental sustainability.
---
India-Central Asia Dialogue held
Part of: GS Prelims and GS-II – International Relations
In news
The second meeting of the India-Central Asia Dialogue was held under the chairmanship of the External Affairs Minister.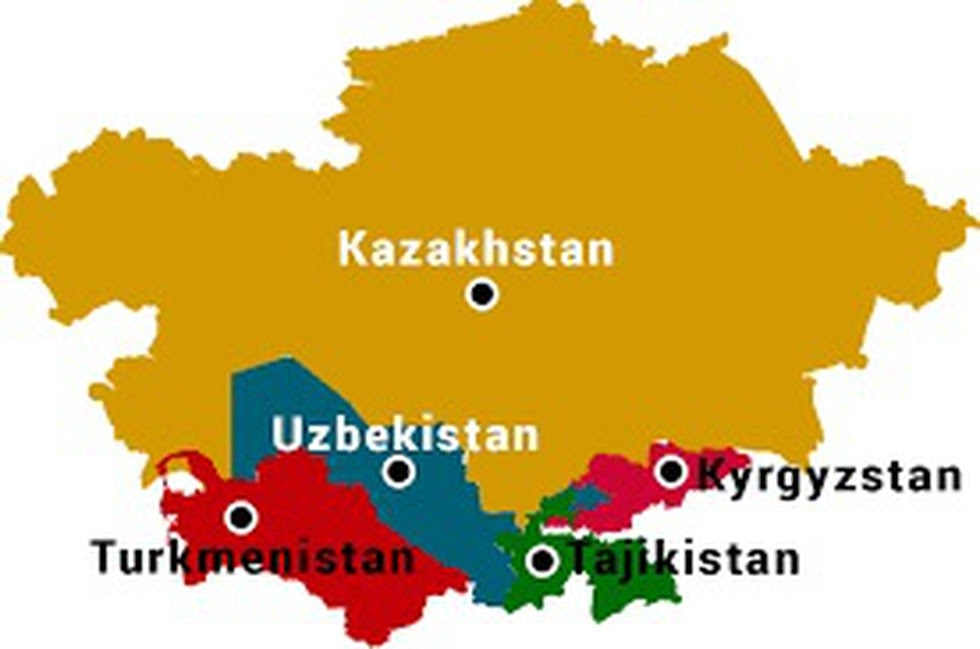 Key takeaways 
Foreign Ministers of Kazakhstan, Tajikistan, Turkmenistan and Uzbekistan and First Deputy Foreign Minister of the Kyrgyz Republic participated in the meeting.

The Foreign Ministers of Central Asian Countries welcomed the provision by India of one billion US dollar Line of Credit for priority developmental projects in fields such as energy, IT, healthcare, education and agriculture in the region.

The Ministers emphasized the need to continue close cooperation between the Sanitary and Epidemiological Services of India and the Central Asian countries in the fight against COVID-19 pandemic.

The Ministers appreciated India's efforts to modernize the infrastructure of the

Chabahar port

in Iran, which could become an important link in trade and transport communications between the markets of Central and South Asia.
---
Ordinance for Commission For Air Quality Management In National Capital Region promulgated 
Part of: GS Prelims and GS-II – Policies and interventions & GS-III – Pollution 
In news
Indian President has promulgated an ordinance to constitute a Commission for Air Quality Management in the National Capital Region (NCR) and adjoining areas.
Key takeaways 
The Commission will have at least three sub-committees including on Monitoring and identification, Safeguarding and Enforcement and Research and Development to suggest measures to curb air pollution in the region.

Composition:

A Chairperson, a representative from the Ministry of Environment, members from the state of Delhi, Haryana, Punjab, Uttar Pradesh and Rajasthan, technical experts from Central Pollution Control Board and Indian Space Research Organization among others.

Role:

The commission will work towards better coordination, research, identification and resolution of problems surrounding the Air Quality Index in the NCR and adjoining areas.
Powers:

It can take all such measures, issue directions and entertain complaints in order to protect and improve the quality of air in the NCR and adjoining areas.

It will also lay down the parameters for emission or discharge of environmental pollutants from various sources.
---
Part of: GS Prelims and GS-I – Geography & GS-II – International Relations 
In news
Feni bridge was in the news recently. 

The 1.8 km long bridge shall connect Sabrum in India with Ramgarh in Bangladesh and will be completed by December 2020.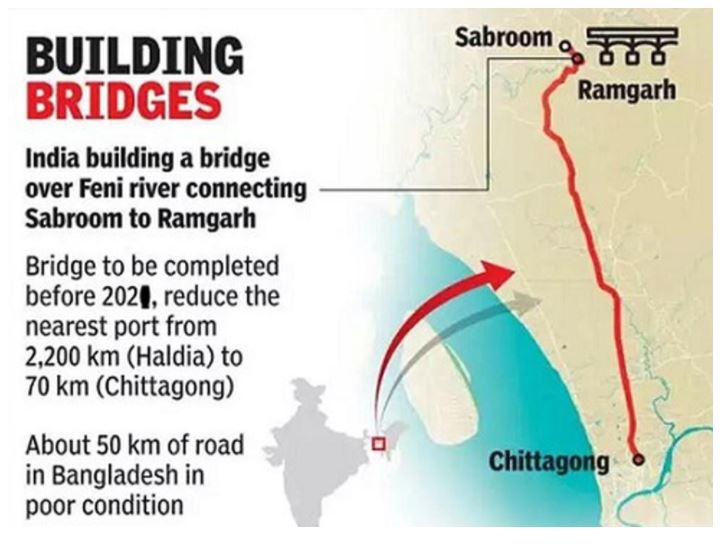 Key takeaways 
Constructed by:

National Highways Infrastructure Development Corporation Ltd of Ministry of Road and Transport highways, Government of India.

It is being developed as a corridor for trade and commerce between India's North-East and Bangladesh.

It will also promote tourism and people-to-people ties.

It will provide direct road connectivity between South Tripura and Chittagong allowing India to use Chittagong as a port of call.  

The bridge will facilitate carrying heavy machines and goods to and from the north-eastern states and the rest of India via Bangladesh through Chattogram.
Do you know? 
Feni Bridge is also known as Maitree Setu in Chattogram.

It is being built over the Feni River and will connect Tripura with Chittagong port of Bangladesh.
---
India-Us 2+2 Ministerial Dialogue held
Part of: GS Prelims and GS-II – International Relations
In news
2+2 talks were recently held between India and the USA. 
Documents announced during the 3rd India-US 2+2 Ministerial Dialogue
Basic Exchange and Cooperation Agreement between the Ministry of Defence, Government of India and the National Geospatial-Intelligence Agency (NGA), Department of Defence of United States of America.

MoU for Technical Cooperation in Earth Observations and Earth Sciences.

Agreement for the Electronic Exchange of Customs Data between the Postal Operators.

Arrangement extending the duration of the Memorandum of Understanding between India and the USA.

Letter of Intent between the Central Council for Research in Ayurvedic Sciences, New Delhi and the Office of Cancer Complementary and Alternative Medicine, National Cancer Institute, Government of the USA for cooperation in the field of Ayurveda and Cancer Research.
---
India–Australia Circular Economy Hackathon (I-ACE) to be held
Part of: GS Prelims and GS-II – International Relations & GS-III – Economy 
In news
AIM (Atal Innovation Mission), in association with CSIRO, is organizing a two-day hackathon on circular economy, 'India–Australia Circular Economy Hackathon (I-ACE)', on 7 and 8 December.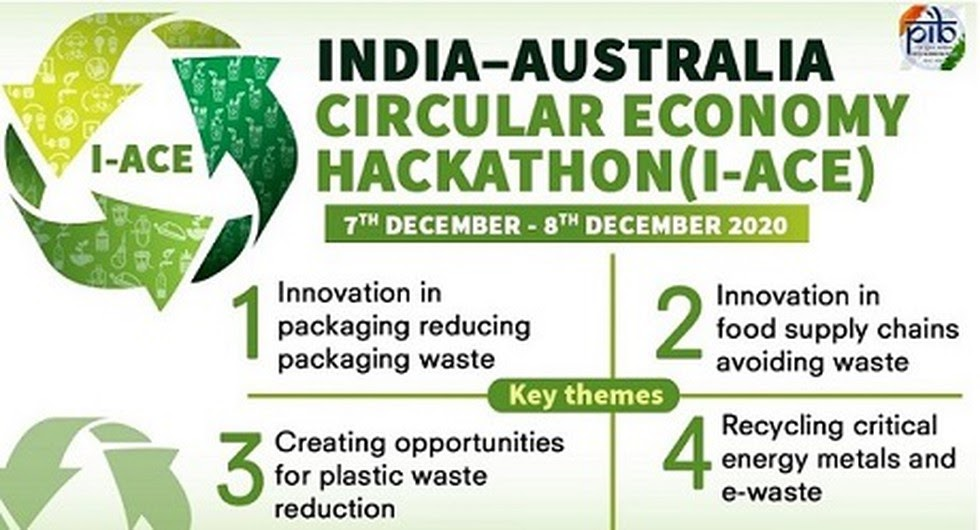 Key takeaways 
The idea of I-ACE was conceived during a virtual summit in June, between the Indian and Australian prime ministers, exploring innovative ways to boost the circular economy in India and Australia.

The four key themes for the hackathon are as follows:

Innovation in packaging reducing packaging waste

Innovation in food supply chains avoiding waste

Creating opportunities for plastic waste reduction

Recycling critical energy metals and e-waste

A circular economy is an economic system aimed at eliminating waste and the continual use of resources.
---
Place in news: Bundi
Part of: GS Prelims and GS-I – Architecture
In news
The Ministry of Tourism's Dekho Apna Desh Webinar series titled "Bundi: Architectural Heritage of a Forgotten Rajput Capital" focused on Bundi, Rajasthan recently.
Key takeaways 
Bundi is a district in the Hadoti region of Rajasthan. 

It was the erstwhile capital of Hada Rajput province

It is also known as City of stepwalls, blue city.

It was also known as Chotti Kashi owing to presence of over hundred temples within and around the hada capital.

Temples constructed in early phase of Bundi's growth were in classical Nagara style. 

In later phases new temple typologies emerged from amalgamation of architectural form of traditional haveli with the classical Nagara style.

Jain temples formed third type of temple type constructed 

A fourth temple type emerged in the form of a raised or elevated temple.

Absence of monumentality in their scale is a distinctive feature of temples in Bundi.
---
(MAINS FOCUS)
---
SCIENCE & TECH/ GOVERNANCE/ SECURITY
Topic: General Studies 2,3:

Science and Technology- developments and their applications and effects in everyday life 
Role of media and social networking sites in internal security challenges
Countering deepfakes, the most serious AI threat
Context: Deepfakes have emerged as a new tool to spread computational propaganda and disinformation at scale and with speed.
What is Deepfake?
Deepfakes are the digital media (video, audio, and images) manipulated using Artificial Intelligence. This synthetic media content is referred to as deepfakes.
Positive Use Cases of Deepfake
Accessibility
AI-Generated Synthetic media can help make the accessibility tools smarter, affordable and personalizable, which can help people augment their agency and gain independence.

Microsoft's Seeing.ai and Google's Lookout leverage AI for recognition and synthetic voice to narrate objects, people, and the world. AI-Generated synthetic media can power personalized assistive navigation apps for pedestrian travel.

Technology companies are working to enable and develop AI-Generated synthetic media scenarios for people living with ALS (Lou Gehrig's Disease).

Synthetic voice is also essential to enable such patients to be independent. Deepfake voice can also help with speech impediments since birth.
Education
AI-Generated synthetic media can bring historical figures back to life for a more engaging and interactive classroom. This will have more impact, engagement, and will be a better learning tool. 

For example, JFK's resolution to end the cold was speech, which was never delivered, was recreated using synthetic voice with his voice and speaking style will clearly get students to learn about the issue in a creative way.

Synthetic human anatomy, sophisticated industrial machinery, and complex industrial projects can be modeled and simulated in a mixed reality world to teach students.
Arts
AI-Generated synthetic media can bring unprecedented opportunities in the entertainment business that currently use high-end CGI, VFX, and SFX technologies to create artificial but believable worlds for compelling storytelling.

Samsung's AI lab in Moscow brought

Mona Lisa to life

by using Deepfake technology.

In the video gaming industry, AI-generated graphics and imagery can accelerate the speed of game creation. Nvidia demoed a hybrid gaming environment created by deepfakes and is working on bringing it to market soon.
Autonomy & Expression
Synthetic media can help human rights activists and journalists to remain anonymous in dictatorial and oppressive regimes. Deepfake can be used to anonymize voice and faces to protect their privacy.

Deep Empathy,

a UNICEF and MIT project, utilizes deep learning to learn the characteristics of Syrian neighborhoods affected by conflict. It then simulates how cities around the world would look amid a similar conflict. 

Deep Empathy project created synthetic war-torn images of Boston, London and other key cities around the world to help increase empathy for victims of a disaster region
The other side of Deepfake
Such technologies can give people a voice, purpose, and ability to make an impact at scale and with speed. But as with any new innovative technology, it can be weaponised to inflict harm.

Overriding Consent:

Deepfake technologies make it possible to fabricate media — swap faces, lip-syncing, and puppeteer — mostly without consent and bring threat to psychology, security, political stability, and business disruption
Damage reputations:

Deepfakes can depict a person indulging in antisocial behaviours and saying vile things. These can have severe implications on their reputation, sabotaging their professional and personal life. Even if the victim could debunk the fake via an alibi or otherwise, it may come too late to remedy the initial harm. 
Targeting Women:

The very first use case of malicious use of a deepfake was seen in pornography, inflicting emotional, reputational, and in some cases, violence towards the individual.

Exploitation:

Malicious actors can take advantage of unwitting individuals to defraud them for financial gains using audio and video deepfakes. Deepfakes can be deployed to extract money, confidential information, or exact favours from individuals.

Social Harm:

Deepfakes can cause short- and long-term social harm and accelerate the already declining trust in news media. Such an erosion can contribute to a culture of factual relativism

Creation of Echo Chambers in Social Media:

Falsity is profitable, and goes viral more than the truth on social platforms. Combined with distrust, the existing biases and political disagreement can help create echo chambers and filter bubbles, creating discord in society.

Undermining Democracy:

False information about institutions, public policy, and politicians powered by a deepfake can be exploited to spin the story and manipulate belief. This can aid in altering the democratic discourse and undermine trust in institutions.

Misused as tool of authoritarianism

: Deepfakes can become a very effective tool to sow the seeds of polarisation, amplifying division in society, and suppressing dissent.

Liar's dividend –

an undesirable truth is dismissed as deepfake or fake news. It can also help public figures hide their immoral acts in the veil of deepfakes and fake news, calling their actual harmful actions false.
What should be the solution for dealing with Deepfakes?
To defend the truth and secure freedom of expression, we need a multi-stakeholder and multi-modal approach. 

Regulation & Collaboration with Civil Society

: Meaningful regulations with a collaborative discussion with the technology industry, civil society, and policymakers can facilitate disincentivising the creation and distribution of malicious deepfakes.

New Technologies:

There is also need easy-to-use and accessible technology solutions to detect deepfakes, authenticate media, and amplify authoritative sources.

Media literacy

for consumers and journalists is the most effective tool to combat disinformation and deepfakes. As consumers of media, we must have the ability to decipher, understand, translate, and use the information we encounter 

Even a short intervention with media understanding, learning the motivations and context, can lessen the damage. Improving media literacy is a precursor to addressing the challenges presented by deepfakes.
Conclusion
Collaborative actions and collective techniques across legislative regulations, platform policies, technology intervention, and media literacy can provide effective and ethical countermeasures to mitigate the threat of malicious deepfakes

To counter the menace of deepfakes, we all must take the responsibility to be a critical consumer of media on the Internet, think and pause before we share on social media, and be part of the solution to this infodemic
Connecting the dots:
Justice B.N. Srikrishna Committee recommendation on data protection framework in India
---
(TEST YOUR KNOWLEDGE)
---
Model questions: (You can now post your answers in comment section)
Note: 
Correct answers of today's questions will be provided in next day's DNA section. Kindly refer to it and update your answers. 

Comments Up-voted by IASbaba are also the "correct answers".
Q.1 Basic exchange and cooperation agreement was recently signed between which of the following countries? 
India and Japan 

USA and Japan 

India and USA 

USA and Russia
---
Q.2 Feni Bridge which was in news recently is a bridge being constructed between which of the following?  
Tripura and Chittagong 

Assam and Tripura 

Manipur and Dhaka 

Mizoram and Manipur
---
Q.3 Which style of architecture is found in the temples constructed in Bundi Rajasthan?
Nagara style 

Traditional Haveli along with classical Nagara 

Jain type of architecture 

Elevated Temple styles 
Select the correct code: 
1 and 2 only 

2 and 3 only  

1 and 4 only 

1, 2, 3 and 4
---
ANSWERS FOR 28th October 2020 TEST YOUR KNOWLEDGE (TYK)
---
Must Read
About need for India to proceed with caution with US:
About mistakes to be avoided in Digital Governance:
About changes in land laws in UT of Jammu & Kashmir:
For a dedicated peer group, Motivation & Quick updates, Join our official telegram channel – https://t.me/IASbabaOfficialAccount
Subscribe to our YouTube Channel HERE to watch Explainer Videos, Strategy Sessions, Toppers Talks & many more…